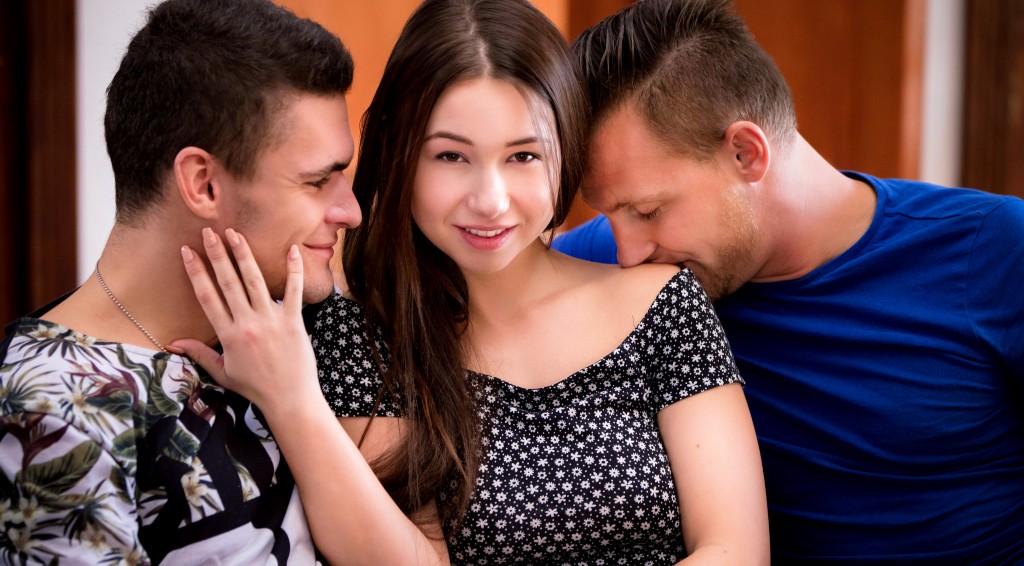 Ethical non-monogamy is on the rise among Millennials. A recent YouGov survey found that in 1,000 people aged between 18 and 30, 11% of them — that's a little better than one in ten — had engaged in sexual or romantic activities with someone other than their partner, with their partner's consent. That's a huge shift in social mores, especially in the somewhat puritanical United States. But whether you like to fall in love with one person or many, polyamory and ethical non-monogamy have a lot to teach us, and the increase in relationship consciousness can only serve to improve our daily lives. I've been practicing non-monogamy in one form or another for almost a decade, and the lessons I have learned have become an invaluable part of my life and growth. These are my top five:
Communication is key. My personal experience suggests there is literally nothing in life that isn't made easier by frequent, clear communication. Having one romantic partner can be difficult enough, but more than one increases complications exponentially, even in the smoothest of relationships. It is often said that polyamorous people "communicate to death," but learning how to discuss your needs and desires (and what the difference is between the two) without making demands or placing blame will make every interaction with another reasonable adult easier. There are countless techniques to enhance listening and good communication, and studying them and improving our skills are part of our responsibility as mature adults who are continuously striving to do and be better.
Have a good relationship with yourself. Take time to learn what it is that you want. Dig deep into your desires and find their origins in order to better understand yourself. Explore your own boundaries and defend them as your own greatest champion. Get in touch with your emotions and where they stem from. In polyamory this is often discussed in terms of jealousy, since jealousy usually blossoms out of personal insecurities — but it is useful across the spectrum. Knowing the deeper reasoning for an emotion makes it easier to address, and prevents us from putting proverbial bandages over tightly held spiritual wounds. Take care of yourself, and you'll also find that you are less upset at others for not "taking care" of you.
My feelings are my responsibility. What I do with my emotions is up to me. This doesn't mean that everything is my fault, or that other people are blameless. What it does mean is that it is up to me to handle my feelings in a responsible manner. Emotions can become tyrants, if we let them, and it's important to stop that process before it gets too far along in demanding that we and our loved ones bow to them. Acknowledging the feeling, putting a name to it, and asking ourselves why we feel that way are critical steps to take in processing our emotional responses. Expecting that our significant other is supposed to tend to our every emotional need is a surefire way to make them feel trapped, and breeds resentment.
Consent applies to more than just sex. Asking permission and discussing plans of action are useful tools that should be applied to all interactions that involve more than just yourself. The more you apply the principles of active consent to everyday situations, the more likely it is that you can accomplish your goals without railroading your significant others, business partners, and friends. In non-monogamy, consent discussions play a primary role in assuring that everyone in a relationship is happy and getting their needs met, and that principle is universally applicable. This is especially useful in emotionally heavy conversations, where it helps verify that all parties are equally present for the subject at hand (like double checking before discussing a big topic, or asking before offering an upset friend unsolicited advice.) Discussing consent allows us to meet our own needs as well as those of others without violating the boundaries of those we care about.
People are more important than our relationships with them. Sometimes people are not willing or able to meet our needs, desires, or expectations, and it is crucial to remember that it's okay! Every individual is inherently valuable, regardless of whether they are meeting our expectations or not. Individuals are more important than what we can get from them, and we would do well to remember that sometimes that means a different solution than the one we had pictured. Actively valuing other people can sometimes look like leaving them alone, as opposed to the obsessive love that we are conditioned for. Having respect for the whole person allows the whole person to bloom, instead of just the parts we choose to address.
Have you ever tried any form of non-monogamy? Do you utilize active consent in your daily life? What are some life lessons that you have learned from your relationships? Please share your experiences and knowledge in the comments section so that we may all learn together!
References:
Banks, R. (2014, December 10). Taking Responsibility for Your Emotional Reactions. http://mindfulnessremedy.com/taking-responsibility-emotional-reactions
Barker, M.J. (2017, December 30). Consensual Relationships Revisited: Only with Consent. https://www.rewriting-the-rules.com/conflict-break-up/consensual-relationships-revisited/
Polyamorous Misanthrope, (2016, November 23). Know Thyself.
Veaux, F (n.d.) Communication in Relationships. https://www.morethantwo.com/communication.html
YouGov (2016, October 3). Young Americans are less wedded to monogamy than their elders. https://today.yougov.com/topics/lifestyle/articles-reports/2016/10/03/young-americans-less-wedded-monogamy