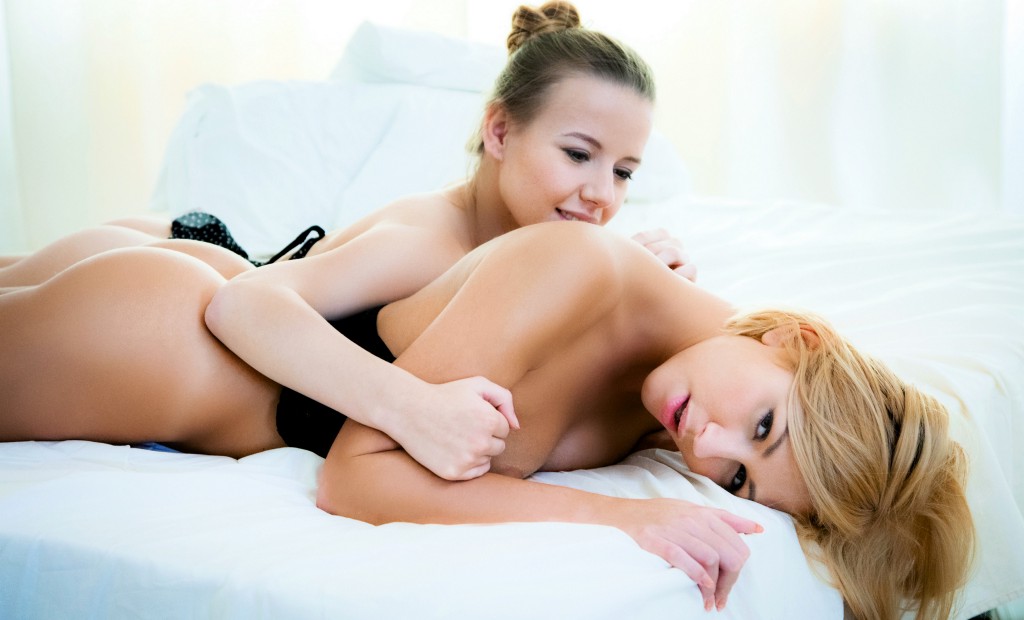 She drives me to the edge
She looks so pure, her kisses tender, her hands gentle. It's hard to believe this is the same girl who had me handcuffed to the bed just a few hours ago.
She's not my usual type — I like dark, androgynous girls, and she's a sweet-as-apple-pie blonde — but I'm intrigued by the dark depths I've discovered beneath her cheerleader perkiness. It feels like she's unleashing her inner demons when she fucks me.
And that's what she does — she fucks me. We don't make love, there's none of the reciprocity that usually comes with sharing mutual pleasure. She uses me to get herself off, and she feeds her sexual ego with her ability to make me orgasm until I'm begging for mercy.
I love it.
It drives me wild when a man can control me physically, pin me down and pound me aggressively, but this is a whole different game.
With her it's all about mental control. Like flicking a switch, she'll turn cold and domineering as she steers me into a submissive headspace. I play along, docilely letting her order me around until I slip into the role of her willing acolyte. Allowing someone else to take the reins is so relaxing — at first. I feel serene as she commands me to undress for her, to lie on the bed with my arms and legs spread, my body exposed as she remains fully dressed. But beneath my calm, the hum of arousal starts to rise inexorably as she stares at me, as if cataloguing me inch by inch.
She fixes leather cuffs around my wrists and ankles, shackles them to the bedposts with chains. There are times when I've been hanging out with her and I've tried to imagine this adorable girl-next-door masturbating as she pores over bondage kit online, planning how she'll use it on me; but I just can't picture it. Her anodyne public persona is so at odds with this dominant bitch who has me spread-eagled and defenceless.
She starts, cruelly, by switching on a slimline vibrator and holding it to each of my nipples in turn, until they're painfully stiff and I'm squirming away as far as my restraints will let me. I can't take too much nipple stimulation, I find it weirdly agitating. Even so, it makes my pussy throb. She taps the vibrator against my clit, holds it there for just a couple of seconds before removing it. I want more, of course, my hips rocking up to chase the feeling. She repeats the cycle, making me aware of how powerless I am to evade or pursue the push-pull of the opposing sensations. This is the point where she really owns me, in all my frustration, hyper-arousal and nervous anticipation.
Kneeling between my spread thighs, she escalates the onslaught, peppering me with tiny kisses and nips that are not tender, but designed to inflame and provoke. She sucks my nipples, flicks them with her fingertips until I cry out for her to stop, then tongue-bathes them. She kisses around my hips and waist, and bites my sensitive inner thighs, avoiding my pussy the whole time. All that riled up heat goes straight to my core. The need to be touched is excruciating.
Abruptly, she walks out of the room, leaving me alone. Who knows what she's doing — masturbating, maybe? I still can't picture it, but that's because she seems so unshakable now. It's only a few minutes before she returns, although the maddening pulse between my legs makes it seem like far longer.
Now she dips the vibrator a little way inside my pussy, stirring it around to make me aware of just how wet I am, painting the gloss over my plump lips and twitching clit. The vibration permeates my entire crotch, making my abs and thighs quiver in sympathy. It's penetration that I crave though; I need the stretch of a thick cock filling me, not this smooth, slender, buzzing thing. All the same, I cry out in frustration when she takes it away again.
Watching me with the detached curiosity of a scientist conducting an experiment, she hasn't given me any sign that she's getting turned on by my spiraling desperation. I'm left in no doubt, though, when she takes off her skirt and panties and straddles my head, her neat little cheerleader cunt right over my face. Her slit is glistening, and I can smell her arousal; but try as I might, I can't reach her.
She lowers herself down just enough that my tongue can swipe along her creamy groove, then pulls away again, the taste of her a burst of sweetness in my mouth. I crane up, my tongue seeking her again. She allows just a moment of contact before moving out of reach. My wrists are tugging at their shackles, straining to touch her, to grab her and force her down on my hungry mouth.
She won't even give me that satisfaction though. Leaning forward on one hand so her ass and pussy are splayed open right in front of my face, she thrusts a dildo — a bigger one, much thicker than the slim vibrator — into her pussy. It glides in easily, coming out again shiny with her cream. She rocks back to meet the next stroke, harder this time so I hear the obscene squelching noise as it thrusts home. And then I'm forced to watch, unable to do anything but stare as she fucks herself to a shuddering orgasm. It's so intense I feel my sugar walls flutter and pulse as she cums.
Suddenly she leans forward and pinches my clit, making my hips jerk up in a fierce spasm. The message is clear: Your pussy is mine to torment as I wish.
She pulls the toy out of herself and immediately grinds down on my mouth, catching me off-guard. I'm smothered in twitching, sloppy-wet pussy. It takes me a moment and then I seize the opportunity, my tongue zeroing in on her clit and lapping forcefully.
She's still trembling with the aftershocks of her climax and I work on fanning the embers until she's bouncing on my face, mashing against my mouth as she smears her cream all over me. She gets to her feet in a deep squat, which spreads her cunt open enough that I can push my tongue right inside. Without the use of my hands, I concentrate on literally tongue-fucking her; and when she orgasms again, I feel a fresh burst of wetness — pussy squirt and then something hot and sour — trickle into my mouth.
Through all of this, my pussy remains untouched, throbbing and needy. She moves down between my thighs again, the fat head of the dildo poised at my opening. For a blissful second I think she's finally going to screw me with it, but instead she just slides it a quarter of the way in and then stops. I look down and see the thick rubber shaft protruding from my pussy. If I squeeze it too hard or wriggle too much, it will just force the toy out of me. I try to hold still, tears of frustration springing into my eyes.
My jangling nerves explode in a cacophony of warring sensations as she buzzes the vibrator against my clit again. It triggers a never-ending, maddening clitoral orgasm that just makes me insanely desperate for the real thing. If I could only suck this damn toy in deeper, change the angle to feel it press against my G-spot…
She leans in; and instead of pushing the dildo deeper she pulls it out altogether, leaving my pussy clutching at nothing. Now I really do go crazy, writhing against my shackles until the chains rattle, begging her to fuck me. She pushes the buzzing vibrator into my soaked slit, the equivalent of a shot of adrenaline to my overwrought body. I'm cursing like a sailor as I try to grip the slim toy with my slick walls. She's wrecked me.
At last she pulls the vibrator out and shoves the thick dildo halfway inside me, and now I get to experience the crowning indignity. She inserts the toy just far enough that by moving my hips the little that I am able, I can fuck myself on it as she holds it steady. I can't help myself. I concentrate on sliding my body back and forth the few inches that my shackles allow. I find the right angle so that the toy's fat head hits my sweet spot, and then I'm gasping and yelling incoherently, my orgasm swelling up in violent, erratic waves.
The last thing I remember is her suddenly slamming the dildo all the way inside me and simultaneously pressing the buzzing vibrator against my clit. I erupt like a volcano.
Awakening to sweet kisses and caresses is disorientating in the extreme. Did last night's overt show of dominance really happen? Is this sweet girl capable of wrecking me so completely? My mind says no… but the red marks around my wrists and ankles, and the bruising ache at my core tell another story.
More confessions from me here — if you think you can handle it! Maybe have a cold shower first…