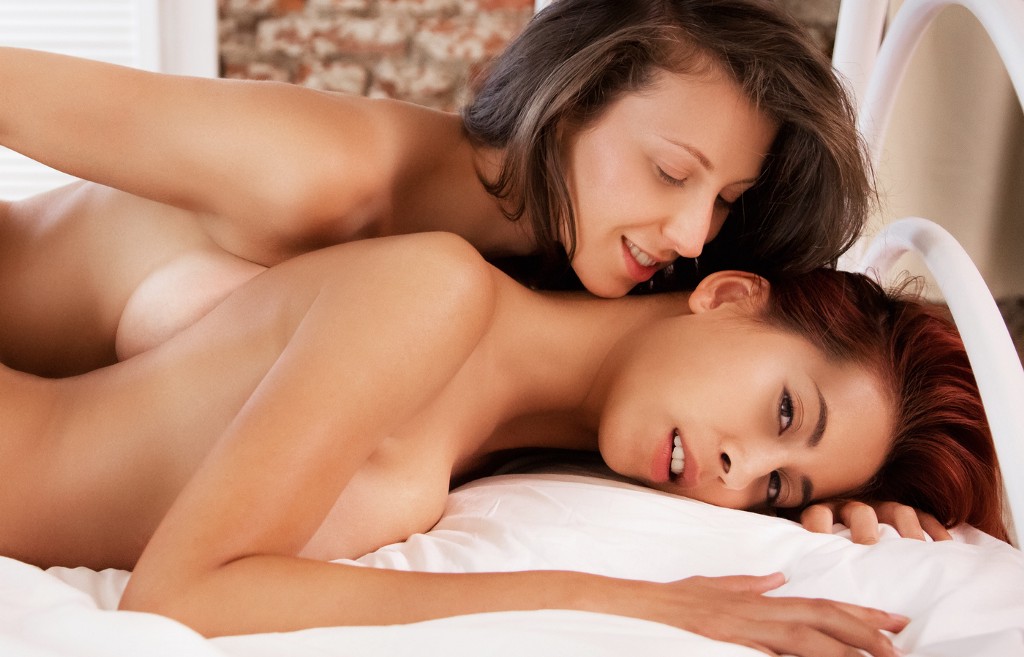 "Oh my gawd honey, she turned me inside out and made me cum like a fountain. What an amazing woman, OMFG I just gotta have her again and again, there is just something about her that just…" and the woman wiggled and shivered delightfully as he handed her the first morning coffee.
"Go on sweetie, do tell." His eyes lit up in the anticipation of the cumming story.
"Well you know how we met, at the farmer's market. I saw her and instantly wanted to fuck her right there and then. She was looking at cucumbers and studying them meticulously, picking up one, smiling a hidden grin and then choosing another. She was failing horribly at being discreet, maybe she wasn't even trying, the sexy little bitch."
"Probably not, honey… You know what women are like with cukes."
"Anyway, she was wearing jean shorts — those tomboy torn ones — sneakers, a t-shirt that hugged her tits, and honey I swear if I could have I would have eaten her right then and there on top of the veggie rack. Long brown hair and I mean long, like down past her ass, not tied up or anything just hanging loose. Fucking long, long sexy legs. That girl oozed hot! She was my kind of girl, baby, you know the ones I like, the Diane Lane kind. Yummy. Perky tits, a mouth full and no more. Hips, mmmm, delicious fucking dish…
"I don't know what came over me, but my sense of self control was out the fucking window. My pussy got wet just watching her. Sweetheart, it was dreamy…" Her eyes glazed over as she relived the moment she was telling her man about. "You know me, I do not just fuck anything let alone loose myself like that, but ever since we had our Ms. Blondie something has awoken in me baby. Fuck, what have you done to me?" she chided him with a grin, sipping the hot Americano hubby had made with special adoration for her.
"Sounds hot baby… what happened next?" he asked, cock rising to adore the moment. His dick was proud to relive her telling all, she who was now becoming liberated and free enough to wander into the world of girl-girl sex on her own.
"Well, Ms. Fucking Hot, now holding a perfectly curved G-spot cuke, catches me staring and waves me to come over to her. I nearly fainted right there. So not wanting to give myself away, I held onto my cart for all it was worth and sauntered over to meet her. Oh honey, my legs were giving out on me. I could barely walk. This thang had me in a spell and there was not a fucking thing I could do but go with it. Wet pussy and all. It took every ounce of my power to keep it together, you know what I mean, love?" she asked of her man, trying to reassure herself that it was ok to be utterly out of control in the wake of raw sexual and sensual power.
"Yes angel, I totally get that — you do that to me religiously, you sexy fucking thing you." He bent over her to kiss her wet lips and draw more of her sexy chi out of her. He eye fucked her, admiring her in her deep blue silk kimono, curled up on the couch with nipples hard under the soft alluring fabric. He could see and feel her deeper arousal. They were, no doubt, gonna have quite a fuck session after this storytelling. She was in a new place and he found it terribly erotic. Taking her cup from her hands, he went to the kitchen to get her another cupful of their mutual favorite morning starter. Serving her, feeling her, loving her was such a treat. And now this, a woman who could love him and have her fill of women and be able to come home afterwards and tell him about it. Fucking hot! What sweet liberation!
"Baby, she raised that cuke almost to my lips and questioned, 'What do think, would this make you cum or do you need a longer one?' Oh my gawd, what nerve. I could not believe this bitch, just like that right out of the blue. Then she tilted her head and painted an innocent smile on her face and my legs gave out more than they already had been. The combination of repulsion and attraction in that second was wicked. But the head thang made me really wet, honey. I thought the stain might appear though my slacks, it felt that bad. So all I could do was nod my head in an affirmation and weakly blurt out, 'that one would do me'…"
" 'Well then let's find out shall we?' Ms. Hot as Fuck said to me. She took my cart right out from under me and made her way to the checkout, leaving me there staring at her walking with a sway. The fucking nerve, but I liked her honey, my kinda chick. So pulling myself and my wobbly legs together, I made like nothing was happening and marched right past her and her curvy self, paid for my groceries and sauntered my way to the van without even looking back to see if she was following me or not. Two can play that game of cat and pussy, if you know what I mean?"
"Yes love, we play that game all the time, ROAR!" he growled, and they laughed together.
"So she came to the passenger side and I let her in and she told me the directions to her place and we were off."
"Good girl, you are getting this thing honey, I am so proud of you facing your nervousness and doing it, fuck that is sexy honey," he piped in.
"Thank you baby, you gave me that gift honey doll." And she continued with her story, sliding her hands down her silky self to caress her pussy in the telling of her night out on the prowl.
And he moaned at the vision giving his eyes a feast of delight. She knew how to pleasure him, and playing him was fun. Now this new storytelling was adding a whole new dimension to their already incredible sexual playground.
"That little bitch took the bag with the cucumber in it and made me follow her up to her den. My heart was pounding through my chest and I swore it would burst in the fright and excitement of doing this. But I knew it was OK because my honey had told me it would be. Pussy eating and sex with a thang like the one in front of my eyes was going to be fucking awesome, I could just feel her, FUCK!
"She unlocked her door, opened it for me and beckoned me in. The door was barely shut and her tongue was down my throat and her hands were frantically all over me. Holy fuck, I didn't have time to breathe let alone struggle or make heads or tails of where I was, honey. My legs finally gave out and she caught me. And that was enough for me to trust her. My inhibitions vanished like right then. She picked me up and carried me to her bedroom. WOW baby, that was hot being carried by that goddess, so I just curled up like a kitten in her arms and let her take me. Staring deeply into my eyes she laid me so very very gently on her bed and kissed me. She kissed me like you do baby, it lit a fire in my pussy and heart. She took my breath away, what little of it that was left."
A tiny pang of anxiety hit his heart and it went as quick as it came. He trusted his love implicitly and was in no way going to spoil this moment with such a silly feeling as jealousy. They both talked for many days and nights about this time. They went there and navigated through all the honest human emotions that go along with loving others. They loved themselves and trusted themselves, so having already been brave enough to talk honestly through the fears and potential tears, they were strong enough to go there now.
"I just lay there staring into her dreamy green eyes as she fondled my hard nipples. All I could do was surrender to her, honey, the spell was so potent. She was taking me and all I could do was let her.
"She kissed my breasts and sucked them the way I like, like she could just look into my soul and know what I wanted, what I needed. I guess in hindsight she is an empath too. But my mind was swimming in water and nothing was making sense, just her. The scent of her perfume in the air and her hands on me. I was on fire all over, honey. And all I wanted to do was drown in her right there. Me was gone."
Gulping down the hot coffee, he was quickly vanishing himself, listening to her lustful, loving tale. He felt each moment, each caress, each kiss, and surrendered to it all. "Baby doll, this is so fucking amazing, who could have guessed this would bring us to this place, huh baby?"
"Ya baby, WOW! I never could have imagined this happening to me, and still you love me, and it is all good. Thank you for not being jealous."
"Sweetie, I have been telling you this since I read 'Cum inside me, please…' to you and since sharing Ms. Blondie with you. You knew right from the get go what I am about, honey."
"Uh huh," and without skipping a beat she kept on telling her story. "She slithered down my body, took my slacks off and took my sticky wet panties off too. She was a wizard, she had obviously done this before, unlike me who was still virtually a virgin…" She giggled, putting her delicate hand to her mouth to cover her quickly vanishing innocence.
"Oh my gawd that face on my cunt was magic. Her soft licking and tasting me baby, holy fuck I came hard in her mouth and she drank my squirting pussy like someone dying of thirst. She slid her hands under my ass and ate me again and again and minutes turned into hours and I died in her arms baby, I fucking died. Phew.
"We got a sweet 69 going on and I got to eat her, baby, I swear she was like honey. She was so clean and a perfect slimy deliciousness, mmmm," she licked her fingers in the aching memory of her lover still fresh in her consciousness. "I savored her like she did with me and she came on me and I her together at the same time. It didn't take long, honey. We were in sync, right from the beginning."
"Wow angel you found her, or let's say she found you and took you home to her den of iniquity and fucked you good huh, your cheeks are still flushed," he was smiling and laughing with her as he celebrated her continued liberation.
"Yeah, and that's not all. She got that cucumber and hammered my G-spot baby, and she hammered it good and long and oh fuck, oh fuck I squirted all over her and made a terrible wet mess of her sheets," giggling delightfully and with reckless abandon. "So baby, I had to return the favor and I gave it to her with my juices still all over it. She liked that. She arched her hips up to meet my fucking thrusts into her and she screamed like a banshee, wild and free until she squirted like an overripe fruit being squeezed. What a sexy scene my love. We changed her sheets and I fell asleep in her arms."
"No wonder you did not make it home last night, angel. Thanks for texting me to say you were OK and would tell me all about it in the morning," he beamed at her.
She, still flushed and raging with desire, begged him to feed his cock into her mouth and cum deep down her throat. And that was not something he would argue about, and he fucked her until his cock was shooting bursts of hot semen into her. And they collapsed on the couch together, curling up as cats together in love and beautiful lust.