A simple love letter to mi hombre guapo, re-capping our epic weekend.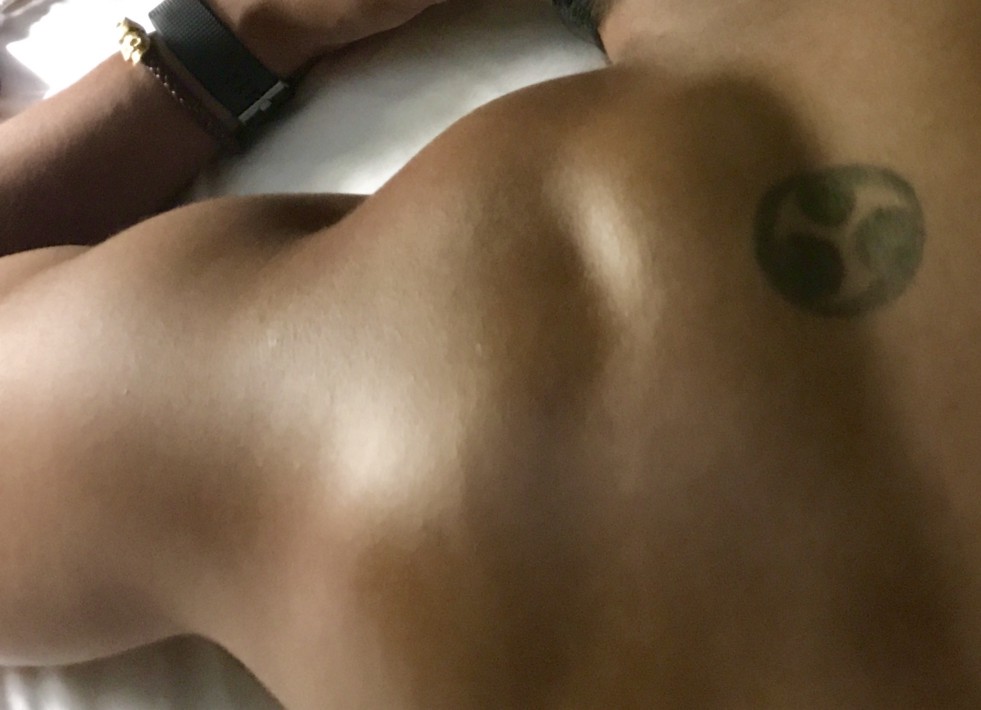 It's been too long. Eight weeks of no sex. Eight weeks of working hard to stay connected while running around our own worlds, dealing with our own responsibilities. We did pretty well this time though, didn't we? All things considered. I am proud of us. No bad fights, well except that one time…
Really though — we are best friends! We held a lot of space for each other while apart this time. We breathed with each other, and we definitely breathed for each other. Being away from you forced me to focus on the good things I am doing. It was long enough that even when I saw you, I would not go back to my old ways. Not even tempted. Staying smart. Having put alcohol aside, I made space for great things to happen. Ideas have come my way. Creativity and opportunities have come my way. And fuck, one helluva sweet tooth too. That can happen when booze is withdrawn. I smacked my lips thinking of what kind of liquid sugar you would be providing me with to curb my cravings.
So ok, back to the good stuff. We connect early morning after you arrive from the airport, me waiting groggily in one of those hotel rooms with huge Westin Heavenly beds. You knock and I open the door. Hot damn, you look so yummy! That fucking skin of yours blows me away every time. Smooth as silk. Zero hair. No even one stray! A golden brown caramel like no other human I have ever seen, at least so close up. Legit, it should be patented.
You lean in to connect with me immediately, on the lips. Our kiss! Those kisses are the sole reason I can handle this long distance relationship. Because those kisses are explosive in the most romantic way. Hungry, yet slow enough to appreciate every second. Wet, warm, sweet. You hug me. My god! Your arms! I know you have been going to the gym consistently the last few weeks. Getting solid workouts. Dude, your fucking arms are on point! As you press me up on the wall I can feel how tight and bulging your muscles are. Those shoulders, your chest. Yes please, you will be devoured.
You hold me, like you own me. And in this setting, you do.
It's authoritative. It's every divorced mother's fantasy. I live it. I love it. To be responsible for the whole world revolving around me — my kids, my home, my job, my bills, myself? — it's so much to deal with!
Behind closed doors though, with you, I gladly hand the reins over….
Take me,
Drill me,
Spank me,
Fuck me dry.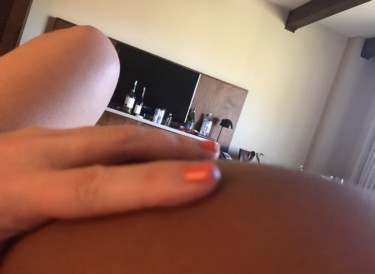 Your hello kiss wakes up my dormant clit. My mariposa springs to life, excreting dew that you quickly discover for yourself as you pull your hand up my inner thigh and brush my posa with your finger. Finger fucking me for a moment, you put two fingers up as high as they will go, slowly pulling them out and making a big deal of showing off your zest for my dew by licking every inch of your fingers. You smell it, you love it, then you kiss me so that I can partake in my scent as well.
Onto the bed we flop. There are kisses and touches and rubbing and moaning. When you enter me… ahhh it's always a reminder that although our goodbyes suck so bad, the reconnections are so, so good. Do you have any idea how much I love you? Love this? The tip of your cock stoked the fire and you guided it to stroke my mariposa lips, but your head now deep inside me, ignites my womanhood to the next level. You are uncanny in the way you can remind a single mom in yoga pants or a corporate suit, overwhelmed by life, just how much of a woman I am, just how much of a goddess I am. You remind me that I am to be worshipped and I love you for that.
You remind me how much of a man you are, especially when you flip me over, stuffing a pillow underneath me as I bend over for you. It's a fine skill you have mastered, the way you maneuver my body in one fell swoop. From there — this is your time. Here is all about you, my love. You take that white plump ass as your canvas. You take it all in, adjusting my positioning so your view is just the way you like it. Then you stuff your face, burying your head as you purposefully cut off any air to your nose or mouth. You are so up in my ass it would make most of the world blush, or raise their eyebrows. But me? I offer myself to you this way, because — you taught me to. You showed me you like it. And what woman wouldn't fall in love with a man who appreciates an ass instead of condemning it, instead of shaming it. I'd let your plant your face between my ass cheeks anytime, baby.
Coming up for air, me still on my knees bent over for you, ass up high, you take your cock of girth and enter me from behind. God we fit so fucking well. I only wish then that we had a camera man. I fantasize about that. How we look. My vanilla underneath your caramel skin. My nakedness on the thick white bed linen, accenting your completely positively most ridiculously smooth incredibly fine hairless skin. You show up. You are a d'lite! You take me like this a lot. It's our go-to position. The one that usually gets us the end result. For you, it's one of the most visually pleasing ways to fuck me, as you can drink all of me in with your eyes.
Pounding me, drilling me, in and out. Your balls slapping my mariposa with each thrust. The sound of skin tapping together. Slap. Slap. Slap. Slap. It's hot! Usually, we go a really long time. And dude, let's be honest, you have never heard of the word quickie. No comprendes "quickie". It's not in your vocabulary. However, as you guide my ass back toward you so that your own thighs and ass can almost touch your ankles, you see just how much access you have and just how far and high in me your cock can get. I can tell you are getting super excited and reaching your edge faster then normal. I can see your face out of the corner of my eye. Working furiously and in ecstasy at the same time. You are in full control of us.
I feel you stiffen even more and think to myself, whoa — this dude may actually bust it soon! Amazing, as it might possibly have been less then 20 minutes! For most married moms, they would read this and think what a nightmare. Just get it over with, dude. But those are married moms to young kids. Not me anymore. Not now. 18 minutes. An hour and 18 minutes is fine by me.
Sure enough, this time, you do cross over your edge with pleasure, legit hollering as you cum, thrusting over and over and over, your body folding and unfolding, visiting an oasis of heaven for a hot second, your eyes opening and closing in a state of disbelief, pleasure, spentness, and zen, as you fill me.
God I fucking adore how you cum! Little sounds start before that fine hot flow of fluid even releases; you keep going. Hard! But as you build even more and the volcano erupts, the noises you make touch my soul in song. It's so fucking great! You are not timid. You don't hold back. I love that the universe knows when you cum, draining all of you for me. Unloading eight weeks worth of thoughts and stress and pressure in a few moments. It's so much this time, I can actually feel the warmth of your hot liquid fill up my dark warm wet tunnel like a cannoli. Legit, like a cream filled donut.
You collapse on the bed and we fall into a morning slumber, sticky, messy, sweaty, naked, happy. We fall asleep spooning. Your hand cupping my double D's. One of my favorite ways to sleep.
That night, well actually call it the wee hours of the following morning, I wake to pee. Though I only rested for a few hours, I feel wide awake. The excitement of being with you again has been giddy. I come back and stop in my tracks seeing your back peek out from the covers as you snooze, face down. Damn, those muscles are looking fine. I want to take a picture and put up huge posters in all cities saying: ladies — you should all get a divorce and get yourself a Latino Lover. This is the good stuff!
As I crawl into bed it dawns on me that we could go again right now. You are out though, like out cold. Regular breath, listening to you calms my mind. I even reach down ever so slowly and quietly to check… but in a rare occurrence, even at night, you are soft. I pull my hand away and breathe, tying to let my risqué idea escape me without too much disappointment. I settle in and close my eyes, wondering how long it will take me to fall asleep again.
Not 60 seconds later, I'm pleasantly surprised as you awaken and move fast, climbing on top of me! Before I can even think straight, I realize you are fully loaded, having returned to your normal state of being, at full attention. I think of a courtroom, when the bailiff says, "All Rise!" Haha!
I quickly spit on my hand and rub myself on my mariposa lips, just in case it needs a little help, though I am plenty wet in about two seconds. You enter me without words. As you lie on top of me, knees bent, showing me what's good, you grab my ass check while you wrap your other hand around my upper body. You are in full control. Messing around with me for a good while. Pleasing me. Pleasing you. Pleasing us. We move together. We breathe together. I am just so goddamn happy that we are together.
Eventually you pull out and move downwards, spreading my thighs as you go. Your wet warm tongue flicks my clit. That's it. I'm done. Right here I surrender to you, my inspiration, my muse. I lie back to take it all in. Every inch, every breath, every moment. Dormant no more, my clit dances with your tongue. I am floating in enjoyment. I can think of nothing except being present… although I do for a hott second think of Rose MyErotica and think ah yes… there are actually two women in the world that benefit from this epic real life middle of the night dream. Rose darling, I write this all for you, and your fans.
Baby, you wow me with your mariposa eating skills. Just the phrase eating me out gets me wet as I type it. You are really, really good! And because you are so accepting, because you treat me like I'm the only woman on the planet in bed, I give all of myself over to you.
Then in the last phase of this fucking epic middle of the night fuck session, you roll over on your back and you hand me my trusty beloved bullet. I'm so wet and I go ahead and put that baby on super high, flinching the second it touches the tip of my clit. Though I prefer to watch women on women if I'm watching anything while masturbating, you? You put on your favorite kind of porn, the kind that I have a hard time watching without laughing or gasping because of these poor women's gaping assholes. I don't watch it anyway. I watch you. Stroking your own cock, and jerking it so fucking fast, I'm always fascinated. It's mesmerizing how fast you do it. What a scene it must look like from above! Where is a drone when you need one? I think it's so goddamn hot when a couple masturbates for each other.
My sugar fix. My sweet desire. Caramel. There you are in all your glory, feeding my new found sweet tooth with your entire naked body in my view. Seriously, does your skin have a registered trade mark? This gorgeous caramel tone seems unique. It's why I'm totally fucked to ever sleep with anyone white again. I love you, mi cielo. As I take in you with my eyes, and bring my clit up to the next level, I fantasize all those over the top crazy Fierce Force Fantasies that I've dreamed up and written about. My mind is colorful, my body is feeling the colors and riding the waves of the rainbow. My eyes, mind, nose, taste, and sensitivity of touch make the ultimate parfait of a cocktail blend that has me crest to the apex of my orgasm and ride that thing right over the mountain top. You release yourself too with your own hurricane of come, droplets even reaching me. Announcing to the world what's just happened with your grunts and moans. Your sounds are the best and nothing less than boisterous. That's living.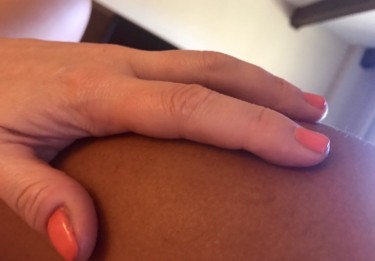 It's so good to be with you again, guapo. I adore you and I adore reconnecting with you, and you adore me right back. We clean ourselves up and while you think it's 7am, you are stunned to realize it's only 4am. What a bonus! What a bonus for me too, that I get to have you for 36 more hours to satisfy my new found sweet tooth. Caramel D'Lites for sure.
Stay Fierce 
If this resonated with you kindly give a so that others may be inspired, in turn, most likely you and they will inspire me right back!❤️ isn't that cool how that works?