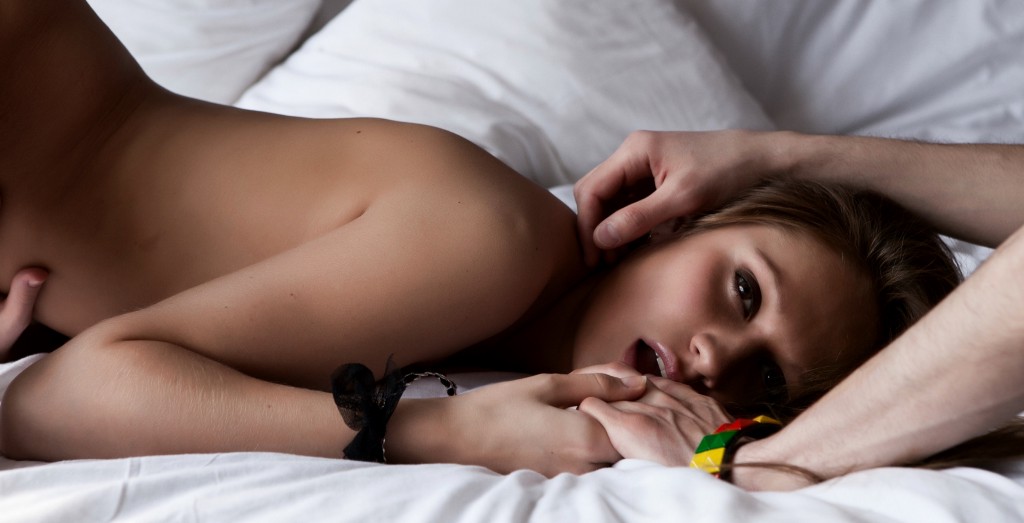 My first threesome blew all of our minds
One of my partners is pansexual and genderfluid so they present anywhere from feminine to masculine. Another friend is a pansexual male, but dabbles in cross dressing. This is the story of an amazing night we spent together.
My partner Torin, and our friend Chris (not real names) had met online and hooked up before. We had all had dinner together and decided to plan a threesome. I was pretty nervous as I had not participated in a threesome before, but was definitely interested. For his part, Chris hadn't been with a woman in a while.
We met at Chris' house, and both Torin and Chris were in feminine mode. Gay male porn was playing in Chris' room. Chris was wearing a red teddy, and had lube and condoms at the ready. Being so matter-of-fact about sex and safety soothed my fears and I was soon naked on the bed watching Torin and Chris give each other blow jobs. Watching them suck and touch each other started getting me excited.
Torin saw me begin to touch myself and moved toward me. Soon they (Torin uses the pronouns them/they) were sucking and licking my nipples while Chris was between my legs sucking on my clit, sending sparks through me. They both moved so I could reach each of their cocks with a hand, and then I was stroking them in unison while they were pleasing me. I was overwhelmed with lust; I hadn't expected that having four hands and two mouths on me would be such a sensual experience. I gasped for them to stop as I could feel my orgasm building. I didn't want to cum yet!
Torin moved to enter me in missionary position while Chris congratulated himself at still having great cunnilingus skills after such a long time. Chris then slowly lubed up Torin and entered them, making the three of us into a fuck-sandwich. When Chris thrust into Torin, Torin thrust into me, and the feeling was intensely powerful. Chris held my ankles as I bucked under them both. I had no idea that this position existed and that it would feel so fucking amazing. Again we had to stop to cool down, this time because Chris was about to cum.
After a quick pause for a condom refresh, I invited Chris to fuck me. Torin suggested spit-roasting, as they had always wanted to try that with me. I agreed with the caveat that it was my first time, asking them to stay very attuned to my signals. I got on my hands and knees with Chris behind me and Torin in front of me, their hard cock gently brushing my lips. Chris entered me slowly, so exquisitely slowly, and soon I was urging him to fuck me harder and harder. Then I took Torin into my mouth, savoring the velvety hardness. The sensation of being filled and fucked in my mouth and pussy in rhythm pushed me closer and closer to the edge and I started moaning around Torin's cock.
Torin could tell I was about to cum so we switched positions again. Torin moved between my legs and started oh-so-gently blowing on my clit. Their cool breath contrasted with the heat of my body and caused me to moan and lift my hips up to try and meet Torin's lips. Finally the teasing stopped and Torin eagerly licked up and down my folds, stoking the fire between my legs. Chris moved to my tits, sucking and biting on my nipples, while also reaching between Torin's legs to stroke their cock. Torin began gasping in pleasure and losing rhythm with their tongue. The sounds and sensations were too much for me, and I exploded in waves that seemed to last for hours, leaving me gasping, sweaty and happy.
As I recovered, Chris again changed condoms and I watched as he slid into Torin's ass. I scooted under Torin so I could stroke and lick their balls. Torin's sack became tighter and tighter, while their cock became even harder. I whispered "Cum on me, do it, do it…" and with a massive groan they spurted all over my chest, while Chris came hard while pounding in Torin's ass.
We all cleaned up, laughing and exhausted, and congratulated ourselves on making this threesome so spectacular. Since then I've had a few other threesomes, but I've never had one where we were so immediately comfortable and compatible with each other.