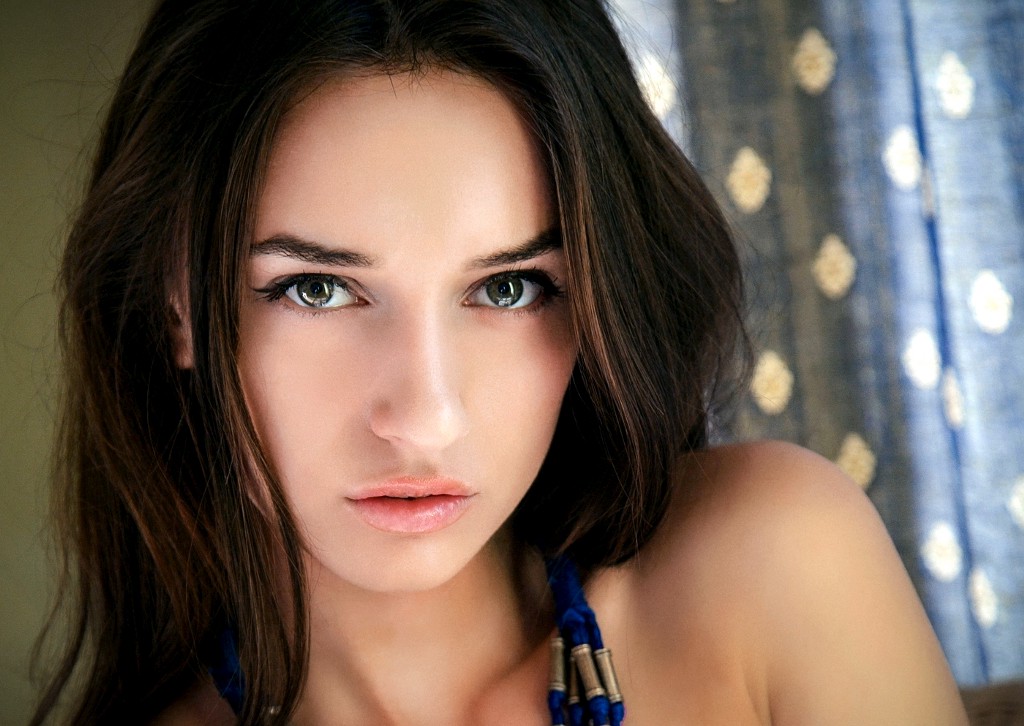 I decided, with my experience in retail, that I should manage my own store in the downtown area. I sold men's and women's clothes for several years because I was in love with the female form and loved to find clothes for people. I had a lot of male clients that I would outfit and every once in awhile I would get a date with a female customer. Other women would come in for business and sometimes they would know I had an erection when I was helping them with their selections. There was that one day when an Italian woman stood in front of me naked as I helped her pick an outfit for her daughter's baby shower.
It was a rainy day and the inside of the store became oddly quiet. Then I heard the bell ring and I saw her come into the store. She had these gorgeous brown eyes and caramel colored skin with a wide, bright smile that melted me. She looked like a student wearing glasses, jeans, a gray hoodie and a white top. She had no bra on and I could see her nipples peaking against the top. I had an immediate erection which was easy to hide as I was behind the counter. I fell in love with her…in lust…a bit of both, maybe.
She walked up and was shaking the excess rain out of her hair and saying things to me I could hardly hear because her head was down and she was directing her voice to the floor. She looked up at me to see if I was listening.
"Hellooo?"
I scrambled, "Oh, yes, ummm, yes we still have the women's tops on sale." (phewww).
"Ok thanks. They're in the back?" she asked.
"Yes…" I was floored.
"Are you ok?" she inquired, mildly concerned.
"Yes, absolutely," I laughed, blushing. "I've just had a long day and the rain has gotten me drowsy."
She shrugged and walked to the back of the store. After about ten minutes while I calmed my erection, I heard her call out to me and my heart jumped in my chest. I walked back and saw her in the fitting room, looking at the top in the mirror. She still had no bra on and I could see the silhouette of her breasts in the satin top.
"Oh! here you are. What do you think? Would you fuck me if I wore this to our date?" she laughed.
"Yessss, absolutely," I answered without hesitation.
"Good answer!" she laughed. "I have a date with my boyfriend tonight and I'm going to drive him crazy with this outfit."
Did she think I wasn't interested in her?
She walked out of the fitting room to look in the other mirror. She turned to me and caught my gaze; I was enthralled by her ballsy character and her tight body.
"What? Why are you looking at me like that?" she mused.
I stiffly walked a few steps to her and caressed her face in my hands. Instantaneously, she lifted her face and kissed me, pressing her lips on mine and keeping them there. I felt every millimeter of her lips and I kissed them again. When I pulled away she opened her eyes and looked at me, searchingly.
We embraced and started to kiss harder. I kissed her neck and I felt her up. She ran her hands all over my body and cupped my erection. We looked in each other's eyes and then pulled away and looked around to see if anyone else was in the store.
"Can you lock the door?" she whispered, laughing.
I took her by the hand and we ran to the cash register. I looked for the keys desperately and she laughed at my fumbling. I grabbed the keys, looking at her triumphantly and we ran and locked the door, turning and dashing straight into her dressing room. We began to kiss again and take off one another's clothes.
"Wait! I don't have a condom. Do you?" I asked realistically.
She paused and looked downward, thinking, and then said, "Fuck the condom," and smiled at me.
I kissed her deeply and we tore each other's clothes off. Her pussy felt incredible when I slipped inside of her and it felt naughty having sex without a condom. As we slowed down and were leaning against the bench inside the room, we caressed one another, both beginning to realize what had occurred.
"What's your name by the way?" I asked.
"Uh-uh, no names," she said.
"What? Really?" I asked.
"Yup. Look this was…this was unreal. But, it was just that," she said, killing my buzz. She looked at me and smiled. Then got up and began to put on her clothes. She bought the top and a skirt to match and left the store.
I was floored but then later happy that I had had casual sex with such a beautiful woman. Deep in the back of my mind though, I wanted to take her home with me and love her as I felt warm and comfortable during the two hours in her caress and kiss.
THREE MONTHS LATER
The buzz of that encounter took time but eventually wore off and only fleeting images of her face were in my mind as I went on with my life. One day, I was downtown with a young woman on a date. We started out great and had drinks at a local bar and were laughing and having a good time. We were talking and flirting and listening to music when I left her to go to the bathroom. As I walked to the back, I was happy at the thought of what could happen, when I suddenly felt someone push me from behind. The person was strongly pushing me towards the bathroom.
I was a little buzzed and wasn't putting up that much of a fight. But I went into the bathroom and when I turned around to see who it was, I saw her.
"Wha-what! It's you…" I stuttered.
"Don't say anything," she said. Her smile was bright and her eyes were sleepy and sensual-looking. She pushed me into a stall and kissed me hard. She started to unbuckle my belt and reached inside and pulled my dick out quickly. In one motion, she knelt and slipped me into her mouth. She deep throated me and then started to suck on me deliberately, then quickly. I grabbed the back of her head and forced her down onto me and we alternated between me controlling her head, fucking her mouth and her swallowing me with me letting her do so. At one point, I felt heat boiling up inside of me. It had been building but I was so caught up in seeing her again that I didn't care. The boil went over the pot and she swallowed my load down her throat. She sucked on me forcefully and I let my hips get sucked down her throat until she swallowed every last bit.
I felt like I just fucked, the moment was so electric and intense. I couldn't move for almost a minute, trembling. She stood there looking at me, ruthlessly seeing that she accomplished what she wanted.
"You're fucking awesome. Thanks," she said, and grabbed my face, kissing me. She opened the door and walked out of the bathroom into the crowd. I was twisted up and laid there in the stall recovering.
I got myself together and went back to my date, with her joking with me that I might have fallen asleep in the toilet or something. I looked around nervously to see if she was watching me, smiling or something. As we left the bar and were walking around community art galleries, I saw her at a distance walking with a man.
I was upset and took my date down the street, discreetly following her. She and her date went into a grill where a band was playing music. My date, asking me if everything was alright, went along though without issue. I channeled my inner secret agent and sat on the inside of the establishment, watching her sit down on the opposite side. As she walked towards the bathroom, I walked with a quick pace. As she turned into the hallway, I took her hand and pulled her to me. She turned around and was surprised as I met her face and kissed her. I flicked my tongue inside of her mouth — she tasted like wine and we looked in each other's eyes. I pulled her into the bathroom and we ran into a stall. She came with me willingly.
"What are you doing?" she asked.
"What am I doing? What are you doing? Three months, 'no names' between us and then you attack me, suck me and leave?" I demanded.
"Yeah! So!" she exclaimed. "What are you gonna do about it?" She got closer to me.
I turned her around and pushed her against the stall door. I grabbed her skirt and pulled it up around her waist. I grabbed her firm ass cheeks and pressed my body against her. I pulled on her thong and began to rub my hand on her pussy, forcefully. I turned her around and spread her legs out and began to finger fuck her, working my wrist over her as quickly as I could. When she came, she convulsed and I took what was on my fingers and put it in her mouth. She grabbed my hand and began to suck on my fingers.
I watched her for what seemed like a long time. I couldn't take it anymore and I unbuckled my pants. I picked her up and sunk her onto me and began to thrust my hips hard into her. I pinned her against the stall door and kept her that way until I pulled out and sprayed the floor. We looked at one another and silently decided that we needed to be together. We left the grill without letting either date know.
SIX MONTHS LATER
Adrianna and I dated only for a month.
The euphoria of our sexual encounters masked the fact that I wasn't ready to be in a relationship with anyone. She was very excited to be together but I began to push her away. So she stopped calling and coming over and we stopped seeing one another.
Another month passed and I felt a longing to see her and I sent her a text. There was no response. I tried to pass by where she lived and her roommates said that she went to live with someone else, not saying if it was a man or a woman. I knew that I'd made a mistake and that there possibly was going to be no chance to remedy the mistake.
One night while closing up the store, I felt a letdown as it had been a few months. I walked towards my car and as I was driving home, I looked towards a restaurant and saw a face that looked like her. I rubbed my eyes and tried to make sure that it was her and I couldn't deny it — there was no trick of the light, no different angle or different eye color. An energy charged my body and I felt alive. I immediately tried to look for a parking space and set out to get her back, win her heart, and fuck her hard.
I saw her eating with a group of friends and I walked in with a purpose. As I walked up to the table, I saw that her body jumped when she saw me. I met her face without kissing her and spoke firmly.
"Hi…I'm gonna talk now and you're gonna listen." Her eyes widened. Her friends were frozen watching the scene I was about to make.
"I'm sorry for being such an asshole," I whispered. I leaned my head on her shoulder.
She exhaled and said, "Ok, let's go outside and talk." We walked outside and went to her friend's car. We sat in the front seat where the floodlight shone down upon us.
"What the fuck are you doing here? You pushed me away, remember?" she exclaimed.
"I was wrong. I was scared," I said.
"Scared of what!"
"FALLING DEEPLY IN LOVE WITH YOU, GETTING LOST WITH YOU!"
She grabbed my face and kissed me gracefully, deeply. She slapped my face as we were kissing. We moved into the back seat and fucked. Her friends passed by after an hour and knocked on the steamy window, saying that they paid the check and wanted to go home. She told them to go back inside and give us another thirty minutes.
Adrianna and I are still together after six years.