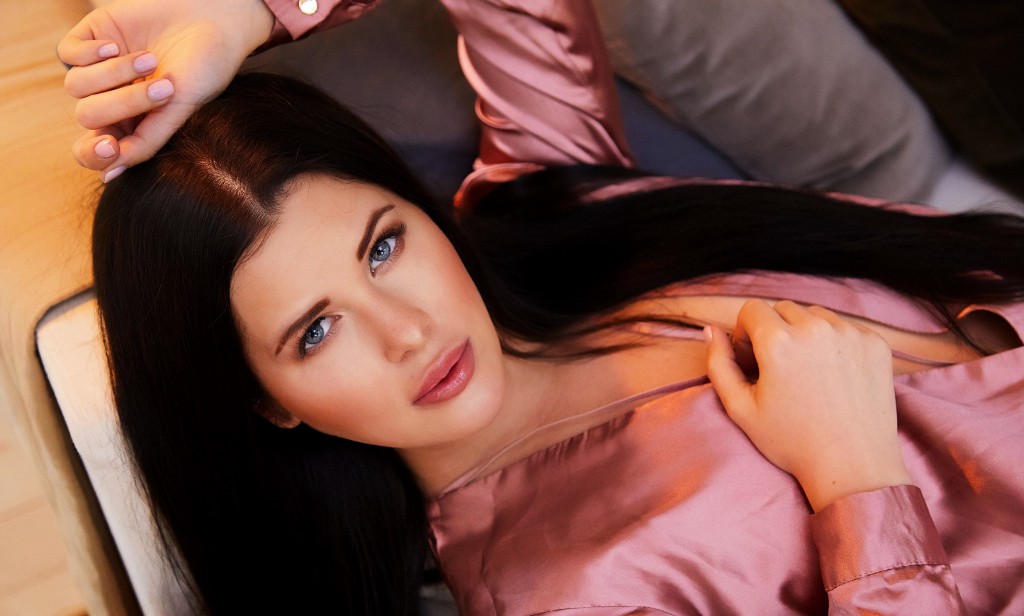 I've always had a thing about watching women and undressing them in my mind. I get aroused by the way their clothing accentuates different parts of their body; a tight or loose blouse, a summer dress, a pencil skirt, and so on. It is the artist in me that recognizes these lines in the silhouette, but I guess it's the horndog in me that can't help wanting, after enjoying the lines, to take off the clothing and see what's underneath.
I met a woman at my gym, Emma, and there was a spark between us immediately. When we first met we exchanged pleasantries and moved quickly into conversation. As time went by, we found ourselves working out less and talking more. We soon started to talk about our sexual preferences. We teased one another as we talked about what positions we liked the most, our worst sexual moments, the places we'd had sex, and so on. We would tease and titillate each other, but then we would leave it in the gym parking lot and never meet afterward.
Emma was Italian, with brunette hair cut pixie-style. She had a tight body and big brown eyes. I loved her full pink lips and 1,000-watt smile. I would think about taking her in my arms and having intense sex with her every time I saw her.
One night, I left work really stressed and went home frustrated. I took a shower, got dressed and had a shot of tequila to relax. I thought about Emma and remembered we had exchanged numbers. I sent her a text:
"Hi, are you in the mood to do something freaky?" I thought that my night would be ruined if she didn't answer.
"Hey you. Sure, what did you have in mind?"
"Come to my apartment dressed up and bring an extra dress to wear," I wrote.
After a few minutes of no reply: "Ok. On my way."
A while later, I heard a knock at the door. I looked through the peephole and saw Emma there, looking gorgeous. I opened the door and saw her lips part to reveal a smile that flattened me.
"Hi," she purred. I smiled and motioned for her to enter. She extended her hand and I took it in mine. It was soft but firm. She was wearing a summer dress so I saw her toned arm flex. It was graceful, and her shoulders and collarbone looked like a ballerina's. She had a garment bag under her arm; I wondered about its contents. We sat down on the sofa and began to talk.
"So, what did you have in mind on our date?" she asked.
I began to explain my perverted fantasy, I was nervous that she wouldn't understand and the date would become awkward.
"So, you just want to see me dressed fancy?" she queried.
"Well, I want you to let me watch and be a pervert around you," I responded, deflated. I thought I was losing her interest and felt nervous and vulnerable about my request.
My heart soared when she said, "Ok," as she got up from the sofa. She walked over to my dinner table and got a chair. She brought it over and sat down. She spread her legs into a straddle position on the chair and I could see the dress ride up along her thighs. I started to tremble, watching how the dress uncovered her beautiful thighs. She saw how I responded and started to smile. She traced her fingers up and down her thighs. My eyes were open wide. She leaned into me and took those fingers, placed them under my chin and guided me to look into her eyes.
The summer dress had straps that tied behind her neck, and it dipped low to show off her cleavage. I looked deep into her eyes and then at her breasts. They looked so soft and smelled of vanilla scent. I could see the area of her neck I wanted to kiss which would take me down to them. I desperately wanted to see her nipples.
Emma arose from the chair. She backed away from it and pulled up her skirt slightly. I saw that she was taking off her panties. She shimmied her legs together, so I didn't see her crotch. She put her panties on the chair and began to walk around the apartment. She looked back at me, giving me the green light to look under her dress. She pretended she was looking around and I slid onto the floor. I crawled over to where she was standing and I tilted my head and looked up her dress. I saw those thighs lead up to firm, peach-like ass cheeks. In between them, rosy, pink lips. She leaned forward onto the back of the sofa and her cheeks opened to reveal the lips further. The back of my neck was against her dress but my face wasn't touching her pussy. I was right in front of it though and I inhaled her scent. Her pussy was wet at the teasing nature of my perversion and my mouth was filled with saliva at the thought of tasting her.
I felt the dress pull away and saw her face looking down at me. She was smiling and her eyes were narrowed, aroused at the tension building. She walked to the garment bag and picked it up.
"Can I change in that room?" she asked. I could only nod, still processing what just happened.
Emma went into the next room and closed the door. She came out in a tight pencil skirt with a satin slip top. The top had spaghetti straps and the curves of her shoulders, chest and arms were on full display.
"Sit on the sofa," she said politely. I did as she asked, and she walked over with a pair of high-heeled shoes in her hands. She sat on the chair, not looking directly at me though, feigning that she was alone in her office or driving to a business appointment, showing me how women act when no one is watching. I guessed right because she was pretending she was a business woman.
She slipped on her heels one at a time; her feet arched and her leg muscles flexed as they went into the shoes. As she leaned, the loose slip revealed she had nothing on underneath. I stood up to get a better look and saw her breasts. Her nipples were pink and hard. I could visualize taking them in my mouth and kissing them.
I walked around and looked at her as she acted out the scenario. She pretended to take a phone call and was shifting in the seat. As she spoke to the client, she traced her finger on her bottom lip, tapping on her teeth. She enjoyed the roleplaying. Then, she brought out a pocket rocket from the pocket of the skirt. As she was talking, she started to trace the device over her body — first around her nipple and her lips, then around her other nipple and down to her waist and pelvis. She hung up the phone call and looked around, finally turning on the device. She pulled up her skirt to reveal her panties. She exhaled and looked up to the ceiling, closed her eyes and opened her mouth slightly.
She began to press the buzzing device against her panties. I could feel the precum on the head of my cock from the intense arousal. Emma shifted her hips forward. I moved closer, my face between her legs and next to her wrist. She began to gyrate her hips over and over. I could hear whispered moans come from her. The urge to dig my face into her was intense. It was hard to resist but I loved the arousal backed up inside of me. Emma gasped a few times to maintain the illusion of the scenario, looking up to see if anyone would come in and embarrass her. Then she returned back to her private moment. She pressed harder into herself and she moaned, bracing the waves of pleasure. Finally, she orgasmed. She let her breath go and hyperventilated in recovery.
My emotions felt on fire. I felt the euphoria of the orgasm but my body was craving to be touched. Emma got up and discreetly took off her panties and placed them in my hand, as if she were putting them in a purse. I held the panties up to my nose and inhaled. There was no better place to be at that moment.
We looked at one another and got close. She looked at me with narrowed brown eyes, smiling and saying. "You're a freak." She paused, then, "It was fucking hott," she added, and held the words in her tongue. At that moment I felt a magnetic pull towards her. She felt the same way and we both leaned forward into a kiss. I wrapped my hand around her waist and pulled her into my body. Our lips touched and then I started to kiss her neck. She started to pull at my shirt and we began to undress each other.