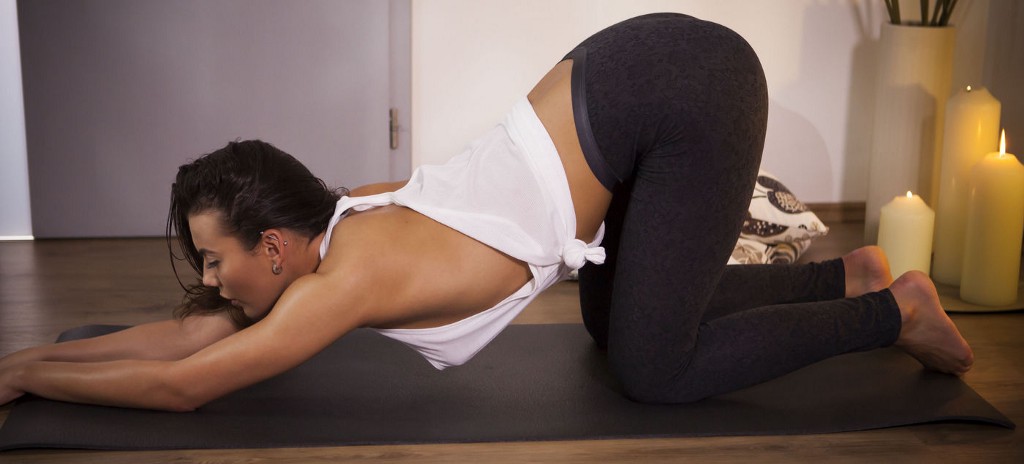 I saw Vanessa walking down the street to her yoga class as I was people watching. She had this bright smile and beautiful brown eyes. She had no makeup on and looked so graceful. Her body was tight and firm. I was curious and walked into the yoga studio, where I saw they accepted walk-ins. I snooped, curious, until I found her in one of the classrooms. I grabbed a yoga mat and went to the back of the room, sat and waited. As the yogi came into the room to start the class, we all stood up and began. I watched Vanessa bend down and get into poses. She had long hair, tied up with curls falling onto her collarbone. Her tits were big but didn't overwhelm her body.
The next day I went to the class again, feeling surprisingly energetic. I saw Vanessa when I walked in, and she smiled at me.
"Hi!" she beamed. "I saw you here yesterday, are you new to yoga?"
"Yes, I am. I took the walk-in class yesterday and now I've paid a membership. I was sore but felt good," I replied.
"Great to hear. If you want, you can stand behind me in class to follow the moves," she suggested. I was delighted that she was so friendly. I was also mesmerized by being so close to her during the class. My eyes traveled through her cleavage, down to her firm stomach and into her cameltoe. As she turned, during the poses, I watched her ass and wanted to grab it to see how soft it was. By the shape and curve, I could tell it was firm and tight.
She would occasionally turn and smile at me. She was true to her word that she wanted to help as she would motion the steps to complete poses I was confused about. I was in love. I did notice that she bent over a lot in front of me, but I had to stifle my dirty mind from diving into complete perversion.
When the class was over, she was sweating — I mean glistening — and I was longing to wash her down in the shower. I decided to leave the class quickly on a good note, but she chased me down in the hallway.
"Heyyy, where ya' goin?" she asked flirtatiously. She leaned on my arm and put her face close to mine to lock me into whatever she wanted. "I wanted to see if you could help me with something? I have a lot of stuff in my car that I need to take up to my apartment. It'll only take a few minutes…"
I wondered why she was asking me.
I felt a rush of inspiration being considered.
"Okay," I said neutrally, trying not to read too much into it.
I tried to be positive and helpful as I followed her to her apartment and helped her. I was the only one there and began to think she was coming onto me.
"Let me give you some water," she said. "You have been so great in helping me." I walked into her apartment and it was clean and girly, no sign of any boyfriend, and we were alone. She went to the refrigerator, bouncing and sweet, to get the water. She poured us a glass each and we began to talk. She was smiling at me and I couldn't help but smile back, my perversions were oozing out of me but I figured she didn't care and wouldn't mind.
She said she could help with my cool down stretches and told me to go to her TV area. She began to show me how to stretch, and started to caress my ass. My dick became fully erect and when it did, she caressed it.
"Oops, sorry," she said slyly.
I stood up and also apologized.
"No, don't apologize…" she said as she laughed. Her laugh wasn't bubbly but more of a hungry predator who is taking pleasure in teasing their prey before they eat it. She moved closer to me and leaned in again. "You've been watching me this whole time to hit on me, haven't you? Tell me honestly you took the class because you like yoga," she said, and licked her lips, making sure I was looking at every movement.
She touched my dick bulge without hesitation and then pulled my shorts forward. She let the air conditioning blow inside and looked at me. She reached in and grabbed my shaft in her fist. She started to stroke it. I looked down and she said, "No… look at me." I turned my gaze to her and she stroked me and exhaled heavily. She was eye fucking me. "You like what I'm doing to you, don't you?" I nodded obediently. "Your dick is nice and thick," she said, stroking slowly and firmly.
She took her hand away and turned around. She peeled her yoga pants off, rolling them down over the curve of her ass. She had a skimpy thong on. I stood there looking at her ass and as she tugged the thong down, always looking to make sure I was watching closely, I knelt. As her underwear dropped below her ass cheeks, she spread her legs and I saw a bush of fluffy pubic hair between her legs. She pushed her ass into my face and when it hit, she exhaled and moaned, pushing gently to feel my mouth and nose. She slipped off the yoga pants and underwear and kicked them aside. I looked up at her and she was gazing at me, smiling.
She slid off her top and was naked in front of me. She sat down on the sofa.
"Take off your clothes in front of me," she asked, smiling. I began to pull down my shorts and she added, "Slowly!" I crept my fingers into my shirt and bringing my hands up began to pull it over my head. I looked at her and she was licking her lips and smiling at me. I took my fingers and dug them into the waistband of my shorts, sliding them to my hips and down. She cupped one of her breasts as my dick came into view.
She slid onto the floor and crawled over. I felt I would cum right there, I was so aroused and stimulated. She got in front of me and looked up. Her eyes were deep and expressive. She wasn't just sexually aroused, she was hungry. She smiled an eager smile at me and I couldn't help myself. I took her face and started to stuff my dick in her mouth. She happily accepted and opened her mouth wider, taking in as much as she could. I backed her against the sofa cushions and began to fuck her face. I thrust my hips to her mouth. All the time, she was looking up at me with a look of pleasure. She grabbed my ass cheeks and forced me deeper into her mouth.
On each stroke I would pull out my shaft slowly, holding her chin, seeing it glisten with spit. I pulled my mushroom head out and she gasped. She looked at me again expressively and I slipped it back in. We did this for awhile and reached a point where I was thrusting deeply, running my balls into her chin. She was massaging my balls and slapping my ass cheeks, going from a sexual moan to a violent growl.
I couldn't help myself, I needed to feel her body against mine. I pulled her up and felt her sweaty breasts and soft skin press against me. She yelled, "Oh yes, fuck me!"
She turned around and began to curl around me, hooking her arm around the back of my neck. I walked her to the sofa cushion and pushed her to kneel doggy style. I brushed the head of my cock against her pussy and thrust deep inside of her. She loved it and grabbed onto the edge of the sofa, bucking back against me. I couldn't think anymore and just thrust into her as hard and fast as I could. I grabbed her breasts, I didn't caress them, I squeezed them and sucked on the back of her neck hard. I clawed her shoulders and put my foot up on the sofa so I could thrust deeper.
I heard the slapping sound of skin on skin as I accelerated to the point of no return. I felt tired but I was so deeply aroused by Vanessa, I didn't realize until later how tired I was. We came to a simultaneous, body convulsing, passionate orgasm, and passed out on the sofa. I felt like I gave Vanessa a good workout, as well as assuaging her hunger. I wonder what else she can teach me?