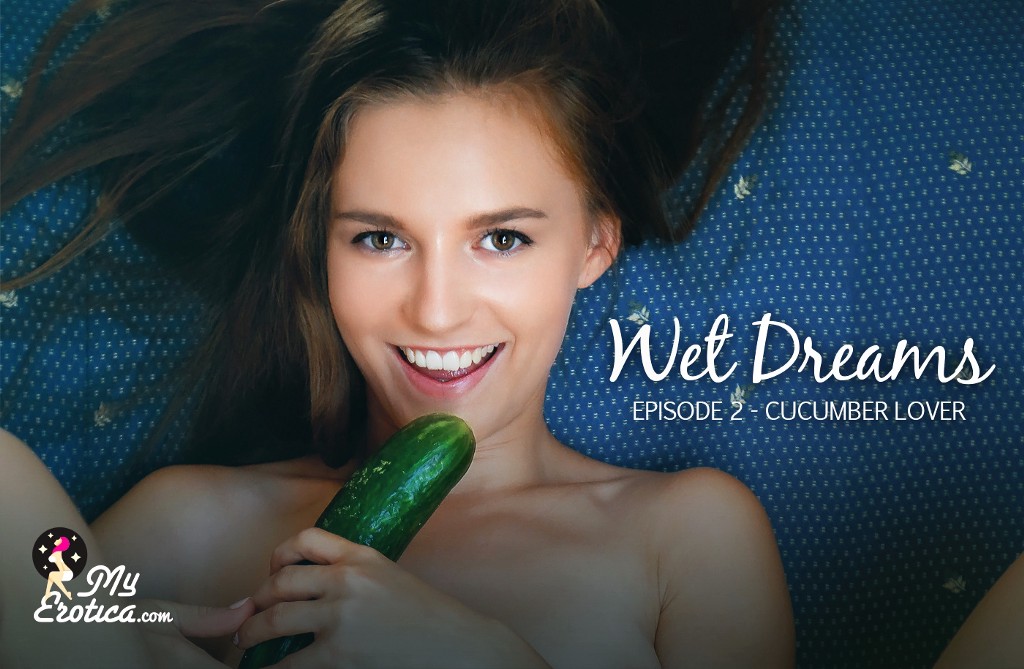 She's face down, ass up over a pile of potato sacks in the storeroom as I twirl the thick cucumber in her pussy. Her plump lips are stretched around it, rippling as the ridges force her even wider open, juice streaking the green skin and making it shine as I ease it in and out. With her knees spread, her asshole is exposed, winking at me with each involuntary flex and shudder of her muscles, and I wonder how it would look with a carrot shoved in it to hold it open.
My grocery shopping is not going according to plan; but then plans — like rules — were made to be broken…
Every time the cute little honey at the grocery store fondles my produce suggestively, I think to myself, how would you like it if I jammed that big cucumber in your juicy snatch, sweetie? Did you ever take anything quite that big before? Will it stretch you wide, will you bounce on it energetically as I hold it for you, will you lie back and beg me to fuck you harder with it?
Let's find out.
My taste in girls (and guys) typically tends towards the sultry, caramel-skinned Latin flavor, but something about this pixieish brunette has me intrigued. So today, when she flirts with me at the checkout, I flirt back with intent, letting her know I'm up for it if she is.
She makes some outrageous remark about the cucumber as she puts it in my bag, and I look her right in the eyes and say, with full sincerity, "Why don't you show me?"
She pauses for only a beat before grinning and responding, "Why not, indeed?"
I'm expecting an exchange of phone numbers, or a plan to hook up later; I'm not quite expecting her to step out from behind the checkout counter, shouting across to her colleague, "Just going for a smoke," then flashing me that wicked smile as she adds, "follow me." But, what the hell…
I grab my grocery bag and follow her, admiring the way her petite ass moves in her ugly uniform skirt. We go out back into a storeroom and she immediately grabs me for a kiss. She's high-energy, tongue pushing into my mouth, one hand sliding up under my shirt to grab my breast as the other squeezes my ass. If a guy handled me like this I'd think it showed a lack of finesse, but it's undeniably exciting to have this cute girl groping me so frantically.
Now is not the time to hold back, so I hike her skirt up and slide a hand into her panties, finding, to my surprise, a thick, fluffy bush. I've never been with a girl who had more than just a neatly trimmed little triangle of pubes, and the idea of tangling my fingers in these thick curls is appealing. I kneel on the dusty floor and tug her cotton panties down to her ankles, and take a good look at the unkempt patch of hair before nuzzling my face in it.
The smell of aroused pussy is heady, the scent captured and intensified by her bush. I run my tongue along her slit, exploring the texture of hair and skin, the tangy taste, the heat. She moans and wriggles. I use my fingertips to spread her open, pushing my tongue a little deeper between her lips, finding her clit. She giggles, moans again and wobbles, almost falling, so I spin her around and bend her over a stack of potato sacks.
Now I have her just where I want her, firm little ass up, pussy exposed. The visual is startling, her juicy slit flowering open, surrounded by a thick fringe of dark hair that makes the pinkness of her pussy so vivid. I lean in and start to eat her in earnest, summoning up all my skills to get her off fast and hard, acutely aware of our surroundings and the risk of getting interrupted at any moment. Luckily she's hyper responsive, twitching and gasping every time my tongue strokes her clit, and some steady, firm licking quickly takes her over the edge, her fingers jammed in her mouth to muffle her moans.
There's something very specific I want to see, though. "Don't move," I say, grabbing the big cucumber from my grocery bag. She's certainly wet enough to take it, sloppy and relaxed from her orgasm, and doesn't even flinch as I press the fat end of it against her opening, wriggling it around to smear it with her juices. In moments she's rocking back greedily, trying to take more, but it's a tight fit and I can only get it a little way inside. I remember I bought olive oil too; extra-virgin lube, I think to myself.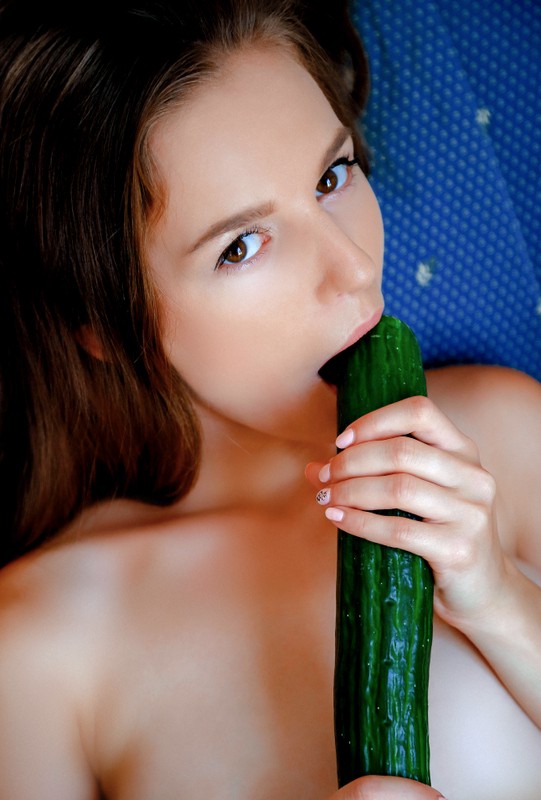 "Hurry up!" she urges as I fumble with the bottle, breaking the seal and drizzling some over the cucumber. Because you're scared of getting caught, or because you're desperate to get fucked? I wonder. Not that it matters. I tug on one ass cheek to hold her open as I push the oily vegetable into her cunt, and this time it glides in smoothly. It looks sensational, her plump, hairy lips stretched wide around the shiny green shaft, hugging it, rolling with the motion as I ease it in and out.
She gasps and shudders, humping up and down, fucking herself on it like a horny little bitch. She's taking a good third of the huge cucumber, and I just hold it steady, not wanting to thrust something so big and unyielding into her, letting her ride at her own pace. She's wild, moving back into a squat over it so she can bounce harder. I wish I had a hand free to film it on my phone, but it's all I can do to hang onto the cucumber as she fucks it frenziedly. Her moans get more and more high-pitched and suddenly she collapses down over the pile of sacks, her whole body stiffening for a moment, then bucking crazily as she orgasms.
I give her a second to catch her breath and then start to inch the cucumber out of her, but she grabs my hand to stop me.
"Sit on my face," she says, turning onto her back on top of the sacks and sticking her tongue out at me. She's so cute and funny, I can't resist. Besides which, I'm dripping wet; seeing her cum so hard has really turned me on. I pull up my skirt, slide my panties off and straddle her face in a sixty-nine, so I can stir the cucumber around in her snatch while she eats me.
True to form, she doesn't waste any time getting me warmed up, not that she needs to, she just plunges her face between my thighs and her tongue between my lips, licking my clit and then sucking on it when I tell her to go harder. I'm a G-spot girl though, and need penetration to get off quickly. I tell her, "Use your fingers," and she slides one into me for a quick exploration, then adds another, and then a third, bunching them together and thrusting them into me. With her free hand she grabs my ass, pressing me down on her face harder, her lips suctioned around my clit. I can't really move so I let her take charge, and she finger-fucks me rapidly and roughly enough to make me delirious. She finds the perfect spot and grinds on it, twisting her knuckles around until the stimulation hits overload. Then I'm cumming, sharp stabs of pleasure blending into one powerful surge that seems to last for ages.
I'm still hanging onto the cucumber, and she raises her hips to drive it deeper inside her again, squealing uncontrollably this time, her pussy all sticky and puffed up as it devours the vegetable. Shrieking, she starts to hump her hips jerkily, fucking herself up and down the fat length of the cucumber, climaxing again with a yell.
Coming back down to earth is messy, both of us streaked in dust and oil and pussy juice, although she's in a far worse state than me, her crotch swollen and tender, pubes matted with oil. I have baby wipes in my purse (you never know when you might need them!) so we clean up as best we can, but I can't help feeling her just-fucked glow — and the strong aroma of olive oil and pussy — will give away that she's been up to no good. She tucks the glossy, bruised cucumber back into my bag and lets me out the fire exit with a kiss and a wink.
Best grocery shopping trip ever.
Thanks for reading! Your comments, follows and applause get me hot 🙂
More confessions from me here — if you think you can handle it! Maybe take a cold shower first…