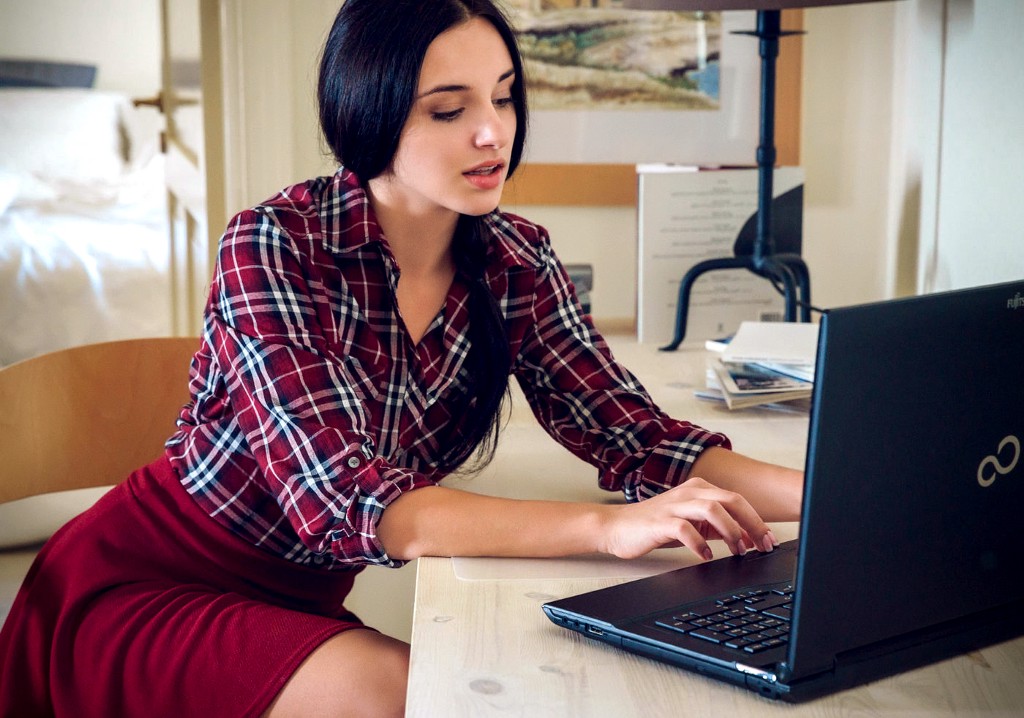 The corner in the master bedroom used to look lonely. Now it's got a love seat that makes a perfect nook for reading or surfing the internet. With its vantage point of the bed, he's more interested in other forms of browsing.
She didn't understand why he was intrigued by the idea of her fucking around. He couldn't explain it. He seemed confused by his desires: "You should be in verse. You should be memorialized on canvas. You should be at the center of a filthy magazine for all the world to see."
At first, she didn't believe him.
"Close your eyes," he said. "There's someone who wants to fuck you? Do you want to fuck him, too?"
She feared it was some kind of test.
"Would you bring him here?" he asked.
Was he merely teasing her with fantasy, tormenting her with an act he would forbid, or tempting her with a new approach to love?
"Would he be man enough to fuck you in front of me?" he said.
How long did Adam hold the luscious fruit at the tip of Eve's tongue? And she is to blame for the world's sins for finally taking a bite?
"Oh, honey," she said. "How could you make me choose just one?"
Her truthfulness left him in a free-fall, his soul remaining up where angels fly. He felt empty. He shivered with fear. But her whispers brought him back. In truth, they found lust.
She named names, names that had faces, to him. She confessed her most unfaithful thoughts until they came together hard and fast.
Ann had wondered— but never tested out — how easy it would be to identify a stud to bring home. She thought she had some good leads. What she didn't anticipate was how picky her husband would be. X wasn't nice enough, Y wasn't cute enough, Z wasn't athletic enough for her. Her exasperation led to a blowout that helped them uncover the problem. Too many of the guys were in their social circles.
That left the internet and work. The internet was too unregulated. Work was complicated. She had a job with enough authority that none of the men who worked with her wanted to risk messing around with her. She imagined a thick case file with her name on it locked somewhere in the HR director's filing cabinet.
So Ann decided on a hybrid approach. She started looking at her virtual networks.
"Somewhere between an old boss and Kevin Bacon, there's a whole network to plug into," she said, amusing herself as she browsed through LinkedIn. She updated her profile with a sexy pic and sifted through her 3rd and 4th connections. Profile pics and company names — that she checked against a big stack of business cards — brought back memories of a glass of wine at the airport, flirting with a cute stranger at a conference, and a late dinner that could have ended in his hotel room if she had wanted it to.
She had an almost perfect conversion rate with most of the guys she invited to her inner circle.
So fun to see you on here. I miss you!
Once they accepted, she would follow up with a not-so-subtle request for a "personal email address," which always came quickly. She would then send a quick email back from her private account, which was a great conversation starter.
She had a template for the second email, "the feeler."
It's so great to reconnect! I had such a great time [recount however I met him]. Are you swinging through town anytime soon? I think I owe you a drink.
Of her 10 initial leads on LinkedIn, Craig endorsed six of them and five replied to her feeler. Within a week she was exchanging flirtatious emails with four of them and sexting with the other.
The "closer" e-mail was the trickiest. She had to steer the guy in a direction where he felt he might get lucky, even with her husband around. She had Craig read over her first draft:
So fun you are going to be in town Friday. Our kids are at a friend's house. We were going to kick back, make a fire, and put a dent in our wine rack. You should totally come over. We have plenty of pillows if things get a little crazy.
"Should I send it?" she asked.
"What's the worst that could happen?" he said. "He leaves your network?"
Ann always got a knot in her stomach waiting for a response. She got wet with anticipation and got even wetter reading the replies to Craig.
The guy who was in town on a Friday was the one she had been sexting with. He was Link 1.
There was a familiar pattern that started that first night. She wore something that showed off her body — a short skirt, yoga pants, a revealing blouse. They would drink a lot. She would get touchy with the other man until he seemed convinced that Craig didn't mind too much. She would give him big smiles and rub high up on his leg. They would eventually make out. And then she would ask him to come upstairs and hold his hand on her ass with Craig trailing behind.
Her experience with Link 1 was breathtaking. It wasn't him per se. He wasn't as attractive as she remembered after two red wines at a cybersecurity conference happy hour. He was decent in bed. But it was more the thrill of fucking someone in front of her husband that led her to a three-orgasm night.
After that, she was hooked. Craig would often find her studying her phone. "Find another guy to link you?" he said, feeling amused with his turn of phrase.
The night with Link 2 was long but unmemorable. It was the opposite with Link 3. He showed up late, they all drank too fast, and she moved in on him early and strong. She didn't even make it to the bed when they went upstairs, bending over for him at her dresser. She dropped her underwear and he fucked her with her skirt pulled up over her ass.
While she always wore something sexy, she tended to go for comfort underneath — her panties and bra never stayed on long. It took a few minutes for her to get naked and on the bed with Link 3, who fucked her like a fallen missionary.
Link 3 helped Ann appreciate the power of a big dick. She felt a fullness with him crammed inside her as the pressure built. His dick was like a veiny forearm, reaching deep inside her to squeeze her internal sponge.
"Oh fuck, oh fuck," she screamed. "I'm going to squirt."
He pulled out and, as her juices started to flow, went down on her. When she thought she was finished he rubbed her pussy and fingered her in the right spots till she was squirting more. Between the loss of liquid and all the alcohol, she could do little more than lie back and let him fuck her mouth. She swallowed him whole before asking for a kiss goodbye. She was almost asleep when Craig straddled her on the bed and came all over her chest. She woke up happy and sticky.
From then on she required junk pic "verification" for her links. She got good at spotting when a guy was faking it.
Adorable. Can you send one from the side?
If a guy wasn't up to snuff she played the "husband card."
Craig found my account so I have to shut this down. Hope to run into you sometime.
Link 4 brought real handcuffs, a blindfold, a ball gag, and a butt plug with fur to give the fox her tail.
Link 5 came with a surprise friend. He was cute so Ann didn't make a fuss.
Craig took on a lot of support roles to make this all work. In the midst of a good fuck she would look for him on the periphery. "Honey, can you get me some water?" Or maybe it was a toy. She often wondered if he wanted to join in or just watch. Link 5 and 6 provided Ann with the chance to feel two strange cocks inside her. But she needed Craig's help.
Link 5 was comfortable being ridden by Ann as Link 6 tried to come in her back door. But even after half a bottle of lube and warming up with a butt plug, her thick-headed visitor couldn't push through. So Craig volunteered to prepare the way, fucking her in the ass until she was ready to welcome her visitor.
Craig filled a tissue with cum watching Link 5 and 6 fill Ann with cum as she screamed like it was a bloody home invasion.
Craig could sense that Ann was feeling more anxious than usual about Link 7. She spent a long time soaking in the bathtub beforehand and she asked for Craig's help shaving her sensitive spots. "No stubble or anything, OK?" she said, bent over in the tub.
She wanted to get the lingerie just right for the slinky dress she bought especially from Forever 21. She had a Victoria's Secret drawer for her "classy stuff," and a Yandy drawer — renamed from Frederick's — when she wanted to go for something slutty. Craig thought they should find some kind of sexy-slutty combo.
Ann came out in a fishnet body stocking. "Sexy," he said.
"Yeah, but it's got laces over my crotch for easy access, so a little slutty," she said, looking anxious to loosen the laces.
Craig pulled the fishnet off her chest and snapped it in between her breasts, pushing out her exposed boobs. "Now that's more like it," he said.
Ann was breaking more than a few rules with Link 7. She worked with him, although in a different department. She had also fucked him without telling Craig — just a little fling on the stairs that never came up during other confessions — and she was feeling guilty about it. She hoped that maybe having Link 7 over to their house to fuck him in Craig's plain sight would possibly make things better.
But it was wrong from the start.
Not the sex. The sex was great. Ann and Link 7 went on so long that Craig pretended to fall asleep with Ann whining for him to "fuck me so hard, all night, baby." Craig listened to her satisfaction for hours it seemed. Or was it minutes? It was a timeless satisfaction that he had rarely heard from her. He tried to seem surprised when she woke him up on the couch. "He's gone," she said. "Come to bed."
Ann wanted to break another rule and bring Link 7 back again, which prompted a big fight. Eventually, Ann confessed about the stairs. Craig wanted to know what made him desirable. Ann had a hard time deciding. It could have been his assured smile. Or was it his body? "Tall and imposing, just like yours," she said — "Before I softened up," Craig thought. Or the fact that she could make a younger man tense up when she slapped him on his hard chest when telling a corny joke? Or the other parts that she could make tense?
He asked for all the gritty details about the stairwell, which predictably made him horny. She finished the story with his dick throbbing inside her with jealousy. He wished he could last forever but her words made him relent and he let his desires be overwhelmed and swallowed up by hers.
Inviting someone back required a rule change. She shouldn't withhold anything from their visitor, Craig said. "You can sit or suck on his cock any way you want. I just want you to look at me like I'm your man."
"Oh, honey, we're going to fuck into our 90s, into the ages," said Ann.
"Oh honey, oh honey, oh honey," Ann shouted, reciting their mantra for eternity as Drew fucked her from behind. Ann had stopped sucking Craig's dick but was looking at him with appreciative eyes as her orgasm kicked in.
Craig could tell Drew was cumming before she could. His face winced with pleasure. She knew when he jammed himself into her with slow and hard thrusts. "Cum in me, baby," said Ann. "Cum hard." He did not disobey.
Ann rolled off the bed and straight to the bathroom. "Wait here," she said. Drew collapsed on his back and Craig waited anxiously, hoping to avoid small talk.
Ann was quick and she came back into the room, still naked. "Where's the remote?" she said. Craig held it up from the nightstand and she began to fumble through their video library. Ann found what she was looking for. Waltz with Me was a series of porn vignettes that told the story of a couple inviting guests over for encounters in different seasons. In summer, they have another man over and the camera circles around the three making love.
Ann crawled up on Drew and sucked his cock till it was clean with her spit but even that couldn't prevent the softening. "Sit back and watch," she said, wiggling him in her hand. "I'm not done with you yet."
Ann then moved to her husband. She continued to fondle Drew's dick as she sucked Craig's cock. But the movie was getting to her favorite part, so she turned around, sticking her ass in Craig's face as she continued to suck on him. Her pussy tasted foreign to him. It was the taste of a woman spoiled by her husband, and soiled by her lover. His tongue twirled in search of his wife's purity.
After a few minutes, Drew hardened up in Ann's hand. "That's it, baby," she said. "He's ready, honey. Will you let him come in my ass?"
Craig liked that she was begging for something that was a forgone conclusion. He felt most comfortable exercising the illusion of power.
Craig looked up as Drew slowly slid his dick into Ann's ass. Once Drew was able to establish a consistent pace, Craig was able to resume.
His orgasm snuck up on him, likely as he tried to avoid getting slapped in the forehead by Drew's clean-shaven balls. Ann moaned as his cum filled her mouth. On a typical night, he would have noticed something else in the way her vocal chords began to vibrate but he was also surprised when she exploded over him. He had only caught his breath when the second wave broke over him. Drew was the last to cum. Craig could see Drew's body twitch as he went deep into Ann's ass.
That night, they broke another rule. Drew slept over.
The next morning Ann woke up before everyone else. Naked and nestled between Craig and Drew, she crept out of bed and threw on a bathrobe. Her head was only a little foggy but she popped a couple Aleves out of habit. She brushed her teeth and sat down in the love seat to rinse with mouthwash.
From the cuckold's seat, she wondered if she would ever understand Craig's motivation. This couldn't be some form of couch surfing for him. She knew it satisfied some deeper longing. But did it come from a position of strength or weakness? She had arguably become a slave to his desires — and she was more than happy to wear those chains. Was he simply looking to be ripped from the ordinary, to feel out of control? She felt love in the knowledge that he trusted her not to let these moments overcome them. But did she trust herself? She feared she couldn't just put this all back in a box on a shelf like it was a DVD.
The fogginess in her head was disappearing. The tastes of the night before — the bourbon, the sweat, the cum — were washing away. She didn't like the sanitized taste in her mouth.
Ann swallowed the rinse and left her bathrobe on the love seat. It was time for her lovers to rise and shine.