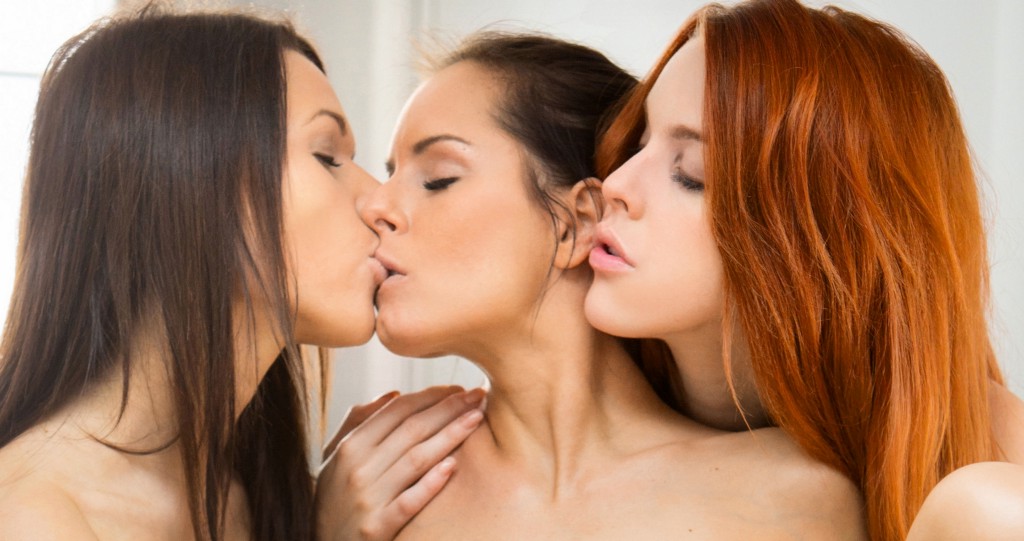 A companion piece for "Three Women and the Ideal Husband", by James Neil Clarke
I awoke rock hard next to Elle and kissed her gently on the cheek to say, "Good morning," as I pressed myself against her warm ass. I wanted very badly to fuck her, but I thought that I had better save myself for the party.
The party would be Elle, our friend Tamara, a new friend Sophia, and me. Elle set it up — she is the ideal wife. Not just because she set up this hot foursome with two other beautiful women, or that she is, herself, hot as fuck and ready for anything. She is ideal because she is loving and caring, thinking of the needs of others, and bettering herself every day to fulfill her place in the world.
So instead of fucking her, I pulled on some pants and headed to the kitchen and prepared a goat cheese omelette with fresh herbs for Elle and one that included bacon for me. I was going to need the extra protein for the party. Elle came in, and I gave her coffee, and we enjoyed the morning. As we finished breakfast, my phone chimed with a new text message. It was from Lynn, a doctor whom we met on vacation at a clothing-optional resort several weeks ago. She wanted to catch up, but I told her that we needed to to get ready for a date, promising details to come later.
"Three women… every man's fantasy," she said. Lynn was right, of course, but the implication was not entirely accurate. You see, it's really a party for four, not simply a spectacle for my benefit. Elle and I discussed Lynn's text further, as I trimmed the postage-stamp sized patch of hair just north of her clitoris. I swirled a finger at the edge of her lips, causing her to gasp. She likes the attention of having a "little trim," as we call it. We talked party plans, and I shared with her a desire to spend some of the party time with each person getting the full attention of the other three.
"It is really an overwhelming outpouring," I said, "when three people are all focused on pleasuring you, and I really want each of us to have that."
Elle agreed, of course. On important things, we always see eye to eye — such as what would happen next. It always happens when we prepare for a date with another woman, or a man; or today, two women. Though time was tight, we could not resist the magnetism that pulls us together. My cock was stiff from the excitement of touching Elle's gorgeous body. We kissed and touched, and I slid into her easily, and she let out another gasp. She pressed her voluptuous breasts together and pinched her nipples. That always gets me. We kissed as we fucked, and I tried not to come, but she felt so good and looked so damn hot.
A short time later, we arrived at Tamara's place, showered and perfumed, with two bottles of champagne for celebrating. Tam called us upstairs. She kissed us each hello, as you would a friend at any party. But, Tam was wearing next to nothing, her long black hair flowing over her bare shoulders, her perfect nipples pouting up against sheer fabric, and a G-string providing full view of her smooth, bare ass.
We toasted and chatted, and then Sophia joined us. She arrived clad in black with fishnet stockings cresting out of her long leather boots. We politely kissed hello and exchanged holiday stories. Sophia explained that she was headed to the Hanson concert later, and we all laughed. Mmmbop. The silly song made us laugh. But if her goal was to catch Hanson's eyes by the tour bus after the show, Sophia certainly could have. She was curvy and sexy with soft skin the color of caramel.
After more stories and champagne, we began kissing each other intensely, choosing whichever mouth was free (or not) as our hands explored the bodies before us. Undressed, Sophia dived onto Elle's slippery slit. We talked about the trimming that we had done earlier, and about another woman whom we had played with before, who we decided was faking that she was into other women. "That's not Sophia's problem," remarked Tamara, "she loves to eat pussy." Enthusiastically so, I thought to myself, and I was pleased for my wife to have a lover go down on her with such zeal.
I looked down to see Tamara kneeling before me and looking up at me with doe eyes. She held my stiff dick in her left hand and lapped at my balls. "I shaved them for you," I said. Tamara smiled as if to thank me, and then took my entire length in her mouth. Her tongue fluttered on the underside of my shaft as she made my cock disappear inside of her mouth. She sucked hard at the head, and again enveloped me with her mouth. I watched Sophia and Elle writhing on the couch. With the sights around me and Tamara's expert technique, I came a thunderous load inside of her mouth. A kiss, and it was time for more champagne.
As discussed, we next "ganged up" three at a time to pleasure the fourth. Tamara and I licked Elle's clit and Sophia sucked Elle's erect nipples. I traded my fingers out of Elle's hot pussy so that Tamara could fuck her with a pink dildo, her favorite toy. I put my mouth on Sophia's dripping pussy for a quick taste, and then turned my attention back to Elle. She came, squirting in an arc as she cried out. Sophia and Tamara marveled at the sight, which as I explained, "Never gets old. It's always amazing."
Next, I asked Tamara if I could lick her pussy, and she smiled and giggled, admitting that she had been waiting for that. Tamara's pussy is like a tiny rosebud. She splayed her long legs across the couch, and I lost myself between them. Elle and Sophia were doing something to her, but I didn't know what. Clearly, it was what she wanted. Tamara came quickly and violently as I licked her clit and stroked her G-spot. Then, I pressed the palm of my hand against her vulva while she was still coming. It was something I had recently started doing with Elle, and they agreed that it felt really good to have pressure against their pubic bone during the last part of orgasm. I like the way it makes them ohh and ahh. I whispered in Tam's ear how good she tasted.
Sophia was up, and Elle returned her oral favor, while Tamara and I sucked her tits. We nuzzled her neck and ran our hands all over her body. Tamara squeezed Sophia's tits and I rubbed my cock all over them. Sophia's pussy is shaved bare and feels amazingly slick. I slid my hand down to spread Sophia's lips so that my wife could lick Sophia's clit even better. Elle had her coming in no time. Tamara and I sucked hard at her nipples to give her the full 3-on-1 effect.
Then, it was my turn. All three gorgeous women sucked my cock, licking up and down my shaft together, taking turns plunging me into their hungry mouths. We switched positions, and Elle rode my face, while I rubbed Sophia's pussy and Elle sucked her tits. Tamara sucked my cock and balls and jacked me off to another orgasm.
It was time to refill our glasses, and we talked about growing up, and places we had secretly fucked to avoid getting found out by our parents or the police. Sophia was bent over the counter rubbing her ass into my dick as we talked. I lost track of the conversation, and Tamara and Elle laughed at me for being transfixed on Sophia's ass. It was firm and smooth, and she twerked it against the head of my dick. It was time for more fucking. First on the couch and then on the bed. We all fucked each other and sucked and explored each other, all four, of us at the same time.
I fucked Tamara from behind, as she licked and fucked Sophia with a dildo. Elle ground her pussy into Sophia's face, and I enjoyed watching Elle's spectacular tits bounce up and down. Then, I fucked Sophia from behind, as the women all kissed. I grabbed onto her round ass and fucked her harder as she moaned. We switched again as Sophia laid back. Tamara positioned her pussy over Sophia's tongue, so it could dart across her clit. We changed again, Sophia sucking me, while I rubbed the pussies of both Tamara and Elle. We all kissed and switched again. Sophia exclaimed, "Oh, my!" to which Tamara replied, "Tetris, bitch," a phrase that we use to refer to the game of fitting our bodies together in every imaginable way.
Tamara then declared a "pussy-eating contest," which we all thought was a really good idea. I lapped slowly, then hungrily at Sophia, and slid a finger inside of her. Tam and Elle licked each other, and I pinched their nipples and slid a free hand up and down their bodies. With the other hand, I slid a second finger into Sophia, so that my middle finger was deep insider her and my index finger stroked her G-spot. All the while, my tongue danced across her clit. Sophia cried out, surprised, and came with a gushing arc of delicious nectar. I don't think she had come like that before. I lapped at her juices and then pressed my palm against her vulva. She was still coming hard. After catching her breath, Sophia kissed and lapped her pussy juices from my face, which was really hot.
After more kissing, I asked Tam and Sophia if they would like to see me fuck Elle. Tam said, "Well, it's the only thing we haven't done yet," and Elle and I know how much Tamara likes to see us fuck for her. Elle knelt and slid her ass up to me. She pressed her thighs tightly together, so her pussy lips pouted out. I fucked Elle from behind at a steady pace. Elle bucked back into my dick and asked for more. Tamara and Sophia kissed each other and me, and I alternately rubbed their hot pussies while I fucked Elle. It's true that the more turned on you are, the more you come, and I exploded a huge volume across Elle's back so Tam and Sophia could see. They both were surprised that I came again, but I knew that fucking Elle, I could come again. We fit together so well, and are still so much in love after all this time. And, she is, of course, the ideal wife.