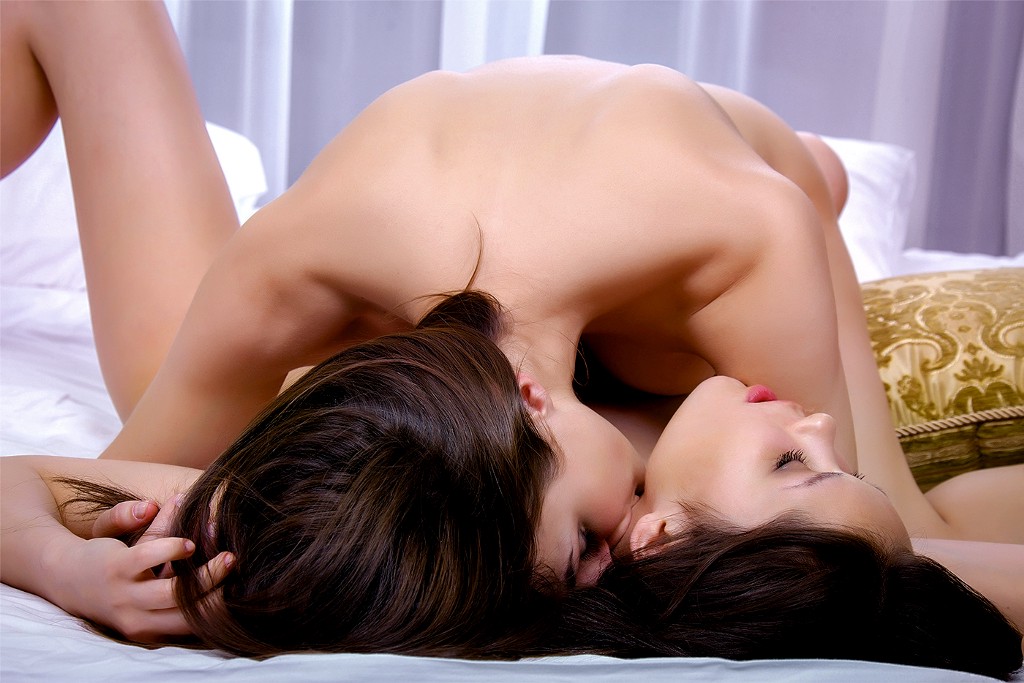 I was drenched, exhausted, and pushed to my sexual limit. Her intention was to make me come over and over again. Just feeling her sweat-damp body pressed against mine was making me horny again. She rolled me over so she was on top. Then she crossed her leg over mine, locking our thighs tightly together. The vibrations from her hood piercing were aimed perfectly over my clit. By now, the slightest movements made wet sloppy squishing sounds as we ground on each other.
"Are you tired, baby?" she asked.
"Never," I replied, licking up at her mouth.
"Do you want me to stop?"
"No," I moaned. "Please don't stop."
"What are you going to do if I stop?" she whispered.
I was close to coming. Then, she stopped grinding on me. She lay still, pinning me with her weight as I squirmed beneath her, my body begging for release.
"Please! Don't do that!" I begged, not even sure what I was asking.
"I'm not doing anything," she smiled wickedly.
I began whining irritably again. She refused to move, but kept her pussy tightly pressed on mine. I had no choice but to take the low purring vibrations of her hood piercing until I was desperate to come. I was shaking and moaning. The slow, steady ascension was ecstatic torture. Just when I thought I was finally going to reach orgasm, she lifted herself off me and spread my legs wide.
"Don't you dare move," she said sternly.
She scratched her nails down the inside of my thighs, making my pussy convulse. She slid two fingers inside me, pressing firmly up against my G-spot. She flicked her fingers up and down, and pressed her other hand low on my stomach. I started getting dizzy and disoriented. It felt like my pussy was on the verge of combustion. I was making primal sounds as she fucked me harder and faster. At last, she leaned in, whirled her tongue around my swollen clit, and suctioned her lips around my flesh, making the vibration from her tongue piercing surround my entire pussy. A flash flood of fluid streamed out of my cunt and all over her face. I trembled helplessly as I released the most powerful orgasm of my life.
She knew exactly what she was doing. And she knew what to expect in return. The aftermath of orgasm unleashed my darker side, as always. I got up, pressed her down to the floor, and grabbed some handcuffs from the nightstand. I cuffed her wrists together and rolled her over onto her stomach. I raised my hand high in the air and spanked both her cheeks twice. My handprints stood out, bright red against her pale flesh.
"This is what you wanted, right?" I asked. She moaned her assent. "Then get up and bend your ass over the bed."
She did as I ordered, pressing her thighs together so the little ball on her hood purred loudly. I spanked her again, now giving her three swats per cheek. I reached between her legs and hooked my fingers deep in her cunt, then made her press her thighs together even tighter. I slid my fingers slowly in and out of her pussy, pausing every so often to spank her some more. Then, an idea sparked.
I took our favorite toy from the closet — a thick, vibrating rubber cock. We'd only used it once before, and had to sleep it off for hours. I spat on the head to get it wet and slowly eased it inside of her. It was very big, so I took it slow and steady. When half of the shaft was inside her, I turned the vibration on to the lowest setting. Seeing the rubber cock go slowly in and out of her cunt was intensely arousing. She was so wet already. Juice started leaking down her inner thighs.
She raised her ass higher in the air and began thrusting back against the toy as I pushed it deeper inside her pussy. I turned the speed up a little. I swatted her ass again, then grabbed the double ended dildo we'd been using earlier. I spat on one end and rimmed it around her asshole. Her body tensed as soon as she felt it, then relaxed to take it. I squeezed it inside her ass a little way, turning up the speed on the big toy in her pussy again to distract her. The buzzing grew louder as I fucked her deep and hard from behind. I churned the dildo in her ass, making her back arch from the crazy stimulation of the double penetration.
I could only imagine the overwhelming sensations coursing through her body. I pushed the dildo deeper in her ass as I fucked her steadily with the rubber cock. Then, I cupped my hand over her clit to make the vibrations on her piercing surround her pussy. She was screaming in ecstasy at this point, bucking her hips up and down. One final thrust of the dildo set off a powerful orgasm. Streams of juice sprayed down her legs, and she collapsed forward on the bed.
I let her come down from the intense sensations before I eased the toys out of her and helped her up on the bed. I held her in my arms from behind, smoothing her hair and kissing her neck. I could no longer hear the vibrations from her piercings. I guess the batteries wore out. We lay there, soaked in sweat, and finally drifted off to sleep. We didn't move from that spot for hours.