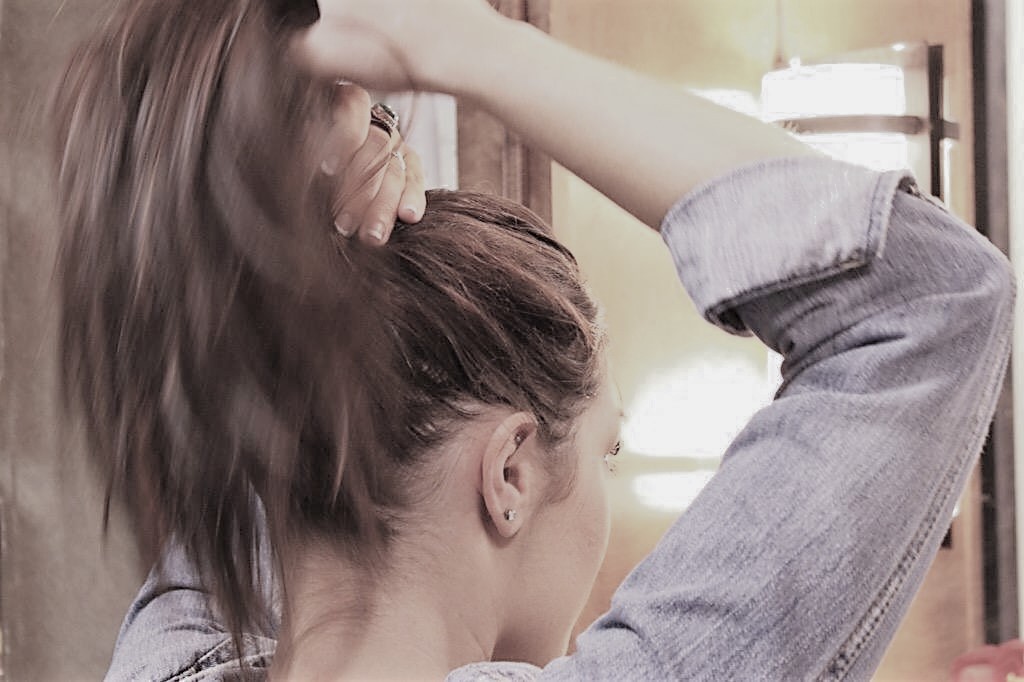 I grin devilishly as I watch you tie up your gorgeous hair. The vision of you takes my breath away. I can't explain why, but you look more beautiful to me right now than when you get all dolled up. It's different when we are home alone. Our ladylike masks are off, no fake stage, no audience. Your face itself defines purity. I wonder sometimes why you even bother wearing make-up. You look so sexy to me, just… like… this.
I walk over and stand behind you as you look in the mirror. Your arms are raised, tucking and pulling the thick plush strands through a thin black band. I kiss your neck as your soft hair spreads and whips across my face. I cup your breasts from behind, under your shirt. I pinch your nipples lightly between my fingers and let my teeth press gently on your nape.
You place your hands over mine as you follow my movements; one hand sliding down your waist, the other trailing over your stomach and down below the seam of your pants. I grasp your silken arch and rest my middle finger right over your clit. I slide my finger up and down slowly, feeling your wetness seep through the crease. I hear the first squish. I press just a little harder. I hear the second squish. I rub just a little faster.
I dip my fingers inside you. Your chest heaves in exhilaration. I watch you bite your lip in the mirror as heat charges through your skin. I slide my fingers out and spread your wetness back up to your clit. I can feel it protruding past its safe harness, aching to be touched until its inevitable orgiastic release.
The rhythm of my fingers, firm and intense. Your pussy on the edge of release, tight and aching. I bet I can make you come just… like… this.