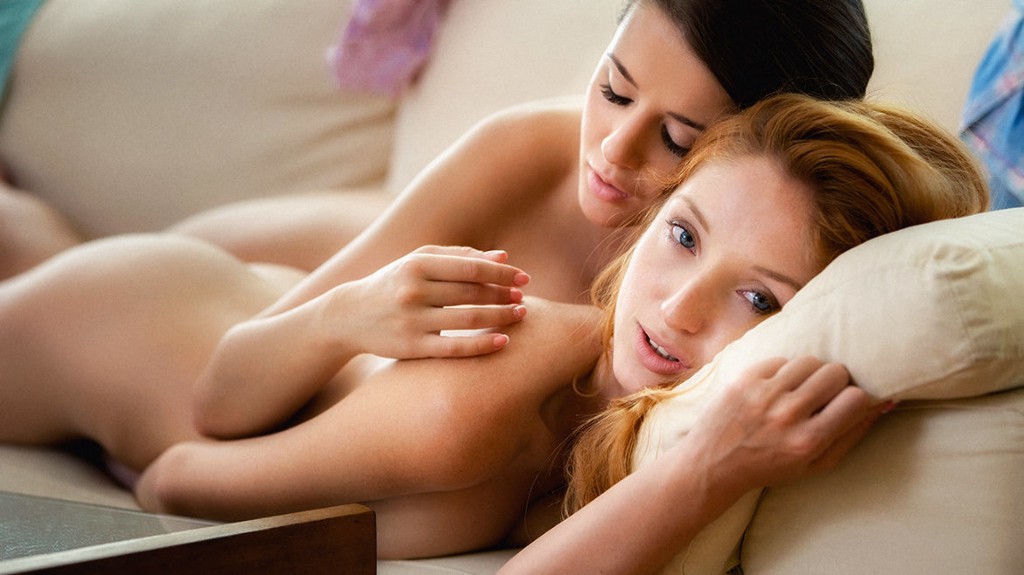 What magic can three make with a double dong and a pocket rocket?
Check this… two hot, sexy AF drop dead gorgeous beauties with shaved flowers grinding down on a 16" double dong with my hands and mouth all over them.
Well there I was.
You gotta know I have this thang for pleasuring women. Splayed out like divine offerings to the Gods. But first, it was my duty to creation and divinity to lay it down and bring it. And I mean really bring it for these two, nothing less than full on unadulterated pleasure, sweat and loss of all concerns was in order. No thinking, no worrying about Sweet Fuck All. Feminine orgasm and it being all about them is me really, you already know that, no preaching to the choir needed huh?
One was a raven-haired beauty and the other was a sultry, pouty-lipped, perky redhead. Their hips were so sweet to watch cumming together, cumming down on that sweet length and girth of a toy. You know, one of those pink translucent ones with phat heads on the ends for finding that spot.
I lay my mouth down on one clit while massaging the other with my fingers as their sweet selves worked that dong together. They two were laid out, on their backs with toes touching. With kind, sweet caresses my tongue worked its magic and my fingers worked their dexterity. Their little moans and tiny squeals brought me to a fine controlled frenzy. Ever so gentle like, as if to play the orchestra of their pleasure with rising crescendos and two pussies in a cappella singing high soprano as the bass of my throbbing cock pounded blood through my veins. The desire for them was that intense. Their curves and edges were such a turn on. The scents of our body sweat, their perfume, my cologne, their pussies and my cock mingled as our bodies found one another there in sweet ecstasy. Sweet deliverance. Divine unfolding of purpose. Woven into the tapestry of achingly slow, finely tuned and orchestrated without thinking: touch.
They not only liked one another, they were deeply aroused each by the other. I spent what felt like an eternity just watching them kiss before we lay down on those silky sheets, so soft, so alluring and inviting to the touch. The bed was almost as much of a heavenly experience as the view these two angels were giving me. Our bodies sank into its comfort and it caressed us as much as we caressed each other. Gawd, I love to watch women kiss, I mean is there anything more erotic on the planet, hell no!
Breasts bounced, inviting me to their nipples to suck, tease and bite ever so sensationally, crafted with care, abandon and technique. A tight rope of fine pleasure. My raven haired sweetie likes it hard and my red haired love likes it soft and gentle. Forth and back and back and forth between those tasty fleshy orbs of my desire. Sucking and pulling and pulling and sucking. Oh how amazing! How fine a thing it is to pleasure ones so willing and able to be free. Fleshy wetness at my fingers and hard nipples to taunt and pull in my mouth. Heavenly, I say, an utterly exquisite experience.
"Oh Daddy please put my pocket rocket on my clit while my angel here fucks me together with this toy," my dark haired vixen with eyes soft and begging implored of me.
Being ever the gentleman, I put that little metallic thing in my mouth to make it warm. The idea was to take away its cold approach. I wanted it to be welcoming and tender. A combination of pleasuring, not jolting. Being present and feeling these two as I did, they could trust me and this made for a most liberating experience for us all.
I lifted her little hood just a bit, placed the gadget in just the right place on her sweet little bud, and turned it on. They watched me watching them, catching their pleasure and giving it back to them tenfold each.
"Oh Daddy, right there, hold it don't move it at all P-L-E-A-S-E, I am going to cuuuuuuum." Her words drawn out to slow letters as the focus blurred her mind and ability to speak. My red haired angel ground down deep and hard on the toy, bringing her pussy's tender engorged lips together with her loving angel's, and they squealed together. Arched backs, chests raised into the air begging for my touch, my kiss.
Feeling this need from them I moved my lips between nipples, sucking and tenderly kissing as their bodies undulated through their orgasms. Damn fine!
Putting my hand down between two soaking wet perfectly curved fleshy woman thighs, I took the toy in grip at its center and pulled it from one and into the other, working back and forth. Picking up the pace of fucking two lovely pussies at once. Moving my other hand between massaging skin and feather light tip of my fingers touches to elicit more of those little moans and squeals. I so love those little sounds. Squeaks and peeps and sighs and breathless pulses of desire and passion deep. Those beautiful heaven-sent angels with just the right mix of sultry, sexy and sensual. I so adored the sheer abandon and loss of control I was bearing witness to. My heart sang and my cock continued to throb. Pleasure is the gift of gifts to give and watch. For me, there is nothing like it.
"Oh Daddy, please kiss my lips, I love your kiss and the feel of your tongue in my mouth."
With careful deliberation and cautious movements I took my time navigating over these angels of pleasure to come and kiss my raven haired honey. Some women are quite sensitive after orgasms, kinda like me actually, so it is imperative not to bump and bruise in navigating over hips, lips and thighs and beautiful bodies. Mmmmm. Did I tell you yet how turned on I was, oh gawd! It takes a real self control to be present and be cool under fire, so to speak, in these kind of situations. Sometimes these things can be so clumsy and awkward, but this, this was other-worldly.
Some like it hard and heavy but I am a tender, draw it out, taste it, sense it, feel it, kiss me kind, as some of you may know. Intimacy needs kissing, those ones who do not kiss are no fun and the thrill is not the same, that is just fucking. I suppose there is a time and place for that for some, but me, well, I guess I am an Old Skool romantic that way. Fortunately, I found two who got me as I got them. Kissing is so so good for the soul. Its tender wet embrace takes it all away, and I mean all of it. Being able to be present, raw and vulnerable with intimacy, even if just in the moment, is what turns me on most. And these two felt the same. It was in this way we could fly together. We could find the secret places of our heart's yearning, hope and need. Something not so fleeting and leaving you wanting so much more. Something truly fulfilling. Something connecting you with source, with creation, with life.
My raven haired goddess reached down to take my engorged manhood in her hand as her tongue begged my mouth to touch her heart. My red haired nymph of pleasing sweetness watched all the while, picking up the pace of her grinding. Naughty voyeur. I had to kiss her too. She looked so inviting. With continued mindful dexterity and adjustment, I with cock still being jacked and enjoyed, reached over to kiss my sweet voyeur. She was so wet, her mouth was so tender. She was able to balance the tightrope of extreme arousal with delicate, sensual kisses. Few have that gift, so I gave her the best of me and returned said gift in kind. Oh, the chi flowing between us three was beyond electric, it was actually coursing through us. Almost imperceptible little twitches rippled through us three as our love making progressed.
Lifting ourselves up to face each other we stared into one another's eyes and I made sure the dong did not slide out of their beautiful pussies. The temperature was rising in the room, sheets were strewn recklessly about. Bed coverings and pillows propped up this way and that in a random wanton state of purpose for flesh's satisfaction. Sweat glistened on our bodies making them sights to behold. We all looked so fucking hot and bothered and sexy AF. Oh how I love the smell of sex in the morning, fuck I love the smell of sex anytime.
"Daddy, please fuck my mouth. Please put that hard wet thing inside me and let me taste you fuck me please Daddy I am so cock hungry," our little red ridding hood purred.
And those two women, making my body and soul sing, stroked my chest with fingernails extended and played my tiny hairs there with touch gentle and ever so calculated potent lust. I stood on the bed towering over them with my meat extended for their divine acquiescence and salivating needing mouths. It took serious concentration and exercise of my years of balance training and inner core working to keep light and firm on this bed so soft. They saw me adjusting and tightening my calves and quads and kissed their Daddy's body with relish and reverence for his efforts to please them. Little pecks and long tongue dancing over my curves and edges delighting them so. Their fine, soft feminine hands held my legs and eased the difficulty of my balancing.
She just took it in her mouth and looked at her sweet female companion with one of the most sexy poses I have ever seen. Shit, it made me ooze pre-cum right then. Some women just have that thing, that cock in their mouth look of satisfaction and deep desire. Very fucking alluring, very sensual and the feel of her feeling me drove me nuts with ache. Speaking of nuts, my balls could feel the tug and pull of two women caressing them and edging me. Bringing me there and easing back. My breathing was quickly becoming uneven. The orgasm heightening within me built and subsided as these two switched their attentive, sexy little mouths on the sucking and bobbing on my hard cock. Back and forth they went and still were able to once in a while adjust and keep that toy inside them, all the while pleasuring me. Sheer mastery I say!
Looking up at me with a 'is this what you like Daddy' look, my dark haired angel urged me on putting her hands on my ass, pumping me to fuck her face. She gulped and swallowed saliva being brought on by the depth of the hard, long flesh in her mouth. Our gorgeous red licked her neck and kissed the bulge there from the meat her lover was indulging deep and long. It was not going to take much time, this scene was just too hot for me to stand. My legs began to weaken and those two picked up the pace. My raven haired lover, my ache, my need eased off her frantic bobbing pace and came off my cock. With her soft left hand she eased my meat into her lover's mouth, guiding the missile into her. Seeing it seek out her moist, tender, divine attention. Oh fuck! Shots of cum immediately spurted into her mouth. Greedily she gulped and came off herself just long enough to put it back in our raven haired honey's mouth and she took a few spurts to the face and swallowed the remainder down her hungry self. Swallowing me whole and taking the last of me deep again. Oh fuck!
My body felt like I was going to collapse and die right there. They caught me and eased me onto the bed. We kissed and licked and cleaned each other up and loved and held. And hell yes that toy finally slipped out soaking wet and soaked in woman's cum. I spent quite some time licking it and sucking the juice off that dong as they both cleaned and licked my cock hard again. Gawd those girls' cum tasted so good. We all three shared that toy in our achy little mouths and no time later were back at it again and again.