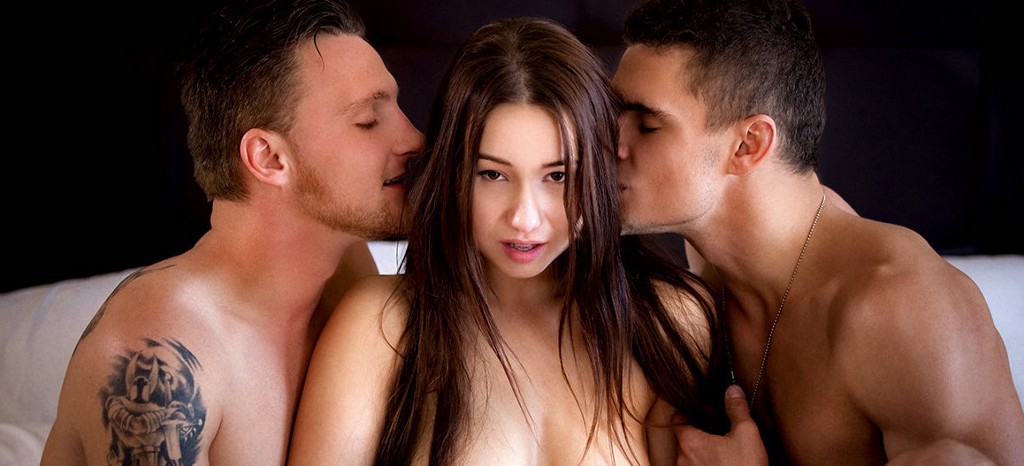 Eric and Tessa had been together for two years. It was a long-distance love affair. They treasured the time that they could spend together. They enjoyed the regular day to day things in life but when they got together things tended to go to the extreme. They drank more and they had a lot of sex. One extended weekend they had together, Eric came eleven times. It was amazing they could both walk after that one. Eric had come out of a loveless marriage and Tessa had been on her own for a few years when they met. They found in each other the highly sexual person they had each been hoping to find.
The sex had been fantastic from the start. It had been surprising and exhilarating to find the ideal lover. He had introduced her to anal sex and to her surprise she enjoyed it a lot with him. She had done it before, but not the way he did it. He enjoyed the lead up and playing as much as the actual penetration. Maybe he was a little preoccupied with the ass but it worked for them.
They enjoyed the fact that they could talk about anything; open sexual communication was something they both wanted. They could explore anything, first in words and if they were both comfortable with it, they moved to the physical. They had been talking about having a threesome for months. The problem wasn't bringing someone else into it, it was the matter of who it would be. Tessa wasn't interested in other women. She had always said that she really didn't care who was licking her pussy but she had no real desire to lick pussy herself. So they would have to find the right guy to join them.
There wasn't anyone in her circle of friends that she would be interested in. She always kept the idea at the back of her mind when she met different people, wondering if they would be suitable. Eric did the same. He tended to meet more people in his line of work than she did. He thought it would be incredibly hot to watch her with another man. He knew how much she loved giving head and she did it so well; watching her give a blowjob would be hot.
Over the months there were people that they discussed. It wasn't a high priority but it was fun to add the conversation into the mix when they were having sex. They talked about what she would do to the guy. He told her he wanted to see her giving a blowjob while he was fucking her. That played nicely into her fantasy since she really loved cock. She wanted more than one cock but she wasn't sure double penetration would be her thing. Having a cock driving into her while she had one in her mouth would be fun.
They planned for her to go to his place for a long weekend. He had been getting some work done on his garage and he had become friendly with the contractor. He considered him a possibility and decided to arrange it so that Dan, the contractor, would come by the house while Tessa was there that weekend. Eric had tried to feel out Dan for a reaction to the possibility of a threesome. He wasn't specific in case it wasn't something he'd be interested in. Dan had not committed to anything but he didn't shut Eric down either.
Eric told Tessa about it on the Friday after she had arrived. She was excited. She had given Eric her criteria for a guy and this one seemed to meet it. They would find out the next afternoon if their fantasy would become reality. That night they had incredible sex anticipating and talking about what could happen. The next day, they went about their regular morning routine. Tessa gave Eric a blow job to wake him up and he couldn't help but want to put his big, hard cock inside her wet pussy. She always got so wet when she gave a blow job. He fucked her gently at first but then he turned her around and got her up on her knees so he could fuck her hard from behind. She loved it like that but because he was so big sometimes it was like he was actually pushing her forward with the intensity of his thrusts. No matter, she took him in and loved it when he filled her with his cum.
Later in the afternoon Dan came by to discuss some details for the finishing touches to the garage. Tessa checked him out and approved. After they finished their business, Eric invited him in for a few beers and they decided to order a pizza. It all seemed very casual and natural. The drinks continued to flow and as they were sitting around the table the conversation started to turn sexual. Tessa asked Dan what he enjoyed in a woman. He was a breast man and loved nipples. If they stood out, they were that much better to him. He loved squeezing them. He would get hard the harder he squeezed them. Well this was sounding very good to Tessa. She had great tits and her nipples were definitely outstanding and very sensitive!
Maybe it was the drinks but after another beer she grew bold and decided to get up from the table and walk over to Dan. They thought she was just going to the kitchen, but she stood beside him and pulled down her shirt and bra to show him her nipple. Eric smiled and although Dan was a little surprised he hardly skipped a beat as he just reached up and squeezed.
"Those are certainly great nipples," he said as he squeezed her hard.
She let out a little moan. She had already discussed how she got wet instantly when her nipples were squeezed so both Eric and Dan knew what would happen to her. Dan quickly unleashed the other one and he was squeezing both of them. Well they knew Tessa was getting wet but they also knew that Dan would be getting hard. It wasn't lost on Eric and sure enough his big cock started to rise. Dan pulled Tessa to him and took her breast into his mouth and bit down on the nipple. Ohhhh, that felt good.
Eric was getting really hard watching this initial contact. He wondered where things would go. Dan looked over to Eric to make sure he was okay with what was going on. Eric gave him a nod, it was fine, maybe even better than they could've anticipated. Neither Eric nor Tessa had figured out how things would start. This was working well.
Dan reached for Tessa's crotch and felt the growing heat. That was all he needed to get his erection even harder. He unbuttoned her jeans and undid the zipper and quickly slid a finger into that wet pussy. Heaven. She was so wet already. She wasn't kidding when she had said there was a direct connection from her nipples to her pussy.
Dan finger fucked her and she held his head hard to her breast, all while he was still biting her nipple. Eric had to unleash his beast. He undid his pants and brought out that beautiful cock and moved back from the table so that he could stroke it as he watched them. Tessa opened her eyes and locked them with Eric's as she smiled at him. They hadn't talked about exactly what would happen, they figured it would just happen, and it sure was. Eric smiled back at her, he was enjoying the show knowing that Dan was getting her so wet.
Dan knew what he could do to a woman, he had a trick up his sleeve and wanted to show them both. He pulled her jeans down further and started moving his fingers on her G-spot. That felt good but Tessa wasn't ready for what happened next. Within two minutes of him starting, Tessa's pleasure was building in intensity and her knees were getting weak. All of a sudden she was squirting. Dan quickly took her pants down further while still massaging her. He loved seeing a woman squirt and he knew he would get her going quickly.
Tessa had squirted before but it was usually when Eric had her propped up on the bathroom vanity. She always figured it was the position of his cock hitting her just right. She always felt spent in the best way after she squirted. This was the same feeling. After what seemed like a long time, but probably wasn't, she needed to sit down. Dan had a big smile on his face and Eric was just surprised. He wanted to know how to do that.
"I can't believe you got me going so quickly! I've never squirted standing up."
"It's all in the finger play."
There was a big chair close by and Tessa went over and collapsed into it. What a feeling that had been. She had a big smile on her face. Eric came over to her and kissed her.
"What did you think of that? You enjoyed it?"
"Oh yes, how could I not?" she replied.
"You know what that did to me? It was fun watching, I want to try that on you but first I need to do something with this." He was stroking his cock.
She smiled and reached out for his cock. It really was a great cock, to look at and to suck and to fuck. She wanted him inside her and she knew he would oblige. She spread her legs for him to get a feel of her. She was wet and he knelt to have a little taste and then stood up, picked her up and turned her around. He took her by the hips and slowly guided his hard cock into her pussy. He loved looking at her ass as he drove his hard shaft into her. After a couple of slow moves, he couldn't help himself, he started going faster, he knew she loved it. They had a fantastic sex life, they were in sync and their sex drives were at the same level, very high.
Dan was watching from his chair at the table, it was a good view. He watched as Eric's cock went in and out and enjoyed watching Tessa's tits sway back and forth, she really did have great tits. He sat and stroked his cock, this was a good show.
Eric was loving the feel of Tessa's wetness enveloping his cock. She had a nice tight pussy. He slid in and out easily. At one point he looked over at Dan and took a moment to watch him stroking his cock. The sight of Dan stroking his cock while watching them seemed to get his cock even harder. He slowed it down just a little. Dan gave an inquisitive look to Eric and Eric motioned him over. Dan cupped Tessa's breast and rubbed her shoulder. She let out a purr and rolled her shoulders. The feeling of Dan's hands on her and Eric's cock in her was mind-blowing. It was about to get better.
Dan reached down to rub Tessa's clit as Eric pumped into her. He also gave a feel to Eric's balls as he moved in and out. It was such an electric sexual atmosphere, everything felt right. That touch added to Eric's pleasure.
It wasn't long before Tessa took Dan's cock in her mouth and started to really go at him. This was the ultimate. She didn't really want double penetration, but she sure wanted cock! She was very much in the moment, having cocks coming at her from two directions was fantastic. She devoured Dan's cock. Eric's excitement was building, watching Tessa so enthusiastically suck cock was really turning him on and making him so hard.
Dan was loving it. Watching Tessa suck his cock, watching Eric fuck her, it was a great show! They were all enjoying the moment, it just kept going and they were all being satisfied, what more could they ask for?
The visuals were getting the best of Eric, he could feel his orgasm building and building. Tessa sucking cock, the way her back arched and the way she was giving her ass to him. He grabbed her hips tighter and with his signature double pump and then a slight break in the action, he emptied himself into her and let out a wonderfully expressive groan and kept tight inside her.
Tessa broke away from Dan's cock and enjoyed the sensation of Eric filling her, giving her all she wanted. Dan took a step back and leaned on the chair. He certainly hadn't realized what was going to transpire when he had come by that afternoon. He couldn't have been happier with the change of plans for the night.
Tessa moved over to the couch to spread out and relax. Eric came over to sit beside her while Dan went to the kitchen to get more beer, they could all use the refreshments. He sat down on the loveseat and smiled at all the visions that were going through his mind. He knew this wasn't the end, it was only the beginning.
Soon the conversation turned back to squirting and Dan's technique. Eric was really interested in how he managed to get a woman to go so quickly. Dan was showing him, he needed to move his fingers like he was motioning for someone to come over but do that with his middle finger as the main motion and his index following. Eric wanted to try it out.
"What do you think, baby, are you ready to go again?"
"I'm not sure, but I wouldn't want to interfere with your education," she said with a smile.
She stayed in place, laying on the couch, and spread her legs for them. Somehow this didn't feel strange. She had only met Dan a couple of hours before but here she was, being his canvas and letting him play with her body. He couldn't help but reach out for her nipples. They were like bullets and he couldn't resist them. It didn't hurt that the reaction of her pussy was almost simultaneous, getting those juices flowing. Eric put his fingers inside her but she wanted more than to just give them what they wanted. She asked that he put his tongue inside her and play with her clit. Eric did as requested and Dan looked on with a big smile on his face and his fingers still pinching her nipples. Now this was something new for her, having her man licking her pussy but having Dan there watching. Yes, she liked it and she locked eyes with Dan, giving him a wicked smile that got his cock hard.
She reached out and grabbed the waistband of his jeans and pulled him closer and started undoing his pants. She wanted cock. Eric was expertly playing with her pussy, she wanted a cock in her mouth. Dan happily obliged. He was already hard as she wrestled his cock out of his pants but as soon as she started playing with him he got bigger in her mouth. He wasn't as big as Eric but he was still a good size. She took him all in and then started playing with his head. She knew many men liked when she rubbed her tongue at the base of the head on the ridge where the shaft met the head. She was getting him going, there was no doubt about that and Eric raised his head and smiled at her. He knew she enjoyed cock. She was full of sensation, Eric's expert tongue on her clit and licking her pussy, Dan pinching her nipples and his cock in her mouth. She devoured the cock just as Eric was devouring her pussy. Dan put his head back and enjoyed it all.
With all this going on it didn't take long for her orgasm to build and Eric knew it was coming. He slipped his fingers into her and got a good pace going. Soon she was holding his head to her pussy while she ground her hips into his face and with her other hand she held onto Dan's cock. It was building and building and then with one last suck on her clit Eric took her over the edge and she released Dan's cock and threw her head back and screamed. That was intense!
She had played with two men before but it hadn't been like this. This time it was all about her. They wanted to please her, her orgasm was the goal and she got it. She lay back and smiled and curled up. Eric licked his fingers and wiped his face. He didn't notice Dan watching him. Dan wanted some of that but realized it wasn't the time yet. He hoped he'd have his turn tasting that pussy.
Eric got up to have a smoke on the deck. Tessa was still naked, curled up on the couch, practically purring like a kitten. Dan sat down next to her and started caressing her ass. She had a great body and the way she had reacted to them was thrilling. He kept rubbing her ass and then he couldn't help himself, he slid two fingers into her. But he didn't want to make her cum, he just wanted to touch her, to feel her wetness. He really wanted to taste her. He was slow and soft. She enjoyed it and so did he. He took his fingers out and she turned her head just as he put them into his mouth. She smiled. He slid them back in and was gentle. He just wanted to feel her and massage her. She didn't mind at all, it felt quite nice to have that compared to the rush of the orgasm.
She was still so wet and he wanted to taste her but he knew she wasn't quite ready for another orgasm. Her pussy had already had a lot of action and it was pretty intense. Eric came back and was a little surprised to see Dan with his fingers inside Tessa. He didn't really think he could say much considering a few minutes before he had been watching her suck Dan's cock. It just seemed like an intimate moment and he wasn't sure how he felt about that.
Eric sat down in the side chair and watched as Dan continued to stroke and caress Tessa's pussy. Soon he found himself getting hard again and he started rubbing his cock. Tessa had her eyes closed, she was just enjoying the sensations but then she opened them and noticed Eric getting his cock hard again.
"Don't even think about it, I need a little break and this feels nice."
"I'm just enjoying the visual," he said as he continued to rub his cock through his jeans.
Dan was enjoying the dynamic. He could tell Tessa was relishing it all but he picked up on Eric's hesitancy; he didn't care. He figured he'd been invited into this play so he was going to enjoy himself too. Dan spread Tessa lips with one hand and with his other hand he slid a finger in. Again, he wasn't going fast, just slow and steady, but she started moving her hips with his rhythm. She was getting into it. Eric pulled out his cock and started stroking it. A bit of pre-cum came out and he took it with his finger and tasted it.
Tessa was watching him. "Hey, that's not fair. You should be sharing with me." She always had a hard time resisting his cock when she saw it. Eric knew this. Dan continued to stroke her but smiled. Tessa reached out her hand toward Eric, wanting that cock. Eric got up and continued stroking his cock. He took the few steps toward her but he didn't give her his cock right away. He stood just out of her reach and increased the speed of his stroke. Dan noticed that she started to get wetter so he increased his speed just a little bit. What he really wanted was to throw her onto her back and sink his face into her wet cunt but it wasn't the time for that. She'd just had that. He figured he was using extra special restraint but she had such a pliable body and was so open to experiencing sensations that he was truly enjoying the sensation of his fingers inside her, what the whole experience was giving to her.
Eric continued his strokes for a few more seconds but he didn't want to deny Tessa what she wanted, and he loved the feel of his cock in her mouth. He stepped to her and she opened her mouth for him. He went in as far as she could take. He kept a similar pace as Dan was doing with her pussy, slow and easy and very enjoyable. The point of playing wasn't always to climax, sometimes it was great to feel the sensations and enjoy it for what it was. The whole night was the experience. To have a night filled with sexual experiences, a sexual feel to everything that happened. Sex was on the agenda and they wanted it, but sex can take on many forms.
She loved the feel of Eric's cock in her mouth. He was bigger than most and she had a gag reflex so there was no way that she could take all of him in but that was ok, he never complained, how could he when the way she played with him gave him such pleasure. She was a master of the blowjob. The way she played with her tongue, how she changed pace and position, but it was her enjoyment and desire to give that was the best part of the blowjob. Sure, any guy likes getting a blowjob but when a woman gives with such enthusiasm, it's not a job.
Tessa always made sure that she was in the moment and she got hot and very wet when she gave a blowjob. Knowing that what she was giving was making her man feel so good, that made her happy and want to give more. That's why it was so good when she got feedback from her man. Moans and groans, motions, participation went a long way for her. Right now she had the attention of both men and she couldn't be happier. It was all slow and easy and relaxed and full of sensation.
After a while, Eric pulled out and went out for another smoke. Dan licked his fingers and just relaxed. Tessa laid there and melted into the couch. She was enjoying the total relaxation that sexual satisfaction can bring. They turned the music up and just hung out for a bit.
Eric came back and they sat around just talking about regular stuff. If anyone walked in they would think there were just a group of friends hanging out for the night. But that wasn't going to last. This was just an intermission.
Eric asked if anyone else wanted a beer and got up to go to the kitchen. Tessa followed Eric, she wanted to make sure he was ok with everything that was going on. He reached into the fridge and as he turned around she was there. She kissed him deeply and he responded. He had no problem with what had been going on. It wasn't the norm, but he was enjoying it and he knew she was too, that was very important. He took her in his arms and really kissed her.
They held the embrace and enjoyed the moment.
Dan was wondering why his beer was taking so long so he came into the kitchen to get it himself. He saw Eric and Tessa together and took a quick step back but stopped and watched. Neither of them had heard him come around the corner but it was interesting to watch them kiss. They devoured each other in a very intimate way. That was just between them.
"What's a guy gotta do to get a beer around here?"
They slowly parted. Dan wasn't an interruption for Tessa, he was an addition. She looked from Eric to Dan and then down to their pants. She took hold of their waistbands and pulled them both towards her. She knelt and smiled up at them as she started undoing buttons. They helped getting themselves free and ready for her. She took one look up at them and then she looked at both cocks in front of her and dove in. Two really good cocks ready for her, a very good thing.
She took Eric first and got him wet and then did the same to Dan. She worked them both, she hoped she could get one to cum and the other would follow, she'd take as much as she could. She had never given two blowjobs at once. She'd watched porn of course but it was a little different to have both presented to her. They both started to grow harder, they were enjoying this and so was she. Tessa went a little faster, she switched between them, she always had her hands on them. She was trying to pump Dan while she went down and sucked on Eric's balls, she knew how he enjoyed when she mixed things up. He threw back his head and let out a low, loud moan. Dan seemed to get harder with that.
Well she couldn't leave Dan out of the mix, she went back to him and took his balls in her mouth. Yes, Dan understood why Eric moaned. This was feeling fantastic and knowing that she was excited and enthused to have both, it made it so much better. She kept going on them, switching up, and then at one point she took both hard cocks into her mouth. She was surprised she could get her mouth wide enough but wow, what a feeling to get them both.
Cock, all cock. She was excited and very much in the moment. She felt in control. Sure, they were the ones with the hard cocks but she was orchestrating it and controlling it. That was a heady feeling. She went with it and made sure they were enjoying the sensations. She knew she was. This night had been more than she could've imagined.
She noticed that Eric was grinding just a little bit faster. Her moans grew louder as she felt him responding to her. She knew it added to the experience for Eric to have Dan there, to be standing next to each other, two hard cocks. Guys were usually competitive but this wasn't like that, they were all enjoying the pure, raw sexuality that had taken over for them all.
She wanted to take him down but she didn't want to leave Dan out. This was her chance to have both men cumming on her tits, she'd take what she could in her mouth but she wanted them all over her tits too. After all it wasn't all about them, she was going to get what she wanted. Rubbing warm cum all over her chest was so decadent to her, she loved the feeling.
Tessa had Eric in her mouth and pumping Dan hard with her hand. Who would be the first to cum? She was pretty sure they were both getting close. She switched over to Dan for a moment and Eric took his own cock in his hand. She kept her eye on Eric so she would know when to open for him. It didn't take long, he started to moan and since Dan wasn't cumming yet, she came off him and opened her mouth wide for Eric to shoot right into her.
The sight of Eric cumming and Tessa's hand on his cock was all it took for Dan to follow suit. He took his cock back and gave the last few pumps as he watched Eric's white cum shoot right into Tessa's mouth. He aimed for her chest but Tessa saw what was happening and quickly turned to capture some of him in her mouth as well. Eric continued to cum on her chest. When her mouth was full she lifted her chin and Dan finished off on her chest.
She looked up at them and opened her mouth to show them both and sure enough some cum came out to trickle down her chin. She smiled and drank them down as she started to smear them together across her tits. The warmth of them made her nipples hard. It couldn't have turned out better.
She licked the last drop from her lip and sat back on her heels. Oh yes, this was a fucking memorable night. The feel of their hands on and in her body, her breasts, her skin and her clit, to be finished off by their hot cum spread over her. A night that would not be forgotten.