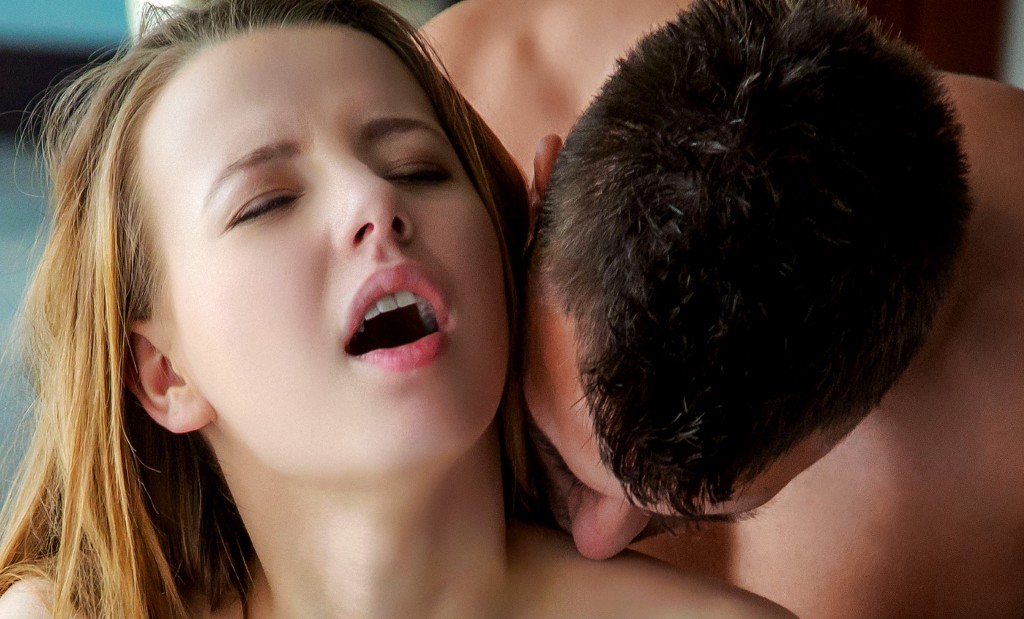 How deep, how dark, how degraded, just how far down the rabbit hole of porn do you go?
Lola and I had a wedding to attend. Yes, another wedding. I couldn't find my nice black leather shoes. They weren't in the closet. They weren't under my side of the bed. So I looked under Lo's side of the bed — yes, that side where she keeps her dildos, vibrators, anal beads, and other pornographic paraphernalia. I knew I was entering dangerous territory, but what choice did I have? So I began methodically opening all the brown shoeboxes, discovering that there were no shoes to be had, but only the mechanical instruments of female pleasure.
But then I came across it — the one box that was heavier than the others. In it was not a pair of men's shoes, but rather four or five books — all related to sex. Among them, Erica Garza's Getting Off. There wasn't much time. I had to pack and be ready to go to the airport in a matter of minutes. I grabbed the small volume and resolved that I'd just have to wear my brown belt and brown shoes to the wedding.
The flight was five hours, coast-to-coast. Lo was exhausted because we flew the redeye after a long day at work. She fell asleep on my shoulder as I used the time to read the book cover-to-cover. There were certain pages marked with dog-ears and certain sentences underlined. Almost all of them had to do with becoming inured to "conventional" porn and seeking ever more degrading and debased images and scenarios. One passage read:
My preferences were changing all the time. I loved 'old and young' clips. I'd also taken a liking to watching drunken girls get walked around on leashes or fucked by groups of men. . . . I'd discovered the category of 'bukkake' and felt simultaneously disgusted and excited every time I watched multiple men come all over a girl's face. . . .
I wondered about Lo and her late-night phone usage. What depraved, debauched, dissolute, degenerate, dangerous and deviant electronic alleyways had my dear Lo followed, that she should be so interested in these passages? I was well aware of her penchant for multiple penises, how pee piqued her curiosity, her prurient interest in punishment, her salacious soliloquies on slut faming (the opposite of "slut shaming"), not to mention her downright dirty devotion to diddling while dreaming of bestial bullocks. But had her fantasies, obsessions, and external stimuli ventured beyond these already extreme bounds? I was in the dark. I looked over at my delectable sleeping nymph by my side and pondered the extent of her perversity. I recalled how years ago on a similar redeye transpacific flight she had utilized a highlighting marker as a dildo and got herself off in the crowded cabin as most of the passengers slept. I would be fooling myself if I didn't admit that these indiscretions were at least part of why I loved her so.
We hit some turbulence on our descent and Lo awoke from her slumber suddenly. She saw me reading her book and asked, "What's that?"
"Why don't you tell me?"
She sat up. Recognizing the book, she asked, "Where'd you find that?"
"I'll give you a hint, it wasn't with my black shoes."
Slowly an expression of cognition appeared on her face. "Oh," she said, conveying everything.
I flipped through the pages, showing her each and every passage that she had underlined.
"That's private!" she said as she pulled the book from my hands.
"Is that so?"
We landed and Lola tucked the book into her bag as we deplaned.
We walked through the busy terminal and I said, "It was quite a read. Did you like it?"
"Some parts," she said. "What did you like about it?"
"I liked that it reminded me of you. Why didn't you tell me you were reading it?"
"Because, you don't need that book or any book like it," she said, obviously referencing the other illicit tomes in the shoebox. "You have me," she said, putting her thumb to her chest, "and I'm all the sex-addicted, porn-watching nympho you can handle."
"That's true," I said as I dodged people rushing for their departing flights. "But that doesn't answer my question."
"What question?" she asked, talking past all the commuters.
"What porn have you been using to get off lately?"
"Define lately?"
We were outside in the sunshine and we found the taxi stand. We hopped in and told the driver our destination. In the backseat we continued our conversation.
"Look," I said, pulling the book out of her bag and opening to the passage quoted above, "why is this underlined? Have you been seeking out something. . ."
"You know, already. I like bukkake, dirty old men like you fucking young beautiful women like me, facials, BDSM, female humiliation porn."
I looked up and saw the taxi driver look at me and then at Lo through the rearview mirror.
"And?" I asked.
"And what?"
"Bestiality?" I whispered under my breath.
"Yeah, so what? You already knew that."
"What else?"
"You know it all already."
"Do I?"
"Well, I also like seeing big, hung men fucking fat women or big fat men fucking sexy thin women. I like cumming to gangbangs, machines fucking women incessantly, and also sensual massages."
"So, basically everything you've ever done?"
"You could say that."
We got to our destination and I paid the taxi driver in cash, giving him a generous tip on top of the juicy conversation he got to listen to on the way.
"You enjoyed that," I said.
"Enjoyed what?" she asked coyly.
"You know what. Saying all those filthy things in front of complete strangers."
"Did I embarrass you?"
"No, but you are a loose cannon."
"I'm loose alright. And that reminds me, I also love to watch women with large labia and saggy tits."
"I bet you do," I said. "I have an idea."
"What's that?"
"Why don't we go inside and fuck to my favorite porn."
Her tongue licked her sparkling white teeth in anticipation and she asked, "What would that be?"
"I bet you could think of a few possibilities, but I'm not going to ask you to suggest anything and I'll just come out with it."
"I hope so," she said, grabbing my crotch.
"My favorite porn is fucking you from behind as we both are looking at ourselves in a full-length mirror."
"Mine too," she said as we got in the hotel room.
Once we were in the room, we immediately stripped and I bent her over the dresser as we both looked into each other's eyes reflected in the mirror above it. I pulled out my throbbing rod, what she once called a "Truth Stick," and slid deep inside her as she moaned with pleasure. Once I had pinned her hips between my crotch and the corner of the dresser, I put her to the test.
"What else?"
"What else what?" she asked.
"What are the kinds of porn you didn't tell me?"
"Oh, Daddy, please."
I pulled back as her cunt squeezed my cock right out of her and she squirted on my bare feet. I thrust forward again, mounting her.
"Tell me."
"Daddy," she pleaded.
"If you want this, then you'll speak," I threatened, temporarily removing my pleasure pole from her wet snatch.
"NO!" she said.
I was confused at first. No, I'm not telling or. . . .
"No, don't pull out. Deep. Deep. Please," she continued. "I'll tell you whatever you want to know."
"What gets you off?"
She looked up at the mirror and into my eyes that were watching the expression on her face. She couldn't tell me while our eyes were locked. She dropped her head and her thick mane of hair covered it as her tits flopped forward and back with each thrust of my cock.
"OK," she said in a tone of defeat. "I like seeing my guy fans send pics of themselves to me wearing sexy women's panties. I like to see them hard-up for me in those sheer lace panties. I like to see them cum in them. I like them to cum to me, to my pics, to your dirty stories of me."
Saying this, she came.
"What else?" I knew she wasn't done. Not by a long shot.
"I like seeing women diddle themselves to me."
"I knew that."
"I like to see pregnant women get fucked hard. I like to see women with giant bulging breasts and huge round nipples lactating. I like to see lesbians sucking those huge tits, sucking the milk out of them. I like to see women being milked like cows."
She came a second time.
"Keep going," I commanded.
"There's not a deep, dark, dank corner of the internet I haven't explored. I've searched it all. You name it: sex with aliens; gay men masturbating to my pics; couples having sex while watching me; teacher/student sex."
I wanted her to continue, but at this point all her limbs went limp and she collapsed in the puddle she had made on the carpeted floor. The orgasm was still causing convulsions and tremors through her flesh.
I let her lay there on the ground like a limp, wet pile of towels as I sat on the bed, my cock in my hands. I watched her as she gradually regained consciousness. She crawled across the floor to the space between my knees. She looked up at me. Her lips quivered as she tried to speak.
"That," she said in a raspy whisper, "was fucking a-mazing."