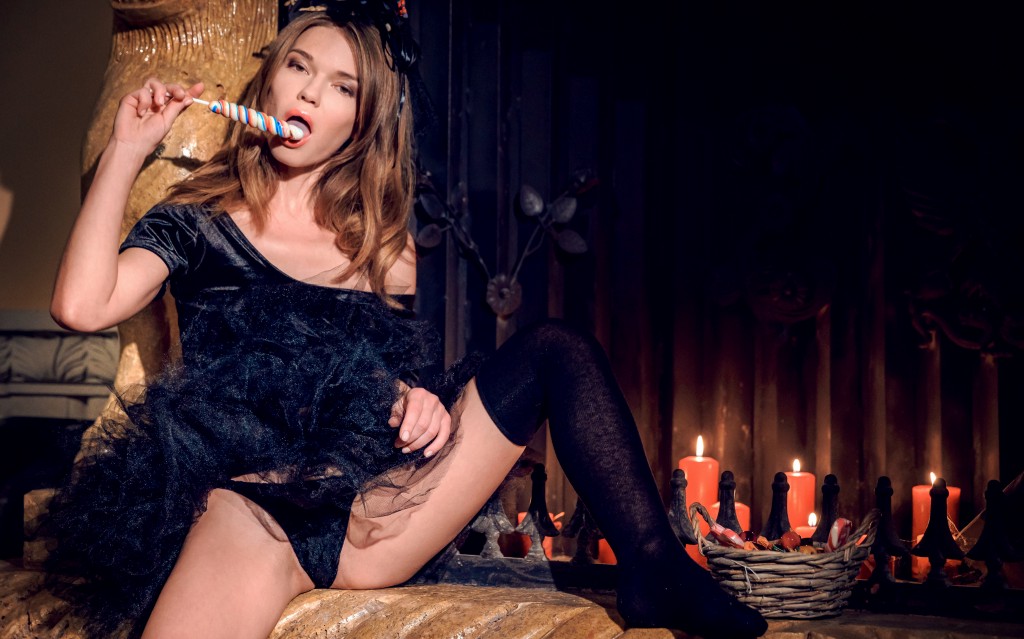 I'm helping host a Halloween party with my favorite blonde bombshell, Keri. Our kids are working off their sugar rush in a backyard bouncy house while the parents inside pour some wine and eat sweets.
I'm trying to behave because we are in a house surrounded by little people and a pack of neutered adults from her job, but I can't help but look a little too long at Keri's gorgeous legs. The tight black fishnets on her little witch outfit are really making me horny. I don't know what it is about fishnet stockings that turn me into such an animal. When I see them, I just want to rip them apart.
Fortunately, we have a while before we have to take the pack out trick or treating. But I still have to move fast if I want to play. I hate these things as it is. Her friends won't shut up about their amazing sugar-loaded desserts, and keep insisting I try them, when the only thing I want in my mouth doesn't require a spoon.
Keri looks at me while she peels an apple, and sees that I'm bursting.
"What's the matter, Kitty Kat?" she asks jokingly, knowing damn well I'm horny.
"Oh, nothing," I whine, "just hungry."
"We have plenty of treats…would you like a piece?" she smiles.
"You know I do," I smile back.
She feeds me a slice of candied apple, then grins lustfully.
I turn my eyes to the staircase, hoping she gets the hint to take me up there. She smiles back and deliberately pokes her finger with the knife. She excuses herself and insists that I follow, leaving her friends a no filtered impression that we will be gone a while.
We hurry to her upstairs bathroom and lock the door.
"Let me see that," I say softly, taking her hand.
She isn't hurt badly, but I do see a spot of blood at the tip of her index. I take her finger in my mouth and suck it clean. Then I kiss her finger gently.
"There," I smile, "all better?"
She nods. Her soft pink lips part and she pulls me in for a kiss. Her silky blonde hair touches my face as I run my fingers through it. She tastes like wine and candied apples, adding a wholesome flavor to her fiery lips. Delicious! Yet, my craving is more for that warm apple pie under her skirt.
I sink to my knees and lift her dress. She holds on to the sink as I raise her thigh over my shoulder. I kiss through her stockings, enjoying the rough holy binding barely keeping me from her sweet flesh. I suck through it and sneak the tip of my tongue past one of the holes. She lets out a gasp, then breathes deeply to keep from moaning.
I taste her clit through her stockings and use my fingers to open the hole wider, popping the seam to expose her panties. The ripping sound is such a turn on to me. I lick my lips, then hungrily bite through the seams. Her little black panties are soaked at the crotch. I lick it a little more, using the soft cloth to further stimulate her. Then, I gently pull them aside to get straight to the source.
As soon as my tongue touches her bare flesh, she goes wild! She lets out an excruciating little groan as I suck her clit firmly, whirling my tongue in steady circles. She rocks her hips up and down my face as I feast on her warm apple pie.
I can taste her swelling. Her clit is as hard as a pearl, her pussy hot and wet, her hips shaking. I push her body up on the sink, letting both her legs drape over my back. Then, I flip my tongue slowly up and down, letting her fuck my mouth at her own pleasurable pace. Sucking her clit when her hips roll up, then sliding my tongue when her hips roll down.
We maintain this sexy rhythm until I feel her stomach flutter. Her breath, heavy with lust, thighs clamping my cheeks, so close to climax. I grip the sink behind her and suck her clit harder, rotating my head in rapid circles, licking her to a shaky peak.
Her pussy is literally warning me that it's about to blow. I feel offbeat tremors on my lips, and her clit pokes way out past the hood, thumping on my tongue. She gasps, her body stiff with sexual momentum. I press my mouth around her pearl, then suck it softly until it throbs in climax.
As she cums, she grips my head from over her skirt, thrusting her pussy shakily on my juice soaked lips, letting every aching thump out. I live for that hard throbbing pulse. It's hard for me to stop at just one… especially with a pussy like Keri's.
I feel her legs come down and she pulls me up, so I ease my fingers inside her, urging her not to move away.
"Not yet," I whisper.
"No?" she asks playfully, licking her wetness off my lips, "you're not done with me yet?"
I shake my head. Then, squeeze my fingers deeper inside her.
"Fuck trick or treating," I moan, "I have all the candy I need right here."
I kiss her passionately, sucking her tongue and lips hungrily as I flick my fingers harder inside her. She holds me close, thrusting her hips on my hand. I hook my thumb through a top hole on her stockings and rub it over her clit while I finger her. She clamps her teeth to my earlobe and lets me feel muffled moans vibrate from her lips to my neck, filling my ears with lustful noise, as I bury my fingers in her wetness.
Her walls tighten. I feel her juices leaking down my hand. She grips the hair above my nape, trying to hold what's left of her control, while I fuck it out of her. As soon as she cums again, I kiss her deeply to keep her from screaming. I keep my fingers still, fingertips pressed at her G-spot, feeling it pound with every last shiver of her hips.
I take my fingers out slowly and kneel down again, lapping her pussy softly, licking her clean of whatever wetness is left to taste.
She pulls me up and kisses me gently.
"Come on," she whispers, "let's finish adulting. We have all night to play when these fuckers go home and our little fuckers go to sleep…besides, you have to help me deflate that bouncy house."
I laugh as she kisses me again. I'm still not looking forward to trick or treating. But, I am plotting on taking my time in that bouncy house. I want to see just how bouncy it is in there…