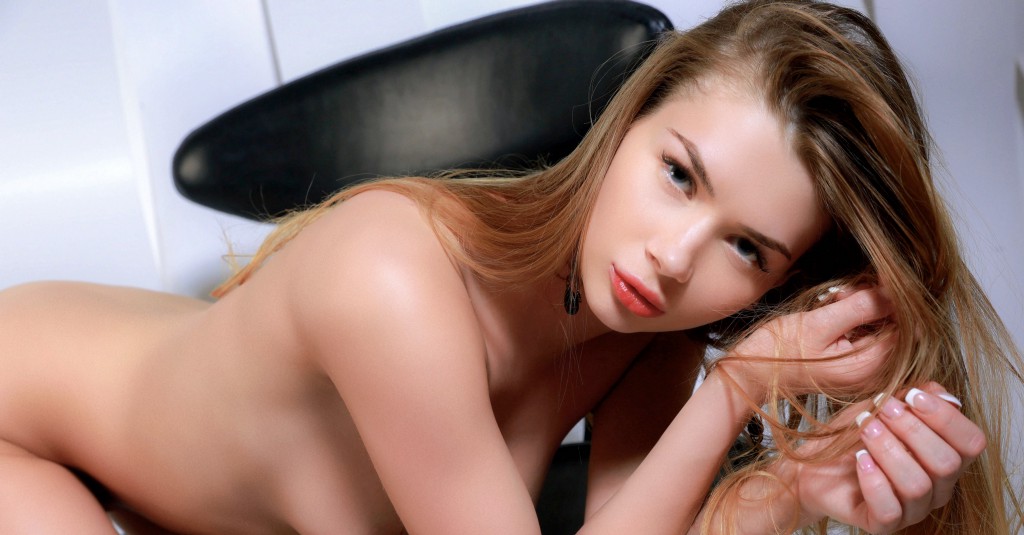 A precise ring of scarlet circles his cock, the imprint of my lips marking him like a brand. It's striking, but I'm sure I can do better. I lick it off carefully until every trace of lipstick is gone and then swallow him down again, a little deeper this time. I could deepthroat him but that's not my aim; I want to leave a lipstick ring where it looks the most aesthetically pleasing, on the smooth length of his shaft, not around the root.
Pulling back an inch, I wait until he stops moving, stilling my tongue's dance on the underside of his erection, and press my lips in a tight 'O' around it. When I'm sure I've transferred as much lipstick to his dick as I can, I relax my grip and let him slide out of my mouth.
We both look down, admiring my handiwork: a perfect red lip print surrounds his cock, bright against his pale skin.
I grab his phone and take a photo to preserve the image for posterity.
My fuckbuddy Lawrence is so much fun in bed. He's a man of very specific tastes — I shared one of our exciting games here — and has no inhibitions about asking for what he wants. As you'll know if you're a regular reader, that's a huge turn on for me.
"I want to look down and see your lipstick on my cock, Rose," he tells me while I'm sucking him one night. I don't reply — I've got my mouth full and my wrists handcuffed behind my back, so I'm concentrating on keeping my balance as well as my rhythm — but I remember what he said, as well as his lustful tone of voice.
I don't usually wear lipstick, just a touch of gloss. I prefer the natural look, more surfer-girl chic than high-maintenance dolly. But making someone's sexual fantasy a reality gets me hot, so when he shows up for our date with a gift set from a high end cosmetic brand that includes a vivid scarlet lipstick, I feel my pussy getting wet in an instant Pavlovian response.
I paint my lips carefully, watching Lawrence watch me in the mirror. I don't look quite like myself, but the glamorous effect is arresting.
I'm glad I've dressed for our date in high heels and a sexy dress. I twirl around to show him the full effect, and soon we're dirty dancing to the music playing on my sound system. I love to dance and the tent Lawrence is pitching in his pants tells me he appreciates my sexy moves. He leans in to kiss me but I pull away. I need to keep my lipstick pristine for what I have in mind.
Lawrence is a dominant guy, but today he's happy to submit and let me take control. I unzip his pants, shove them and his shorts down in one smooth movement, and push him back onto the couch.
"No touching," I tell him as I let my dress fall to the floor. I'm wearing exotic black lingerie, and with my ankle-strap heels and lipstick, I look like a high-class call girl, in a good way.
I shake my booty until his cock is straining up toward the ceiling before I kneel and touch it with the tip of my tongue. It jumps reflexively, arrow straight and steel-hard. Hand around the thick base, thumb caressing his balls, I lick all around the head of his cock and then in long stripes up and down his shaft, making it shine. Skin always looks best in photos when it's wet and glossy, and besides, I love the taste. I need to accomplish my task before I get so immersed in the pleasure of sucking cock that I lose focus.
I open my mouth wide, guiding his erection inside with my tongue, careful to keep my lips relaxed so I don't smear my lipstick. It feels strange to do this instead of pressing them tight; I breathe out around his cock and his groan tells me he feels it all the way to his balls. My tongue strokes and taps the underside of his shaft, communicating in Morse code all the ways I'm going to rock his world.
Slowly, I release my grip on his cock and place my palms flat against his pelvis, warning him to hold still. I like getting my mouth fucked, but this is a precision job. He stays motionless but takes a sharp intake of breath as I close my lips around his girth, firmly enough that I can feel the thickest vein pulse. The lipstick gives it a silky, slippery feel; the slight chemical tang is obliterated by a fresh trickle of pre-cum seeping onto the back of my tongue.
I part my lips with a pop and let his cock slide out of my mouth so we can examine my lipstick stamp. Damn, that looks hot. I feel a surge of heat emanating from my pussy as I picture his cock thrusting into me, marked by my lips.
"Wow," says Lawrence simply, gazing down at his cock. A bead of pre-cum wells up from the slit. I lap it up, savoring the salt-sweet* flavor. The lip print is effective, but not quite perfect; it's slightly smudged in a couple of places, and I want it to be a precise record of my lips. I decide to lick it off, reapply my lipstick, and try again.
And again.
And again.
Lawrence is a wreck by the time I get a result I'm happy with.
I'm usually the one being made to submit, to beg, to come undone, so shattering Lawrence's composure is a novel and highly arousing experience. My panties are drenched. I take them off and press them into Lawrence's mouth as I straddle his lap.
I sink down just far enough to let the head of his cock stroke along the cream-slicked channel between my pussy lips, stirring my hips to guide it to the source of the wetness. My sugar walls tighten involuntarily, squeezing around the sudden intrusion as it pushes a little way inside. My pussy is throbbing, craving the fullness that only a hard cock can grant.
"Shall we smear that lipstick now?" I ask.
*That's how I like my popcorn too — half salt, half sweet. Just in case you ever take me to the movies.
Thanks for reading! Applause, comments and follows get me hot 😉
More confessions from me here — if you think you can handle it! Maybe have a cold shower first…