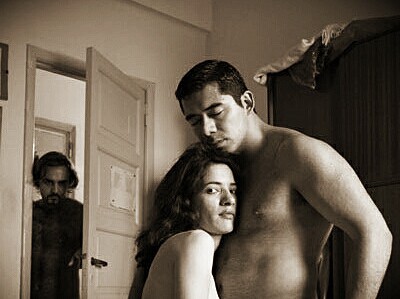 I have a freaky couple next door for neighbours.
How freaky, you ask? Almost every night they're having sex, and their bedroom is right behind my wall, so in the late evening hours, when I'm trying to dig into my college books, I hear nothing but the sound of their headboard slamming against the wall, the wife hollering louder while ordering her man to fuck her, fuck her harder! And harder he seems to pound into her, making my room jitter as if there's an earthquake occurring outside. Sometimes they'll go at it till midnight . . . and then early in the morning they'll continue from where they left off. It drives me crazy sometimes just sitting in my room hearing them go at it —but there's nothing I can do about it. Just about everyone in the apartment building knows about their nightly workout, and the fact that I'm a new tenant doesn't help matters much.
Late one evening, I heard a knock on my door. It was my freaky neighbour — the husband. He was naked except for a pair of briefs and a towel that was draped over his neck; he grinned shyly at me.
"Hey there, neighbour," he clapped a hand over my shoulder; it was the first time I'd spoken with him but the way he acted, you'd think we'd known each other since I moved in. "I was wondering if you could help me out with a little favour."
"Of what kind?"
He led me into his apartment, into the bedroom where his pretty wife lay sprawled across the bed, naked; my eyes nearly popped out of their sockets and I fought to starve myself of an immediate erection. She winked at me, smiling, undaunted by the effect she'd wrought on me.
Her husband came and placed a digital camcorder on my hand and said, "My wife and I were wondering if by chance you'd care to make a film of us while we're doing it. It's much better this way. It's already programmed so you don't need to worry about anything except pressing record."
He didn't bother waiting to hear if I'd accept or not. He slapped my arm, jumped onto the bed and started ravishing his wife. I pressed the ON button, and instantly became an amateur-porn Steven Spielberg.
I hovered about the edge of the bed, aiming the camcorder's eye at them as they took turns ravishing each other; I did close-ups as the wife gave her husband head, and then fell back as she sat astride his erection. I unzipped my pants and whipped out my cock and stroked it while still viewing them. The wife caught what I was doing and gestured at me to come over. I drew closer and filmed as she began to stroke my cock for me; and then my mouth opened with a gasp as she took it into her mouth while still busy bouncing on her man. There was the sound of her man's thighs slapping against the back of her ass while she moaned deep in her throat, her mouth still locked on my cock.
A while later I came down from the bed and hovered behind them, camcorder in hand, filming as the hubby smacked a handful of her ass and went on pounding it.
"Yo neighbour," her husband called out at me, gasping while he did. "You getting all of this down?"
"Most definitely," I replied. "Go on, keep fucking her . . . fuck her hard!"
I was really digging into my work, I barely felt myself stroking my erection with my other hand. Such a lovely view the wife's ass was, the way it went on bouncing up and down on her man's cock was so very lovely.
Then the wife suggested, "Honey, why not let the neighbour have a go at me? You can always have dibs later."
"Yeah, why not."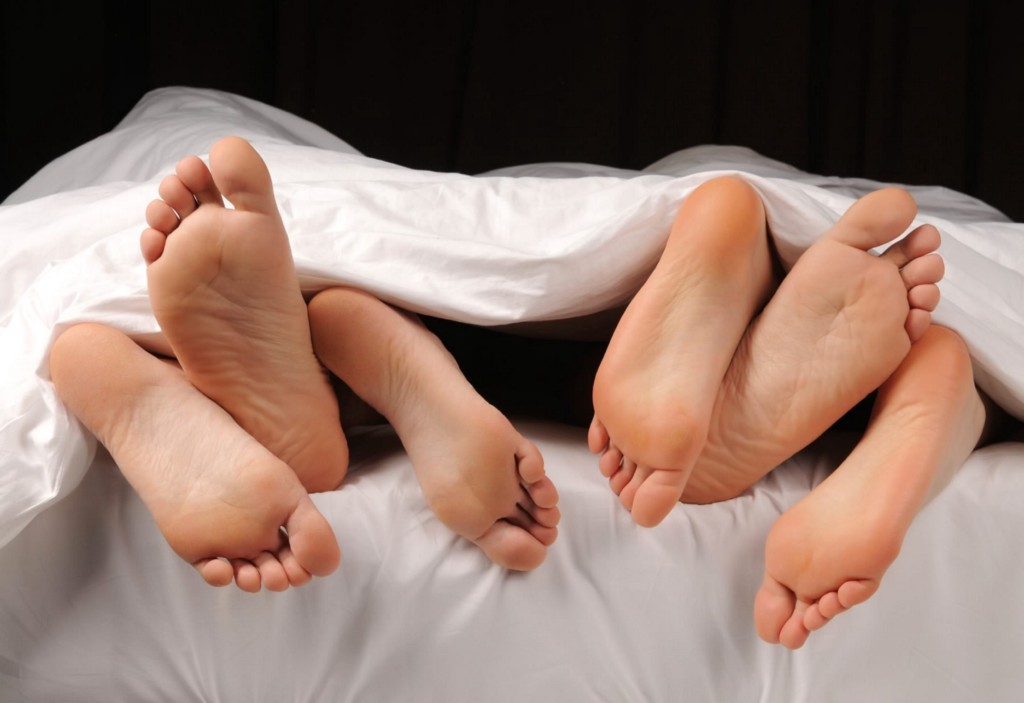 The wife dismounted her husband and lay on the bed, her legs thrown open, tapping her pussy, beckoning me to come on over. I handed the camcorder to her man and frantically jumped upon her. I was so excited, my hand was shaking and it took me some seconds to push the head of my cock between her pink pussy lips. Damn, it was breathtaking!
The wife locked her calves over my back and clutched my buttocks as I went on giving her all the thrusting I could muster. She constantly moaned into my ear, urging me to go on, fuck me, fuck me harder! Her husband now had the camcorder in his hand and hovered around us with the camcorder's eye trained on us. I changed position and got her to straddle me in reverse. She got into a kneeling position and her husband came and leaned above me, training the camcorder on his wife's bountiful ass as it went up and down on my cock, all the way down to the hilt.
"My wife's a good fucker, ain't she?" he remarked.
I could barely respond with a coherent answer; it wasn't long before I busted my load with my cock still inside of her. Her hubby was ecstatic, like that was what he'd wanted me to do all along. His wife lay on her back and her hubby passed the camcorder to me and I filmed him licking my cum out of her pussy. She pressed his head down and told him to lick up everything, which I figured he did.
I sat back and filmed them change position. I was still hard, and this time her man pounded her from behind while I stood in front and jammed my cock down her throat. I nearly dropped the camcorder as suddenly I ejaculated in her mouth and she expertly swallowed every trace of cum.
Completely drained, I stood back and continued filming as a couple of minutes later, her husband ejaculated over the top of her ass.
Handing the camcorder back to the husband, I bid both of them goodnight and slouched back to my room. That night, my sleep was deep and dreamless.