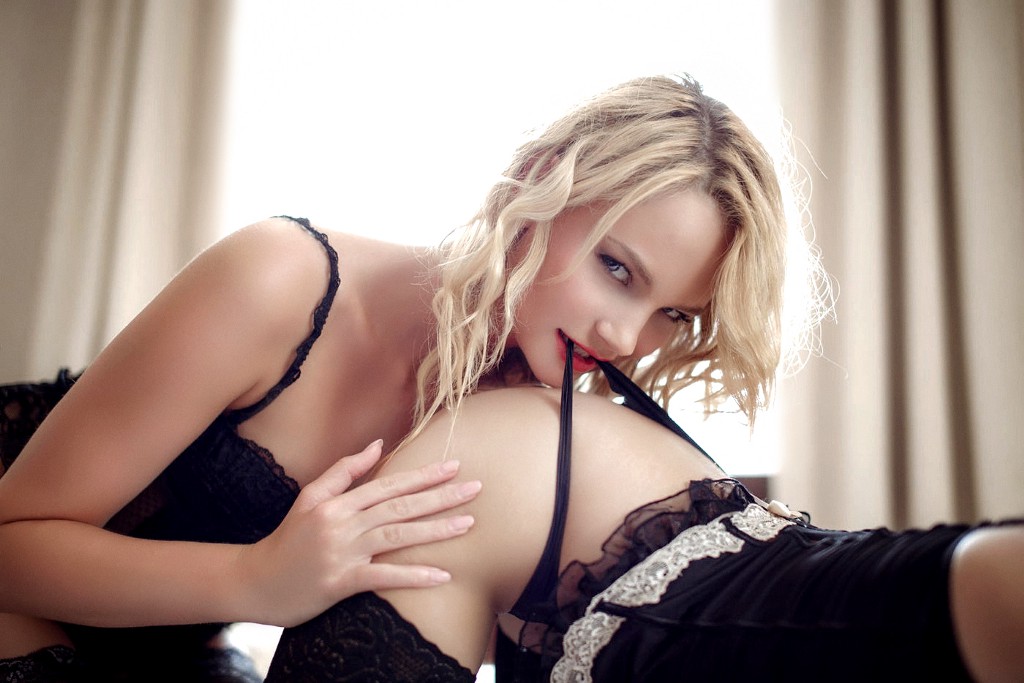 "Remind me again why you've got me dressed up in slutty lingerie? I thought you were working on a classy production, not some backstreet sex show."
I'm teasing and Cherry knows it, but she pouts and throws a shoe at me anyway. "It's a very high end show, and these outfits cost a fortune. You just make everything look slutty!"
"Thank you, I aim to please," I respond, turning around and wiggling my ass at her. But really, I defy any girl not to look like a walking wet dream when she's dressed in a black lace corset, G-string, stockings and high heels…
Cherry is a costume designer (I've changed her name to protect the guilty!) and she just got her big break on a new production, but she's so scared of messing up that she asked me to try on some of her creations before she shows them to the wardrobe supervisor. I'm happy to be her model for the day; she's fun to hang out with, and her designs are gorgeous. I feel really sexy getting all dressed up, it's a far cry from my usual surfer-girl look. I'm enjoying the way Cherry's looking at me too, like I'm a sweet treat she's contemplating nibbling.
I'm really attracted to her. She's a gorgeous natural redhead and I can't help wondering if she has a fiery bush to match.
After a while I'm definitely sensing a spark between us — and I want to see a bit more of her lovely creamy, freckled skin — so when she's narrowed her choice of corset down to two options I suggest we wear one each, and compare them directly.
"Great idea," she smiles, going into the bathroom of her cramped, messy studio to get changed. Somehow I don't think it's just because she wants to play dress-up.
When she emerges she is transformed, her long copper hair loose and curling over her shoulders, breasts plumped up by the tight corset. She's ringed her green eyes in dark liner that makes them even more striking, and she flashes me a saucy look as she spins around to let me admire the full effect. Her ass cheeks are perfectly framed by her frilly panties. I want to grab and squeeze them.
"Wow!" I say, sincerely impressed, and she turns back to me, holding my gaze. I'm a sucker for green eyes; boy or girl, if you've got those sparkling emerald eyes, I'm already halfway yours.
My evident appreciation seems to give Cherry confidence. She takes my hand and leads me to the full-length mirror, standing beside me, hip to hip. Damn, we look good together! The sexy lingerie is perfectly designed to reveal and conceal; at once the ultimate tease and the hottest promise of fulfilment — breasts, bottom, long legs all showcased to perfection.
"I still can't choose, I like both," Cherry says.
"Mmmm… I like you," I reply.
Then she kisses me, and she's sweet like cherries and strawberries, her lips moist and soft, gentle at first, tongue seeking mine. I respond warmly; how could I not, she's delicious. My hands move first to her beautiful breasts, easing the top of the corset down to free them. They're soft and heavy, alabaster skin with puffy pink areolae, and her nipples perk up immediately as my fingers stroke and squeeze. She gasps with pleasure as I flick my tongue over one, then the other. Sensitive.
I pull her down onto the battered old couch. This place might not be luxurious but it is private, and I intend to take my time exploring this luscious girl's body. Her corset fastens with dozens of tiny hooks and eyes down the back, and she lies on her tummy so I can undo them, kissing each new expanse of fair skin as I uncover it, licking each freckle. Her ass is superb, round and fleshy enough to ripple when I administer a playful slap to each cheek. I nuzzle and lick her ass adoringly. She raises her hips to let me tug her panties down with my teeth. The crotch is gratifyingly damp.
Now I turn Cherry onto her back again, drinking in the sight of her as she lies there wantonly, displaying herself, giving herself to me. Her legs are spread, pussy lips waxed silky smooth, but with a triangle of flame-red hair over her mons Venus. It's darker and more intense in color than the coppery hair on her head, so very alluring.
I lean in to kiss her lips again, getting lost in her sweet, juicy flavor for a while before I begin to kiss my way down her body, going slow, lingering over every inch, finding all the places that make her squirm and moan. Sucking her nipples makes her arch up off the couch, crying out; feathery touches over her stomach make her quiver. Her body is softer, more rounded and curvy than my gym-honed physique, and I like seeing the flesh dimple and jiggle as I stroke and caress her.
When I reach her pussy, I tug the damp red curls gently, teasing my fingers through them, breathing in her womanly aroma. Licking my fingers, I spread her pussy lips open, the vivid, moist pink interior contrasting deliciously with her pale, creamy skin. She's wet, so wet, and I barely have to touch my tongue to her clit before she's rocking her hips up, moaning. Her pussy is like a butterfly, wings spreading open as I lick her, juice flowing freely, fresh and sweet.
I slide a finger inside her, going slowly, making her beg for it in the urging movements of her hips before I add a second. She's so hot inside, so tight, every twitch of my fingers against her sugar walls and every stroke of my tongue on her clit eliciting a reaction. I can sense she likes it more gentle and delicate than I do, so I keep the pressure light and teasing, coaxing her towards a slow-burning orgasm that seems to creep over her until it engulfs her whole body, her face and chest flushing pink as she trembles. It's beautiful to watch; but I want to see if I can make her lose the last vestige of control.
Sexually I'm a switch, more often submissive than dominant, but right now I wish I had a cock to fuck this delectable girl with, or at the very least a strap-on to pound into her. Looking around, I spot a hairbrush with a curved handle, the perfect size and shape. She watches, green eyes dazed from her orgasm, as I wash it in the corner sink — I try to be a considerate lover and she doesn't strike me as the crazy, do anything type (like me!), but I'm curious to see how wild she can get.
Spreading her thighs wider, I rub the rounded tip of the brush handle between her parted pussy lips, pressing it over her clit, then easing it inside her, a fraction at a time. It's not too big but it opens her up nicely, and I can tell how good it's making her feel as she starts to hump up, wanting to take it deeper. I start to fuck her to a steady rhythm, her cream coating the handle as it glides easily in and out. She's lost all inhibition before long, wet cunt swallowing the brush handle greedily, juice dripping down to soak my fingers. I want the pressure of her climax to build inside like a dam ready to burst, so I pin her hips down, one hand pressing on that sensitive point just above her mons, while the other thrusts the brush and in and out, tilting it forward on each outward stroke to hit the anterior pressure point. Every girl's body responds differently, but this works for me and I want to discover what sensations it triggers for Cherry.
When I catch her clit between my lips and suck, her cries become frantic, head thrashing, legs flexing spasmodically. The flat of my tongue strokes her clit, her nectar flows, her moans become one long wail and then she's cumming, hot liquid spraying over my mouth and chin, running down my neck, pooling in my cleavage.
It takes a while before she stops shaking, even longer before her twitching pussy relaxes its grip enough to let me ease the brush handle out of her. She lies in my arms, kissing my sticky lips, tasting herself.
"Did I just squirt?" she asks shyly. "I've never felt anything quite like that before…"
"Well, now you have something new to add to your list of accomplishments," I tell her. "You should design some special panties with a built-in dildo specially for squirters. I'd pay to see that on the stage!"
"Oh my god, the costumes!" she groans. "I'll have to get them cleaned now. How about I get you naked before we do any more damage to them…"
Thanks for reading! Applause, comments and follows get me hot 😉
More confessions from me here — if you think you can handle it! Maybe have a cold shower first…