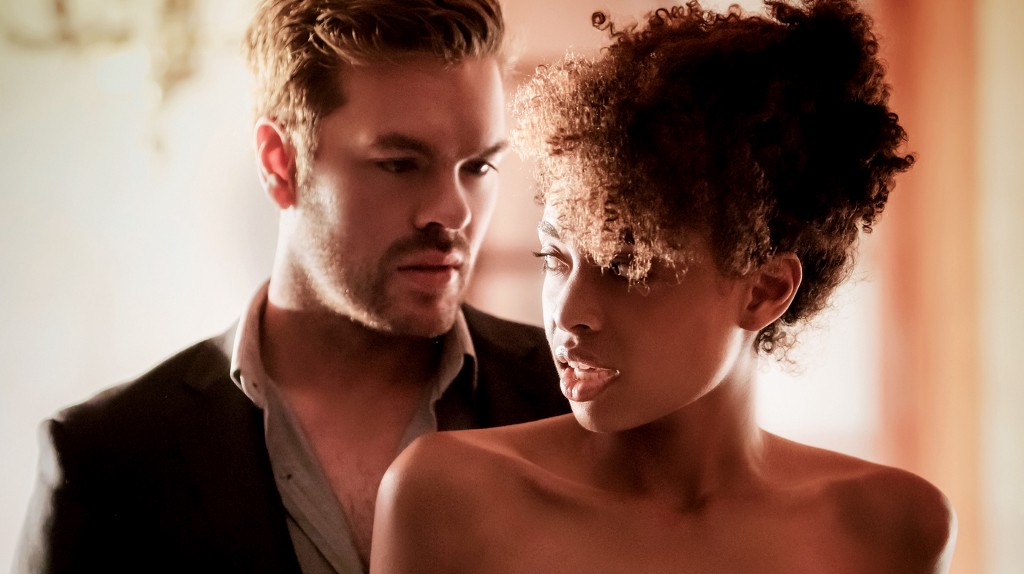 We hadn't seen each other for months, and when our eyes met across the crowded event centre, a huge smile crept across both our faces. We were pleased to see each other.
Marc was one of our biggest suppliers. A good bit older than me, and married with a grown up family. He owned a successful business, drove a flash car and was always dressed impeccably. He was in great shape, and had a sparkle in his eye that made my insides go to mush. Yes. I liked Marc. But did he like me?
He wandered over and asked, "Are you going to get me a coffee or do I have to do everything myself?"
I replied, "Would you like to wear your coffee or drink it?" He grinned. We pinged off each other and the conversation always flowed. I'd fancied him from the minute I met him all those years ago at our annual hospitality event, but knew he was married and didn't think he'd ever look at me in the same way.
This was the third industry event we had worked at – he had his own stand and I was running the hospitality for ours. It was always a busy couple of days – networking, selling, and catching up with anyone who was anyone in the pharmaceutical world. The dress code: professional. Ha! Professional. What does that mean? In my world, it was an above the knee body hugging dress, four inch heels and some opaque hold up stockings. They always made me feel sexy. That feeling of bare flesh at the very top of your legs, the lace delicately skimming the circumference of your thigh. I had knickers on of course, tiny silk panties – but it was easy to slip them to the side and have a little play in the restroom if the day became a bit tedious. Or you happened to bump into an older sexy man that made your clit puff up whenever you stood close to him. Marc. Puff!
The hangover from last night's industry dinner had subsided but I was exhausted and my feet were sore from standing in the silly high heels I'd been parading about in all day. I sat in the cupboard on our stand, which was used to hold all our marketing literature and bottled water, and looked at my phone. I was bored and tired and horny. I'm going to text him, I thought. I'll text him and see what kind of reply I get.
The text read: "Oh my fucking god. Is it home time yet? My feet ache, I'm shattered, and I need a shag. I'm hiding in the cupboard. Send help."
Only a minute or two had passed when my screen illuminated. Marc's name flashed on the screen. "Haha. Someone needs an early night then… be sure to go to sleep and not spend all night getting up to no good," came his reply. I smiled and my pussy twitched. He was flirting with me. But in an ambiguous way. I mustn't read anything into it. No. He's married. And older. Why would he be interested in me?
Suddenly the door flew open and my colleague from the procurement team walked in. "You look as shitty as I feel," he commented. I smiled, yawned and walked past him back onto the stand. Marc was standing giving the barista some of his charm. She was giggling and blushing. He had a way about him that filled my body with an energy I can't describe. Alive. Hungry. But calm.
He collected his coffee and turned to face me. "Oh, we're still awake," he said. His mouth was full and I longed to kiss it. Run my tongue along the plump pink skin that bordered his glossy white teeth. Teeth that I had no doubt could do substantial damage to every part of my body. Biting and sucking at my tight young(er!) flesh.
We stood and chatted as he drank his coffee. The smell of his breath, stale coffee and mints, was endearing. Comforting. The crowds were subsiding and people were packing up ready to hit the town for post show food and drinks. Our bodies were only inches apart and the conversation moved on to our plans for that night. He was heading to a steak house with some clients but would see me in the hotel bar later for a nightcap. He smiled his infectious smile, winked at me and told me to enjoy dinner. He leaned in close and told me that a good hard fuck often sorted him out when he was feeling rough. And he turned, and he walked away. Suddenly I didn't feel tired anymore, and I headed back to my room as quick as my high heels could strut along the corridor and into the elevator.
As soon as I got to my room, I locked the door and undressed. The room was dimly lit, with only the desk lamp casting an amber glow against the main wall. I kept my little silk panties on and lay down on the bed — a bed which was big enough for me to entertain half a rugby squad. Hmmmm. There's a thought. All those hands and hard ons pawing at me. Yum. I loved how my clit felt through those knickers. Fat and bulbous. They were a little damp from the earlier interaction with Marc. He had that effect on me. Made me wet just by looking at me. I rubbed myself hard through the shiny material. I felt like I could burst any minute. But I stopped myself. I love to do that. I think they call it edging. When you almost cum but stop just at that minute you're about to burst. And then start all over again.
I picked up my phone with my free hand and a message popped up on the screen. It was Marc. "How are you feeling now? Make sure to put your party pants on and we can maybe go dancing later…" Fuck! Those words almost made me climax. Maybe he was interested after all. I stopped masturbating. I hadn't climaxed. Thought it would be fun to save myself for later – see how the night unfolded. I brought my hand up to my mouth and licked my fingers clean, the bitter smell of my pussy juices assaulting my nose and letting me know I needed a release. But not yet.
I showered and slipped into a pair of smart skinny jeans, a silk blouse and killer heels. Sexy but understated – just his cup of tea, I thought. A flash of pale pink lip gloss and a spritz of my favourite perfume and I was all set. He would never know I wasn't wearing panties. Not unless I told him. My black lace bra was just visible through the flimsy material of my blouse. I looked in the mirror and smirked. Yes, I looked good. I would definitely fuck me. It was time…
As I bustled my way through the crowded bar, I could see him standing with a group of men, deep in conversation. I went straight to the bar and ordered a gin and slimline. I positioned myself so that he would see me if he looked over to his right. A few minutes later, and I could feel hot breath at my ear. The smell of beer and expensive cologne flirted with my nostrils.
"Your arse looks great in those jeans. Can I get you a drink?" My heart skipped a beat and without turning to see him, I asked for a French martini. With olives. He obliged and we walked to a quiet corner of the bar and immersed ourselves in conversation. There was no subject uncovered. Nothing was taboo. We were totally at ease with each other. The entire time, my nipples prickled and my down below soared with a hunger I had never experienced before. I wanted him badly. I'm sure everyone in the bar could see that we were hungry for each other.
Just after 1am, and with a desire for the night to last forever, we sauntered to a nightclub and carried on our chat, stretched out on a leather sofa, drinking champagne. He knew how to treat a lady and was a perfect gentleman. He was wearing a crisp shirt and expensive jeans. I could tell by the bulge in his crotch that he was well endowed and I fantasised about lowering myself to my knees, unbuttoning the fly, and freeing his cock so I could wrap my mouth around it and suck on him hard. But I sat there and fucked him with my eyes instead. Biting my bottom lip from time to time and narrowing my eyes to let him know I was hot for him.
3am arrived and we were kicked out of the nightclub and started the walk up the hill to the hotel. It was bloody freezing. I hadn't brought a jacket, and he placed his woollen blazer around my shoulders and took my arm. When we got back to the hotel, the place was deserted. Of course it was – it was silly o'clock in the morning. He asked me what floor I was on as we reached the elevator and pressed the button. When the doors shut, he looked at me and asked me if I was tired.
"No. Not tired. Just ravenous," I replied. I looked down at his crotch and saw his bulge twitch. I licked my lips and raised my eyes until they met his. He leaned forward and pushed me against the wall of the elevator. The elevator was mirrored from floor to ceiling and I watched our reflection as his body pinned me against the cold hard glass. His lips met mine and he devoured my mouth in a frenzy. His tongue explored every inch of my mouth and neck, probing and licking. I was throbbing.
The ping noise alerted us that we had reached my floor. I took his hand and led him along the corridor. This was risky business. All our colleagues were staying in the same hotel and it was stupid to take risks like this – he was a married man. But I wanted him. And his cock wanted me. We reached my room and I fumbled with the key card until the door popped open. A quick glance up and down the long corridor provided me with the comfort that we were alone, and I pulled him into my room by the scruff of his neck, grabbing at his groin and rubbing his stiff cock through the denim.
Once in my room, he pushed me back onto the giant bed with force. I was desperate to ram my hand down my jeans and finger fuck myself but I didn't, opting to lie there panting quietly. The smell of my perfume lingered in the air with the lamp on the desk providing the only light.
"What now?" I asked.
He removed his belt and walked towards me. "Give me your wrists," he said gently. I raised my arms up and offered him my wrists. I was still fully clothed. My clit was spasming and I was running out of patience. He bound my wrists together with his soft leather belt. My heart was pounding and my pussy was on fire.
He unbuttoned his fly, his eyes never leaving mine, and removed his thick meaty cock from his Armani briefs. It was fucking massive. I needed it inside me. My mouth. My hole. Everywhere. The veins protruded from the shaft and I imagined how good it would feel running my teeth up and down it, puckering my lips tightly to collect the helmet and sucking hard after each upward movement. Pop — as my lips slipped over the ridge, and I took a breath ready to consume him once again.
He stood and masterfully stroked his hard on with his strong hands, his face serious and his breathing heavy. I couldn't touch myself. The belt was bound too tightly. I wriggled and moaned and pleaded with him to untie me but he ignored me and continued to wank himself nice and hard. Minutes passed and I was starting to get pissed off. How dare he be so selfish? I need him to satisfy me. What a prick.
Just then, he moved closer to me, standing beside me, his fat purple helmet skimming over my silk blouse. It was oozing pre-cum and the sticky liquid was leaving marks on the material. I could smell it and wanted to taste the saltiness with my tongue – lick it off and feed it to him. But he had different ideas. He was in control. He flicked the bedside lights on, the sudden brightness startling my eyes, but allowing me a full view of his monster cock. It was a thing of beauty. He could hurt me badly with that. And I wanted him to hurt me.
His hand quickened and I could tell by his face that he was close. He was going to spunk all over my stomach. I could tell. And there was nothing I could do to stop him. Harder and harder, faster and faster until he let out an almighty groan and pump after pump of white gloopy liquid oozed out onto my silk blouse. It was the sexiest thing I've ever watched. This man. Marc. Standing over me and showering me in his man juice. He rubbed his thumb over his slit, cleaning away the remaining salty fluid. He placed his thumb up to my mouth and rubbed it into my lips. I licked them desperately and bucked in frustration. At that, he buttoned himself away, and calmly removed his belt from my wrists which were now marked from where I had tried to free myself.
He leaned down and kissed me gently on the lips as he slid his belt back through the loops of his jeans. "I'll see you in the morning for a coffee," he said. What? You have to be fucking kidding me? What about me? My orgasm?
"Why didn't you fuck me?" I asked. "Why did you not let me do anything to you? WITH you?"
He smiled and said, "I never mix business with pleasure."