Royce's POV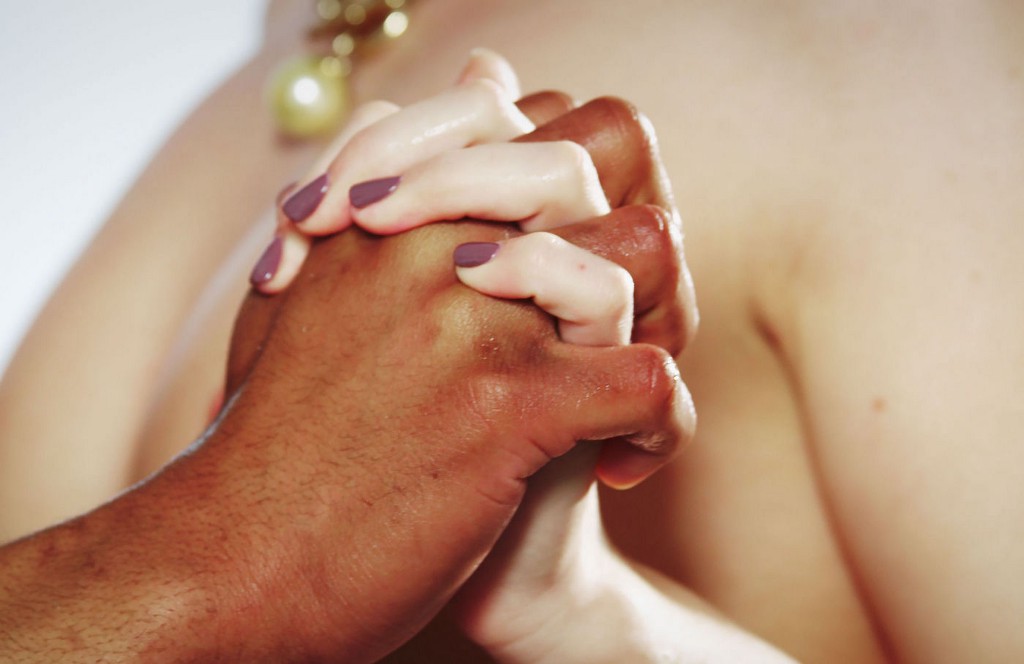 Uhhggghh! Fuck damn, this bitch's pussy is so fucking good!
I knew it and I guess she knew it too. The way she was shoving herself at me, taking every inch of rod I've got, and I'm giving it to her hard… she just wanted to make me cum so fast. Got me gasping and sweating like I'm doing a fucking workout.
"Aaahhhh… fuck!"
I slid my hands under her backside and managed to pull myself upright. She brought her legs forward and locked them behind my back. Her hands lifted her butt so I could adjust myself under her. The whole time she was kissing me, sucking on my lips, gasping into my face like she was about to faint any minute. She made a sound when my dick slid out of her.
"Put it back in me, honey," she whined. "Ohh god, please, put it back in!"
"Chill, bitch! Chill!"
She raised herself high enough for me to find her pussy entrance with my finger and then ram the tip of my dick back inside her. She fell down on me with a thud that knocked the wind out of her and me also. I breathed back into her face. My hands grasped her ass cheeks hard as I kept pulling her back and forth. Her tits pressed against my chest. She smiled and leaned her face to the side to get at my lips.
I looked over at her pathetic loser of a husband still on his knees close to the door looking at us miserably. He cradled his chastity cage in one hand; he wanted me to beg his wife to unlock him so he could jerk off. That's all the loser wanted to do was jerk off and taste my semen out of his wife's cunt.
"Why don't you lie down." Mya pushed me backward.
I did as she wanted and stretched out on my back and propped a pillow under my head. Mya got on her toes, stroked my cock between her legs and lowered herself down on my shaft. I watched the tip of my dick slip between her cunt lips, listened to her moan as more inches of my prick went inside her.
"Awwwhhh, aaahhhh… Ohhh shit!"
I watched her face squeeze up, the more she sat down on my ten-inch. She pulled on her negligee like she wanted to rip it off. I slid my hands underneath to squeeze her titties while she raised herself and then sat back down on my dick. I made her drop down on her knees and pulled her towards me to suck on her lips. My hands went back to grabbing and smacking her booty while she bucked her hips and rode me harder and harder.
I groaned.
I wanted to hold my shit in…
But her pussy kept fighting me… squeezing me hard.
In the end, it was way too fucking good, just like the last time I fucked the bitch. Her pussy gripped me tight and she kept on milking me even as I pumped more and more inside her.
My dick went limp inside her while she lay on top of me, breathing against my chin. I raised my head when I felt something nuzzling against my thigh. It was her sissy old man clawing up on the bed, wanting to taste my seed pouring out of her cunt. I tapped the bitch's arm for her to see what I was seeing and she couldn't help but snigger at her man.
"Looks like somebody wants his mid-day lunch," she chuckled.
She rolled over on her backside and her husband came up and got busy lapping his tongue all across her thigh and pussy region. Mya pressed his face down on her while I got off the bed to go find my jeans. I got my pack of smokes out of my back pocket and lit me a cigarette while her husband kept on cleaning her pussy. She sat up when he got done to inspect herself.
"Hmmm, looks like you've earned yourself for a good job today, sissy." She held up his face. "I'll bet you'd love to wank off to Master Royce fucking me, wouldn't you, sissy-boy?"
"Yes, my Mistress," her husband pleaded. "Please let me jerk off. Please."
"How about you beg Master Royce too?" she said to him.
Her husband turned to me and made the same plea. "Please, Master Royce. Please, let my Mistress free me for today. I beg you!"
"Whatever, sissy," I said, then returned to my cigarette. "You've been good today, so I guess you've earned it."
I went and got myself an ashtray while Mya took her husband's chastity key from around her neck and unlocked the cage for him.
"Thank you, Mistress," her husband gushed when he took off the chastity device from his penis. He bent forward and kissed her feet and then came over and kissed mine as well. "Thank you, Master Royce. Thank you so much."
"You ready for round two, babe?" I put my cigarette in the ashtray and returned to the bed. I could feel my dick getting hard again.
Mya took off her negligee and threw it over at her hubby who was back on his knees by the bed, jerking off hard.
"Better not let me catch you spilling your cum on the carpet," she snapped at him. "Do you hear me, sissy-boy?"
"Yes, my Mistress," he replied feverishly. "I promise not to spill a drop."
"Good. Because if you do, then you're cleaning it upwith your tongue."
Enough talk; I pulled her into my arms and pressed my tongue into her mouth. She responded passionately and pushed me onto my back and got on top of me. The bitch was on fire this time around, as she stretched over and sat on my dick.
"Fuck me, darling," she gasped. "Fuck my pussy! Own me badly!"
She rocked her booty back and forth and I pumped my thighs to meet her. In a way, we got off even. She fucked me… I fucked her back. Looks like I've taught my bitch well enough how to rock her man.
But I wasn't going to be outdone, hell no!
I pushed Mya off me and got her on her hands and knees. I made sure she had her face pressed against the bedsheets while I stood behind her. I looked over at her old man. The pathetic loser was breathing through his mouth and stroking his pecker hard like he wanted to rip it off.
"Better not cum yet, boy," I said to him before returning to his woman.
The bitch reached both hands behind and spread her ass cheeks for me. Her pussy and asshole winked at me, and I knew she wanted me in both. I grinned; ain't no way I was gonna disappoint. I drew closer and went into her pussy and gave her a couple of pounding strokes, then withdrew and inched my dick into that puckered rectum.
Did the bitch scream? You bet she did.
She howled . . .
She clawed . . .
She whimpered . . .
And the whole time I went deep inside that asshole and never once stopped. I owned the bitch and everything about her. She knew it, too, and so did her loser husband. I stopped to swipe sweat off my brow then I went back to fucking that tight asshole. The bitch shook all over. She kept yelling at me to stop… I spanked her butt and just kept going.
I pulled out of her when I felt I was moments away from cumming. I grabbed the bitch by her hair and dragged her off the bed to come kneel beside her old man. They knew the drill, so it came as no surprise that I wanted both of them to share my seed this time. Mya had her mouth open and ready, but her worthless husband was still wanking away at his pecker and I had to slap the side of his head to get his attention.
"Open your mouth, you dumb fuck!" I growled.
He obeyed and I went on groaning and jerking my dick furiously till I sprayed their mouths with my seed.
I watched them gobble my cum and turn to each other and licked my semen off each other's face. Mya cradled her husband's face with both hands and sucked my juicy cum from his lips like she wanted to drain the life out of him. I went and picked up the ashtray where I'd left my cigarette.
Damn thing had nearly burned out on its own.
Is it the end? I don't know. Enjoy it first, then maybe later I'll tell you.