A Dream Fulfilled — Part 2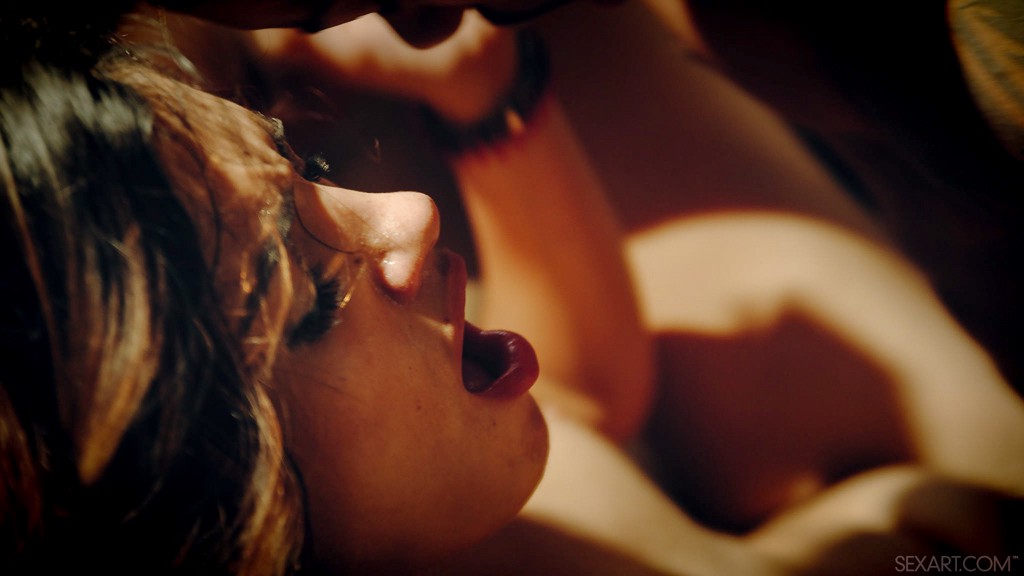 Ann didn't consider herself much of a dancer. A striptease for a ballet performer left her feeling slightly self-conscious, so she tried to slow it down a little bit and let her body put on the show.
Jason wasn't looking like much of a critic. A goofy smile punctuated an emerging bulge in his track pants. Ann took one last spin and caught herself on Jason's broad shoulders. They kissed under the not-so-watchful eyes of her husband. Craig had fallen asleep shortly before Jason's surprise visit to their hotel room. Ann couldn't believe he was still napping, but there were too many other things to think about.
"I want to kiss you somewhere else," said Jason.
Ann smiled and turned her back to him. As she bent over her ass cheeks stretched out her wet-looking black panties. The crotchless area opened up and Jason was drawn towards the glistening pink folds spread out for him. He fell to his knees and stuck his fingers through her fishnet to pull her ass towards his mouth.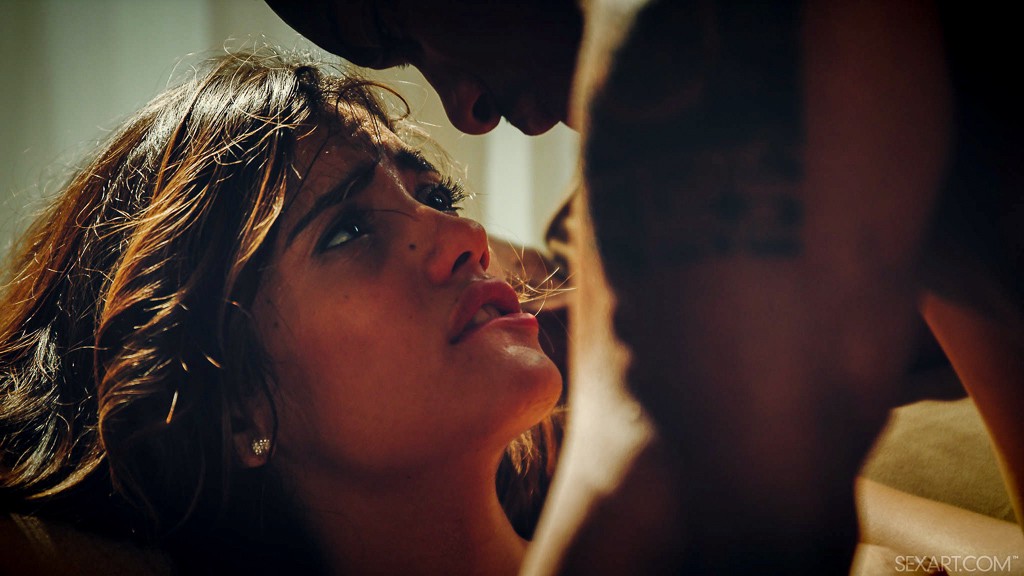 She felt the gentle strength of his tongue as he danced around her clit. She slowly circled her ass and no matter how hard she rocked back into his face she couldn't seem to move that sturdy man.
"Oh fuck," she whined as she fucked his tongue like a little dick.
Ann pulled away and got on her knees facing Jason. She locked hands with him and asked him to stand up for her. She felt the big bump in his track pants and giggled over his hardness for her. She kissed the bump and slowly slipped her fingers under the waistline of his pants, pulling down on them until his cock popped out.
She tried not to ogle his big cock. She thought she might have been more apprehensive but she was reassured by a rubbing thumb on her forehead.
He was uncircumcised so it felt like a bigger, darker version of Craig's dick. She pulled back his foreskin over a big head slick with pre-cum. She took an early sampling with her pointy tongue. She pushed his cock up against his tummy and licked down his long rod until her mouth was full of extra helpings of sugar plums. She continued to jerk him as he got his fingers tangled up in her hair.
"Fuck baby," he said. "You suck me so good."
Ann let his love lever fall through the air. His fat head hit her lips with force and she continued the process, picking up the speed.
Tap, tap, tap.
"It's fucking gorgeous," she said.
She felt courageous just getting his head into her mouth and she sucked on him with some bounce in her shoulders. She paused to get some lube off the nightstand, which she drizzled all over his cock. His head stayed lodged in her mouth as she jerked his slick dick.
"Fuck," he said.
"I want you in me," she said. "And my husband needs to see this."
Jason laid back on the bed and she emptied half a bottle of lube on his cock. She spread it all around and used what was left to get her lips ready for a big stretch. She was facing Craig as she straddled Jason and slowly sat down on his dick.
"Oh fuck," she said. "We have to go slow."
His long arms reached under her breasts and she felt the force of his forearms. "I won't let you fall too fast," he said.
It probably took a minute for her to welcome him all the way in. He felt even bigger on her inside and when she moved up or down she knew right where his dick's head was in her body and could anticipate exactly when it would hit her G-spot.
They started to fuck. "Honey," she called. "You have to wake up. You don't want to miss this."
Craig seemed lost in a dream.
It was at this point that Jason took over. She felt the force in his fingertips when he clasped her jiggling ass and thrust her upwards on his cock and let her slide back down. Ann could do little more than try to keep balance, which wasn't so easy after all the wine. When he lifted her up to the tip of his cock she felt like she was teetering on top of the world. And when he let her slide back down she felt in free-fall.
Ann usually didn't fight an orgasm — often that would scare it away. But if she didn't fight this one she didn't know how long she might last. She had no doubts about the outcome, especially when she saw that Craig was finally awake. Another pair of hands, another tongue, another dick, she thought.
She grabbed Jason's forearm and nestled comfortably on his dick, slowing things down to welcome her husband.
As she kissed Craig, Ann slowly worked her ass back until Jason was able to stick his tongue in her pussy. Ann bent down and momentarily went cross-eyed when Jason's cock came into view.
"Can you help me with this?" she said.
"Help you?" said Craig.
"My hands are tired," she whispered. "Can you jerk it while I suck on him?"
He complied, marveling at the feel of a big dick in his hands. He stroked it like it was his own. He could tell Jason thought he was doing a good job judging from the humming noises he sent rippling through his wife's pussy. Craig got down with his wife and put his hands in her hair, encouraging her to go down on Jason as far as she could.
She spat on Jason's cock. "You created a little monster," she said.
"I just let her out of her cage," said Craig, licking the spit off the corner of her mouth.
"I need you to fuck me," she said.
Craig stood up at the edge of the bed. Ann took hold of Jason's cock and spun around perpendicular to his body, pointing her ass up at Craig's dick.
"Slap your naughty wife's ass," she said, shaking her ass. Craig slapped it pretty hard.
"Harder," she said. "Oh, that's a little too hard. Now you need to kiss it to make it feel better."
Craig worked his tongue all the way down from her ass to her puffy pink pussy.
"Can you taste him?" she said. "He was in me so long."
"Mmmmmm," said Craig, lost in her insatiable pussy.
"Now, fuck me," she said.
Craig stood up and slipped his dick into Ann's loosened pussy, almost falling inside her. Jason put his hands behind his back, showing off his muscular body as Ann gawked over him and licked his cock.
Awake only a few minutes, Craig was perilously close to cumming as he watched the blowjob from behind. He pulled himself out before it was too late.
Ann grabbed the lube for a refill. "Looks like I'm going to need you back in me," she told Jason. She tapped on the edge of the bed to call Jason closer and poured lube all over his cock. She handed the bottle to her husband. Still sensitive, he spread the lube around gingerly.
"I want to be filled, baby," she said. "Can you help do that?"
"I can, baby," he said.
When she asked who should come inside her first, Craig let Jason volunteer. She scooted up over Jason on her knees, letting her feet dangle over the bed. She leaned in slowly and they started making out. Her fingertips gripped into his tight pecs.
"Love, can you put him inside me?" she said.
Craig angled Jason's dick up and back towards his wife's worked pussy. He put his hands on her ass and she wiggled down until her clit found its way to Jason's cock. Craig pulled it back slightly and once Jason's head was in her fuck hole he did the rest. Craig was mesmerized by the sight of Jason's cock stretching Ann's pussy skin into a complete circle.
Ann reached back for Craig but he wasn't there. She turned back to catch him downing another glass of wine and pouring another like an overzealous theater-goer.
"Can I have some?" she said.
Craig grabbed Ann by the shoulders and pried her from Jason. He stuck his fingers through her choker on both sides of her neck and carefully snapped it in half. He pulled off the bodysuit, strand by strand, leaving a pink imprint of fishnet across her chest. The pasties came off slowly, exposing her nipples.
"Oh, baby…" said Ann.
Craig poured the bottle of wine into her mouth and she took in as much as she could before it spilled over her chest. He continued to pour more over her shoulders and down her back. Jason and Craig licked up whatever wine they could, with Jason focusing on her tits. Ann turned back to Craig and they licked each other like animals. Jason kissed his way up to Ann's wanting tongue as Craig licked the wine from her neck and shoulders.
Her moans were turning into screams as Jason enjoyed Ann to himself, fucking her swiftly.
"Hurry, hurry," she said. "You're going to miss your chance."
The fishnet bunched up at her hip, Craig used it like a harness to steady her from Jason's powerful thrusts. Her asshole was tiny but he drenched it in lube, poking it open with his thumb so the lube could flow freely down her insides.
Jason continued to fuck her but slowed down as Craig eased his dick into her ass. There was no give but he was persistent and the sound of Jason and Ann kissing as he grabbed her breasts gave him a virgin-hard boner.
Her orgasm was beginning and Craig took advantage of the slight unwinding of her tight ass. He could feel Jason's thick cock and throbbing head on Ann's insides as he went deep into her ass. Jason started to pick up the pace again. It took a few tries but Jason and Craig got into a rhythm, and once they did Ann didn't last long.
"Oh, I'm coming, I'm coming," she cried.
Craig pushed up Ann's ass and slid her off of Jason's cock. Her love juices immediately gushed over Jason. The second wave came out more forcefully, exploding off of Jason's tight skin.
"Fuck, baby," said Jason, as Ann continued to squirt all over his stomach and dick, mumbling like a crazy lady. Jason slid back on the bed and was already starting to cum when he got Ann's mouth over his erupting cock.
With Jason's cock in Ann's mouth, her ass really opened up and Craig was able to get some long, hard strokes inside her. Ann continued to spill. He could tell by the way she was breathing heavy through her nose that Jason was filling her mouth with cum.
Craig pushed in a few hard strokes and then did one final thrust into her forgiving cheeks as cum raced into her the wrong way. He was frozen in pleasure.
As Ann cleaned up Jason's messy cock, Craig felt the room spinning. He pulled out of her and stumbled back onto the couch.
The room spun into darkness.
Craig woke up sometime later in complete blackness. He was on the couch again. He found it odd that his clothes were on, and he stripped down to a pair of boxers. He could tell Ann was deep asleep and he crawled up next to her. He put his arms around her and could feel that she was in the old ratty PJs she wore for comfort.
"Mmmmmm," she said.
Was it a dream, Craig wondered. Not a chance. But he had to make sure.
He opened his mouth and dragged his tongue over her lips and probed into her mouth. He felt all the tastes of the night, mostly the wine and the cheese and honey they had for dessert. But there was something else. He had tasted it when he went down on Ann's pussy.
The stickiness gave it away. It was the taste of another man.
Be sure to read part one of this erotic adventure:
And while you're at it, read more of Ann's hotwife encounters:
About the Author
I earned my pen name from my Missus for my tireless efforts to find her the best sex toys, porn, and erotica, including my own hand-crafted smut. I eventually started to write about our dirty project, publishing on a variety of platforms. Follow me on Twitter to get all the latest updates.