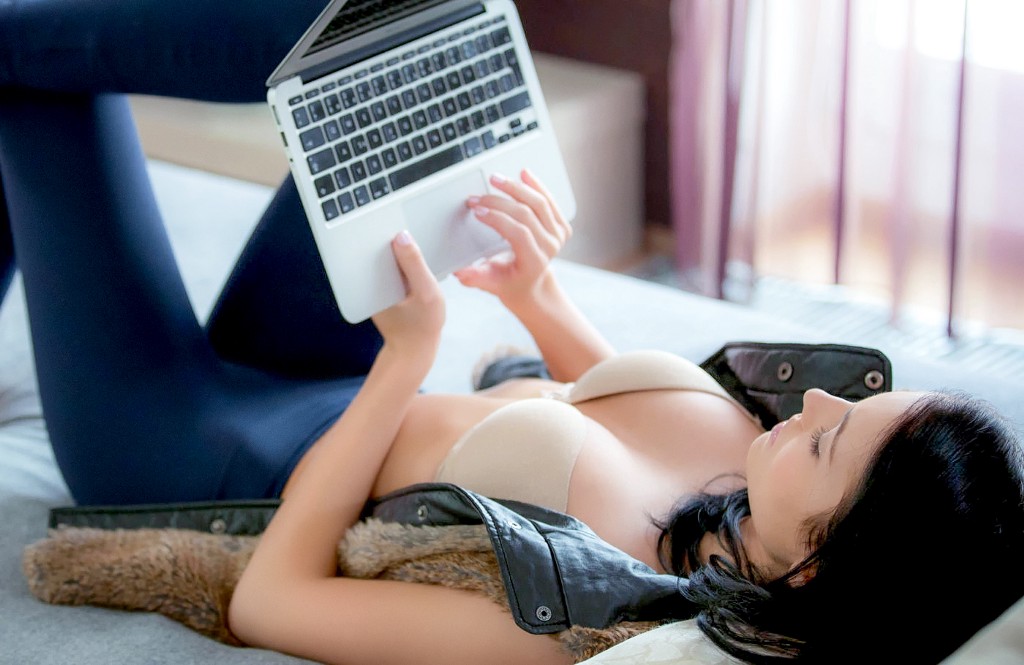 It's been seven months since I last used my vibrator. It stopped working right after Christmas. I changed the batteries. Flipped it upside down. Shook it. Bought a new brand of batteries. Shook it again. Blew on it like it was an original Nintendo game cartridge.
Alas, my vibrator would not start. So for the last seven months I've been using my fingers and porn. I don't need porn with my vibrator, that toy does all the work. My fingers, on the other hand, need some kind of mental stimulation as their partner.
The porn I watch is a mix of a few things. I favor lesbian porn as it typically focuses directly on pussy stimulation. I like watching girls get licked and played with. It's closest to the sensation my fingers are trying to replicate. But of course, like many people, my porn taste can sometimes get much darker than lollipops and lesbians. I like to compare porn binge watching to the second hour of any Google search that started with an innocent question: "How are olives harvested?" I often find myself in hour two of the search deep diving into a family murdered at an olive tree farmhouse. And if time permits, I am following up on the life story of juror #7 of the trial.
Sometimes my porn searches will take me places. Like bondage. Lesbian bondage. Girls getting gangbanged with bondage. Then before I know it I'm watching a girl tied up getting anal fisted by a girl dressed in leather chaps. I'd be lying if I said I wasn't enjoying it. But that doesn't mean it has to be my new level of porn. I can still orgasm to a flower moving gently across a woman's nipple. Mental stimulation can always return to simplicity. I believe in this fact, for everyone. Sometimes all it needs is a different frame.
Scene: A Touch
I lie naked on my back with my eyes closed. In a relaxed state, I breathe in slowly. I exhale and my breasts lower. Soft and supple, they rise up and sink down to the beat of my heart.
The man beside me is shirtless. His body is chiseled. His skin is smooth and firm. Tattoos trace over his chest and arms, accentuating his manly physique. He watches me, waiting for his moment to pounce. His hand raises from resting on his thigh. He places it gently on my naked breast. He runs his fingertips under my breast, along the side against my ribs, back up to my nipple. It hardens as he keeps his palm there. He takes his hand away and grabs my chin, turning my head towards him. He kisses me. He brushes over my eyes to close them. He kisses me again.
My pussy begins to throb.
He wants me to wait. He doesn't want me to touch him. I push the thought of his cock away. I let him take control of the wheel in my mind. He brings his hand back to my nipple and closes his palm down over it. He continues down my ribs, tracing down to my belly button.
I shiver as his touch drives me wild.
I feel the touch spread as though an electric wave hits my pussy. He's making my lips numb without even touching them. My mind is foggy. I feel his hand move back up to my belly button. He presses his thumb down just below it.
My pussy is pulsing beyond control.
I feel his intense stare into me and it makes me feel like he has redefined the definition of control. He grabs a hold of his power over me and he takes pride in the diligence it takes. I feel his lips cover my nipple. His tongue pushes out and licks my hard nipple while his lips surround it. The sensation is mimicked against my pussy and I feel the warmth drip down. My pussy pulses and climaxes in an instant. I drip all over the bed sheets as I moan in bliss.
Anal fisting gangbangs can be fun. But sometimes sex is as simple as a touch.