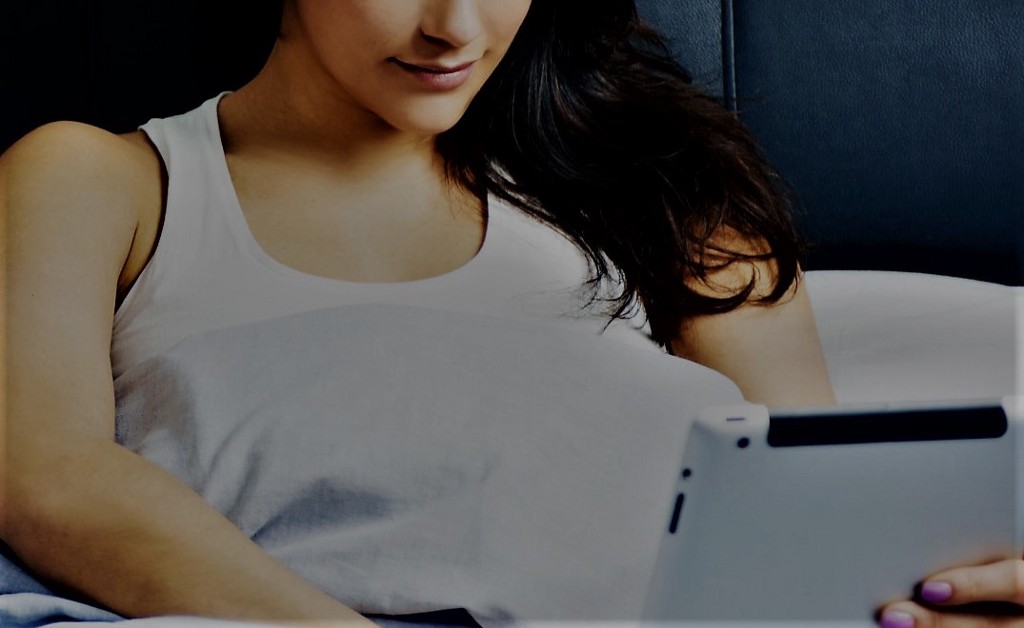 I have spent most of the evening watching my favorite erotic films. I have yet to touch myself, but I am practically squirming under the covers, deeply involved in the scenes. The lights are low, my headphones blaring, my eyes glued to my iPad. Suddenly, you walk in.
I catch a quick glimpse of your face, a sizzling grin cornered up as you kick off your heels and office attire. Your body is like a silhouette of a movie that isn't being filmed; a scene about to take place with no script and no director. I lick my lips as I feel you come closer. I anticipate I am about to receive a double show. My favorite models are kissing onscreen, yet I can't take my eyes off you. Their moans bellow through my ears as I watch you undress. A close-up of supple breasts hits the screen as you slowly pull the covers down, revealing my naked body. A soft tongue lapping up a sopping wet pussy takes my attention. I press my thighs together and feel my own wetness squishing through me. I am just as drenched as the pussy I see on the screen, being sucked and fucked to explosion.
You lean down to kiss my legs, slowly spreading them over your arms. Your mouth drops open, giving away your excitement as you see how extremely soaked I am. You kiss my inner thighs, and begin tracing your tongue over those sensitive spots near my mound. I look down at the amazing view of you consumed by desire. You are teasing me immensely, licking around the honey pot but not directly at the glaze. I attempt to put my iPad aside, but you raise it back to my face, commanding me to keep concentrating on the movie.
You hoist my legs over your shoulders and adjust comfortably in between. You kiss my pussy softly as I watch the models do the same. It's like I am living out what they're doing to each other. It's a riveting rush! A physical image I can feel, like being in a sexy virtual reality game. You lick and suck my clit as if you are auditioning for the part in the film I am watching, proving to me you deserve stardom by showing me how badly you want me. Your soft touch and skillful mouth sets me ablaze.
I can't take it! You have licked me so close to madness, I lose focus. My fingers tremble. I drop my device. My headphones escape my ears. Right now, all I want in my hands is your hair, gripped tightly. All I want to see is your gorgeous face between my thighs, your sultry eyes fixed on mine. Then, to admire as you concentrate on your movements. I'd much rather watch your tongue driving into me over and over until I explode. This is the kind of show I would never turn off. I lick my lips in excitement. You are performing an entire montage of the best pussy-eating scenes in the whole of erotica, all at once… all on me. My legs quiver. I thrust my hips all around your face, smothering you with my wetness, holding your wrist close so your fingers fuck me deeper. My climax pulses from my clit to my chest. I come so hard, my pussy spurts like a fountain as I lie back screaming, gripping the sheets.
"Mmmm…." you say. That's all you express as you kiss my pussy softly, making sexy little giggles as your lips curve to a cocky smile. I turn you over, instantly inspired. I spread your legs wide and snake my tongue up your cunt, the tip waking your clit, coaxing it to come out and play. I position my iPad next to my face.
I press record… Lights. Camera. Action!