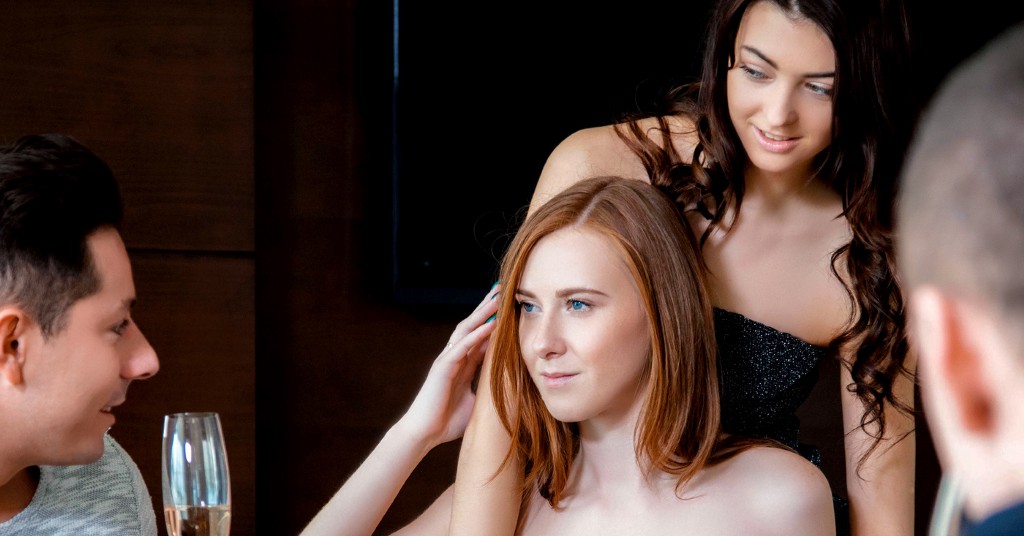 Passionate vignettes from a party
James and I have spent time with other couples before, but this was a whole new game entirely — and not only because Lane and Tamara aren't even a couple. In fact, James and Tamara and I are a bit of a throuple. Lane is the pansexual friend she invited to join us. We play what we call Hot Tetris with Tam on a regular basis, but introducing another player who was interested in all parties, and James feeling a bit bi-curious, meant that the sexy possibilities were amplified exponentially.
The hot part of Hot Tetris is self explanatory. We're all naked and really into each other — it's hot! Tetris comes in when we find all different kinds of ways to sexually engage and fit together. This time, what started out as two male/female pairings fucking side by side quickly morphed into something a lot more creative. You just have to look to see where you can fit in.
I was on my hands and knees, sucking Lane's cock while he lay on his back on the bed. The angle was just right and I could take him in all the way to the base, over and over again, with ease. I was really going to town, and Lane was enjoying it thoroughly, if his "Oh, yeahs" were any indication.
"Turn to the side a bit," said James. "I want to fuck you."
Of course he did! There are two kinds of people in the world; those who are distraught at the thought of their mate having sex with someone else and those who are turned on by it. James is definitely the latter. There I was with my ass in the air, enthusiastically going down on our new friend. Of course he wanted to fuck me. Lane and I shifted our position accordingly. This left Tamara needing to decide where she wanted to fit in. She might have come and rubbed my clit while James pounded me from behind; she might have joined me in tag-teaming Lane. Instead she told him, "I'm going to come sit on your face."
"Hop on," said Lane with a smile and that was the last talking that took place for a while as Tamara straddled Lane's waiting mouth. Quite by accident, we were facing diagonally across the bed, in line with the mirror in the corner, and so everyone but Lane, who was lying on his back, had a lovely view of the entire chain, both coming and going. In general, I can take or leave watching sex in the mirror, but in this instance, it was really visually arresting. All four of us are quite tall, with long limbs and torsos, and Lane and Tamara both have some interesting and colorful tattoos. My few tattoos are less dramatic and are all in black, but I've got pink highlights in my short blonde hair. Tamara's long hair is jet black with a streak of red, which is set off by her alabaster skin. It was a feast, not just for the eyes, but for all of the senses, with pleasure and enjoyment in abundance.
Later, I was sitting up, leaning against the headboard. James was lying on his back between my legs while Tamara played with his cock. Lane was to my side, kissing me and fondling my breasts. It was languid and sensual. I guess we'd been in a bit of a rest phase, but in that circumstance, it's easy to push past the tired and go for the next round. As Tam started to get serious about sucking James, he invited her to climb on top of him so that he could return the favor. Lane and I had a ringside view of James' moan-inducing mouth work, as well as Tamara's tight little ass as it bounced right in front of our faces from both pleasure and her own active slurping up and down James' dick.
"I'd like to get in on that," said Lane after a minute and I didn't blame him one bit. Tam's pussy looked very inviting. I was more than happy to get out of the way and let her get both fucked and licked at the same time. The increase in her vocalizations was all the thanks that I needed. Her moaning turns me on like little else, and getting a good vigorous fucking while a talented tongue laps your pussy is definitely a moan-inducing event. But it can be a bit tricky if the guys are too worried about touching each other. Fortunately for all of us, we didn't have that problem here. I moved myself down to the end of the bed and alternately stroked and sucked James, while I took a bunch of pictures for our mutual scrapbooks.
One of my favorite pictures from that day is of me swirling my tongue around the head of James' dick while Lane fucks me from behind. The guys have their heads together above me, kissing. If James had any reservations about playing with another man, he certainly didn't show them. It helped that Lane was a friend of Tamara's and his gentle but sexy demeanor inspired trust right away. As with many things, sometimes you don't really know how you'll feel about something until you've actually tried it. So much about sex happens in the brain, and so if you aren't distracted by a bunch of stories about what you are supposed to do and not do, what you are supposed to like and not like, it gives greater opportunity for discovery.
Variety is the spice of life and playing with someone who has different parts than you've ever played with before is definitely spicy. But in the end, lips are lips; skin is skin, bodies are bodies, sex is sex. And Hot Tetris is a great game!