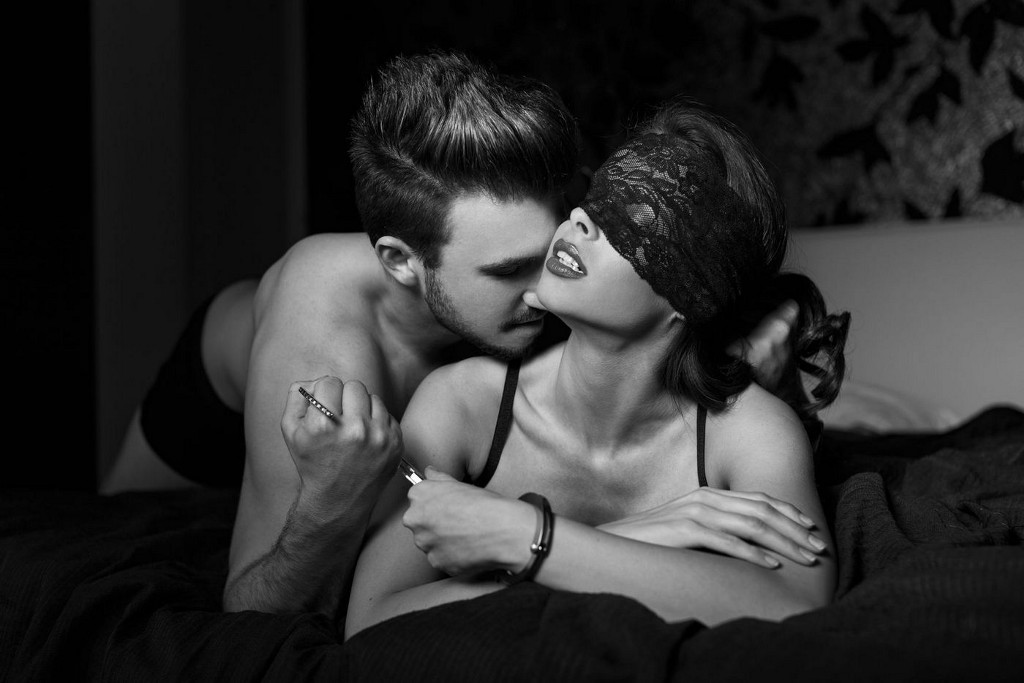 "Happy birthday, babe…"
I'm woken by Johnny whispering in my ear, followed by the pop of a champagne cork. He hands me a chilled flute and as I sit up in bed to take it, I realize my left hand is shackled to the headboard with a pair of steel handcuffs. I rattle them against the metal frame, knowing that release won't come until he decides it's time.
"So, what did you get me?" I ask, only half joking.
"This little black lace number…"
He approaches, holding a long lace scarf.
"Could've wrapped it," I say, deadpan.
He arranges it over my eyes, knotting it at the back of my head, folding it back on itself in layers over my eyes until I'm blindfolded. Tugging on my hair just hard enough to show me who's in control right now.
"I got you something else, too." There's just the slightest hint of uncertainty in his voice.
I pause. Take in a breath. "I trust you." Instinct tells me that's what he needs to hear, and I sense that he immediately relaxes.
A few moments' silence and I hear footsteps approach, the rustle of clothing being shed, the clink of a belt buckle. Johnny hasn't moved — it suddenly hits me that there's someone else in the room. Another guy? The large, rough hand touching my bare shoulder tells me yes, and then he drops a gentle kiss on my cheek.
Johnny whispers, "Okay?"
I nod emphatically, and our mystery guest doesn't hesitate. He yanks at the black chemise I'm wearing, just short of tearing it as he peels it off, leaving it draped off my bound wrist. I'm now totally exposed to his hands, and he runs them over me like he wants to possess every inch of my body. Deliberately, he begins by stroking my arms and legs, before homing in on my back. He grabs twin handfuls of my ass, each palm kneading my cheeks, parting them wide to see, but not touch, the moistening cleft between them. Then he reaches underneath me to give my breasts similar treatment, teasing out a yelp as, without warning, he pinches my nipples, then rolls them between his fingers.
I'm suddenly conscious of his hard cock brushing against the back of my thigh as he leans forward. He leaves a dewy trail of precum where it swipes against my skin. I shiver.
At last, to my relief and extreme pleasure, his fingers trail into my crack, circling my asshole, then settling at the opening to my pussy. A little teasing tickle and then they're inside me, flexing, searching out my sweet spot. I moan, begin to grind back against him, only for him to pull his fingers out, audibly wet, and offer me a taste. Then he's behind me again, suddenly brisk, as he grabs my hips and positions me just how he wants me.
I brace myself, moaning as I feel the head of his cock butt up against my pussy. A couple of pushes, perfecting the angle, and then he slides inside of me in one stroke, balls connecting with my arousal-swollen labia as he thrusts in deep.
He fucks me hard, grinding and stirring as he slams in and out. He's faster now, less controlled; then suddenly checks himself, plunging in deep and reaching around to finger my clit. He isn't going to come before I do. His fingers hit the spot, squeezing and pressing it in circles. I feel a tightness spread out from my crotch, stiffening my legs, clenching my belly… followed by a ripple of heat as my pussy pulses around the rigid shaft inside me.
A rustle of clothing. The sound of skin on skin. Johnny's hand on his own cock. As the fucking resumes, this time at a more measured pace, I ask him what the hell — I thought this was for my pleasure? He stops and I think he's taken me seriously… then his cock is right in my face, the head smooth and engorged as he plays it over my cheeks and against my lips. Obediently, I open my mouth and suck him inside, tasting his familiar, salty flavor.
I come once more — the mystery guy's cue to go faster. He's slamming so hard against my ass, I can barely hold still enough to suck on Johnny's cock. I wrap my hand around the base of it. A few more thrusts and suddenly the guy is pulling out, the fingers of one hand slipping in to tease out one final spasm as the other pins his shaft along my ass crack, his jizz fountaining out to soak my lower back. Johnny soon follows and I swallow every drop, sucking him until he's just too sensitive to handle any more.
Johnny seems in no hurry to uncuff me or remove my blindfold, and as the other guy gives my ass cheek a playful kiss and moves off the bed, it strikes me. What if the intention is that he stays anonymous? It's the kind of tease Johnny could savor for years to come. Maybe I'd get off on it too. But my impatience wins out.
"Redrose!" I say.
It's my safeword. Immediately, Johnny unlocks the cuffs, unties the blindfold. "You okay?" he asks me, concerned.
"I'm fine," I say. "I just didn't want to risk not knowing."
Johnny gestures and I turn to see Dan standing there. Dan from my office. The co-worker I mention a little too often. The guy I admitted I wanted to fuck, when I was tipsy and Johnny was demanding an honest answer…
Dan gives me a nod, admirably cool.
Johnny seems calm but disappointed. Our rule is, once the safeword is said, playtime is over for the day. To give us time to talk over any issues, and to make sure I don't use it lightly.
But today, I've decided, is different. Today, I'm the birthday girl.
Now Johnny seems relieved, if a little exasperated. He doesn't like me to break the rules, even if he benefits.
I look at Dan — take in the sight of his firm, naked body. His cock is already getting hard again. "Want to give me another birthday treat?" I ask.
Now he seems a little awkward, glancing over at Johnny.
"Something real twisted," I say. "Like missionary… with all the kissing."
I look at Johnny. He rolls his eyes but says nothing. I tell him to go fetch more champagne and after that, he gets to watch.
I beckon Dan over, relish the weight of him pressing down on me, slipping in between my thighs as I splay them. His cock nudging up against my wet pussy…
Happy birthday to me.