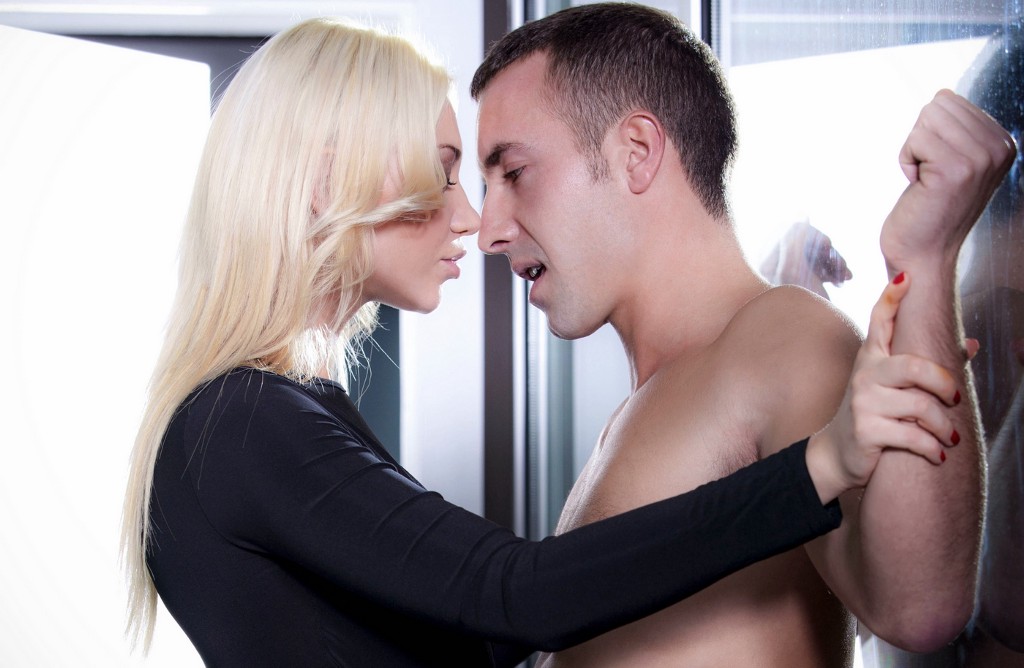 "Is your cock hard, you pathetic little worm? I can't tell…" That's a blatant lie; I can feel the tip of his erection brushing against my stomach, reaching for me. I arch back a little, breaking the contact by a hair's breadth, and lean harder on my hands, which are pinning his wrists to the wall.
I'm tempted to look down at it — a hard cock is like a magnet to my eyes — but I force myself to maintain my cold, hard, ice-blue gaze into his doe-like brown eyes.
"You didn't answer my question, worm…"
"Y-y-yes Rose," he stammers. "S-s-sorry Rose…"
"How should I punish you, I wonder?"
I've phrased it as a rhetorical question, but actually I'm not a natural dominatrix; I'll play Queen Bitch with my girlfriends occasionally, particularly with casual pickups, but I'll almost always submit to the sight of a rigid dick.
I'd imagine Peter brings out the latent domme in most women, though. He's a skinny, rather nerdy fellow, not at all the muscle-bound, big-dicked stud type I favor, which makes playing with him rather an intriguing experience.
In fact, the nervous energy given out by his pale, quivering body seems to be feeding my arousal like kindling on glowing embers. I can feel the heat flowing through my veins, ready to flare. I'm tempted to hitch up my skirt, wrap my leg around his hip and guide his needle dick into my wet pussy; but I've tormented Peter once before — you can read about it in "Panties around my ankles: making him watch" — and I swore to him that I would never, ever fuck him, no matter how hard he begs… or how much I secretly want it. And a good Mistress should not break her word so easily.
Time to send for reinforcements.
I consider inviting my dominant friend Angela over; after all, she's the one who's taught me everything I know about submission, mostly by teasing and humiliating me in public. But what I really need is a huge cock that will override the temptation to suck Peter's peter*, so I leave him standing naked and shivering with anticipation against the wall, warning him, "Don't move, worm. I think I need a real man to show you how it should be done," while I text Victor.
Peter is already acquainted with my personal trainer and virile fuckbuddy Victor. It was Peter's fantasy to play the cuckolded husband watching his faithless wife get screwed in front of his eyes, and Vic was only too happy to step into the role of bull. I'm hoping my message — my husband's back and he needs to be taught another lesson — will send the blood rushing to his groin, and him rushing to my door. In the meantime, what am I to do with Peter?
I want to keep him in this nervous, aroused and suggestible state, without getting him too close to cumming. I think for a moment about what shames and excites me the most…
Spanking.
"Get on your hands and knees," I tell him. "I'm going to spank your pathetic ass, so when my lover gets here he can see just what an inadequate little weakling you are."
I hold my breath — too much? — but Peter immediately complies, assuming the position on the rug, head down, ass up. His cock is rigid, almost purple. I'd better not go too hard; I don't know how much pain he can take, and I don't want him spurting all over the rug before Vic arrives.
I mentally run through the options in my toy drawer and settle on my riding crop, which will allow me to be very precise with my aim. Leaving Peter waiting in that vulnerable position while I go to fetch it is all part of building up the anticipation to an almost unbearable level. When I return, I run the crop all over his stomach, the backs of his legs, and the sensitive skin on the insides of his thighs, being careful to avoid his cock and balls. The suspense is making his cock flex and jump. I give him a quick warning tap to alert him that the spanking will begin, then pull back and aim a sharp, light blow directly in the center of his ass cheek.
He flinches and bites his lip, staying silent as the red glow blooms under his pale skin. A matching strike on the other cheek tests his resolve. A third strike, close to the first, makes him gasp, and the fourth draws a little cry from him. I'm just playing really, probing to see whether he has a pain kink or if it's the humiliation that does it for him.
"Look at those hot cheeks, burning red," I say. "Your ass up in the air… Maybe I should let my lover fuck you instead of me, what do you think?" He shakes his head vehemently. "Oh, you just want to watch, do you?" Avid nodding. "You want to see this pussy get the kind of fucking you could never give it?" He nods even harder.
A true voyeur then… I know how to play that game.
"On your back, worm," I snap. He rolls over, wincing as his sore ass cheeks meet the floor. I stand over him, inching my dress up so he can see my panties. Deliberately, I run my fingers over the damp crotch, pushing the flimsy fabric between my pussy lips so it hugs the cleft between their plump contours.
"My panties are wet," I say. "I'm thinking about my lover fucking me, his big cock plunging into me." I sink to my knees astride Peter's head, pussy right over his face. "He's going to fuck me and fill me up with his cum and you're just going to watch, you pathetic worm…"
Right on cue, the doorbell rings.
Victor slips right back into the role of bull; it's pretty close to his real personality anyway, very little acting required.
"Hey baby, I see your little sissy husband still can't satisfy you," he says by way of greeting. "Is your pussy dripping wet for me? Let's show this loser what he's missing."
Peter's not the only one struggling to keep a lid on his frustration at this point — I've just spent the best part of an hour in the company of a naked man with a stiff cock and not even touched it. So Vic's brutal manhandling is just what I need, and I let him take control.
"You stay right where you are, mama's boy," he says to Peter. "You don't get to touch your wife's pussy, and you don't get to touch that useless little cock of yours, either. She needs a proper fucking, and you're going to watch while she gets it."
Peter nods obediently as Vic pulls my dress off over my head, leaving me straddling Peter's face in just my panties. The game plays right into Vic's proclivities too, letting him unleash his raw machismo without reprisal, and I can see how turned on he is by the way his cock is tenting out his pants. He kneels in front of me and I unzip them and start stroking his huge cock, right above Peter's eyes. I know from experience how enormous it looks from that angle! The sight would intimidate most men, but a quick glance behind me shows that Peter's dick is stiffer than ever. He's getting off on the sight of my slender fingers wrapped around this monster, stroking steadily.
Vic leans forward slightly so he can slide a hand into my panties, fingers seeking out the source of the wetness. I gasp as the first thick digit glides into my slick cunt.
"Look, sissyboy, I can do more for your wife with just my fingers than your sad little cock could ever manage," Vic says, adding a second and frigging me harder, making me moan wantonly. "I'm going to fuck her now, and you're going to watch and learn."
Vic stands and sheds his clothes rapidly. His brawny body is an impressive sight, especially compared to Peter's scrawny frame. He pulls me to my feet and peels off the sodden panties, then repositions me so I'm straddling Peter's head again, but facing towards his feet this time. Kneeling behind me, erection pressed up against my ass, Vic plunges his fingers back inside me. Peter must have a graphic view of those thick, hairy-knuckled fingers shining with my juice each time they ease out between my lips… the thought of what he's seeing, as much as the blissful sensation of being fingered by a man who knows exactly how to turn me into a quivering wreck, has me begging for his cock like the sluttiest hotwife.
When he's got me hovering on the verge of orgasm, Vic bends me over, grips my hips, makes me wait for a long moment with his cock poised at my drenched entrance, and then — ohmygod it's huge — thrusts into me at last. The stretch of taking something so big and hard is a shock, but one that my pussy loves; my clit is buzzing, my G-spot's throbbing, and Vic doesn't hold back, slamming into me full force. His cock fills me so very full, raking over every hypersensitive spot, pressing my trigger harder with each stroke. He's powerfucking me in a display of alpha male virility, and while I may be a feminist out of the bedroom, my pussy responds to this gorilla tactic with a spectacular orgasm that has me clenching and convulsing and squealing around his dick.
Vic keeps on pounding into me right through my climax, knowing the steady pressure will fuel starburst after starburst of rapture. The slapping sound of flesh on flesh, the squishing sound of iron-hard flesh skewering tight, hot wetness, fills the room. I sink to my elbows, face so close to Peter's crotch that he must be able to feel my hot breath on his shaft as I gasp and moan. It's a miracle he hasn't exploded, his cock hard as rock and flexing upward in time with Vic's every thrust. I imagine the view he has, my cunt hugging Vic's turgid cock tightly, wet and obscene. Can he smell the sweet tang of sex? I start shaking and bucking harder, climaxing over Peter's face again, Vic's cock driving me wild.
I don't know how long I remain in that state of orgasmic chain reaction, but my pussy is throbbing to the point of numbness when Vic finally growls, "And that's how you do it, loser!" and slams in up to his balls, gripping my hips tight enough to leave fingerprints. I feel his cock pulse as his hot cum squirts into me, setting off another round of shivery bliss.
Vic hauls me upright as he pulls out of me, so I'm kneeling astride Peter's face once again. I realize what he has in mind as he barks, "Don't you dare move, loser!"
I stay still and let Vic spread my pussy open with his fingers, hastening the flow of his cum out of me. I wonder if this will push the boundary of our game too far, but no; Peter stays stock still as Vic's cum drips down onto his face, trickling over his lips and cheeks and chin. He doesn't even move to lick it up, just keeps staring at my sloppy wet pussy, transfixed.
There's one part of him that can't keep still, though. I see his cock twitch and jump harder than ever, and suddenly it's spurting cum like a fire hydrant, shooting up in the air and splattering down over his stomach and chest. Seeing a guy cumming untouched is pretty spectacular, and he is shaking like a leaf as the waves of his orgasm wrack his whole body.
When Peter finally stops spurting and groaning, Vic helps me to my feet and we stand and look down at our cum-streaked, quivering friend.
"Me first in the shower," he grins. The game is over for now; but I have a feeling we'll be revisiting it soon, since it evidently lets both guys explore parts of their nature that need a safety valve… and anything that earns me such a good hard fucking works for me!
*Have you ever stopped to think how many names are used as slang for sex-related words? Peter, Johnson, John Thomas, Fanny, Dick, Willy, Kitty… no idea why.
Thanks for reading! Applause, comments and follows get me hot 😉
More confessions from me here — if you think you can handle it! Maybe have a cold shower first…