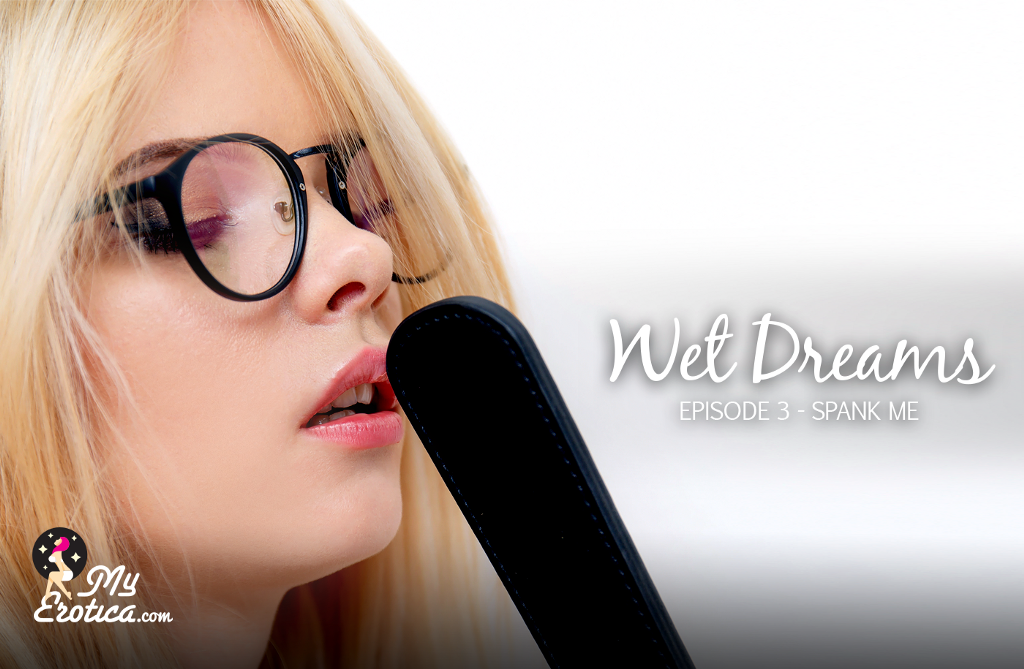 The leather paddle hits my tender ass cheek with a resounding thwack. The pain flares brightly, chased by a hot throbbing that spreads through my trembling body, finding its epicenter at my pussy. I'm dripping wet, so wet that a finger or tongue or cock inserted now would slide in like a hot knife through butter.
I'd shove my fingers right in there now and hump them, careless of the humiliation of being so easily aroused; but I can't because my wrists are cuffed together, braced against the bed to stop myself from toppling over. I'm face down, ass up, legs spread wide so he can see exactly how creamy this spanking is getting me. The blows of the paddle are landing all around my cheeks and upper thighs, my pussy the glistening bullseye at the center of the target that he won't hit, no matter how much I beg for it. And I will beg before he's done with me…
I like kinky games with handcuffs and spankings as much as the next horny girl, but I'm into it for psychological thrills and physical pleasure, not as a lifestyle. Truly, I like the game more than the pain, and I'm too rebellious to make a good slave or submissive, as my dominant girlfriend Angela has learned to her cost (read about her attempts to tame me here).
But once in a while, someone comes along who doesn't take it all too seriously, who makes me want to submit to their will, who pushes my buttons without getting all po-faced and sucking the fun out of it.
Someone like Lawrence…
Thanks to the banal clichés of a certain dreary bestseller — you all know the one I'm referring to — many people are now under the impression that alpha males swan around in helicopters managing their business empire in between corrupting innocent young sweeties. What bullshit. BDSM relationships — like all relationships — are often far more fluid than that, and you might be surprised to learn who has a little dom or sub streak.
Lawrence is a market trader — that's Smithfield meat market, not the Stock Exchange. He's not remotely posh and I can't quite picture him in a suit. I met him in a pub near the Barbican where I'd gone with friends for pre-theatre drinkies. I liked his confident but not cocky attitude so much I agreed to go back later to have post-theatre drinkies with him too, and we've been dating casually (which is the only kind of dating I do) ever since.
Lawrence is fun in bed, dominant without being arrogant, bringing me pleasure in unexpected ways. He doesn't want a slave or a doormat; he thinks it's more exciting when I struggle, and delights in making me squirm.
When I arrive at his place one evening and he says he has a present for me, I don't know what to expect. His last gift was two rib-eye steaks and some sausages for the dog (much appreciated!) so I'm surprised to be handed a ribbon-tied box. Inside I find a stiff black leather paddle, handcuffs, a jewelled clip and a butterfly vibrator. An interesting selection of objects; I note with apprehension that these toys are all designed to tease rather than please.
He pulls me onto his lap, and I thank him with a kiss that quickly grows heated. His hand slides under my white lace dress, toying with my stiffening nipples.
"Do you want to go out, or do you want to stay home and play?" he asks.
"Play," I say immediately, more interested in the cock I can feel swelling against my wriggling ass than whatever movie it was we'd planned to see.
"Okay, then here are the rules," he says. "You will do as I say. You will not touch yourself or me unless I tell you to. You will cum when and if I say you can."
I don't like the sound of this "if" — but I'm already getting wet, and the thought of going out and sitting through some interminable movie, my pussy tingling with the need for immediate attention, is intolerable. I nod my assent.
"Good girl," he says cheerfully, tipping me off his lap. "Now, panties off, get on the bed and assume the position."
His bedroom is tidy and bright, crisp white covers on the bed. I take off my panties, hoping he'll touch me or even instruct me to masturbate for him — I enjoy that — but he just watches as I get on the bed on my hands and knees, waiting while I pull my dress up around my waist. He tosses the handcuffs to me and I close them around my wrists, careful not to make them too tight or too loose. As I lower my head to the sheets, elbows out to brace myself, I feel very exposed. He takes his time looking; I can feel his eyes on me, and I wonder if he's studying the wetness welling up at the seam of my pussy, debating whether to plunge his cock in…
Of course he's not going to give me what I want right away.
"I'm going to spank you now," he says mildly. "Your safe word is tiger. I won't stop unless you say the safe word, no matter how much you beg. Understood?"
I nod, suddenly desperate to get started. Even so, I'm not quite prepared for the first crack of the paddle against my bottom. It burns, heat radiating out from the strike point, making me gasp. He spanks me again, on the other cheek. It hurts, but I like it. I want more, and I get more, a steady storm of blows that come at a staccato rhythm, keeping me off balance, getting me so aroused my pussy is twitching and streaming.
He's spanked me with his bare hand a few times, but the leather paddle takes it to another level. It stings in the most delicious way, each stroke a vivid burst of heat. I'm turned on by the sensation, and just as much by the thought that Lawrence went out looking for this specific toy, that he was thinking of me when he bought it, picturing using it on me. I wonder if his cock was getting stiff in his pants as he paid for it, if he ran his fingers over the smooth leather and imagined the red marks it would leave on my cheeks. I hope so.
The sting of each individual strike has blended into a dull, warm throb now, but Lawrence won't let me zone out; he's way too good at keeping me on the edge. Taking the long, jewelled clip from the box, he slides it onto my clit, careful not to touch me otherwise.
The effect is instantaneous. The fine metal clamp squeezes my clitoris, drawing all that chaotic sexual energy coursing around my body to a single point of focus. My clit's throbbing, pulsing wildly, so intense it's almost a relief when Lawrence starts spanking me again. I'm rocking back to meet the blows now, wanting it harder… more… again… please… barely aware that I'm gasping these words aloud as I surrender to the tormenting sensations.
I want to cum, I want him to thrust the end of that maddening paddle inside me, to grind it on my G-spot and trigger the explosion. But instead he stops, just watching me struggling against the tumultuous pressure building inside me; then he slides the straps of the butterfly vibrator over my feet, pulling it up my thighs until it's in position, the vibe carefully placed over my throbbing clit.
He switches it on.
It's like detonating dynamite. An orgasm rips through me, spasms shooting through my pulsing clit, making me shriek and shudder until I sink to the mattress, humping blindly against the sheets. It's intense, yet somehow unsatisfying, my sugar walls convulsing, seeking to grip and squeeze something, anything.
"Did I say you could cum?" Lawrence asks, snapping me from my frenzy.
"Fuck me, please, fuck me…" I gasp. "I'll do anything, just fuck me…"
He makes me beg awhile longer, turning the speed of the vibe up and down, aiming random slaps at my burning cheeks, until a long string of orgasmic tremors has me incoherent with need. Finally he stretches me out on my front, cuffed wrists above my head, legs spread. My cunt is soaked and hypersensitive. I squeal as he removes the butterfly and then the clit clamp, setting off a fresh wave of sparks and shivers. I squeal louder as he sheds his clothes rapidly, gets on top of me and shoves his cock inside me with one smooth thrust.
Now you can cum," he says, driving in deep.
My orgasm is immediate and extraordinary. My cunt ripples and squeezes around his dick, holding it tight against my G-spot, my hips bucking involuntarily. He waits patiently, keeping still as I fuck myself on his dick, riding out wave after wave of obliterating sensation, until I'm left senseless, calm, floating.
White heat… white light.
He lets me catch my breath before he uncuffs me and rolls me over, scanning my face to see how I'm doing. I'm serene, glowing with wellbeing despite my sore ass cheeks and throbbing clit.
"Still want to fuck?" he asks sweetly, all trace of dominance erased now.
"Hell, yes," I smile. "But you might have to take it slow…"
My pussy is over-sensitive, every nerve tingling, but so drenched that he slides in easily. He showers my face with kisses as he screws me to a steady, sedate rhythm, coaxing me to a less exalted but no less pleasurable climax before pulling out, flipping me over and painting his hot cum over my tender pink bottom. Delighted with the effect, he takes a picture on his phone to show me. It's quite an arresting sight, streaks of pink and white over my golden-tanned skin. How artistic.
Laurence sits me on a bag of frozen peas to take down the throbbing and soreness, while he cooks up some steaks. Practical as well as kinky and dominant; I like that in a man…
More confessions from me here — if you think you can handle it! Maybe take a cold shower first…