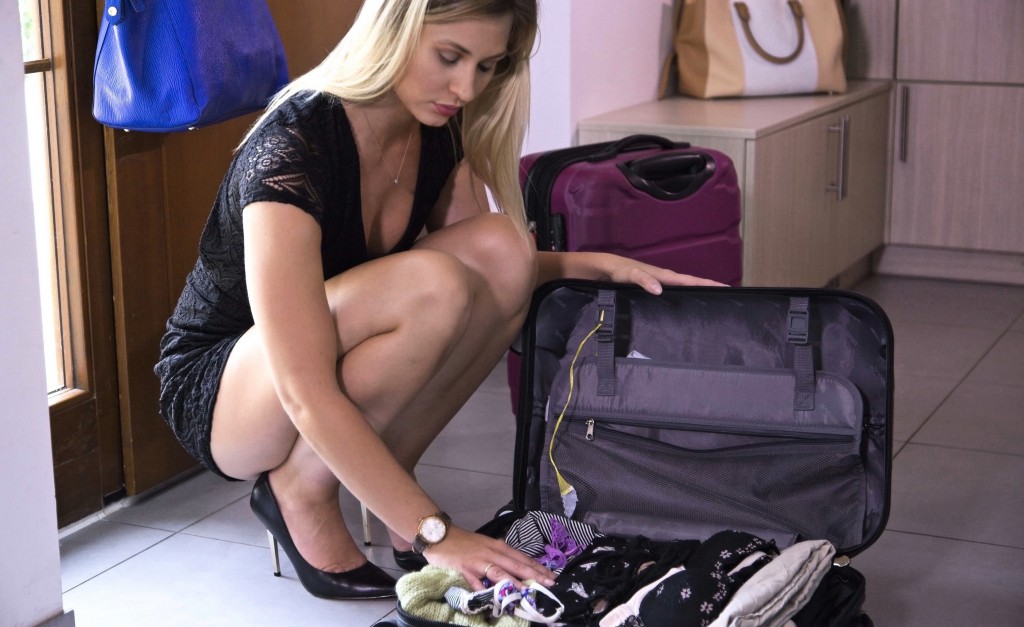 Traveling with Sex Toys
What is it about a vacation that gets us so hot and bothered? It's probably the change of pace that makes getaways romantic — a recent study by Expedia showed that over 50% of people said they are more likely to be intimate with their significant other while on vacation. Travel is an excellent way to rejuvenate your sex life, and so are sex toys! But how do you combine the two, with so many prying eyes looking into your luggage in the name of airport security?
Traveling with sex toys can be a little tricky, but never fear! Following a few simple suggestions will ensure that your sexy vacay isn't interrupted by the Transportation Security Administration, or any other security agencies.
Look Up Legalities — Despite the progressive age we live in, several countries, such as India, the United Arab Emirates, and Saudi Arabia still have laws against sex toys. Be sure to look up local policies on sodomy and sex toys whenever you travel, so you can avoid any unpleasant surprises when you land. The TSA even has a useful "Can I Bring?" tool for you to check whether your lovemaking accessories are legal in your destination. Fun Fact: sex toys are also illegal in Alabama, but you're unlikely to have a problem bringing them into the state.
Be Transparent — Be honest when asked what those mysterious items in your luggage are, and put each one in a clear plastic bag for easy and sanitary inspection in case your bag gets opened. Screeners have handled this hundreds of times, and they are much more likely to understand when you tell them "it's an adult toy" than when you blush, stutter, and act suspiciously about what you're carrying. Make the process easier on everyone by being up front about anything you're traveling with. If you're placing toys in your carry-on, keep them at the top — anything silicone will set off the "food" sensors at the airport, and you're going to need to show them what it is you're carrying.
Remove Your Batteries — Avoid unwanted buzzing in the baggage handling line by removing any batteries before traveling with your toys. Place the batteries in their own clear plastic bags and keep them in your carry-on, especially since lithium-ion batteries cannot survive in the baggage area of a plane. If your toy is rechargeable, be sure to wear the batteries down before your flight, and don't forget to pack your charger cable!
Think Travel Size — Bringing sex toys on vacation means that you're probably bringing some sort of lube, and maybe some toy cleaner as well! Keep any liquids under the 3oz rule, and do yourself a favor by placing any liquids in their own zip-up baggie — no one wants to find lube all over their luggage when they land. You may also want to consider packing smaller toys, so you have more room for the inevitable souvenirs on your return flight!
Choose Your Weapons Wisely — Smaller, more compact toys are less likely to be noticed by screeners than a big mysterious object in your luggage, so lean towards something sleek and discreet when you travel. If you're the "go big or go home" type, or you're thinking kink this holiday, be sure to bag each item in a way that it can be seen and handled safely by baggage handlers, and be prepared for questions. Most sharp items, as well as liquid or gel filled items, are typically banned from carry on baggage, but can be packed in checked luggage.
Traveling with sex toys doesn't have to be stressful. Keeping these simple reminders in mind will make sure your next trip is as smooth and sexy as possible. Baggage handlers aren't after your buttplugs or BDSM toys, after all. Be honest, be safe, and be confident in your right to pleasure, no matter where you're headed or what you're into!
Resources:
https://www.travelandleisure.com/travel-tips/airlines-airports/tips-sex-toys-airport-security
https://www.bustle.com/p/how-to-get-your-sex-toys-through-airport-security-smoothly-because-you-deserve-a-fun-vacation-60898
http://www.feistyfoxfilms.com/travel-with-kink-toys/
http://www.airsafe.com/issues/baggage/bdsm.htm
https://www.lelo.com/blog/forbidden-territorywhere-cant-take-sex-toys/
https://www.tsa.gov/