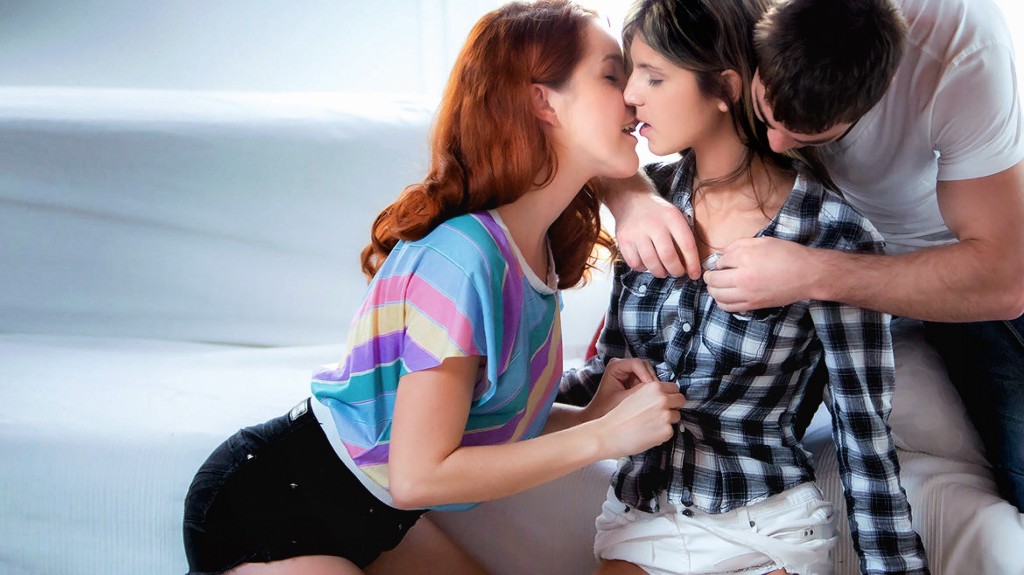 His breath, hot on my neck as his fingers deftly undo my buttons. Her sweet lips on mine, tasting of strawberry lipgloss. His appreciative groan as he sees her hand slide down inside my panties, fingertips discovering how wet their joint ministrations have made me already. She kisses him as her fingers wriggle deeper inside me, fighting against the tight confines; and he cups my breast under my shirt, thumb stroking my nipple…
I've fucked them both before, but not for a while, and never together. I introduced them; I got such a buzz from playing Cupid, knowing they were perfect for each other, and they've been inseparable ever since. I was thrilled when they announced their engagement.
When I asked them about the gift registry, their response took me by surprise. There's something specific they want as a wedding gift from me.
A threesome.
So, here we are. And I'm not sure if this is my gift to them, or their gift to each other, a symbol of their mutual trust and excitement that they're embarking on life's big adventure together. I'm content to let them unwrap me and play with me as they wish.
If you're read any of my previous posts, you'll know I am typically all about the C-O-C-K. Once I get a hard dick between my thighs or lips, nothing else registers in my brain; the sky could be raining fire and I'd just assume it's because my passion for sucking cock burns so bright.
So I'm surprised at how much it's turning me on to just lie back passively and let them please me. Their lips and fingers brush my skin, dancing around each other. He grips my thighs, hands teasingly close to my pussy, spreading me wider so she can lick me. Her tongue skims my tender flesh, advancing, retreating, making me rock my hips up to chase it. And then she's kissing and sucking, lapping at my clit with steadily increasing pressure, making me gasp and shake. I'm aching for penetration by the time he slides his fingers into my pussy from behind, dipping them in my wetness and bringing them to my mouth for me to taste, then shoving them back inside me.
"More!" I gasp, and it's not his fingers I want. But they make me wait, her nimble tongue bringing me to fever pitch, before he presses close to me and pushes his cock into me from behind. A blissful stretch, and an answering rush of wetness; he holds perfectly still, letting me savor the sensation of being filled, possessed from the inside out. I hook my leg over his, so she can lick the precise juncture where his hard cock penetrates me, spreading my juice down his shaft. He groans louder as her tongue strokes us both, pumping his hips to thrust into me. She remembers just how I like to be licked, firm and slow, pressing the heel of her hand against my mound to increase the friction of the cock inside me.
Something new: her fingers circle his driving shaft and move with it, fingertips pushing inside me along with his cock. I don't think I can take any more than this, but she moves up to kiss me, holding me sandwiched tight between their hot bodies as her fingers shove right into my soaked cunt, twisting around his cock, knuckles grinding on my G-spot. He winds his hand in my hair and fucks me harder and faster, biting my neck as I start to come, seeing stars.
She rolls onto her back and pulls me on top of her, legs wrapped around me so my pussy is directly above hers. I remember how good it felt to rub against her the last time we were together, each of us bathed in the other's wetness.
He laughs delightedly as he admires the view, two pussies stacked ready for him to enjoy. A few strokes into her, then me, then her again. Her nipples rub against mine, hot lips kissing my neck. Our shivers and cries of pleasure feed each other's excitement, spiralling in intensity until I can't tell if it's her coming, or me, or both of us…
He arranges us so I'm on my back with her sitting on my face while he thrusts into me. From the ease with which they move into position, I can tell it's something they've discussed. The thought of them planning this, fantasizing about sharing me while they fuck, is so arousing. She circles her hips, rocking her pussy on my mouth. She's so wet there's no friction, but the swipes of my tongue through her slippery channel make her moan louder and louder. My thighs are tight around his waist as he powers into me with hard, deep strokes. His cock feels incredible, hot and rigid, cleaving me wide, activating every sensitive spot at once. The haze of pleasure envelops me, her taste sweet on my tongue, and then she's coming, I'm coming, and I don't know who triggered whom.
He scrambles around to offer his cock to my lips, and then it's pulsing hard between my sticky fingers as his jizz pumps out, hot and liquid, and she's licking it from my lips and kissing me deeply as he hugs us both.
Blissed out on endorphins and basking in the glow of their love for each other, I wish them all the happiness in the world. And a lifetime of hot sex, obviously.
Thanks for reading! Applause, comments and follows get me hot 😉
More confessions from me here — if you think you can handle it! Maybe have a cold shower first…