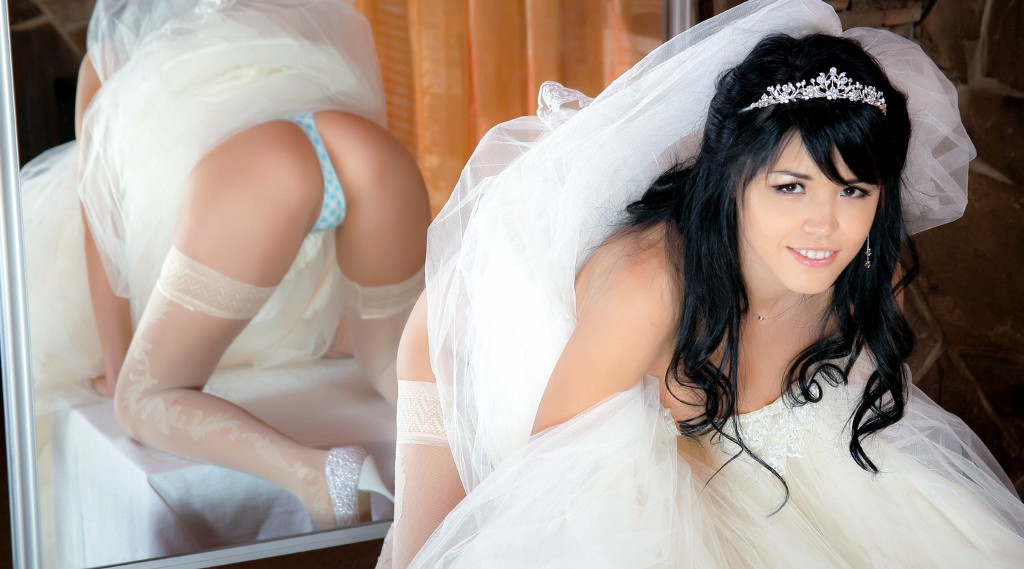 I'm my knees behind her, burrowing my way through a froth of white silk and lace to her very hot, very wet pussy. Face down, ass up, bent over a stool with her wedding dress around her waist, she's moaning and wriggling wantonly as I trace my tongue around the edges of her skimpy blue and white panties, teasing her until I can see the damp patch at the crotch spreading like ink on blotting paper.
She presses back against my lips as I plant a kiss in the center of the wetness, tasting her sweetness through the silk, and lets out a little mew of pleasure and hunger. I tug the sticky fabric aside so I can get to the source of the sweetness unhindered, taking a second to admire the plump, puffed up, glistening pink folds, before dipping my tongue into the succulent groove. Her shiver of pleasure makes me wish I could draw this out for hours, make her scream and beg with desperation; but she's due to be married in less than half an hour, and I fear the gathering congregation will grow restless.
Here in the vestry, away from the throng, it's peaceful, the chattering of her friends and family a distant hum. The organist strikes up Pachelbel's Canon, her soft moans and gasps making a harmonious counterpoint to the lilting tune. I peel her panties down her thighs to meet her lacy stocking tops, and spread her ass cheeks apart so I can bury my tongue deeper. She's smooth skinned and fragrant, the aroma of fresh pussy mingling with her perfume and lotion and the ancient, bookish smell that only centuries-old buildings seem to have.
She grinds back to meet my tongue, and I lap busily at her clit until she's shuddering with excitement, teetering on the edge of orgasm. At this angle I can't easily get my fingers into her slit without taking my tongue away — and we can't have the bride lying on her back and messing up her hair — so I settle for rubbing her clit with my thumb while I tongue-fuck her sloppy-wet slot, sucking and lapping at her streaming pussy and tight puckered asshole until she's smothering her cries with her hand as she shivers and shakes through an orgasm that is all the more intense for being silenced.
"Let's get you tidied up… your look is more 'just fucked' than 'blushing bride' right now," I suggest, shaking out the voluminous swathes of white silk; but she shakes her head.
"I want my last taste of pussy before I get married," she smiles, pulling me in for a kiss, her hand sliding around my waist to squeeze my ass…
I've hooked up with her several times, I've fucked her husband-to-be too, and on one memorable occasion I had a threeway with them both — you can read about that in "Threesome: hot lips and wet fingers." In fact I was the Cupid who got them together, and our steamy encounter was the early wedding gift they requested. That was over a year ago, and after various plans and postponements and convoluted scheduling issues, the wedding is finally taking place today. But not until the bride gets to make me cum, apparently…
I can't deny I'm feeling aroused; she's sexy as hell, and eating her pussy in such an unusual and frankly inappropriate setting has me wet and excited. My best friend and fuckbuddy Tony is guarding the door, but the risk of interruption is growing with every passing minute, so we need to make this quick and dirty, which suits me just fine.
I get her to sit on the stool, arranging the billowing clouds of her dress around her so they don't get creased. But she immediately hitches up the front and plunges one hand into her panties, fingering herself as she watches me with greedy eyes.
I want to cause as little disruption to her pristine hair and make-up as I can, so I take my panties off and stand astride her, raising one foot up onto the edge of the stool to open myself up to her eager mouth. Luckily the five-inch heels I'm wearing put me at just the right height for her to reach my creamy cunt.
The first touch of her tongue tip on my clit is electrifying, a jolt of heat that makes every nerve in my body vibrate with pleasure. The organist has moved on to a piece of music I don't recognize, but the swelling cadences match the rising waves of sensation that flood through me as she takes my clit between her soft lips and sucks, the pressure perfect, her tongue sweeping over it with broad, wet strokes.
She knows I need penetration to get off, clitoral stimulation just feeding the craving to be fucked, so she slides a finger up and down the juicy cleft between my lips, over my clit and down to the slick entrance to heaven, back and forth, back and forth until the anticipation is making me crazy, then pushes it inside me. I gasp, sugar walls spasming, clutching at it. She adds another, twisting and hooking them until my moans escalate, telling her she's hit the sweet spot.
Now she works fast, strumming my clit with her tongue as she finger-fucks me, pushing in right up to the knuckle so I feel the big diamond on her ring finger grinding against my tender flesh. I love the friction, and as she hammers my G-spot urgently, double-time to the beat of the organist's flourishes, I feel the hot, wet, blissful rush of my climax approach. My knees buckle as I orgasm, suppressing my moans until they finally turn into giggles of release and amusement.
"Mmmm, you taste of sugared almonds," she purrs, licking her lips as I suck her fingers clean, not wanting her to leave sticky pussy juice fingerprints on her dress.
"Now, can we fix your make-up and get on with this wedding?" I ask her, pretending to be impatient, even as I'm brushing a stray strand of hair out of her eyes with a pang of affection. I'll miss her sweet lips.
"Not just yet… there's someone else who'd like to say goodbye to you too," she smiles, showing me a text from her fiancé. It lists in quite graphic detail the things he'd like to do to me before he ties the knot.
I guess it won't hurt to delay for a few more minutes before they march down the aisle to wedded bliss…
I give it a year — just kidding! True love will always find a way.
Thanks for reading! Applause, comments and follows get me hot 😉
More confessions from me here — if you think you can handle it! Maybe have a cold shower first…