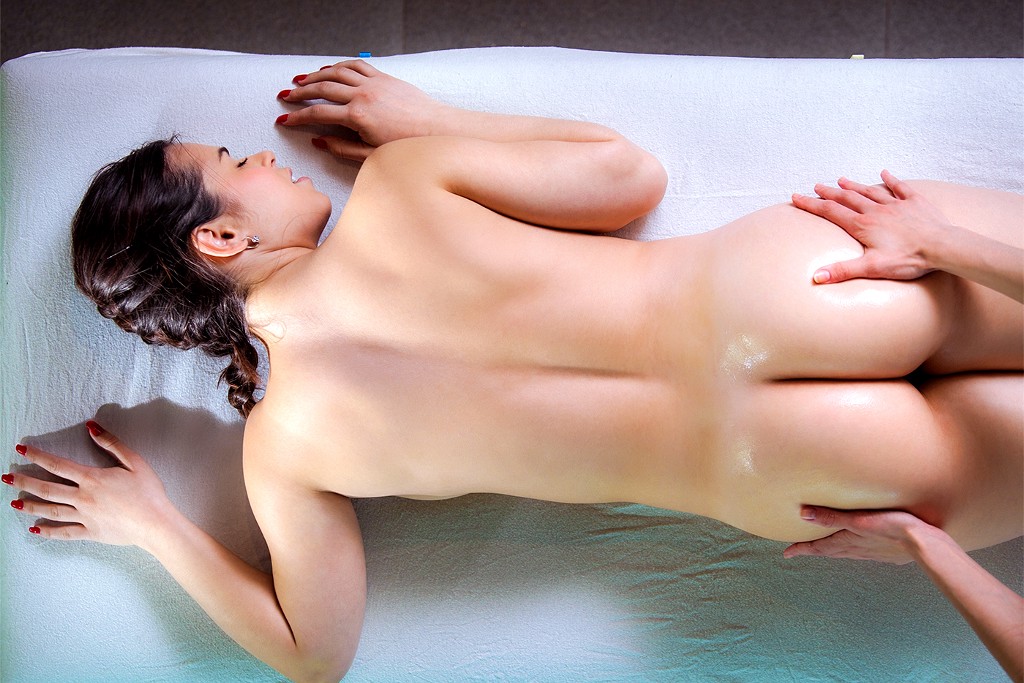 My reminiscences about my first visit to the spa were cut short when Raul called me to leave. I had another naughty thought and grabbed a sexy dress to bring along. In the car I developed my plan.
Master had never given me a rulebook, so I wasn't sure if I was allowed to do what I planned. I had already 'sinned' twice today, and it was only just after breakfast. Another sin might increase my punishment. That idea excited me.
Raul drove me to the spa. It was a pleasurable visit — a mud bath, an outdoor shower, and then another very arousing Nuru massage session. By now, I had become quite intimate with the masseuse, Celine. After our first few sessions, in which I was just a passive recipient of pleasure, she began to allow me to touch her in return. She was such a hot, exotic beauty, and seemed to really savor our mutual play, which made it all the more stimulating for me too. It was also the only part of my life where I was allowed to take control, so it gave me a much-needed outlet for the more assertive side of my sexuality.
On the drive to the spa I had been fantasizing about my plan, so by the time I entered the Nuru room I was already seriously hot and ready for action. I think I surprised Celine with how sexually aggressive I was. I took control. This time, I fucked her.
Celine had just oiled me up when I grabbed her and made her stretch out on the platform. I didn't hesitate, I went straight for her tight asshole and pussy and devoured them both. My fingers and tongue worked each hole, switching back and forth. I had her whimpering within a minute and she came really quickly. As she had taught me, I used my whole body to stimulate her. I slid all over her, skin to skin, my nipples grinding against her back. Then I flipped her over and reversed position so that my pussy was covering her face.
We began a marathon soixante-neuf session — Master taught me that was French for 69, my favorite number! I had pinned Celine's arms with my legs so she couldn't reciprocate when my fingers entered her ass. She tried to keep licking me but I could tell the sensation was so intense she couldn't really focus. She screamed out, reverting to her native language, but I got the point. After two, three, hell, who knows for sure how many more climaxes, she was so exhausted she drifted off to sleep.
I realized we had taken far more time than usual, so I got up, showered, and left her there, heading to the beauty room. Celine looked so peaceful curled up on the platform that I didn't want to wake her. Normally she would escort me, but as I went down the corridor alone I decided to try the door to the mysterious room that had always so intrigued me. It turned out to be a fully equipped dungeon!
I was fascinated. Nobody was inside, so I tiptoed in to take a look. There were some frames and devices I recognized, and some that left me mystified, and even more curious. The rack of whips, crops, and other toys was extensive. I was tempted to explore further but I did not want to get caught, so I headed to the beauty room, feeling even more aroused than before.
I had my hair and make-up done, and then Li, the spa manager, came in and handed me a small box and told me it was from Master. What I found inside was wonderful — a set of cuffs, but not like anything I'd ever seen before. Li told me Master had them made specially for me. He had fashioned them without any visible connection point and they were wrapped in the softest white leather. They fitted perfectly, of course. The matching choker had Master's mark embossed on it.
I put on the sexy little dress and heels I'd brought with me. I felt beautiful. Raul whistled at me as I walked to the car.
"Sorry, not for you today," I said.
"My loss," he grinned. I could tell he was thinking about all the times he had been lucky enough to fuck me. That got me even hotter.
Raul was surprised when I asked if we could make a stop on the way home, as I'd never done that before. But when I directed him to the cigar store he went along with my plan without comment. When he first took me in, Master helped me to quit smoking cigarettes, but also introduced me to fine cigars. It turns out a woman smoking a cigar was a turn on for him. I had done my research and knew exactly what I wanted, the very best and most exclusive cigar available.
The clerk recognized Raul. "Your boss is a very lucky man," he said, gazing at me with open admiration.
On the drive home I was so full of anticipation and excitement; I really wanted to touch myself, but I resisted the urge. I would save all that sexual energy for Master. It remained to be seen how he would react to me taking the initiative for a game…