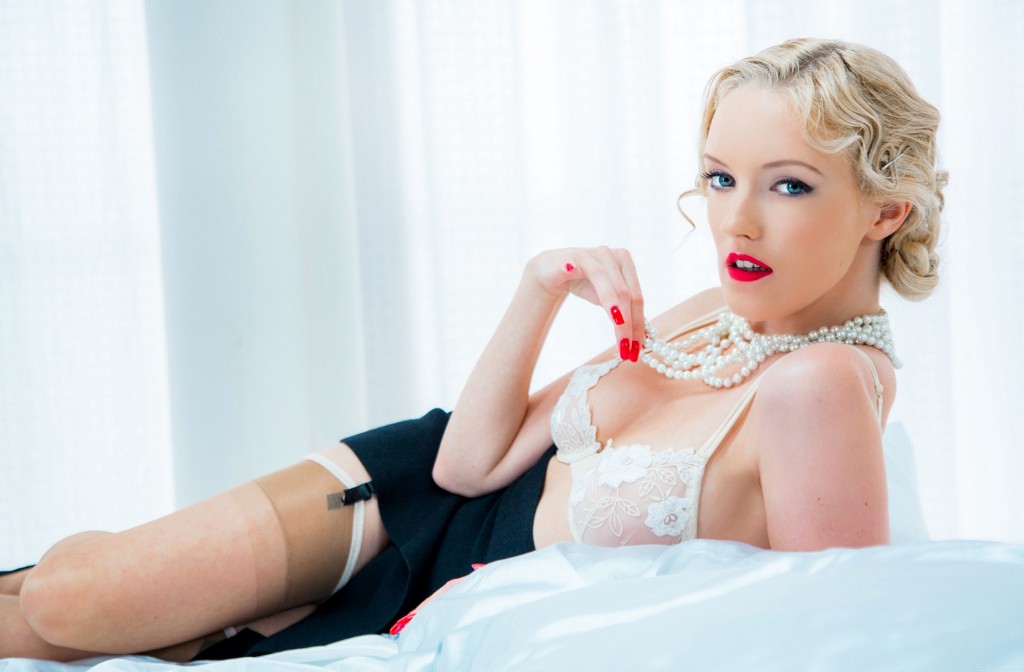 I like the way the stockings frame my ass, drawing attention to the curve of my cheeks. As I bend over in my high heels, legs apart, I feel elegantly slutty. Dressing up for sex is having rather an invigorating effect on me…
I'm a very physical person. My three favorite pastimes are dancing, hitting the gym and fucking… not necessarily in that order. Being so active, I'm not a high-maintenance girly girl. I favor the beach babe look, bare skin and tousled hair, ready to play. Who wants to hang out with a mannequin who won't get down and dirty in case she smudges her make-up?
Men my own age seem to appreciate my low-key style — I think there's a backlash against the whole reality TV, fake nails and hair extensions idea of femininity; but older guys sometimes say they miss the classic glamor of stockings and garters, lipstick and pearls…
So tonight, I find myself humoring my gentleman friend, who I'll call Edward to spare his blushes — unlike my younger boyfriends, he's shy about having his sexual proclivities become common knowledge. Reserved doesn't mean uptight, though. I like the understated confidence this older man brings to the bedroom. And he may not have the raw energy of a young buck, but his finesse and staying power piques my interest.
Truthfully, I found it rather a turn-on to dress up for dinner in classic fully-fashioned stockings, along with garters, white lace lingerie, a sexy little wrap dress and ankle-strap heels. And I can't deny that the stockings and heels make my legs look long and lovely. Edward certainly appreciates the effort. He couldn't keep his eyes off me during dinner, and now we're back at his place, and after plenty of flirting I've taken off the dress so he can get the full effect of the stockings.
I stand with my back to him, letting his eyes linger on my body, unpinning my hair so it cascades down my back. I feel sexy, enjoying the sensation of the garter straps tight against my thighs. Edward tells me how much he's enjoying the view.
"May I touch?" he asks politely, ever the gentleman.
"Not yet," I tease him. I bend over the back of the couch, legs spread. His groan of approval goes straight to my sweet spot. I slide my feet a little further apart, wriggling my rear at him. I can feel my panties getting damp, the heat of his gaze like an ardent caress.
My silver fox moves closer, and I know he's imagining gripping my hips and grinding against my ass. Now I'm imagining it too, wanting to feel him peel me open and thrust into me. Now I can't wait.
Go ahead," I say.
His warm hands skim over the curve of my ass cheeks, making me shiver with anticipation. He squeezes and strokes… I'm getting wetter. He's the one doing the teasing now. I need to be touched.
His thumbs slide under my panties and ease them down my thighs. I can only imagine the sight I'm presenting to him, my legs apart, pussy exposed. Can he see it glistening with my arousal?
I feel Edward's hands move to the nape of my neck, unclasping the heavy strands of my necklace. It's an heirloom and I seldom wear it — pearls really aren't my style — but it adds a certain classic charm when teamed with the stockings and lingerie.
Before I can wonder why he has removed the necklace, Edward begins rolling the pearls across my ass cheeks. It must be true that real pearls absorb the wearer's body heat; they feel hot as they massage my tender flesh. He slides a strand of the pearls between my legs, pulling it tighter into the cleft of my ass. More, I need more…
Slowly, deliberately, he eases the pearls between my cream-slick pussy lips, so they rub against my clit. He tugs on them so they slide back and forth along the slippery groove, the sensation maddeningly stimulating. I'm fighting the urge to thrust back, to make him rub harder, to increase the friction to a hard grind. And then he opens me up with his fingers and feeds one of the pearls into my pussy… and another… and then another. The firm pressure against my G-spot is just what I need, and I start to moan with pleasure as he keeps pushing more of the pearls inside me, stirring them around so they tumble together, stroking every sensitive spot inside me in the most intoxicating way.
He keeps pressing and pulling and twisting the pearls until I'm gasping and crying out with each touch. When I'm close to orgasm he guides my legs together so my pussy clenches tight around the hot pearls, then wraps a strand around his finger and rubs it against my clit, hard. I cum like crazy.
It feels just as intense as he pulls the pearls out of my pussy, slowly, one by one. He licks them clean, then leads me to his bed and fucks me, thoroughly and for a very long time. I keep the stockings and garters and heels on.
Thanks for reading! Applause, comments and follows get me hot 😉
More confessions from me here — if you think you can handle it! Maybe have a cold shower first…