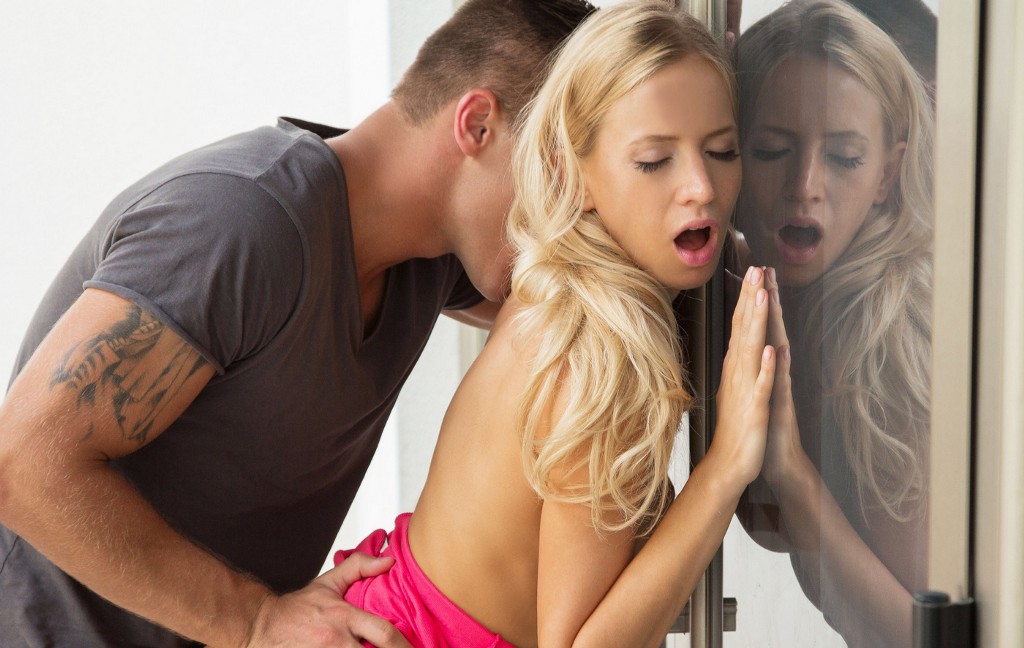 "Why do you keep wriggling like that?" he whispers, half amused, half irritated. We're having lunch at a friend's restaurant but I can't sit still. That's because I'm wearing panties with a built in dildo that's been embedded in my overheated, creamy pussy since I put them on in the restroom 12 minutes ago. I know it's been exactly 12 minutes, because every second has felt like an hour of excruciating torment, trying to resist the urge to grind down on the thick base of the mock cock. This was either a terrible idea or a brilliant one, I'm not sure yet…
"I'm wearing the panties Cherry made me," I say innocently. "You know… the prong panties."
His fork stops halfway to his mouth, and he gives me that you're fucking kidding me look that I'm so very familiar with.
"Show me," he says, eyes darkening with interest and arousal.
When I suggested my new girlfriend Cherry, a costume designer, should make some panties with a built in dildo, I had no idea such a thing actually existed. Why was I not aware of such a genius invention? They are generally ugly things though, made of sweaty black latex — although I guess that's part of the appeal for some girls. I'm not averse to getting dressed up like a rubber doll (maybe I'll tell you about that some day) but Cherry decided to customise them into something much sexier for me, leaving the structure intact so they cling in all the right places, but cutting out sections of the latex and adding panels of lace and ribbons so they look pretty as well as kinky.
I've been rushing around all morning and didn't even have time for a two-minute frig in the shower after the gym, so it seemed like a perfectly rational idea to bring the dildo panties with me and put them on for a nice civilized lunch with Tony, my long-suffering best friend/fuck buddy. He's been away for over a week on business so we're decidedly hot for each other, and somehow I thought it would delay my immediate need for an orgasm until we get back to my place later. Big mistake. Now I can't think about anything apart from the thick rubber dick that's stretching me open, the inflexible hardness rubbing against my soft, wet interior, stirring around inside me every time I move.
Tony leans across the table, ostensibly to top up my water glass, and looks down at my lap pointedly. I told him about the panties when Cherry gave them to me, but he hasn't seen them yet. I flip up my skirt to give him a flash and his eyes light up.
"Nice," he grins. "Should I make you sit there squirming for another hour, or should I bend you over the table and shove the dildo deeper in your hot little pussy in front of that cute waiter you've been checking out?"
"That's not helping, Tony," I say weakly, as my pussy pulses around the rubber prong.
"Be a good girl and eat your lunch," he says. "You're going to need the energy."
I try to hold a coherent conversation, but Tony keeps switching between innocuous remarks and dirty talk about what he's planning to do to me, keeping me off kilter. He draws the lunch out deliberately, cross-examining the waiter about the dessert menu (he doesn't even like sweet things) and then taking ages to order coffee. He excuses himself to go to the restroom and I see him stop at the bar to chat with our friend, the owner. I'm uncomfortable and overwrought to the point of desperation, but at least we'll be leaving soon, I think.
When Tony comes back to the table, I can tell he's up to something; he has a barely disguised aura of smugness as he pays the check and takes my hand to escort me out of the restaurant. Standing up is an interesting experience, the dildo sliding out a little way and then thrusting back in as the latex structure tightens up. I squeeze my thighs together, trying to dampen down the sensations this provokes, but Tony keeps me moving, not giving me a chance to regain any semblance of control. I bite my lip as I stumble along behind him, blindly making for the exit.
We are intercepted by the cute waiter. "This way Sir, Madam," he says, leading us past a sign that says Staff Only, down a corridor and through a glass door onto a small balcony.
"Welcome to our smoking lounge," the waiter says. "I'll be right here. Just holler if you need… anything." He gives me a meaningful look as he closes the door.
"Did he mean what I think he meant?" I ask Tony.
"Oh yes. Very much so. I had a little chat with him when I went to the restroom. He thinks you're hot. Your call, he can stand there and watch through the glass, or he can join in, as you wish."
Tony really can read me like a book, and he knows that just the suggestion has my pussy creaming around the dildo even more. Speaking of which, I've fucked guys with excellent stamina, but I've never had something inside me for this long and I think it's driving me slightly crazy. I feel oddly detached from reality and incapable of functioning on any level other than the purely primal, sexual one. Right now I don't care that I'm out on a balcony — on a back street, but a public place nonetheless — and being watched by a total stranger, albeit one I would like to get to know better. Right now, I need an orgasm.
Tony backs me against the wall, in view of the door where I am vaguely aware of the waiter watching us, one hand at his crotch. Tony pulls my skirt up and grinds his fist between my thighs, pushing the dildo inside me as deep as it will go. I'm so close to the edge already, and I feel delirious with arousal. Tony spreads my legs open wider, crouches between them and starts to tug the panties down a little way, so my pussy is exposed to him, spread open around the thick black shaft.
"Fuck, you're so wet," he exclaims. "Your pussy looks all pink and swollen and juicy…" He eases the dildo in and out, just a fraction, making my legs tremble. "You want it bad, right? You dirty little girl…"
He wants me to beg for it. I'm so ready to beg, if I can just form the words.
"Please Tony," I stammer, my words broken up by moans and gasps as he pushes the dildo a little deeper, pulls it out a little further with each stroke. "Please, please, make me cum, fuck me, please…"
He leans in and licks my clit, ohmygod that's it, that's it… shivers and starbursts explode through me… then pulls away, frustrating me, laughing softly at the way my hips rock to chase his tongue.
"What do you want, baby?" he asks. "Should I make you touch yourself for that cute guy…" my eyes flick to the glass door, where the waiter is blatantly stroking himself through his pants now as he watches, "or shall I invite him out here? You want his cock, don't you?"
I'm not ready to admit to it yet, even though Tony knows better than anyone what a slut I can be, so he spins me around and presses me up against the glass door, tugging the top of my dress down to bare my breasts. I see the waiter unzip his pants and pull out his cock, which is rock hard, glistening at the tip. He strokes it in his fist, slowly, putting on a show for me in appreciation of the one he's getting, although there's nothing calculated about my performance, I'm utterly beyond caring how I look as Tony grinds up against my ass, his hand moving between my thighs to fuck me with the dildo, but slowly, too slowly. I'm so wet I have to clench my pussy tight to stop the dildo sliding too far out, and I'm so furiously horny and frustrated I'm starting to get irrationally angry. He's deliberately tormenting me by making it slow and gentle when he knows I want it hard and fast.
"Tony, forfuckssake stop teasing!" I moan.
"Then admit you want that guy's cock," he says, leaning in to kiss and bite my neck, making me buck around the rubber dong.
"Okay yes, I want it!" I snap, surrendering to the inevitable, as of course he knew I would.
A moment later I'm on my knees in front of the waiter, his erection waving in my face — and up close it's a real beauty, thick and veiny with a fat head. I lick it up and down, tracing the pulsing veins, swirling my tongue around the head, feeling it jerk and twitch. Sucking cock while getting fucked is the most transcendent experience imaginable, and Tony is still fucking me with the dildo, but now he's stopped teasing and is giving it to me hard and fast, rubbing my clit rapidly at the same time. It's no secret that nothing turns me on more than sucking cock and as I wrap my lips around the wet tip of the waiter's dick and start to inch them down his pulsing shaft I'm already starting to cum, as much from the feel and taste of him in my mouth as from the blissful sensation of Tony impaling my pussy with the dildo. The vibrations around his cock as I moan out my pleasure must be traveling right up his spine.
I keep sucking right through my climax, knowing it's just a prelude. I've been on the edge for so long that no way is one orgasm enough to dissolve the tension. Tony knows it too, strumming my clit harder for a moment, then suddenly tugging the panties right down to my knees so the dildo slides out of me with a pop.
For the first time in over an hour, my pussy is suddenly empty, cool air hitting my hot, swollen flesh like a slap. My lust-addled mind is screaming in protest, but before I can formulate any words, Tony says, "I think that juicy little cunt is ready for a real cock now?"
Right again.
Tony thoughtfully fishes a condom out of his wallet and hands it to the waiter, who has the expression of a man who can't believe he just won the jackpot, and for the second time I'm pressed up against the glass door. But this time it's a real cock thrusting into me, cleaving me open, my saturated folds so over-sensitive it feels enormous. Tony is on the other side of the door keeping watch, but he can certainly hear my ecstatic cries — and so can half the city, no doubt. The waiter is a man of few words, but the way he grabs and squeezes my breasts as he jackhammers into me is pretty expressive. I'm bracing myself against the glass with one hand, pressing down on my clit with the other, and as his cock seems to swell and throb even harder inside me that's it, I'm cumming again, legs buckling. He holds me up and with a great groan and a series of quick, hard thrusts, I feel his cock spasm inside me.
He pulls out, tosses the condom over the balcony into the trash, and with a dazed, did that really just happen? expression, says, "Gotta get back before I'm missed, you've got about twenty minutes before the lunch shift ends."
I'm feeling pretty shell-shocked myself; all that foreplay followed by a quick, hard fuck and a super-intense orgasm has left me reeling. Tony grins affectionately at me.
"Your just-fucked look is so gorgeous," he says, tilting my face up for a kiss. "Now, put the panties back on so we can leave."
"No, I don't think I can!" I say. "My pussy's throbbing, I can't take it. I'll just put them in my purse."
"Not a chance," he says. "You started this, Rose! Now put that big dildo back in your hot little pussy and keep it stretched open for me. I'll help…"
There's no point arguing, as he's right again, of course; it was my crazy idea that got me in this situation. So I step into the panties obediently as he kneels and holds them for me, then slides them up my legs. When the tip of the dildo touches my slick, tender entrance, I flinch away from it, but Tony, as always, knows just what to do. Licking my clit gently, coaxing me open, he eases the thick prong between my puffy folds slowly, a fraction at a time, until finally it's buried deep. And then he keeps on licking, delicately, lulling me into a relaxed and blissed out state until incredibly, I start cumming again, this time in a slow-burning, whole-body flood of ecstasy.
After that, it's a bit of an ordeal to sneak out of the restaurant and walk the short distance to the car, and the engine's throb as we drive back to my place does nothing to ease the pleasurable discomfort. I'm soon squirming again.
Tony, meanwhile, is radiating the happy anticipation of a man who has been utterly patient and generous, and knows exactly what he wants as his reward…
Thanks for reading! Applause, comments and follows get me hot 😉
More confessions from me here — if you think you can handle it! Maybe have a cold shower first…