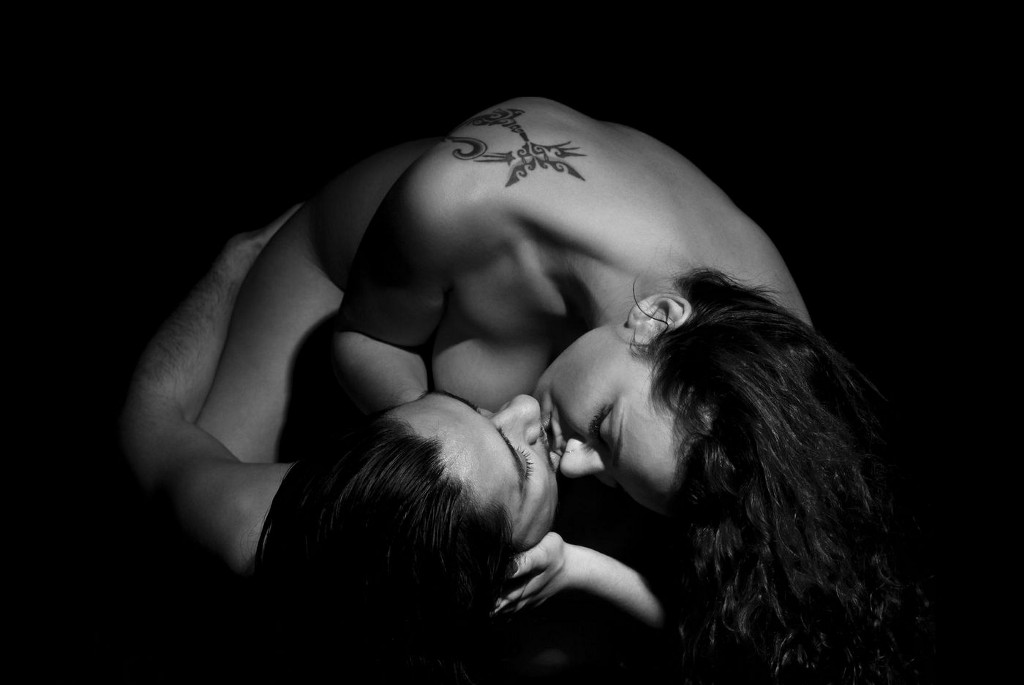 I wasn't expecting to see him again. This unsuitable boy — as a bitchy Londoner, I'd call him a pikey; you might say tinker, or knacker, or trailer trash, depending on where you're from — is everything I'd usually avoid. His thick Dublin accent, unreliable charm and devilish smile spell trouble of the most magnetic kind.
I got chatting to him in a spit-and-sawdust pub the other night and felt unsettlingly attracted to him, but haven't given him a thought since. And now here I am in a supermarket checkout line, suddenly face to face with him. Much later, my gently defrosting groceries will be a tangible reminder of how impulsively I've acted, but right now all I can think about is how green his eyes are…
"Hey, hotpants!" he says, giving me that look. The one that makes me want to slap him for being so cocky, or maybe just melt into his arms.
"Max, right?"
He grins. "Yeah, that's right, Max. I like the way you say it."
A few weeks from now, I'll learn that his name isn't Max at all. His friends have given him the nickname 'Max Factor' because of his penchant for smudged black eyeliner. It suits him, emphasizing those beautiful eyes and giving him a louche look that contrasts raunchily with his grimy T-shirt and jeans, and muddy work boots. I recall him telling me he works as a laborer on a construction site. I drag my eyes away from the sweaty skin at the ripped neckline of his T-shirt, fighting the urge to lean in and lick it.
He beats me to it, grabbing me for a hug, then abruptly pulling back.
"Jaysus, I stink!" he exclaims, laying the accent on thick. "My shower's broken, I've been washing in the sink for three days. Bring me back to yours for a shower and I'll cook you a nice Irish stew for your dinner."
He's taking the piss, and I open my mouth to politely say no. The image of him naked in my shower, water streaming over his lean body, flashes into my mind.
"Sure," I say.
He disguises his surprise well, hoisting my groceries under one arm and wrapping the other around my waist as he leads me out of the store.
And that's how come I find myself bent over the kitchen counter twenty minutes later, spilled groceries scattered around me as he kneels behind me and licks my pussy. My sensible work skirt is bunched up around my waist, my panties pooled around one ankle, legs spread to expose me to his talented tongue.
Everyone knows the Irish have the gift of the gab — he talked me out of my underwear easily enough, all it took was a smile, a kiss and a growled "Let me taste you" — but who knew that eloquence stretched to cunnilingus? I've never been licked more perfectly than this before, and certainly not by a virtual stranger. He seems to sense what I need even before I'm aware of it, his tongue sliding insistently over my clit, dipping just a little way into my quivering interior, then back to my clit, ramping up the pressure slowly. He hasn't even touched me with his fingers and I'm trembling, my knees buckling.
He grips my hips, squirms his tongue deeper inside me, and I'm suddenly pressing back against his face as I come, hard. I feel like I'm floating, dissociated from myself, as this filthy gypsy licks me adroitly through an orgasm that scrambles my brain and leaves my nerve-endings raw and tingling.
He rises to his feet and kisses me, letting me taste myself on his lips. His cock is pressing against me, rock hard, but when I reach for it he pushes me away gently.
"Gotta have that shower first," he grins. "Go and warm the bed up for me — now I've warmed you up."
I'm impressed with his self-control, as well as the casual way he's assumed control of me. Honestly, I find it a turn-on. And that makes me annoyed with myself, as a modern, liberated girl who should be past all this bad boy stuff, even as I acknowledge my burning desire to ride his cock.
I hide my purse — I might have let him pick me up, but I'm not totally naïve — and get undressed.
And when he comes into the bedroom, damp from the shower and wearing nothing but a towel wrapped around his waist, a prominent bulge in the front, I couldn't care less if he's planning on robbing me blind. I just want him to fuck me.
He gets on the bed and I grab at the towel. He pulls away, just out of reach, raising an eyebrow.
"Eager!" he grins. Slowly and deliberately, he straddles me, still wearing the towel, and pins my wrists above my head with one hand. The way his lean muscles flex as he looms over me gives me another powerful rush of lust. He trails the other hand across my lips and down to my nipples, watching my face the whole time to see how I respond. When his hand slides down my stomach and between my legs, I close my eyes; that intense green gaze is too much.
His fingertips slide easily between my plumped up pussy lips, and when he hooks them to catch my G-spot, thumb rubbing my clit, my eyes snap open — damn it if I'm not desperate to come again, already! I realize I'm rocking my hips, trying to rub against his crotch, but he has me pinned down too securely.
"Ask for it," he says. "No, beg for it…" He emphasizes the word with an abrupt wriggle of his fingers that makes me gasp.
This is the moment when any woman with self-respect would kick him out into the street. However, I forfeited the willpower to say no to him as soon as his tongue made contact with my clitoris. He's turned me into his cock-slut and if I have to beg for it, I will.
"Fuck me, please…" I murmur, eyes fluttering closed as the pad of his thumb grinds more firmly over my clit.
"Look at me," he says. "Say my name."
Forcing my eyes open, I ignore his cocky grin and focus on those emerald green eyes. "Fuck me, Max."
"Again."
"Fuck me, Max… please, fuck me, Max…" It comes out in a rush, my hips bucking harder as he adds a third finger in my pussy. He's sliding them in and out, fucking me with them as if it's his cock, and that just makes me want his actual cock in me even more.
The frustrated stream of expletives I let loose when he pulls his slippery-wet fingers out of me just as I'm about to come delights him.
"You cuss worse than a knacker," he laughs. "Maybe you need a cock in your mouth to shut you up?"
"Please just fuck me!" I wail; when he gives me a stern look I add, pointedly, "Max."
And finally — finally! — he pulls the towel from around his waist to let me see his erection. He might be playing it cool but I'm obviously not the only one who's more than ready; his prick is thick and engorged, the head wet and shiny with arousal. Instinctively I struggle under his tight grip, wanting to wrap my hand around it and feel it pulse between my fingers, but he has me pinned too firmly. I just have to wait, trembling with pent-up need, as he positions the head at my drenched opening and eases in, a millimeter at a time.
When he's all the way inside and I'm feeling blissfully full, he snaps his hips, making me yelp at the surge of pleasure. I want to get fucked into oblivion by this hard cock, but he's not going to make it that easy for me. He rolls onto his back, pulling me on top of him.
"Yeah, ride me," he groans as I circle my hips, my pussy contracting around his fat shaft and making it twitch in response.
"Say my name, Max," I urge him, squeezing tighter around him, so I feel his cock pulse.
He wasn't expecting that, and his hips buck, so he thrusts up deeper into me. "Ride my cock, Rose," he growls. "Show me what a filthy little bitch you are."
So I do. One hand on my clit, the other bracing myself against his chest, I quicken my pace as I slide up and down on his juice-slick dick, grinding on each upstroke to drag the head against my G-spot. My fingers are soaked, my heart racing, my thighs burning as I raise and lower my cunt on his cock.
It's good, so good, and the pressure builds until with a burst of heat I'm coming. It feels like a dam breaking, and I squirt all over his stomach and chest. I've never squirted before. He dips his fingers in it, raises them to his mouth to taste, luminous green eyes fixed on mine. I can hardly believe I'm sharing such a raw and intimate moment with this man I barely know.
When I've stopped shaking he slides out from under me and pushes my head down so my ass lifts invitingly. This time, he doesn't have to instruct me: "Please fuck me, Max!" I gasp, and he thrusts his cock all the way inside me, to the root. With me on my knees he can control the pace, and he doesn't hold back now. He jackhammers into me, slapping my bottom, squashing my cheeks together to make an even tighter channel for his cock to slide into, gripping me hard enough to pinch. I rock back against him, overwhelmed by the sensation as my world narrows to a point. I moan his name each time he plows into me, until I can't even manage that one syllable any more and I'm just gasping.
When his cock starts to jerk upward with every hard thrust, pressing against my most sensitive spot, I come again. I collapse forward onto the bed and he strokes his cock over my back and ass, painting me with his hot semen.
He stays with me for three days and around 23 orgasms before he admits he doesn't have anyplace else to go and I buy him a ticket home to Dublin. I'm amazed I can summon up the willpower to send him away when I do; one more look from those green eyes would have floored me for good.
I see his friends in the pub from time to time, and they tell me outlandish stories about his escapades. That's how I learned his real name. But when I think about him — when I touch myself, remembering how he made me come — I always call him Max.
"Nothing is more real than the masks we make to show each other who we are." –Christopher Barzak.
Thanks for reading! Applause, comments and follows get me hot 😉
More confessions from me here — if you think you can handle it! Maybe have a cold shower first…