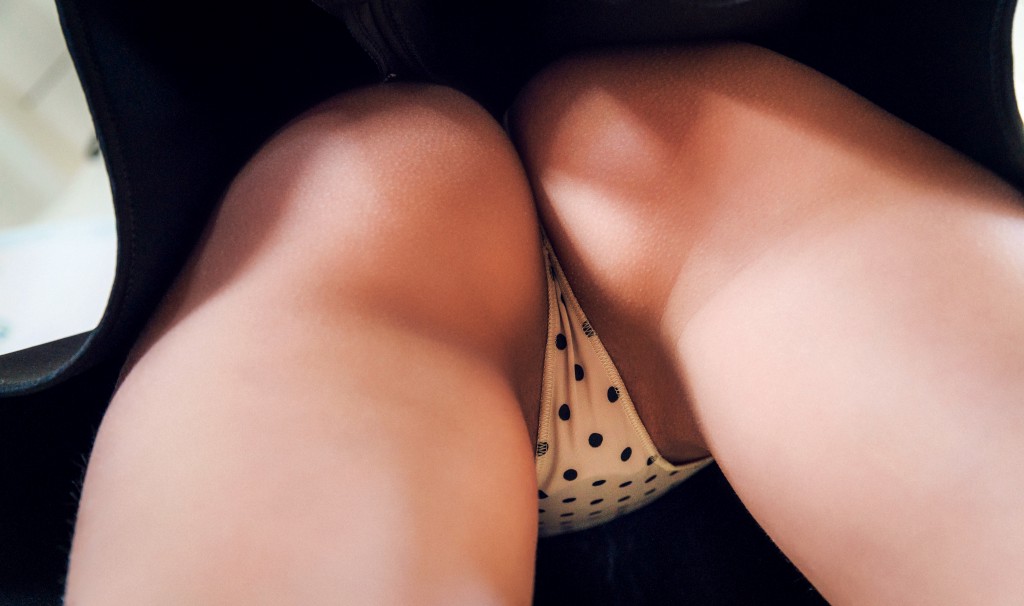 Look but don't touch. Podcast written by Jaiden MyErotica, read by Bitsy la Bourbon
She has always been a tease, always got her kicks from leading me on. She likes the power it gives her, the way it makes her feel.
I like it too. I like to watch.
Today she came to me with a request. I was to lie down on the floor and wait for her. Whatever happened, I was to remain where I was. I could not touch, I should not speak. I should watch and enjoy.
How could I refuse?
She made sure I was comfortable, and then left the room. I lay there amused and excited, waiting.
I heard her before I saw her, heels clicking on the hard wooden floor. She was wearing a short, sexy dress. She stopped in the doorway, holding my gaze. Then she crossed the room, her footsteps slow and deliberate. She stood at my head, feet together, looking down at me.
After a long pause, sexual tension building almost unbearably, she stepped over me, one foot on either side of my head. Her legs looked so long. Above me, her panties disappeared between her ass cheeks, dark in the shadow of her dress. The panties were tight over her pussy, cupping it snugly. I could just make out the outline of her lips.
I stared up at her panty crotch, and wished I were allowed to touch. But I knew her well enough to play the game.
She began to circle her hips around over my face. A hand appeared and pulled up her dress, rolling it over her hips until there were no shadows. She rubbed at her pussy through her panties, which made the fabric slip and slide, exposing glimpses of her smooth, plump lips.
A damp spot appeared on her panties. She rubbed her fingers over the spot as it grew, then tugged the panties aside and showed me her pussy, parting her lips to reveal the creamy wetness between them. She pulled off her dress and tossed it away. I looked up at her beautiful breasts, the nipples stiff, and wished that I could move, get up and suck on them.
Then she walked away.
She left the room; I heard her heels click away into the dining room. When she returned, she was carrying a chair. She placed it behind my head and walked out again. When she came back, she had a dildo, one I had not seen before, with a suction cup at the base.
She stood over me, and bent forward, her legs straight, attaching the dildo to the Perspex chair. Then she straddled me, kneeling, her breasts so close to my face, her pussy so close to my crotch. I was wet inside my panties, aching to grab her by the hips and pull her down to mash her cunt against mine. But I indulged my lover, just as she had asked.
She placed the dildo on the edge of the seat and looked down at me as she began licking it, sucking it, taking it deep into her mouth. When it was soaked in saliva she stood and turned around, straddling my head again. I watched, transfixed, as she lowered her body onto the cock, sinking her pussy around it slowly, taking it all the way inside her wet slit.
She rode it, up and down, deep and hard, moaning with pleasure. I could see her pussy lips sliding back and forth on the dildo, her clit swollen. Wetness was running down the shaft.
Standing again, she fingered herself. She was open and sloppy-wet, three fingers thrusting inside, right over my face. I could have reached out and added some of my own.
She turned to straddle the chair cowgirl style, sitting back down on the big rubber cock, her ass over my face, cheeks spread. If only I could move, I thought, I could finger her asshole.
She rode harder now, bouncing up and down on the big rubber dick, ass jiggling. When she stood up again, I knew she was close to orgasm; her body was covered in a sheen of sweat and her moans were loud. She took the dildo in her hand, sitting with her pussy hanging over the edge of the seat. I had a clear view of the toy, shining with her juice each time she pulled it out, then entering her again with a squelching noise. It was like this that she came, her body convulsing.
When she was through, she squatted over my face, her pussy so close I could lick it. I smelled her aroused aroma. She reached down with one finger and swiped it from her soaked hole to her clit, then dipped it inside my mouth, letting me taste her.
And then she was gone, leaving the room, leaving me alone. When she came back she was dressed again and I was allowed to get up.
Tonight, I will fuck her. I will use her new dildo and take her from behind, the toy inside her wet pussy, my fingers inside her tight ass.