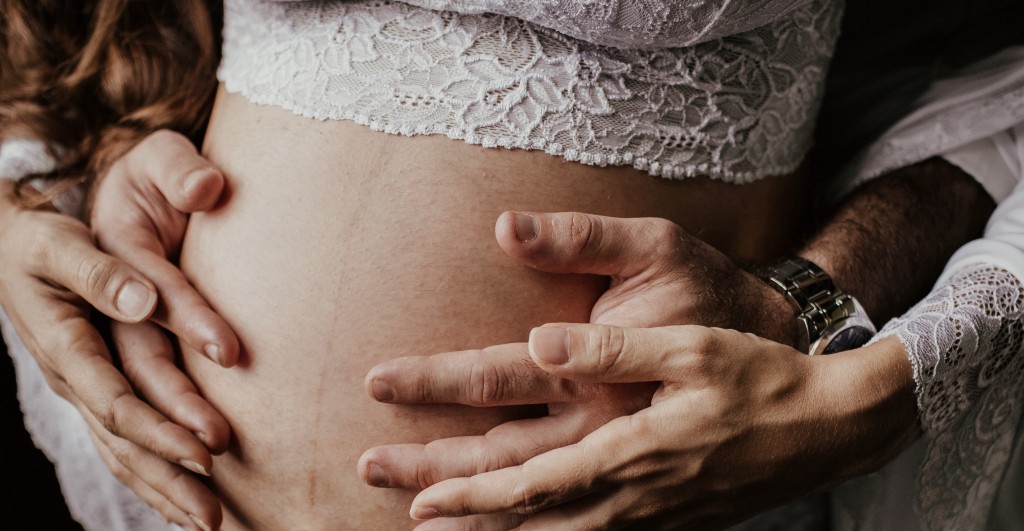 "Where the hell are you, Katie," I mumbled to myself, alternating between staring at my watch and the entrance to the school.
I did notice the distinct absence of parents in the school yard. The dark clouds overhead made the silence even more ominous.
"Lucy?" a male voice boomed through the quietness.
"Shit!" I exclaimed, jumping with fright.
"I'm so sorry!" he said, emerging from behind me, holding both hands in the air.
It was James, Amy's dad.
"James," I said, my heart still racing. "You gave me the fright of my life!"
"Aren't frights supposed to induce labour?" he joked, staring at my oversized stomach.
"I'm not there yet!" I chuckled.
"You waiting for somebody?" he asked.
"For Katie, actually. Aren't they supposed to be coming out earlier today?"
"That's tomorrow," James said. "They have the outing today, remember? I actually dropped Amy's lunch off a few minutes ago. She forgot it at home during the morning rush!"
"Wow, must be this damn pregnancy brain!" I chuckled.
"Pregnancy has been kind to you. I remember when Sarah had Amy. She was absolutely massive," James said.
"Gee, thanks, James. Luckily, I'm only regular massive," I joked back.
"You know what I mean," he smiled, his face turning slightly red.
"Do you ever hear from her?" I asked.
"Since she ran away with her new boyfriend? Not a word. Just as well, Amy doesn't need that in her life. Paul doing well?" James asked.
"The little I see of him, yeah. He's not been home much since the pregnancy. Work is keeping him really busy."
I knew I was fooling myself. Paul never wanted another child. The last time we had sex was weeks before I showed him the positive pregnancy test.
"At least you're strong enough to fend for yourself," James joked again. He was clearly growing a little uneasy.
"Oh no," I moaned, feeling a drop on my nose. And then another. "Is it seriously starting to rain?"
"Did you walk?" James asked.
"Yeah."
"Let me give you a ride, otherwise you'll be soaked by the time you get home," James offered.
"If you don't mind, I don't think I have the energy to walk back," I said.
The rain started coming down harder. James jogged out front to unlock the car and open the door for me.
"Hurry!" he laughed as the rain turned into a torrential downpour.
I was almost soaked by the time I slipped into his car, sinking into the cool leather seats.
"You may need to move the seat a little back," James said as I tried to pull the seatbelt across.
"I feel like a whale in your car," I said.
"Furthest thing from it!" he said, helping me buckle the seatbelt.
The rain pelted down as we drove in silence, James intently focussed on the road. I caught him glancing to the side every now and then. I suddenly became aware that my soaking wet blouse had allowed my dark nipples to shine through a little. Every bump we went over caused my big chest to bounce softly.
"Number six?" James asked, breaking the silence.
"Yeah," I nodded.
I caught him catching another glimpse of my chest. Did he find me attractive? Massive as I was? I'd heard of guys being very attracted to pregnant woman, but I never really thought of James in that way. I didn't feel sexy at all. My stomach was massive, and my breasts had ballooned to the point of causing me backache.
But here James was, almost unable to keep his eyes off me. It was a very different experience to what I was used to. Paul avoided me like the plague once I was pregnant. He had zero interest in sex with me. This sudden interest from James was so exciting. Exhilarating, even.
"Here we are," James said, pulling into my driveway.
"Come inside and dry off. I'll make us coffee," I offered.
I felt butterflies in my stomach.
Why?
"Only if it's not going to inconvenience you, I could do with a strong coffee after the mad rush this morning," James said. "Great tabletops," he added, running his hand over the kitchen counter as I closed the front door.
"Um, okay," I giggled. "Glad you like my tabletops!"
James chuckled.
"Arrest me, I like a decent marble tabletop! You must look great in this kitchen."
"The only thing I look like these days is a bulbous whale," I said.
"Sexiest whale I've ever seen," James said.
I could feel my face turning hot.
"Let me slip out of this wet blouse and skirt before I drench the whole house," I said.
"Oh, sure," James said, turning the other way.
I unbuttoned my blouse and dropped it to the floor in a wet pile. I unzipped and pulled my skirt down. As I looked up, I could see James glancing at my reflection in the mirror.
We made immediate eye contact.
"Lucy, I'm so sorry," he said, turning around.
I thought he was going to jog out in embarrassment, but instead, he grabbed me close.
"James," I uttered in surprise, my stomach pressing against his abdomen.
Without a further word, he planted his lips on mine. Months of pent-up sexual frustration suddenly spread throughout my body. I could feel my nipples turning hard as he slipped his tongue into my mouth. He moved his hands down and grabbed my round ass, his fingers digging into my wet cotton panties. I could smell his aftershave as his stubble rubbed against my face.
"You're so fucking hot," he mumbled as he pulled away.
I reached down and felt the bulge between his legs. I still couldn't believe how turned on he was by me!
"So beautiful," he whispered, running his fingers over my nipples pressing through the undersized lace bra.
"I hate my boobs," I said, my heart racing. "They've really started to sag."
"Show me," he said.
I grabbed the bottom of my bra and pulled it up slowly, until both of my tits flopped out.
"Holy fucking shit," she said, mesmerised by my busty chest. Without another word, he grabbed one breast and wrapped his lips around my big, dark areola and sucked my rock-hard nipple.
"Ah!" I whimpered, arousal tingling around my breasts.
"Oh," James said, pulling his mouth off with a plop.
"What?" I said, my heart still thundering in my chest.
I looked down, to see he had drops of milk on his chin, and my nipple was leaking some more white liquid.
"James, I'm sorry," I said, my face turning bright red again.
"So hot," he said as he shifted his focus to my other breast.
I closed my eyes and moaned as he squeezed my big mounds, sucking each nipple deep into his mouth. I reached down and unbuckled his jeans before pulling them down a little. His pulsating erection bounced out and I wrapped my fingers around it, jerking it slowly back and forth.
"I'm so fucking horny," I whispered.
James slipped his hand into the top of my panties, sliding his finger between my swollen pussy lips, covered in wetness.
"Ah," I gasped, feeling his slightly rough finger pressing against my nub, causing it to become stiffer as he cupped my mound. My breathing became ragged and my knees weakened.
"Lie down," I panted.
James lay back on the plush carpet on the lounge floor, veins bulging around his twitching shaft.
"Are you sure?" he asked.
I pulled the front of my soaked panties to the side, exposing my plump pink lips as I lowered myself onto his upper thighs.
"I want you to fuck me," I said, the words making me even more aroused.
"You're so fucking beautiful," James said, groping my engorged tits as they hung over his face. I lowered my body, feeling the tip of his cock breaching my thick, fleshy cunt.
"Fuck, fuck, fuck," I chanted, feeling his cock sliding deep into my puffy opening, stretching it. James grabbed my ass, his fingers digging into my cheeks as I started riding him.
"Are you okay?" I asked, watching as my stomach rested on his.
"More than okay, hmmm," he responded.
I leaned back and rested my hands on his legs as I rode him harder and faster. The audible squelch of his cock pumping in and out of my wetness filled the room along with the rhythmic flopping of my tits. We both panted as the sounds grew louder, the smell of intense sex filling the air.
Flup! Flup! Flup!
With each thrust I could feel his thick cock sliding deep into me, his bulging veins adding extra pleasure.
"Fuck, I'm going to cum," I gasped, feeling my canal contracting hard around his cock.
"Where do you want me to cum?" James stuttered, his breathing ragged.
"Inside me," I whispered.
The next moment I started to tremble uncontrollably.
"Ah, ah, ahhhhh!" I shrieked as an intense orgasm surged through my pregnant body. I continued convulsing as sharp stabs of pleasure caused me to writhe and squirm in glee.
"Argh!" James suddenly grunted, digging his fingers into my ass cheeks.
I felt a hotness deep inside my core as he exploded, sending his creamy load deep into my womb. I whimpered as a second wave of orgasmic pleasure tore through me. I slammed my body down hard on James as his semen overflow started oozing out of my ravaged cunt.
I lifted my tired body from his cock with a loud squelch and rolled next to him. His cum gurgled from my pussy as I lay panting heavily, still delirious from my intense climax.
James moved behind me, his erect cock pressing against my ass cheeks. He wrapped his arm around me, resting his hand on my painful nipple. He kissed the back of my neck.
"That was amazing."