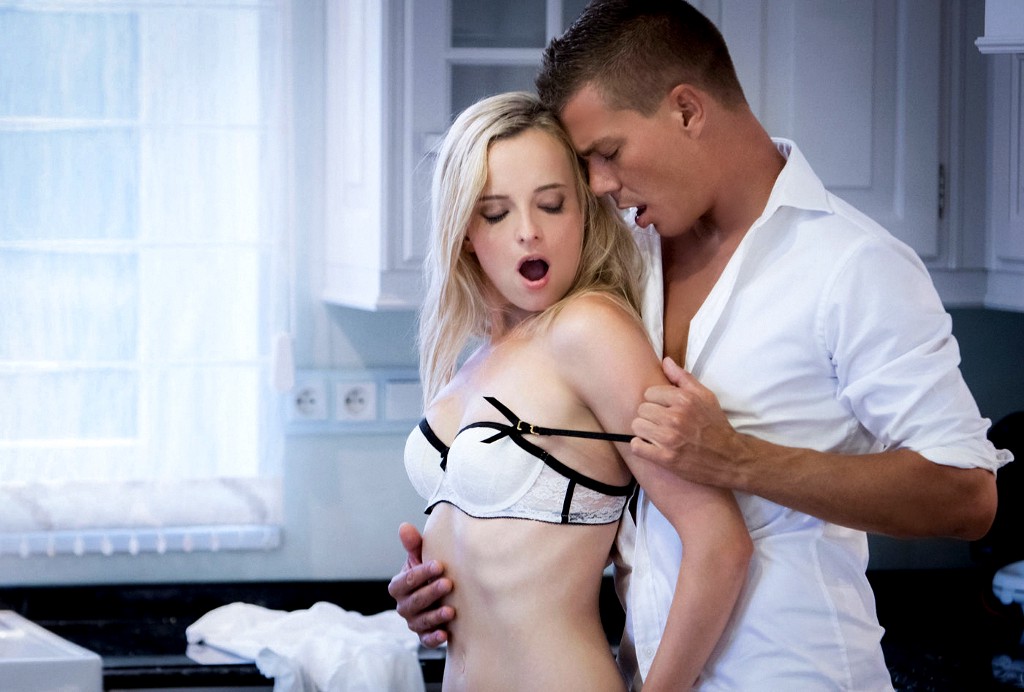 Guys who cook well usually fuck well too. Cooking takes passion, creativity and attention to detail — all skills I prize in a lover.
Stephen is as confident in the kitchen as he is in the bedroom, and I'm content to play his attentive assistant. He finds my frank admiration of his culinary alchemy gratifying and arousing; and I find his natural prowess insanely hot. So when he comes up behind me as I'm stirring his legendary spaghetti sauce and reaches over to take a taste, I offer up a taste of my lips instead, leaning back against him, relishing the feeling of his muscular body pressed against mine. Our kiss deepens, the hand holding the spoon drifts down… and spills sauce over the front of my shirt. He wipes the smear up with his finger, spreading the stain disastrously, and holds the finger up for me to lick. The sauce really is delicious.
"Clumsy," he grins.
"No matter," I reply. "It's your shirt anyway…"
His grin widens. "Better wash that out," he says. "Isn't white wine good for stains?" He takes the bottle from the counter and pours a little down my chest. I shiver with pleasure as the cold liquid seeps through the shirt. It feels good against my hot skin in the steamy kitchen. Stephen licks the droplets from my cleavage.
"Ugh, cooking wine," he says, wrinkling his nose. It's actually a very nice Semillon but I don't argue when he takes a bottle of Champagne from the refrigerator and opens it with a flourish. He pours some into a Champagne flute, offers a sip to my lips, and then drizzles the rest over my chest. Unbuttoning the shirt, he peels the wet fabric from my skin, leaving me in just my white lace bra and panties. He unhooks my wine-dampened bra and tosses that aside too, following the rivulets of Champagne down to my nipples. The liquid is ice-cold, his tongue hot, my nipples soon rock hard. My back arches and I lean against the counter, already lost in pleasure as he teases me with gentle licks and flicks of his tongue.
He pours another glass of Champagne, and this time tips the whole glass over me, fast, making me gasp. The gush of cold liquid that floods through my panties brings an answering hot gush from my pussy. I'm so turned on.
Stephen lifts me and deposits me on the counter, spreading my thighs wide. I lean back on my hands, opening myself up to his hungry gaze. Another tilt of his glass and more Champagne trickles down my stomach and soaks through the saturated fabric of my flimsy panties, now molded to my folds like a second skin, turning transparent. He nuzzles his face into my crotch, sucking, tongue pressing hard, trying to push through the wet panties, and now I know he can taste my stickiness as well as the Champagne. My hips tilt up, humping his face, wanting more, wanting it deeper, but he holds me steady.
I can smell… burning…
"Stephen, the sauce!" I gasp.
"Fuck the sauce," he says succinctly, turning the burner off without breaking his focus on my pussy.
He pours another glass, and now he tugs my panties aside, dips his fingers in the glass and slides them into me, ice-cold fingers breaching my hot flesh, drawing a cry of burning need from me. I grab for his hand, pushing his fingers deeper, fucking myself with them. He spills more Champagne over me, licking it from my clit, then replacing his fingers with his tongue and spearing me with it, devouring me. I'm desperate to cum, and I know he could get me there with one more flick of his fingers, but he's enjoying keeping me on the edge too much.
"Stephen… please…" I moan.
"What do you need, Rose?" he asks, offering me another sip of the Champagne and then immediately licking it from my lips, kissing me deeper, letting me taste myself from his mouth. His thumb strums my clit, making me tremble, craving the penetration he's withholding.
"Fuck me… please, just fuck me…"
"Oh, I love it when you beg for it," he smiles wolfishly, swivelling me around so I'm lying flat on my back on the countertop, sending pots and pans flying over his usually pristine kitchen, but careful not to knock over the Champagne bottle. He has a use for that. He peels off my ruined panties and arranges me carefully, arms above my head, one knee up, the other draped over the edge of the counter so my pussy is spread open. He admires the view for a moment, then takes the panties and wraps them around my wrists, binding them together.
"You look delicious," he says, eyes raking from my flushed face to my shiny-wet snatch, lips plumped up from his ministrations. "Good enough to eat. Now, lie still…"
He picks up the bottle, which is still about half full, and pours a small, steady stream so it cascades directly onto my clit. The sudden coldness and the tormenting pressure make my hips buck up involuntarily.
"I said hold still," he reprimands me. "Do as you're told if you want to get fucked." His tone of voice excites me, making it even harder not to squirm as the cold liquid trickles along my slit. He stops and looks at me again for a long moment, relishing my wild-eyed hunger. Then he holds his thumb over the neck of the bottle and shakes it, making it fizz up.
My whole body is shocked with sensation as he thrusts the bottle into my pussy, the smooth glass shaft opening me up as the Champagne gushes into me, cold and bubbling, setting off sparks like popping candy. I've never felt anything so explosive, and it triggers a chain of tremors inside me that build and build…
"Look at your greedy little cunt, drinking all the Champagne," Stephen groans lustfully, and then he pulls the bottle out of me and laps up the liquid that cascades out, keeping my hips pinned down so I can't grind on his face, licking me just hard enough to make me beg for more.
He hasn't touched himself yet — all his attention has been focused on me — but now he unzips and his cock springs out, dark red and engorged, the tip shiny with pre-cum. He offers it to my mouth and I open up for it ravenously, sucking the nectar from the tip and then swallowing it deeper, sucking as though I can suck out my own orgasm through the throbbing cock between my lips.
And now, finally, he gives me what I need, plunging the bottle back into me and letting me move my hips to ride it, synchronizing the in-and-out slide to the rhythm of his prick filling my mouth.
"Such a high class little slut, getting fucked with a Champagne bottle while you suck cock," he croons, driving the bottle harder and deeper, liquid still fizzing out with each stroke.
He pulls his rigid cock out of my mouth as my orgasm erupts like a volcano, pussy muscles clamping around the bottle, Champagne squirting out. With one hand he keeps the bottle pushed deep inside me, while with the other he jerks off over my face, splattering his cum over my lips and cheeks.
I lie there gasping, Champagne running down my legs, licking up as much jizz as I can reach with my tongue, aftershocks crackling through me.
The doorbell rings.
"Great timing," he grins, grabbing the ruined shirt and wiping his face, hands and cock rapidly, then zipping up his pants. "Don't move a muscle. Our guests have arrived."
Thanks for reading! Applause, comments and follows get me hot 😉
More confessions from me here — if you think you can handle it! Maybe have a cold shower first…