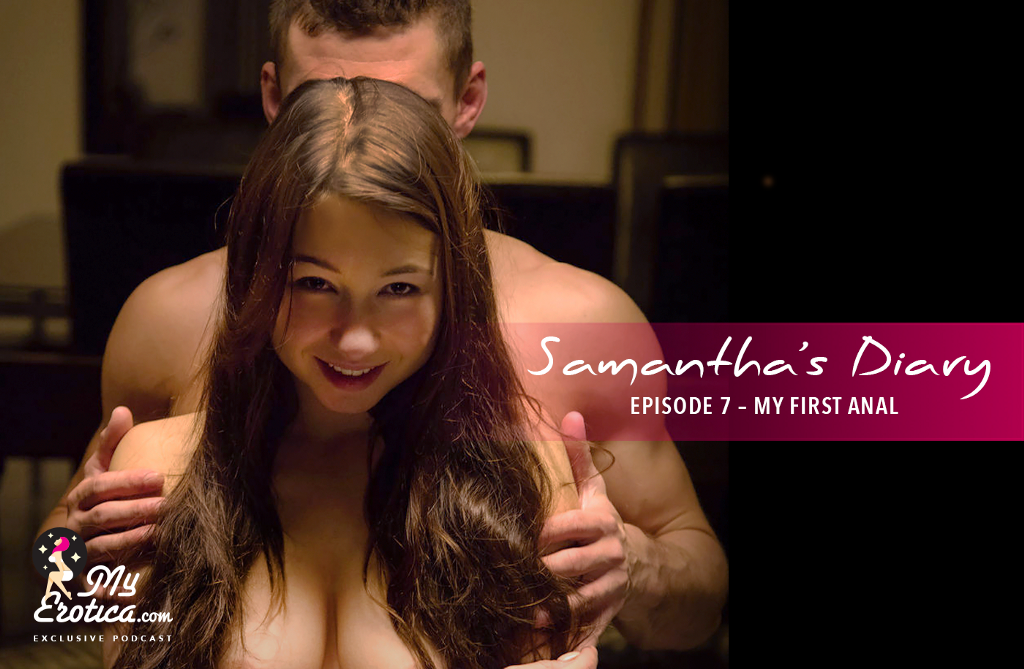 My first anal…
It was Michael. Michael turned me onto anal sex. We were together for two years and the sex was great. We would watch porn together and get so turned on. I always had lots of orgasms with him and we did some nasty things together.
While he was fucking me doggy style, he started rubbing my anus with his finger. It felt so good and made me feel so nasty. I loved it. Another time, he was eating my pussy and when I started to cum he put a finger in my ass. I came immediately. One time, he ate out my ass while I rubbed my clit to a massive orgasm.
All this attention to my ass made me want more. I told him I was afraid of having an accident. He taught me how to prepare for it like a porn star so it would be a clean experience. It worked. He was able to get first one, then eventually three fingers in my ass without a mess — but with a lot of orgasms. We did this a number of times but he still hadn't butt fucked me… yet.
Michael's birthday was about a week away. I decided my ass would be the perfect present. I cleaned up and got ready for the big night. I took him out to a day spa where he got an hour-long massage from an attractive blonde. Then we ate at his favorite restaurant. When we returned to his place, I told him I had a surprise for him. He had a big smile on his face.
I led him into the bedroom and undressed him. Then I knelt down and took his cock into my mouth and licked his balls. He instantly got hard. I kept this up for a few minutes. I wanted to make him think I was going to swallow his cum or let him cum on my face. He likes both of those things.
I got up and said, "That's not your surprise." Then I sat him down on the bed and handed him a tube of lube. He looked at it and smiled. He started to lube his hard cock and I got undressed. It was really exciting stripping in front of him while he stroked his cock.
I walked over to him and turned and squatted down. I reached between my legs and grabbed his cock and put the head against my asshole. Then I sat down slowly. There was a little resistance, then my asshole opened up. His hard cock began to slide into my ass. Inch by inch it slowly went in. I could feel the long, hard shaft slipping into my ass. I reached down and felt his balls against my body. That's when I knew I had his entire length in my ass. I felt so full. This was such a dirty act. I could only imagine what I looked like with his cock in my ass.
I was so turned on. Michael began to fuck me, stroking his big, hard cock in and out of my ass. His cock was firm but not hard like his fingers. It was a different sensation and I loved it.
He reached around and rubbed my clit. I didn't last long. I came hard and my ass clenched down on Michael's cock. He was still fucking me. The tighter grasp sent him over the edge. Michael came in my ass. I felt every spurt of his semen into me. It made my orgasm bigger.
I collapsed onto him, then we rolled over on our sides. His cock stayed hard but was very sensitive. I could tell by the way he slowly withdrew it from my ass. I twisted around to watch. Some cum began to leak out as he pulled his cock out. When he was completely out, a lot of cum leaked out all over my thighs. I touched it and felt my asshole. It was gaping.
My asshole stayed open for a while, leaking cum. This excited Michael. He wanted to butt fuck me again but I needed a break. My first ass fuck didn't hurt at all but I needed time to recover from cumming so hard. Eventually my asshole closed while we were resting. I asked Michael to go clean up in the bathroom and come back. When he did, I sucked his cock again and told him, we're not done yet.
I rolled onto my back and opened my legs. He knew what to do and entered my pussy. The rest of the night was a blur of orgasms and cum. Anal sex became a special part of our sex life. I couldn't do it all the time because of the preparation, but when we did it, it was explosive.
You can find more episodes here