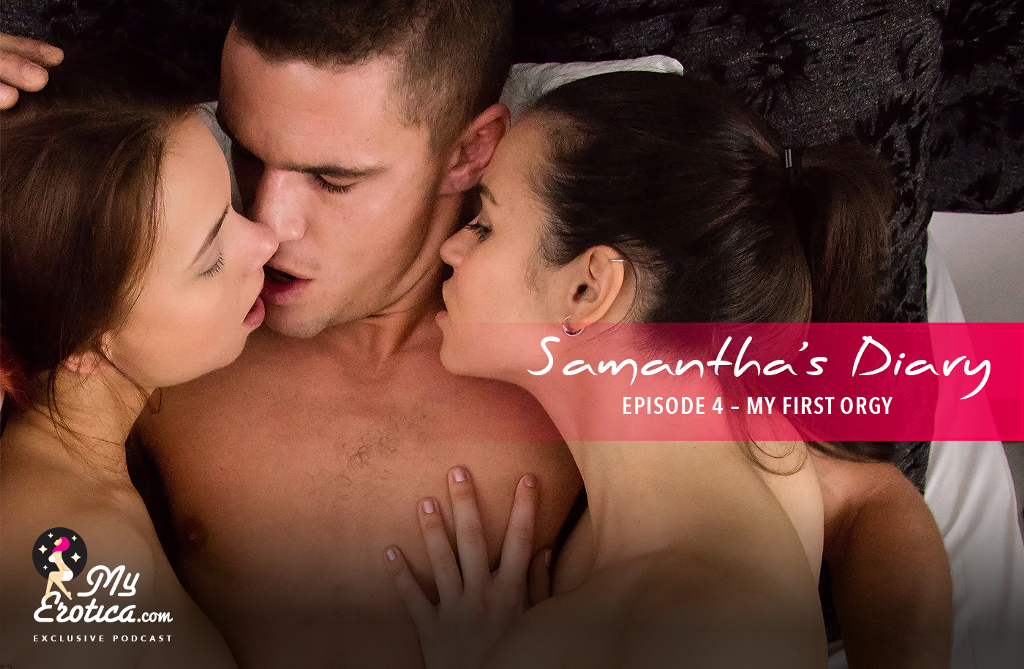 My first orgy…
It happened at Fanime. It was an orgy and a gangbang. I never imagined sex could be so nasty.
Alison and I got together with a bunch of our geek friends to go to Fanime. We shared a hotel room to save money. We did the whole cosplay thing. I dressed in a Japanese schoolgirl outfit and Alison dressed as Cammy. She has the butt for it. The guys dressed as Speed Racer, Naruto, Link, Dante, and Masterchief. We did all the typical Fanime things. We sat in the forums and panels. We went through the dealers' room. We did karaoke. And we were photographed hundreds of times. Little did I know the real action was going to be at the hotel room later that night.
When we returned to the hotel after the first day, we all relaxed and got into our jammies. John suggested we play spin the bottle and truth or dare. He brought a bottle of vodka. Whoever didn't complete a dare had to take a drink. Well, none of us were really drinkers so the game went in a different direction. We decided that instead of taking a drink, someone would have to take off an article of clothing.
The game went on until everybody was nearly naked. We were having so much fun. I spun the bottle and it pointed at Alison. She said dare, so I dared her kiss Rob. Rob was getting hard. You could see it in his underwear. Alison walked over to him and asked him to stand up. The rest of us were hooting and hollering. She pulled him close and planted a wet sloppy kiss on him while grinding her body against him. The kiss went on for a while and the room went silent.
When they separated, the tip of Rob's cock was peaking out of the waistband of his underwear. Alison turned around and said, "What's this?" and pointed to his cock. Rob said he liked the kiss. Alison dropped to her knees and said, "I think you'll like this better." She started licking the head of his cock. She pulled his underwear down and took his entire cock in her mouth.
The rest of us were mesmerized by the sight. I don't think any of us had ever watched other people have sex. Alison gave him a pornstar-worthy blowjob. He moaned loudly. The rest of us watched wide-eyed as she sucked his cock and licked his balls. His cock was glistening wet when he said he was about to cum. Alison started sucking faster, bobbing her mouth deeper onto his cock. Rob started breathing harder. Then he ejaculated. Alison took the first spurt in her mouth, then pulled his cock out and let him cum on her face. When he finished, Alison had cum on her nose, lips, and chin. She sucked his cock clean. When he looked down, she opened her mouth to show him his cum in her mouth. Then she turned to show us and swallowed it.
Alison sat back and gave us a good long look at her face covered in cum. She said, "How about that?" The guys started cheering. I was so turned on. My pussy was so wet. That was the most erotic thing I'd ever seen. I had had sex with all my boyfriends but never like that. We would fuck. He would lick my pussy. I would suck his cock. He would cum on my tits, or on my ass, but I never had that kind of filthy, nasty sex. I wanted to join in. I wanted to do something nasty too.
I crawled over to her, took her face in my hands, and kissed her. I sucked her tongue and tasted Rob's cum on her face. I decided to give the boys a show: I licked the cum off her face. That was the first time I tasted cum, and I liked it. That was also the first time I kissed a girl. I liked that too.
The guys went crazy and started undressing. Alison and I sat back-to-back on the floor. The guys brought their cocks to us to suck, except for Rob, who needed a break. I sucked John's cock while Alison sucked Steve's cock. I told the guy not to cum in my mouth. They looked disappointed until I told them that I wanted them to fuck me first. Alison took Steve's cock out of her mouth and said, "Me too."
The guys lined up and were orderly. Victor was my next cock to suck. Alison sucked Andy. After we worked through all the guys, Alison and I got up and went and laid down on the bed. I took off my t- shirt and panties. Rob had recovered and got between my legs and started licking my pussy. He looked up and said I was so wet. When I thought it couldn't get any better, Andy stuck his cock in my mouth and Victor started feeling and sucking my tits. The sensation of having six hands on my body and being the center of attention was incredible.
I looked over at Alison and saw Steve and John all over her. She was on all fours with John fucking her from behind while she sucked Steve. The sight and sensation of having three guys on me triggered my first massive orgasm. My thighs clamped down on Rob's head. He kept licking my pussy until I told him to stop. My body felt like every cell had exploded. I had a few moments to recover when I felt Victor get on top of me. He entered me and pushed his cock all the way in. I felt so full. I felt a cock near my face. I opened my mouth and started sucking it. It had a musky flavor I didn't expect. I realized it was John. He had stopped fucking Alison and came over to me. I was tasting Alison's pussy on his cock. And I loved it.
I looked over at Alison and saw an incredible sight. She was straddling Steve. They were making out. Andy was behind Alison. They were both fucking her. Both their cocks were in her pussy. She broke her kiss with Steve and Rob stuck his cock in her mouth. Alison had three guys inside her at one time. Victor looked over at Alison and started fucking me faster. I knew he was going to cum. He pushed his cock all the way in and ejaculated. He bumped my clit just right and we came together. John joined in and came in my mouth.
Victor and John rolled off me. I was covered in sweat and had cum in my pussy and on my face. I couldn't swallow John's entire load and some of it dripped down my chin. That was intense. I needed a break.
I heard Alison moan loudly. We all looked over. Alison's body was violently convulsing. I knew she was cumming hard. Rob came on her face again and I saw Steve and Andy tense up. They were both cumming in her pussy. Andy pulled out of her pussy first, followed by Steve. Alison's pussy lips were swollen and their loads began to gush out onto her thighs.
We all laid about the room exhausted from all this incredible sex we just had. I went up to Alison and got into a 69 position and started eating out her pussy. She tasted so good. A combination of cum and pussy juice. She responded in kind and licked my cum filled pussy. We made each other cum, then we fell asleep.
Later that night I woke up between Rob and Andy. I was on my side. Rob's cock was up against my ass and my head was on Andy's chest. This was incredibly erotic. I heard Alison quietly moaning in the dim light. John was licking her pussy while she sucked Victor and Steve. I snuggled between my two lovers and went back to sleep.
The next day was a little awkward. I had dried cum all over my body. The room still smelled like sex. Everyone was quiet and reserved when we awoke. Alison and I looked at each other and smiled. She came up to me and kissed me and the boys watched.
She noticed I had dried cum on me. She asked coyly, "Is that dried cum on you?"
I said, "Why, yes it is. It must have been from that orgy we had last night."
She said, "You've been very naughty." I told the guys I had a great time and wanted to do it again after the show. Alison said she also wanted to do it again. This broke the tension and the guys agreed.
We got ready for the show and had a great time but the real party was back at the hotel room again. I had a lot of "firsts" that weekend. First time I tasted cum. First time I had sex with a girl. First time I had sex with multiple guys. I asked Alison about taking two cocks in her pussy. She said she saw in a porn video and wanted to try it. This was the first time she tried a double penetration. I learned there was an actual name for that!
It was four days I'll never forget. I'll tell you about the other things we did that weekend another time.