She's always known how to make me beg. It's a particular talent she has, to keep her own composure while totally wrecking mine. When I nicknamed her the 'Ice Queen' I was only partly joking… and her way of taking sweet revenge for the moniker, which caught on among our whole circle of friends, was to earn the title with the most exquisite torment she had ever subjected me to.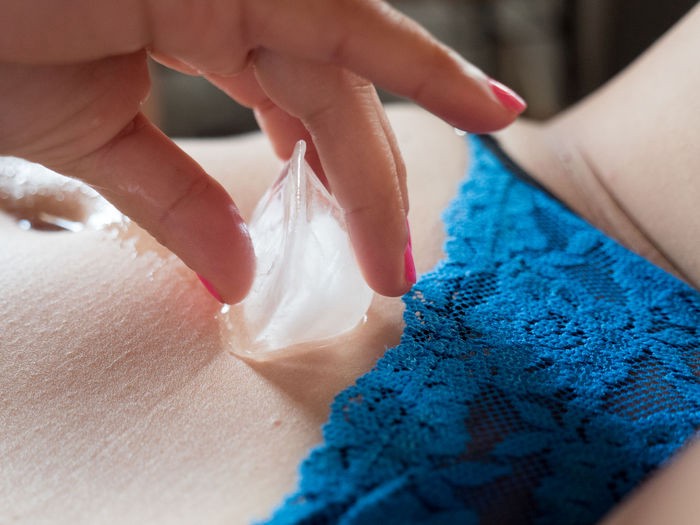 It turns me on to think about the planning she must have put into it; afterwards I learned some interesting facts. For instance, did you know that if you boil water before freezing it, it stays crystal clear instead of going cloudy? Apparently she used a popsicle mold, and made a few different versions before she was perfectly happy with the result. Of course, I was totally unaware of all this at the time. The first I knew of it was when we were lying on the sofa cuddling on a Sunday afternoon, and she asked if I was in the mood for some "button-pushing." That's our private code for our power games, and as soon as I said yes, the anticipation started to put me into my submissive headspace and I sensed her attitude shift from my affectionate and sweet lover to my dominant and controlling mistress. That alone was enough to get my pussy wet; I find surrendering to her commands so exciting.
She led me into the bedroom and pushed me down on the bed, grabbing my hands and holding them above my head so that she could restrain me. With practiced movements, she wound the rope around my wrists and lashed them to the headboard, holding me in position. Then she unbuttoned my skirt and pulled off my panties, leaving my body totally exposed to her gaze.
I love our bondage games, and a lot of the thrill lies in not knowing what she has in store for me. Sometimes she will tease me with feathery touches until I'm pleading for more, other times she'll fuck me hard with a strap-on or leave me for long minutes that seem like hours with a remote-controlled vibrator driving me wild. This time she told me to close my eyes, and of course I obeyed without question. I heard her leave the room and then return after a few moments.
It took all my willpower to stay perfectly still and quiet as I felt something shockingly cold brush against my lips. Instinctively I opened my mouth, and as icy water trickled into my mouth it began to dawn on me what was happening. My mistress slid the ice dildo between my lips and rapidly drew it out again, my tongue following it hungrily, wanting more. But she teased me by pressing it against my nipple instead, the cold making it harden and throb almost painfully.
My hips started to rock involuntarily as she trailed the ice dildo slowly down my torso, making the muscles of my stomach flutter, and then traced agonizingly slow circles around my pussy mound. I was aching with desire by the time she finally touched it against my clit, just for a second, so I barely had time to register the intense, burning cold before she pulled it away.
"What's your color?" she asked. We use a 'traffic light' system in our sex games, and green means 'Don't stop.'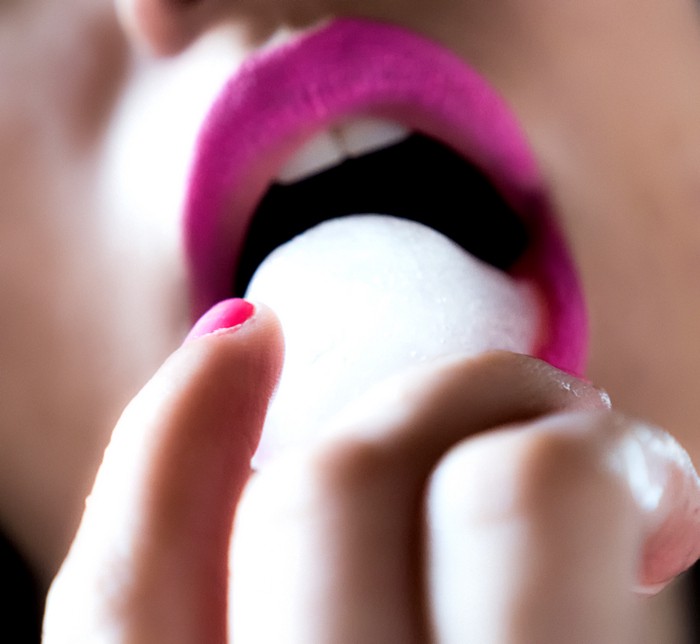 "Green!" I gasped. Immediately she pressed the ice dildo against my clit again, leaving it for a little longer this time so that I moaned and tried to push against it, before she broke contact.
"More… please… more!" I moaned. In response she rested the dildo on my smooth mound so the heat of my skin began to melt it and send icy rivulets pouring down over my clit and between my spreading pussy lips. My back arched, my moans becoming more urgent as I tried to chase the source of the sensation. Now she had me exactly where she wanted me, and she knew it.
"What do you want?" she asked, as if the hungry rocking of my hips wasn't enough to tell her all she needed to know.
"I want it… please… I want it…" I groaned brokenly, struggling to form the words as lust clouded my thoughts.
"So fucking needy," she hissed, her voice penetrating the fog of my arousal like the point of a needle. "Such a cum-hungry little slut. Say it then, if you want it so badly." She licked a hot stripe up my neck, nipping my earlobe roughly and sending a thrill of arousal flashing through me.
"Please… please fuck me with it! I need it now in my pussy! Please please please just fuck me right now!" I started to moan, the words pouring out in a desperate torrent once they started. Tears of frustrated arousal seeped out from beneath my closed eyelids, as she touched the frozen head of the dildo to the slick opening of my pussy and pulled it away, over and over. Before long I was humping my hips up to chase the dildo on each stroke, tugging against my restraints, the cold making my whole pussy throb. My attention was focused on a single point, able to think of nothing but the need to feel that hard icy shaft part my hot walls.
I was incoherent, out of my mind with wanton craving, by the time she finally relented and held the ice dildo still against my pussy before sliding the first couple of inches inside of me. By now the surface was starting to melt and the freezing water met my hot flesh with a wave of startling sensation, but the core was still solid and felt good… so very good… as it surged inside me. I wanted more — I wanted the whole thing in me right now — but I had to settle for grinding on the end as she held it steady.
"What's your color, baby?" she asked, softer now.
"Green!" I whimpered. "More… please let me have more!"
"You look so beautiful, baby," she purred as she slid it out and then back in, deeper this time, making me arch up off the bed. "So needy, so hot, begging to get fucked!" I cried out with almost unbearable arousal as the ice stretched me open, my whole world shrunk to that single shaft of bright pleasure-pain. We hit a rhythm, her gloved hand twisting and corkscrewing the dildo as she plunged it into me, my hips rocking greedily, way too far gone to care how desperate I must look. The pressure built and built, the need for release irresistible now. And then my thighs clamped together around her wrist as with a shriek I came, my burning pussy gripping and spasming around the ice, my whole body convulsing.
When I finally relaxed enough for her to slide the dildo out of me, she told me to open my eyes, and gazed into them, checking I was still 'green.'
"Look at you, so fucked out," she laughed gently, when she saw that I could hardly even focus through my post-orgasmic haze. But her hot tongue licking the juice and ice-water from my chilled and sensitized pussy soon brought me to my senses, before sending me spiraling off on another less extreme but no less pleasurable trip…
Thanks for reading! Applause, comments and follows get me hot 😉
More confessions from me here — if you think you can handle it! Maybe have a cold shower first…