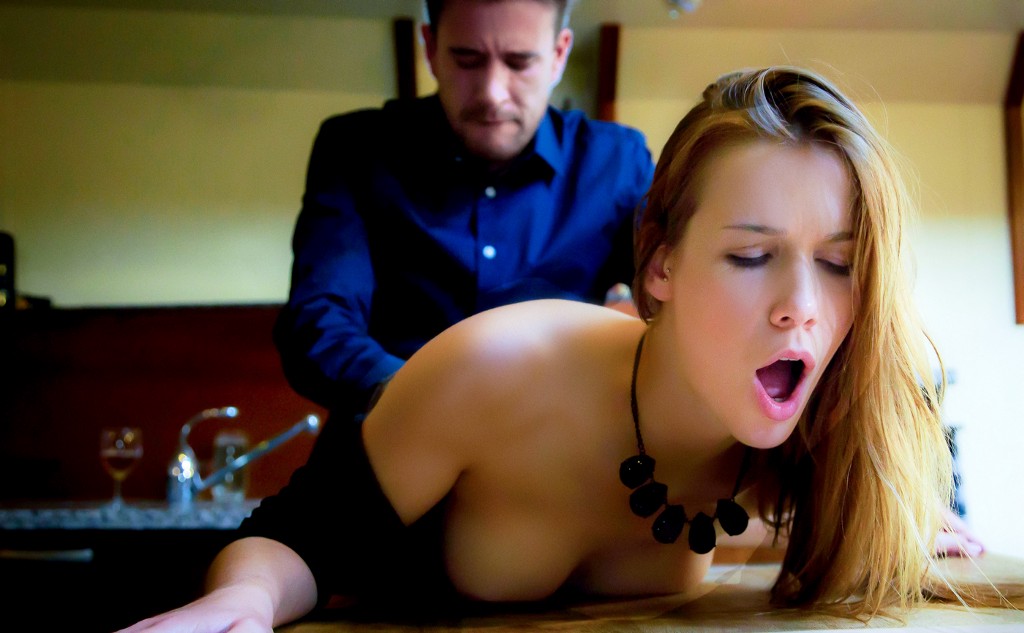 Bent over, spanked and screwed… Written by Rose MyErotica. Read by Bitsy la Bourbon.
I know I'm in trouble as soon as I step through the door. He is silent, not even looking at me, his face set.
"I'm going to get changed," I say, and he simply shakes his head grimly. I have to cook dinner in my office clothes and high heels, my legs aching, the silence between us ominous.
When I place the plate of food on the table in front of him, he pushes it away with a look of disgust.
"First, there's something we need to take care of," he says. "You know what you've done. You lack discipline, that's why I have to teach you."
I nod meekly, even though I have no idea what my transgression could be. There are so many rules, and I break them so often. Bending over the table, I pull up my skirt, and slide my panties down to my thighs. The tension is almost unbearable as I feel him staring at my exposed bottom. Then he reaches into a drawer and takes out a leather paddle.
I feel such a tumult of emotions — apprehension, agitation — but underneath it all, like the bassline of a dance track, a growing pulse of excitement. He makes me wait, expectation of the sting of the paddle driving me out of my mind, so that when it finally comes, the explosion of sudden pain and the heat blossoming through my skin is almost a relief. And then he makes me wait again, the anticipation turning into an urgent craving, before the second crack of the paddle comes.
After that, the strokes of the paddle come faster, my cheeks burning, the mixed pain and pleasure roaring through my body. The sensation of wetness trickling into my panties, still bunched around my thighs, heightens my humiliation. I am dimly aware of my own voice, begging him to stop… but I know if he stops, I'll be begging him to start again.
I am longing to feel the sting of his bare hand on my ass, his skin touching mine, and when he finally tosses the paddle aside and spanks me with his hand — hard — I feel the first tremors of orgasm approaching. I know he won't let me get off that easily though, so I fight it, struggling to keep my legs from shaking.
I am moaning, dizzy, drunk on adrenaline, as I hear the telltale sound of his zipper; he moves my legs as far apart as they will go with my panties constraining them. Then I feel the hard tip of his cock nudging against the opening to my pussy. I want it inside me, and I am so wet it would glide easily up to the hilt; but I know if I thrust back against him that would break the rules and he will pull away. So I keep absolutely still, resisting the overwhelming urge to buck my hips, as he slides it slowly — agonisingly slowly — into me.
Soaking wet as I am, my pussy grips his cock tightly when it's all the way in, the contractions of my impending orgasm making my slippery walls squeeze his girth. He starts to pump in and out, a touch slower than he knows I want it, still making it clear that he is in control even though his groans betray the pleasure he is feeling.
Then he starts to spank me again, pulling out halfway to aim a slap to my cheeks, then thrusting all the way back in as the sensation burns though me. Out — slap — in; out — slap — in; I lose count of the strikes, but it is on a deep in-thrust that I can't hold my orgasm back any longer. I cum hard, my whole body shaking, my pussy spasming around his rigid cock. He waits until I am done, collapsed spread-eagled on the table and shaking, before he pulls out and sprays his load all over my glowing cheeks.
A moment of silence, broken only by my gasps as the aftershocks of my orgasm fizz through me.
"Go and have a shower, darling," he says mildly, helping me to my feet and kissing me tenderly on the lips. "Then we can have dinner."
More confessions from me here — if you think you can handle it! Maybe take a cold shower first…