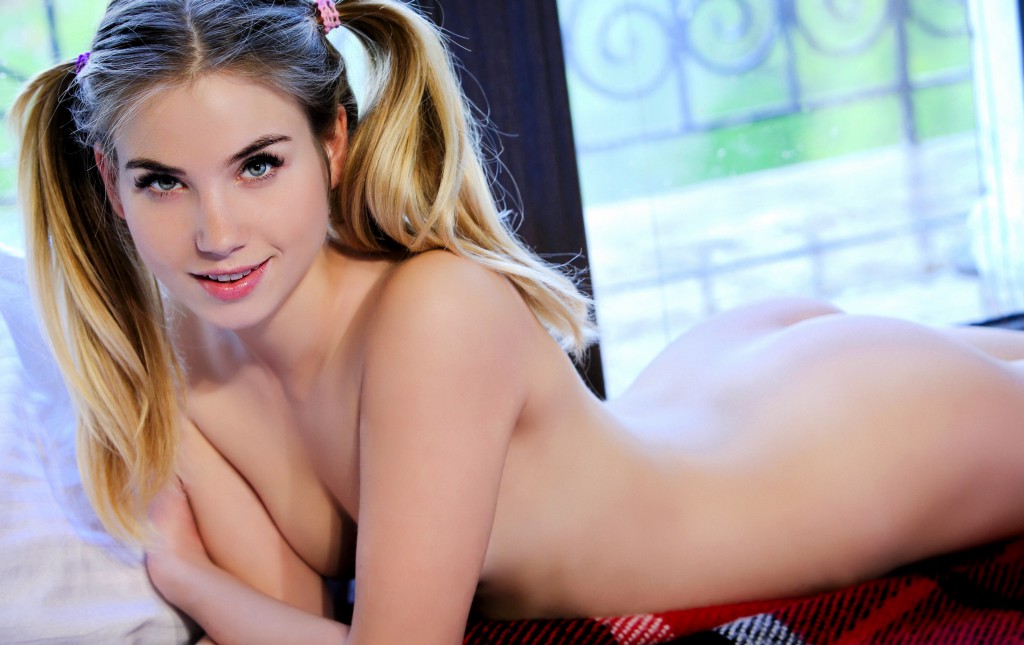 Straddling his lap, I rock my hips in lazy circles above his crotch, my panty-clad pussy brushing as delicately as a butterfly's wing over the hard ridge in his shorts. I keep the pressure against his dick light and teasing and unpredictable as I move to the sultry beat, drawing out his anticipation of the moment when I'll grind down on him.
His eyes are fixed on my breasts, so I sway to make them jiggle inside my low-cut bra, then lean forward so they almost spill out into his face. He murmurs appreciatively and grabs my thigh with his good hand, tries to thrust his hips up to meet mine; then falls back on the pillows with a yelp of pain.
"Keep still," I say, fixing him there with one hand planted on his chest. With the other, I unhook my bra so my tits fall free, leaning in so he can capture a nipple between his lips for a moment, then moving out of reach. His cock is flexing in his shorts, reaching for me, and I rock back and forth, skimming lightly over it.
His hand is sliding up and down my thigh, his thumb pressing and circling hard, just as I like him to do over my clit. It's such a turn on to feel his body respond to mine like this, and I can feel that ache at my core that will only be satisfied by riding him ragged. Truthfully I'm craving the contact as much as he is, and I sink down a little lower as my hips dance, so my pussy caresses the full length of his cock with each stroke. Soon my panties are drenched, pressed up into the slick channel between my lips as they flower open and wrap around the girth of his erection.
He groans.
"Is this taking your mind off the pain?" I ask, torn between arousal and sympathy.
"Well my cock's throbbing worse than my ankle now, if that's what you mean," he grins, squeezing my thigh harder.
Evan is my naughty little secret, the star player of my soccer team's arch rival. I wrote about one of our most exciting games in "Taking one for the team" a while back.
He's usually as athletic in my bed as he is on the pitch, but today he's incapacitated, due to a foul tackle from my best friend and fuck buddy Tony, the only person who's aware I've been 'sleeping with the enemy.' I made Tony take Evan to the emergency room to get his wrist and ankle strapped, and then drive him to my place to recuperate.
"Now go home and think about what you did," I tell Tony sternly, ushering him to the door.
"I'll be thinking about you riding that big lunk's cock," he says unrepentantly, sneaking a kiss.
"Okay, whatever…" I sigh, pushing him out the door. I feel bad that Evan's injured, but I know just how to make him feel better…
Evan's cock throbs and twitches each time I grind along it, only our dampening underwear between us. It's more like dry humping than lap dancing now — if you can call it that when I'm so wet and ready to fuck.
My cute panties are held together by bows at the side (a style that must have been invented by the god of strippers) and I toy with the ribbons before tugging them undone and waving the sticky scrap in Evan's face. His shorts are all that remains as a flimsy barrier between us, and the silky fabric is soon glossed with my wetness as I glide up and down the length of his cock. It rears up, tenting out his shorts, and I let the head push into me as far as the constraints of the fabric will allow. The friction feels delicious. My fingers move to my clit, strumming it as I rock my hips back and forth, hyper-aware of the sensation of his silk-wrapped cock poised just at my creamy opening. That powerful just-about-to-be-fucked buzz is so intense.
Usually when I hook up with Evan it's for vigorous post-match, adrenaline-fueled sport fucking, so to have him pinned beneath me is intoxicating. I lean in, kissing him and then whispering in his ear, confidentially, "Want to hear what's made me so wet?"
He nods. He's a man of few words, but I can see he's intrigued.
"Well… while you were at the ER, I snuck into the locker room," I begin. We play in the park, there is no locker room, but I feel his cock jump and I know he's hooked. "After the match, the guys came in, all sweaty and muddy. Nobody seemed to think it was strange that I was in there. They were all walking around naked, and one by one they would come up to me and let me touch them, stroke their cocks, until they were all stiff…"
Evan's fingers are digging into my thigh with the effort of not thrusting. I don't think he realizes how hard he's gripping me. Sweat is trickling down his forehead and chest, and his pupils are blown with lust. I wriggle to inch the head of his cock just a little deeper inside me, the silk stretched paper-thin, as I get into my story:
"The guys were all crowding around me, hard cocks waving in my face, hands everywhere," I continue, and if I close my eyes for a second I can actually see it, a circle of thick cocks surrounding me, each one begging to be jerked and sucked. A shudder of pleasure jolts through me, and I grind down on Evan, trying to force his cock deeper, through its silk binding.
"Fuck!" he growls. "Don't wanna cum yet. Sit on my face." That's quite a speech from Evan, so I grant his wish, arranging his injured wrist stretched out on the bed out of harm's way before swinging around to straddle his face in a sixty-nine.
The first touch of his tongue to my juiced-up slit is insanely distracting; if I were the selfish type I'd just ride his face to a galloping orgasm now. But I take a deep breath and try to concentrate on my story as he starts to lick and suck my clit:
"I lick the nearest cock to me and it tastes all musky and sweaty… oh!… another one presses against my face, I switch between them… oh yes… maybe I can get both in my mouth at once…"
Evan's steady licking combined with the image in my head of a dozen muscular naked sweaty soccer players with erections is scrambling my brain. I tip forward to nuzzle his silk-sheathed cock, stroking it against my lips and cheeks, smelling the mingled aroma of our arousal. I've lost my place in the story now, in fact I've forgotten I was even speaking, suddenly fascinated by the way the saturated silk is moulded to his dick like a second skin. I trace my tongue around the head, tasting the cocktail of flavors, sweet and salt, more pre-cum flooding through to blend with the tang of fresh pussy.
Wrapping my lips around the head, I suck; but now I'm hungry to taste him straight from the source, unimpeded. I peel the wet silk away, tugging his shorts down to mid-thigh. Evan gasps as the air hits his wet cock, and I make it more intense by blowing cool air over the head. Then I give him heat, taking his cock between my lips and sliding straight down, as deep as I can swallow it, so his whole dick is engulfed in warm wetness.
My tongue dances over the thick veins of his shaft — now this is the type of lap dance at which I excel. I'm so immersed in my favorite pastime that his now rather unfocused licking is secondary to the overwhelming pleasure I get from the feeling of his cock swelling and pulsing in my mouth. That alone is enough to make me cum; and when he groans against my hot flesh the vibration triggers a little flurry of orgasmic shivers. That makes me suck harder still, cheeks hollowing. I'm ready for a burst of cum down my throat; but he slides his good hand under my ass and lifts me off him.
"Wanna fuck you," he mumbles, obviously way past managing full sentences.
Mindful of the need to avoid jostling his ankle, I stay in reverse cowgirl, facing toward his feet, as I shimmy down until I'm astride his groin. I lean forward, bracing myself on his brawny thighs to keep him from moving, well aware I'm giving him the perfect view of his cock as it breaches the entrance to my cream-slick cunt. No need to guide it in, I'm so wet it glides into me smoothly, hard as stone. I wriggle on it as my pussy adapts to being so deliciously full, then begin to ride, my ass bouncing in his lap as I rise and fall energetically. He lets me do the work, staying still as I buck up and down on his thick shaft, dragging the head over my G-spot with every stroke, his rising groans telling me he's loving every second of it.
The heat and pressure is rising within me too, that familiar, blissful tightening of my sugar walls around his dick, until the tingles and tremors of pleasure erupt into one big explosion of ecstasy and I'm cumming on his cock, squeezing and spasming around him. That triggers his climax, thighs straining beneath my hands as I feel his cock pulse and spurt inside me.
I rock gently in his lap until we're both done shaking and gasping, them dismount carefully and cuddle up next to him. He wraps his good arm around me.
"Tell me the rest of the story," he says drowsily.
So I talk softly, feeling his hot cum seep out of my pussy to coat my thighs, until the painkillers and post-orgasmic endorphins kick in and he's sound asleep. I wrap him in the bedcovers and creep away. In the shower, I touch myself as I imagine what it would really be like to have the whole naked soccer team join me…
Thanks for reading! Applause, comments and follows get me hot 😉
More confessions from me here — if you think you can handle it! Maybe have a cold shower first…