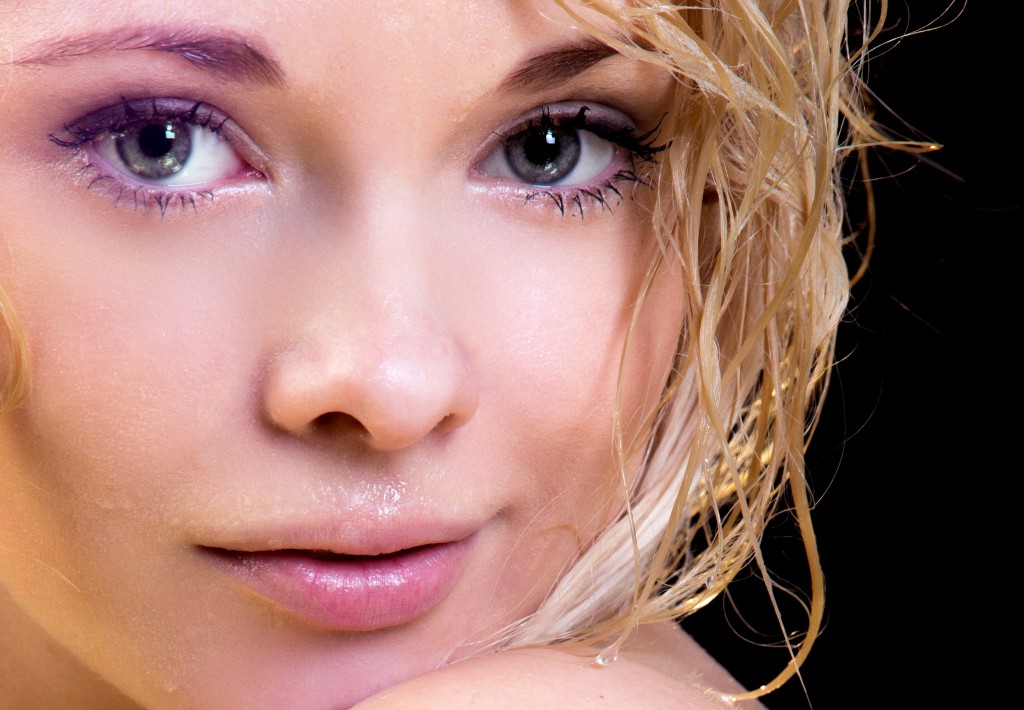 His hard cock grinds against my ass, hot like a firebrand, as we dance to the rhythm of the night. This primal groove started in the club, bass beats and flashing lights setting the pace; but now we're in the dark, in the rain, a hammering downpour that drowns out everything except the pounding of my heartbeat and the pulsing at my core.
The rain has soaked through my skimpy summer dress, making it cling to my body like a second skin. My nipples poke through the flimsy fabric; is it the chill night breeze making them stiffen up, or just the adrenaline surging through me from a night spent dirty dancing with Rafael in the packed club, his semi-clothed body pressing against me? Only dancing and fucking can get me hot like this, and with Raf it's hard to tell one from the other.
This is how we first hooked up — to my surprise as much as everyone else's, as he's totally gay, but it felt like the music made us do it (read about our first time here). And I've been utterly in lust with him ever since.
He's been living in Santiago, Chile; the steamy phone sex has kept me hot for him, but dancing is the ultimate aphrodisiac. Tonight in the club, every move of his hard-muscled, sweat-sheened body against mine fed our searing desire. Hyped up on music and pheromones we snuck out, ditching his boyfriend, my date and all our friends, who will hopefully forgive us in the face of such flagrant sexual chemistry.
Too impatient to wait for a taxi, we start walking, hand in hand in the balmy summer air, stopping to kiss every so often. No doubt we look like a romantic couple, although the actual content of his low murmurs is more along the lines of, "I'm gonna fuck you all night long baby, quieres mi polla? I want that juicy little coño, I'm so hard, joder!" His sexy Spanglish is driving me crazy, as much as the sweet taste of his kisses, and the caramel gleam of his skin. I want his hot body on mine; in mine.
But this is London, not Santiago, and a few blocks from his place the heavens suddenly open, drenching us in seconds. We could run for it, but with that sinful smile that makes me weak at the knees, he drags me into a small park, not much more than a patch of grass and trees enclosed by railings. It's dark and it doesn't feel like a public place, the rain so heavy it's like a shimmering grey curtain.
"Ever danced naked in the rain, querida?" Raf asks, stripping off his soaked tank-top. The way the rain cascades over his lean muscles is like every Magic Mike/Flashdance wet dream I've ever had. I am literally overcome. I don't even resist as he peels my dress off my shoulders and lets it drop into a puddle.
We start to dance. The rhythm's in his snake hips, his shorts slung so low I can make out that deep V of muscle that leads to his groin. I want to kneel and lick it. Those drenched shorts are doing a very poor job of containing his erection, so I tug them down, feasting my eyes on his beautiful cock as it springs up, so straight and thick and smooth. He kicks his shorts off with a grin, posing as the rain teems down, knowing what a sexy sight he is.
And then he pounces, powerful as a panther, and I'm dancing in his arms, feeling his rigid dick grinding against my ass and his lips on my neck as he spins me around. We sway together, bodies in unison, minds united too as he groans, "Jesucristo, necesito follarte!" in my ear, and there's nothing on earth I want more.
He steers me over to a tree, not for shelter but so I can brace myself against the trunk as he pulls down my panties — hanging the soaked scrap of fabric from a branch — and grinds against me harder. His cock is like an iron bar pressing between my ass cheeks as he reaches around to find my clit, his fingers every bit as clever and sensitive as I remember. Like picking a lock, he takes me apart in increments, stroking and teasing until I'm as dripping wet inside as outside, then pressing hard with his thumb as he plunges his fingers into my pussy. He keeps up his stream of dirty talk as I ride his fingers, kneeling suddenly as I start to shake with my orgasm and cramming his tongue into me as his fingers dance so I cum on his mouth until I'm seeing stars.
I pull him to his feet again so I can lick my juice from his lips. With sudden insight I whisper, "It's not the first time you've been on your knees under this tree, is it Raf?"
He laughs, "Hell no, querida. This morning, early, I was out running with the Viking and we stopped here so I could suck his cock. You remember how massive it is, mi vida? He wanted to fuck my ass but it was already getting light and I didn't want to get caught, so I just licked it all over," — his silky voice is rough with arousal — "and then wrapped my lips tight around it and sucked it deep, all the way, and fingered his culo until he bust a nut down my throat." My hand is around his pulsing cock as he tells me this, and I feel it jump and twitch. There's an answering shiver between my thighs as I vividly recall watching the Viking fucking Raf, an intimate moment that remains the hottest thing I've ever witnessed (you can read about that here).
Involuntarily, my hand moves faster along his shaft as I remember how hard he came with the Viking's cock buried in his ass; but he stills me with his most smoldering look as he growls, "Not gonna cum until I'm balls deep in that pretty cunt, corazón…"
A flash of lightning illuminates his gorgeous face as if choreographed, his eyes dark with lust; and the rain redoubles. It pours over our naked bodies in torrents as we entwine, my back pressed against the rough bark of the tree*, his sinewy arms hooked under my thighs to hold me up as he stirs the head of his cock around at the creamed-up entrance to my pussy and — ohmygod, yes — glides inside. It's as smooth as a hot knife though butter and makes me melt just as effectively.
It's like a dream then, his thick cock surging into me, my chilled body instantly set aflame. Even wet as I am, it's a deliciously intense stretch; and every hard stroke makes the flood of sensation more devastating. I can't move but I don't need to, his weight pinning me in place as he thrusts up into me, my moans drowned out by the deluge, thunder rumbling and crashing around us. I feel weightless, falling through space in a kind of delirium of arousal as he fucks me with all his force. It's as relentless as the rain, as bright and raw as the lightning, one burst after another of intense pleasure blasting through me until they crescendo in one obliterating explosion of rapture so extreme it's almost painful.
He eases his pace a little as he fucks me through the aftershocks, the rain simultaneously easing off too — is his sexual power such that he also controls the weather? I wonder, brain scrambled by my orgasm. My hypersensitive pussy convulses and clutches around his driving dick again at the thought.
He slows gradually, lightening the blissful pressure against my hair-trigger G-spot until I finally stop shaking, then slides slickly out of me so I can lower my feet to the ground. He picks up my sodden dress, and wrings it out before handing it to me.
"You haven't cum yet," I say, eyeing his divine cock, which is still jutting out rock hard, and now shiny with my wetness.
"I am so not done fucking you, mi amor," he grins, pulling on his soaked shorts and trying, unsuccessfully, to tuck his erection back into them. "We've made the heavens open, now how about we take it somewhere soft and warm and dry and see if we can make the earth move?"
I don't know if I'm more impressed by his grasp of idiom or his cocksmanship, but I fully intend to test both to their limit before the night is over…
*It's a bad idea to have sex under a tree in a lightning storm. But what a way to go.
Thanks for reading! Applause, comments and follows get me hot 😉
More confessions from me here — if you think you can handle it! Maybe have a cold shower first…