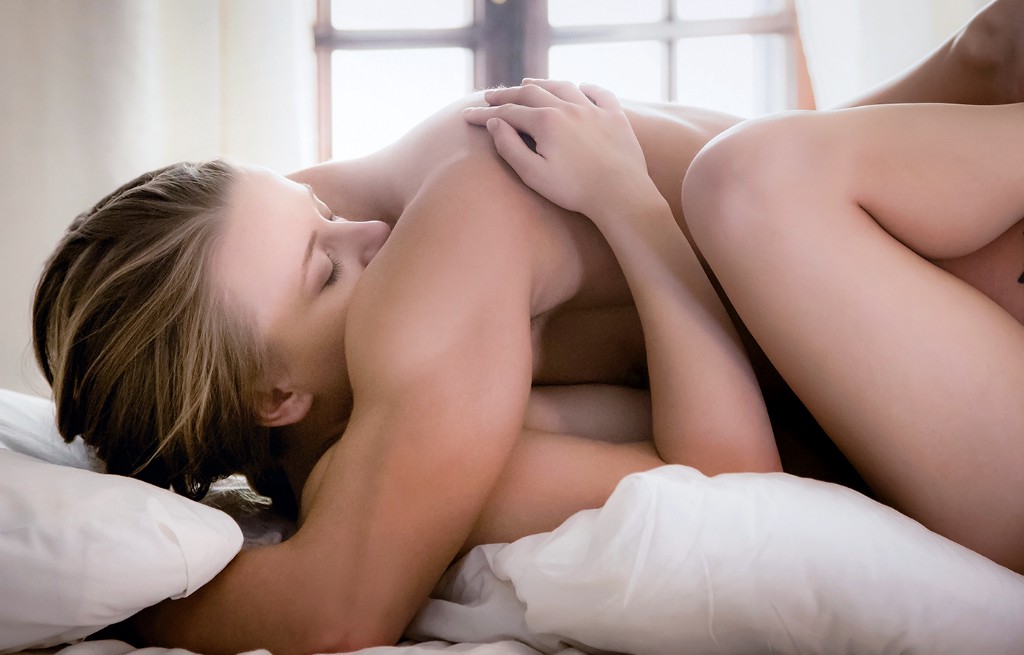 I swear the universe conspires to encourage my bad behavior. I was on a coffee date with a sweet guy who was boring me to death with details of why his last relationship bombed, when I got a text from my gorgeous gay boyfriend, Rafael:
The Viking's on his way over. Do you want to watch me suck his cock?
I ditched my date (in a nice way — I might be heartless but I'm not a bitch) and was in a taxi heading to Rafael's place in less than five minutes. That's how badly I wanted to see it.
I hadn't actually been alone with Raf since we first hooked up in January, although we have had a few snatched kisses in dark corners of bars, and a LOT of phone sex (read Straight sex with my new gay boyfriend and then Phone sex with my gay boyfriend while my straight boyfriend fucks me if you need to get caught up on the demented soap opera that is my love life). One thing after another had prevented him from making good on his promise to show me how pretty he looks on his knees, and the frustration had been driving both of us quietly insane. And now, it was finally going to happen… to say my panties were drenched with anticipation would be an understatement.
Raf answered the door looking positively edible in nothing but a pair of tight black shorts.
"Don't you ever wear clothes?" I asked by way of greeting, mentally adding, God I hope not. As my eyes scanned down the caramel skin of his hard chest and abs to that tempting trail of hair leading into the tiny shorts, Raf pulled me into a bruising kiss. I felt his cock stir against me…
Minutes later, it took a huge effort of will to pull away, reminding myself that I was here to see the show, not to bring it to a premature end.
Raf actually whined as I broke the kiss, but his face lit up when I said, "Okay, now introduce me to your Viking."
Taking my hand, he led me to the bedroom, where a very tall, very broad, very handsome blond man was sitting on the bed making notes from a textbook.
"Rose, this is Kristján," said Raf. He looked almost shy for a second, but it was cool; I liked the Viking immediately. He wasn't quite the flashy stripper type I'd expected, although he was undeniably gorgeous; his wire framed reading glasses gave him a studious look and he flashed me such a genuine smile I was instantly smitten. He pulled me into a bear hug that almost suffocated me — damn, he was muscular — and then looked across at Raf with a cheeky grin.
"Okay, now I get it," he said and they exchanged a knowing look; I guess they must have discussed the whole hey, I thought you were gay thing.
We chatted about interests we had in common like music and working out. Kris's Icelandic accent was cute as hell, and he was funny and smart. It turned out the whole 'stripping to pay his way through university' thing was actually true, which amused me no end. I was certainly eager to see that gym-honed physique in action. He was just lovely — sweet and warm towards me, flirtatious with Raf, and when he admitted with no shame whatsoever that he loved putting on a show and had always wanted to have an audience while fucking, I knew the three of us were destined to have a good time.
"You two look so hot together, let me take some photos," Raf said, coaxing me onto the Viking's lap. "I'm going to enjoy looking at these later. And by looking at, I mean jerking off over, of course…" It was quite a turn-on, feeling that hard body against mine, especially as Raf encouraged him to strip down to his underwear. There wasn't exactly a sexual vibe between us — Kris is most assuredly one hundred percent gay — but there was some friendly cuddling, besides which Raf was giving out enough pheromones to saturate the room with sexual tension. I just about restrained myself from wriggling against the Viking's muscular torso as Raf leaned in to kiss me, then him, then me again…
"You promised me a show, darling," I said, dismounting from Kris's lap and settling down on the bed to watch, sitting on my hands to force me to keep them to myself. Their kiss deepened, Raf flashing me the filthiest smile as he straddled his Viking; Kris groaned as Raf starting grinding down on him, their cocks brushing together, both hard in their underwear. When Raf began to suck and bite his neck, Kris's head tipped back, eyes closed, breathing heavily. I knew exactly how that felt, my pussy throbbing as I watched them make out.
Raf's a well-built guy, but the Viking was so immense he flipped him over onto his back liked he weighed nothing. "How about a lapdance?" he suggested, breaking their clinch for a moment to find some dance music on his iPad. And then all my X-rated 'Magic Mike' fantasies unfolded in front of my eyes, as Kris started to dance, the head of his massive erection poking out of the top of his shorts as he rocked his hips. He was clearly in his element, revelling in the attention he knew his fabulous body and hot moves deserved. He was barely halfway through the first song before Raf had a hand in his underwear, stroking his cock slowly as he watched. My eyes were torn between the two gorgeous guys; I wanted to touch myself so badly, but I didn't want to miss a moment of their intense chemistry, so I contented myself with squeezing my thighs together, my pussy so hot and wet, as I drank in every detail — Raf cursing in Spanish as his fist pumped around his erection, a flush spreading up the Viking's fair skin as he gave us his best stripper moves.
Before long he was standing astride Raf, gyrating his crotch teasingly right in his face. Raf's hands moved to Kris's hips, thumbs sliding into the waistband of his shorts, easing them down. But Kris made him wait, pulling back and then thrusting forward, over and over, before finally allowing Raf to tug his shorts down and off. And then, finally, I got what I'd dreamed of seeing, ever since Raf first suggested it: his lips stretched wide around his boyfriend's rigid cock as he sucked it deep.
I could see Raf had an excellent blowjob technique, sliding almost all the way off with each stroke, sucking the head harder, then plunging right down on it again. Every so often he'd pull back and lick it as his hand corkscrewed around the saliva-slick shaft, then he'd take it right down to the balls again. The Viking had a hand tangled in Raf's curls, sweat trickling down his chiselled torso, thighs twitching with the effort of not thrusting. Then Raf looked up at him, nodding as best he could with that giant cock in his mouth, and Kris started to rock forward, slowly at first, Raf holding still to let Kris fuck his mouth. It was a beautiful sight.
I don't know how he kept from cumming, with that pretty face wrapped around his thick cock, but eventually the Viking pulled back and said shakily, "Hey, I don't want to cum yet, let me fuck you baby…"
I'd assumed the guys had pretty much forgotten I was there at this point, but Raf looked over at me, lips puffy and pupils blown, and asked, "What do you think, querida? Want to watch me take this giant Viking cock in my ass?" His voice was husky from deepthroating, sending shivers of pure lust through me. I nodded avidly, trying to convey all my desire in the gesture, unable to speak.
I wondered for a moment about the logistics of taking something so big, but Kris flashed me a grin, his eyes startlingly blue, as he said, "Good thing I planned ahead." He rolled on a condom with one-handed dexterity and slathered on some lube. Then he stripped off Raf's shorts, manhandled him onto all fours, and spread his legs wide. Now I saw what he meant; Raf took a deep breath and let it out slowly as the Viking twisted his wrist and pulled a big buttplug from Raf's ass. That explained why he'd been so squirmy — he'd been sitting on this plug the whole time, stretching himself open around it.
"Jesus, Raf, you really are even more of a cockslut than me," I murmured, and he actually started to blush, eyes fluttering closed as the Viking lined the head of his cock up against his asshole. Raf groped blindly for my hand, gripping it tight as the Viking slowly pushed inside him.
Even with the preparation, it must have felt massive; Raf was gasping for breath, eyes shut tight. But after a few moments I could see him start to relax, hips canting, screwing himself back onto the Viking's dick. His eyes slowly opened, and he gave me the filthiest, most cock-drunk smile as he purred, "Okay, now you can give it to me hard…"
Kris took him at his word, building the pace until he was hammering into him with powerful thrusts of his hips. And it seemed he really did love to put on a show, revelling in his cocksmanship as he rammed Raf to a steady rhythm, grinning at me, circling his hips to grind deeper, slapping Raf's ass cheeks playfully. As always, Raf reverted to Spanish as the sensations started to overwhelm him, moaning, "Sí… follarme… más fuerte…" and then just gasping, face down and ass up, as Kris fucked him into the mattress.
Eventually, even the mighty Viking conqueror's stamina had to give out. Kris gripped Raf's hips, his thrusts getting quicker until he came with a shout. He didn't pause for breath, but hooked his arm around Raf's chest to pull him upright. It was the hottest thing I'd ever seen as he wrapped his hand around my sweaty, dishevelled boyfriend's rigid erection and stroked hard and fast, cock still buried in his ass up to the hilt. Raf was practically sobbing with the sensory overload as he came all over his own chest and stomach, and the Viking's hand.
He'd never looked more beautiful.
And still, I didn't touch myself. I wanted to, though… Oh, I wanted to.
It turned out the Viking actually was human and not some absurdly perfect sexbot after all, as he was already dozing off as Raf wiped him down with a towel. We tiptoed out of the room.
"Let him sleep, poor boy's been at uni all day and working nights at the club," said Raf fondly.
I sat on the edge of the bathtub and we chatted while Raf took a shower. That was a pretty mesmerizing sight, water cascading down his caramel skin, making his hard muscles glisten. By this point, my self-control had almost become a game; I wanted to see if I really could be this horny, for this long, and still resist the urge to touch myself. Raf had other ideas though; when he led me into the living room, wearing nothing but a white towel that made his tanned skin look even darker, he immediately sunk down onto the sofa and pulled me onto his lap.
His kiss was almost enough to push me over the edge. His fingers, creeping under my skirt and sliding up the inside of my thigh, that made me moan and shiver, and when I felt his cock stiffening up against my ass cheeks, well…
"Seriously, I can't believe you're ready to go again after that," I gasped.
"Querida, I'm always ready to go again. Besides, it's the first chance I've had to fuck you since, you know, that night. I'm not going to waste it."
His hand slid further up, fingertips brushing my pussy through my saturated panties. My brain short-circuited in a shower of sparks.
"Please Raf, no more teasing…" I gasped.
"You're wearing too many clothes, quiero verte desnuda…" He pulled off my top and skirt quickly, then took his time peeling off my wet panties. "I'm keeping these," he murmured. "I'm gonna wear them when I jack off thinking about you watching me suck the Viking's cock. Did you like it?"
"You can feel how much I liked it," I said, shifting in his lap so his fingers grazed against the creamed-up groove between my pussy lips.
"Joder!" he groaned. "You're so wet, querida. Gotta taste that…" and a moment later I was on my back, thighs around his ears as he put that talented tongue to good use. The heat and pressure against my pulsing flesh was enough to set off a series of tremors that built rapidly in intensity.
I tried to keep quiet so as not to disturb Kris, but then Raf looked up at me, lips glossed with my wetness, curling two fingers into me as he said, "Don't hold back. You won't wake the Viking…" The sudden press of his fingertips on my G-spot tipped me over the edge into an explosion of orgasmic shudders. "…you might disturb the neighbors though!"
When my shrieks subsided to moans, Raf moved up to kiss me, letting me taste myself on his lips. Lying between my thighs, weight on his elbows, he rocked his hips so the head of his cock stroked against my pussy; then held still, tormenting me with the desperate desire to feel him inside me.
"How bad do you want it, querida?" he growled. "Bad, huh? That hot little coño waited long enough?" And then came the slow, delicious, maddening slide and stretch of his cock inching into me, bringing tears to my eyes with how good it felt and how much more I needed. The steady thrusts soon had me begging for more and harder, and oh god yes until all I was aware of was his hard cock fucking me to an orgasm so intense I swear it tipped the world off its axis for a few moments.
He slowed the relentless pace of his driving hips to let me recover a little, telling me, "Just keep cumming for me, querida… once I've cum once I can keep going for hours…" His sinful smile promised me infinite pleasure, and he wasn't kidding; he was still fucking me some time later when Kris woke up and came looking for us, so I wasn't the only one who got a show that day…
Thanks for reading! Applause, comments and follows get me hot 😉
More confessions from me here — if you think you can handle it! Maybe have a cold shower first…