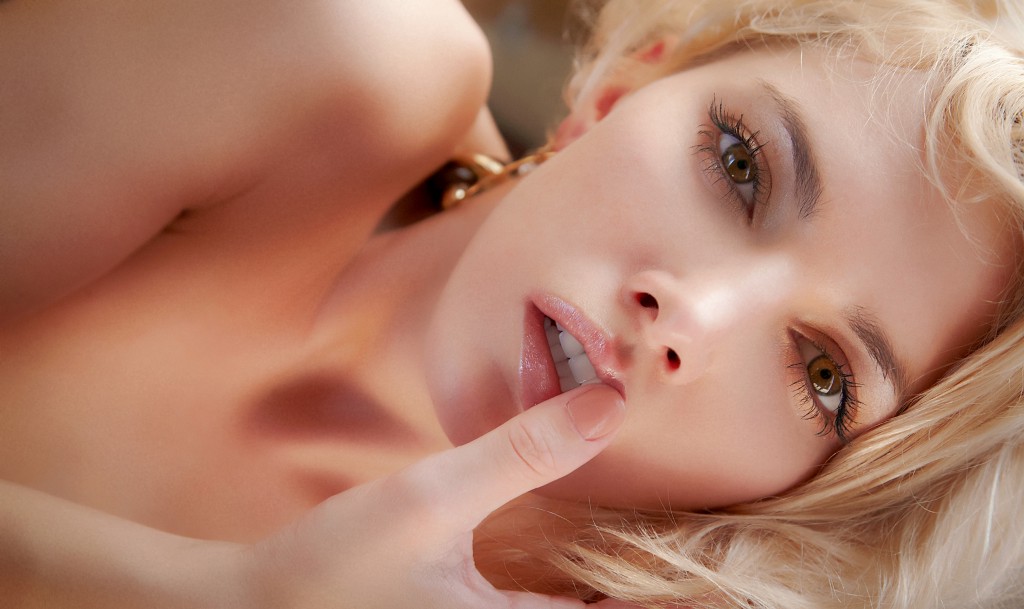 "Want to know what drives me crazy when you suck my dick?" he asks.
I hum vaguely in response, unwilling to release my lips from the object of my affection. The vibration makes him groan before he continues.
"It's the way you look up at me like it's your favorite thing in the world to do."
That's because it is, I communicate to him with a smoldering look. I inch my lips a little further down his shaft, feeling it throb as I press my tongue against the thick vein on the underside. My hips don't lie, and nor do my lips or eyes; it genuinely is my greatest turn on, to gaze up into a man's eyes and see his pleasure build to an unstoppable torrent as I suck him to heaven and back.
It's a combination of that intense emotional connection and the raw physical sensation of having a man's most virile, potent expression of desire penetrating my mouth that sends a direct current of arousal to my pussy. I'm always dripping wet when I'm sucking dick.
I've been told I communicate many different things with my eyes when I have a cock in my mouth.
There's the wide-eyed, oh daddy it's so big! look that can make a man break out in a lustful sweat. Dominate me, manhandle me, show me how you like it. I'm a quick study.
There's the adoring, I love this cock the best of all the cocks in the world look, that makes him feel like king of the world. It's never a lie. The cock in my mouth is always the one I love best, at that moment.
There's the slutty, don't hold back, fuck my mouth baby look that will get him ramrod hard and thrusting deep. Nothing is quite as intense as deep-throating when the man is dictating the pace; it requires a strange, powerful blend of focus and relaxation that makes me exquisitely aware of every signal his body is sending me, totally attuned to his cock as it drives into my mouth, to the extent of blocking out everything else on the planet. It's utter immersion; I doubt Mihaly Csikszentmihalyi had blowjobs in mind when he developed the concept of flow, but the total trust and engagement and commitment to the act is the epitome of flow to me.
There's the give it to me right now! look — accompanied by rapid up-and-down slippery-wet sucking, maybe a corkscrew twist of the fingers around the base, and reserved for occasions when there's a high risk of getting caught. Nobody likes to rush a blowjob, but if it's a toss up between making him cum down my throat in a wild explosive release or leaving him stiff and blue-balled with the promise of more to come, it could go either way.
But the look you'll never forget, the one that will burn into your soul, is the one that promises to take you to the brink and back a thousand times, to make the universe narrow down to nothing but my eyes and my lips, and your cock sliding between them.
That's the look he's getting today.
Afternoon delight, a stretch of lazy, sunny hours with nothing to do but suck, and fuck, and suck some more; that's the perfect time for a blowjob that will test his staying power to the limit, torn between the ever-increasing urge to climax and the desire for this bliss to go on forever.
I'll start kneeling at his feet as he stands over me, until my fluttering tongue's eager exploration has him so weak at the knees he has to lie on his back and let me conquer him — but always, always with my gaze darting up to meet his, a flash of vivid blue-grey that conveys my appreciation of his beautiful erection.
My mouth is watering as I lick it all over, delicate cat licks and long swipes of my tongue, until it's shiny with spit and as rigid as it can possibly be. I circle my fingers around the base and angle it upward so I can nuzzle his balls, breathing in the musky, masculine scent of him. That thick vein that runs the length of his shaft pulses with his heartbeat, still steady for now, a low throb of anticipation. My tongue traces it all the way up to the tip, spirals around, laves the smooth head, making it glisten wetly.
He holds his breath as I capture it between my lips, closing them in a snug O. My eyes rise to meet his as I suck it down, S-L-O-W-L-Y, making him feel every millimeter. I pull back, lips gliding smoothly, then take it down again, a little deeper. In and out, in and out of my mouth, I suck and slide until I feel it nudge the back of my throat and I hold it there, enveloped in wet heat.
Now my eyes tell him, brace yourself, baby, and he steadies himself with his hands entwined in my long hair as I bob my head, saliva drooling down to drip from his balls, just enough slick pressure to have him groaning, thigh muscles flexing, without making him lose control.
It's not the greatest position to deep throat, but I can take him pretty much all the way down on each slow swallow, hands on his hips, fingers curling around to stroke his taut ass cheeks.
And there's something about the hardness filling my mouth, the taste and feel of him on my tongue, the blissed out gleam in his eyes as I meet his gaze, which drives me wild. My focus is so completely on him — on his cock — that I'm barely aware of my own body, but the girth and heft of him in my mouth has me hotter and wetter than a summer monsoon.
It's not even that I'm thinking about him fucking me, about how this iron-hard erection would feel surging into my juiced-up pussy. It's more that the life-force I feel thrumming through him is setting off an answering vibration in me, coursing in shuddering waves down to my clit. It's pure energy. I can cum like this, not an overwhelming G-spot orgasm but more like an inner combustion; it communicates itself to him in the way my lips close a little tighter around his dick, my eyes flutter closed, my fingers grip him.
It leaves my senses somehow sharper, and I ease back, feeling him approach the point of no return. I'll bring him to the edge over and over, just for the pleasure of hearing his hoarse groans, of making his cock twitch and jolt, before I let him spurt his creamy load into my mouth for me to gulp down.
No need to rush, baby, my eyes tell him, we have all the time in the world…
Thanks for reading! Applause, comments and follows get me hot 😉
More confessions from me here — if you think you can handle it! Maybe have a cold shower first…