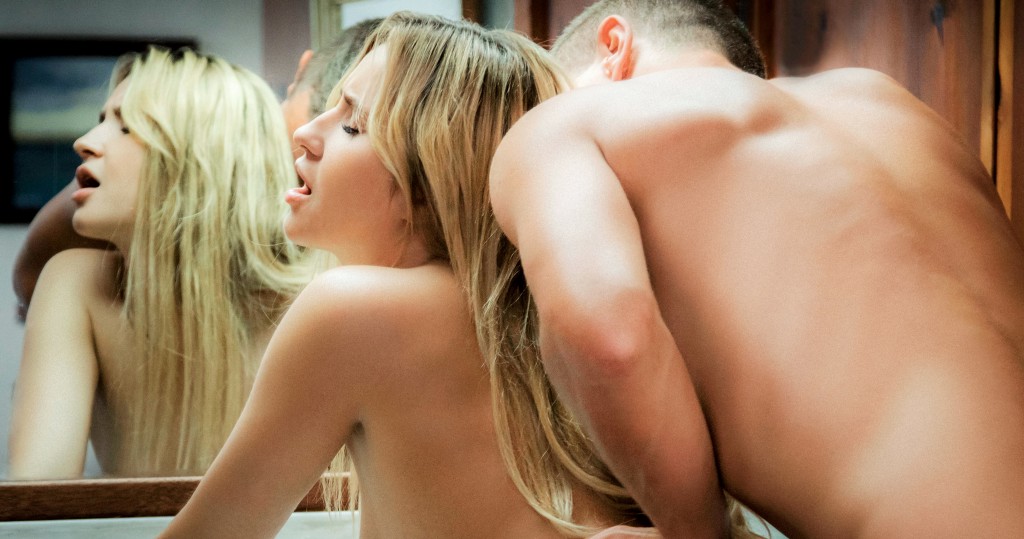 Quickie sex to jump-start the day. Podcast written by Rose MyErotica, read by Lora Vestaloyne
I'm pinning up my hair, about to get in the shower, when he comes up behind me and rests his erection against the cleft of my ass.
"Morning, baby," he grins, his eyes meeting mine in the mirror. "Time for a quickie?"
"Always," I smile back, leaning forward over the vanity so he can stroke the head of his cock up and down the groove of my pussy.
No time for foreplay, he spits on his fingers and swipes them over my hot slot and his cock, lubing me up enough that he can ease the head inside. With so little prep it feels huge, stretching me open, a fierce but pleasurable force. It's such a tight fit he can barely move back and forth. I'm up on my tiptoes, gripping the cool porcelain sink, hanging on as he tries to thrust. Too tight.
I raise one knee up onto the vanity. Now he can reach my clit with his slippery fingers, stroking, making me wet, opening me up for him. I arch my ass up high, getting the angle just right so he can inch inside me. So hard, so perfect. My pussy feels exquisitely sensitive, every movement sending pleasure sparking through my entire body. We fucked hard and late into the night and now it's like we didn't stop at all, those few hours of sleep keeping us both on the edge of arousal, smoldering embers ready to ignite.
As if reading my mind, he says, "I love waking up in your bed and fucking you again before I have to leave…"
He's thrusting into me harder now, and I'm hanging on, reveling in the sensations of skin slapping on skin, my pussy quivering and spasming with each stroke, wetness seeping out over my lips and the tops of my thighs. I could cum just from that, the press and slide of his hard shaft on my G-spot a perfect torment in this position, but he slows his pace a little, grinning at me again in the mirror as he reaches over to grab my electric toothbrush from the vanity. Switching it on, he holds the buzzing handle against my clit, the vibrations surging through me. Oh… my… god… that feels incredible! It's almost too much, the insistent throb making my clit tingle, the burning pressure of his cock inside me; doubly stimulated, I'm gliding and swooping towards a climax.
It's getting to him too, both the pulsing vibration and the way it makes my hot cunt flutter and clench around his cock. He takes the brakes off, pounds into me, each hard, deep thrust making me gasp. As my orgasm flares through me, he slams in deep and I feel his cock jerk, unloading.
Short and sweet, fast and furious, pure primal energy — the perfect start to my day, and his.
And then he decides to join me in the shower, and ends up being late for work anyway…
More confessions from me here — if you think you can handle it! Maybe have a cold shower first…