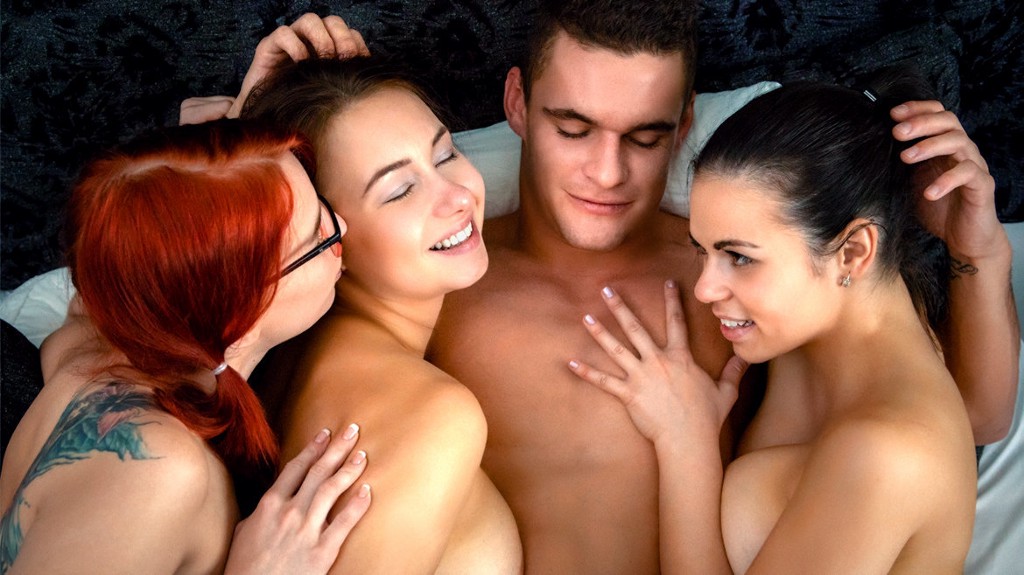 Crouched between his spread thighs with his steel-hard cock pulsing in my mouth, I glance up to enjoy the rapturous expression on his face. And no wonder he's happy, as my girlfriends and I crowd around him, naked flesh pressed against his muscular body from every angle. Some men might be daunted by the prospect of pleasing all these demanding girls at once, but the intense gleam in his dark eyes tells me he's in his element, as four pairs of hands and four tongues lavish their sensual attention on him. Nothing like some impromptu collective cock worship to make a man feel like king of the world…
Brigitta, Erva, Lise and I met on a language exchange course in our early teens, and have remained friends ever since. Not only have we taught each other to curse fluently in a variety of different languages, but we've also grown up together — traveling to each other's homes around the world, and experimenting with all the things we knew we shouldn't, and many things that I'm glad we did. A lot of my early lesbian explorations took place between the thighs of these girls. They claim I'm the wildest, but when we all get together it invariably leads to some fooling around and playful pussy eating, and I am by no means always the instigator.
It's been a while since we've all managed to be in the same country at the same time, so our reunion — at my place, on this occasion — has been joyful and boisterous. In fact, I'm taking a quick breather to make some tea, rehydration being super-important for well-lubricated lesbian sex, when my phone rings. It's Victor, my personal trainer and high-energy fuckbuddy.
"I just got done lifting and I'm horny as fuck, can I come over?" he asks. I can hear the buzz of the testosterone high he always gets from training in his deep, husky voice and I think, this could be interesting.
"I told you, I've got my language school girlfriends here at the moment. That's more pussy than even you can handle," I goad him.
"There's no such thing."
From another guy that would sound like an outrageous boast, but somehow Vic says it with such conviction that it sounds like a simple statement of fact. I ask the girls whether they're interested in meeting my 'gym stallion' and they respond with the kind of enthusiasm it would be cruel to deny.
I don't know what Vic's expecting to find when he shows up a few minutes later, but he doesn't look at all put out that the party has started without him. His baggy sweatpants do a poor job of concealing his instant erection as the first thing he sees is Brigitta's fire engine red hair bobbing between Erva's legs. Brigitta is so intent on licking Erva's dusky-lipped pussy that she barely glances up, but Erva grins delightedly at the sight of this studly hunk of manhood, making grabby hands as her English temporarily deserts her. Vic waits politely until Brigitta has made her cum — her orgasm possibly hastened by the sight of him tugging his sweatpants down to unleash his dick — before he approaches the sofa and introduces his boner to her eager mouth.
Lise has been watching with interest while I stand behind her, groping her heavy breasts and rubbing her pussy through her panties. She's the only one of us who is almost exclusively lesbian, but she's clearly turned on by the scene unfolding in front of her; I can feel wetness flooding through her panties, and I'm pretty sure it's not just my fingers working their magic.
When Brigitta comes up for air I introduce everyone to Victor (which seems faintly comical under the circumstances; Erva doesn't even bother taking his cock out of her mouth to say hello) and suggest that moving to my super-kingsized bed might be more comfortable. If Vic is surprised at the speed with which things are moving, I'm certainly not. We girls have spent the past couple of hours teasing each other with fingers and tongues, but hadn't reached the point of breaking out the sex toys, so introducing a real — and mighty impressive — cock to the mix is like lighting the blue touch-paper.
In the bedroom, the girls reshuffle so Brigitta can suck Vic's cock. This girl is as much of an oral aficionado as I am. She takes it slow and teasing, lapping delicately around the smooth head and inching it gingerly into her mouth. I encourage her not to hold back, he has stamina for days, and feel a gratifying spike of arousal as she sinks her mouth right down around his pole and starts sucking with intent. She looks really pretty with her lips stretched around that fat shaft.
With her pert ass up in the air, I succumb to the urge to slide a couple of fingers inside her creamy pussy. She's so juicy I'd love a taste, but I want to watch as Lise dangles her big tits in Vic's face. He looks like all his birthdays have come at once as he crams as much pillowy titty-flesh into his mouth as he can manage and sucks avidly. With his free hand, he reaches around to squeeze Erva's ass. She has climbed on the bed on his other side, so he is effectively surrounded — and with Lise's breasts in his face, almost smothered — by warm, squirming, excitable female energy. Lucky man.
When Lise migrates down to join Brigitta, licking and sucking Vic's cock in tandem, he guides Erva to straddle his face, facing towards his dick so she can watch the double blowjob show. Her face is a picture of arousal as he spreads her ass cheeks wide so he can lick her entire slit, from asshole to clit. She's so sensitive from the orgasm Brigitta gave her that Vic's skilful tongue-lashing soon has her grinding down on his mouth and moaning loudly. I'm guessing he's focusing on eating her pussy so he doesn't get too carried away by the sensation of two horny girls lapping at his dick like it's the first they've seen in months (and in Lise's case, it actually is, if you don't count her steady girlfriend's strap-on).
After she's cum again, very loudly, Erva leans forward into a sixty-nine to join in the cocksucking. From my vantage point, fingering Brigitta with one hand and Lise with the other, but not hard enough to distract them from their very important task, I have a stellar view of the sloppiest, wettest triple blowjob I've ever seen. I am filled with love and admiration for my studly man — lust too, of course, but it seems greedy to demand a piece of the action when I've had that big dick all to myself many times. He'll make it up to me later. Right now, I'm getting off on the sight of three hot mouths vying to lick and suck him all over, his cock shiny with spit and so stiff and engorged it might erupt at any second.
Vic's not about to let that happen before he's sampled every pussy in the room, though. With a roar of effort he heaves himself upright, shooing the girls like flies, and gives me a meaningful look that sends me scurrying to the nightstand drawer for condoms, wet-wipes and lube.
"Shall we let Lise go first?" I suggest, before Brigitta can elbow her way to the front of the line. Since our busty Norwegian babe hasn't had a real cock in a while, I want to make sure she gets a memorable experience, before Brigitta initiates one of her high-octane fuck sessions. Lise blushes right down to her roots, but she doesn't hesitate, getting on her knees and bracing herself against the headboard. I roll a condom onto Vic's erection (my chance to get my hands on it, just for a second) and he pulls me in for a kiss… I lose myself in his virile energy for a moment before remembering I'm meant to be sharing, and reluctantly pulling away.
He holds my gaze, eye fucking me blatantly, until I redirect his attention to Lise's lovely bubble butt. For a man who basically lives at the gym, he does have a weakness for curvy girls, and he grabs onto Lise's hips with relish as he lines up the head of his cock against her slippery slit and thrusts inside slowly. She's so soaked that she doesn't even need any lube, despite his size, but her gasps tell me she's feeling every inch as he starts to hump her at a steady pace, making her big titties swing. The rest of us crowd around, encouraging them along with touches and kisses and licks on their hot bodies. With my fingers strumming her clit and Erva pinching her nipples, it doesn't take long before Lise is shuddering around Vic's cock as he fucks her through an intense orgasm, her sweet booty rippling.
"Erva next," I say firmly, switching condoms with a stroke and a squeeze that elicits an appreciative groan from Vic. Erva elects to get fucked in missionary position, an excellent choice as Vic can maintain a hard, pistoning pace effortlessly. I'd like to watch and admire the flexing of his chiselled abs as his hips pump, but get distracted when Brigitta pulls me on top of her and starts eating my pussy ravenously. I've been so absorbed in making sure my friends have a good time that I haven't really registered how crazy-fucking-horny it's making me, so when Brigitta's tongue pushes aggressively into my drenched pussy the deep throb of arousal detonates into something altogether more urgent. My moans are soon mingling with those of Erva, who reverts to her native Turkish when Vic starts pounding her into the mattress. She's babbling incoherently as she starts to climax. I'm close too, Brigitta's probing tongue sending waves of pleasure though me; but I'm a good hostess, and my red-haired darling has waited long enough.
She's practically hopping with impatience as I roll a fresh condom onto Vic's granite-hard dick, giving him a nod to tell him, don't hold back with this one. She plants a hand on his muscular chest to push him onto his back, and climbs aboard. He grins, amused by this bossy little madam who thinks she can take control, but more than happy to lie back and let her try. And wow, Brigitta in full flow is a force of nature, bouncing on Vic like she's at a gymkhana, her tight, shaved pussy rippling up and down his dick as she rises and falls. Vic stays still, letting her do her thing, her frenetic movements mesmerizing. Erva and Lise are watching and touching each other, fresh desire cutting through their post-orgasmic endorphin haze at the sight of Brigitta going feral.
She rises up into a full squat, thighs working, sweat running down her cleavage as her pert breasts jiggle. I know she prides herself on her ability to out-fuck any guy, but she's met her match in Vic. He's as relaxed and statue-like as any man can be who has a petite Dutch wildcat riding his rigid cock like she's trying to wear it down to a stump. She breaks first though, suddenly collapsing down on him as she judders through an orgasm that wracks her whole body. And now Vic shows her how much gas he's got left in the tank, gripping her hips and slamming up into her, over and over, until she's shaking and screaming and cumming even harder than before. I know from experience that she's a squirter, so I move behind her, pressing one hand flat against her pelvis and using the other to rub her clit hard and fast as Vic drills her, until she suddenly tenses and sprays girl-cum all over his stomach and chest.
He looks justifiably pleased with himself as Brigitte dismounts, still trembling. He hasn't cum yet.
My turn.
I peel off the condom and lick away the taste of latex, holding eye contact, letting him know what a stud he is and how impressed I am by his superhuman stamina. The familiar, fantastic feeling of his big beautiful cock between my lips acts like a jolt of pure adrenaline, making my heart pound. I suck him deep, just long enough to feel him twitch and flex in my mouth, but even the pure bliss of sucking cock isn't enough to satisfy me now. I need him to fuck me.
I straddle him, my blue-grey eyes locked on his brown ones — pupils so lust-blown they are almost black — and sink down, rocking my hips as my sugar walls are stretched to accommodate the always-shocking girth of him. He flips me onto my back, his cock still buried to the hilt, and overwhelms me in just the way I love, pinning my wrists over my head and powering into me with long, smooth strokes. My legs are wrapped around his back, hips tilted at just the right angle so he's pushing against my G-spot with every thrust. I don't know whether it's the prolonged anticipation or the perfect penetration that has me right on the edge of cumming, but I do know that what pushes me over is when he bites the most sensitive spot on my neck just as he slams in deep. My body bucks and spasms under his, cunt squeezing his root tight, hot blasts of pleasure cascading through me.
"Four for four," he growls in my ear, when he finally releases my neck from the grip of his teeth.
I'd almost forgotten the others were there, despite the aroma of well-fucked pussy that hangs in the air, but now I look around to see them in a tangle of limbs, fingering each other as they watch us. I unsheathe Vic's boner from my pussy's snug grasp with a pang of regret, knowing it would easily have coaxed out multiple orgasms, and beckon the girls closer.
We've done some pretty crazy things together over the years but I think we all sense that a quadruple blowjob on one guy is a memory we'll be frigging each other off over for years, so we go all out to make it as porno as possible. Licking, sucking, spitting, swapping it from one mouth to another, sucking his balls, kissing around his shaft, it's wet and sloppy and filthy as hell. He's groaning with the pressure of holding back now, four tongues dancing on his dick simultaneously. As payback for the bite he gave me, I nip at his tender inner thigh, and slide a wet finger between his cheeks to tease his asshole. His hips jerk upward and he yells as copious spurts of cum erupt from him, splattering over the hands and faces crowding around his fountaining cock.
My girls look so cute all messed up, Brigitta's red hair streaked with white, jizz dripping off Erva's chin where she tried to catch it in her mouth. The four of us lap it off each other like hungry kittens; cum always tastes sweeter when it's licked from the lips of a girl who's just been eating pussy.
Remembering my hostess obligations once again, I go to fetch a stack of towels so my sticky guests can shower, but return to find the girls licking each other in a daisy-chain, watched with more focused interest than you'd expect from a man who's just had the blowjob of a lifetime. And the thing about a daisy chain is that there's always room for one more link…
Thanks for reading! Applause, comments and follows get me hot 😉
More confessions from me here — if you think you can handle it! Maybe have a cold shower first…