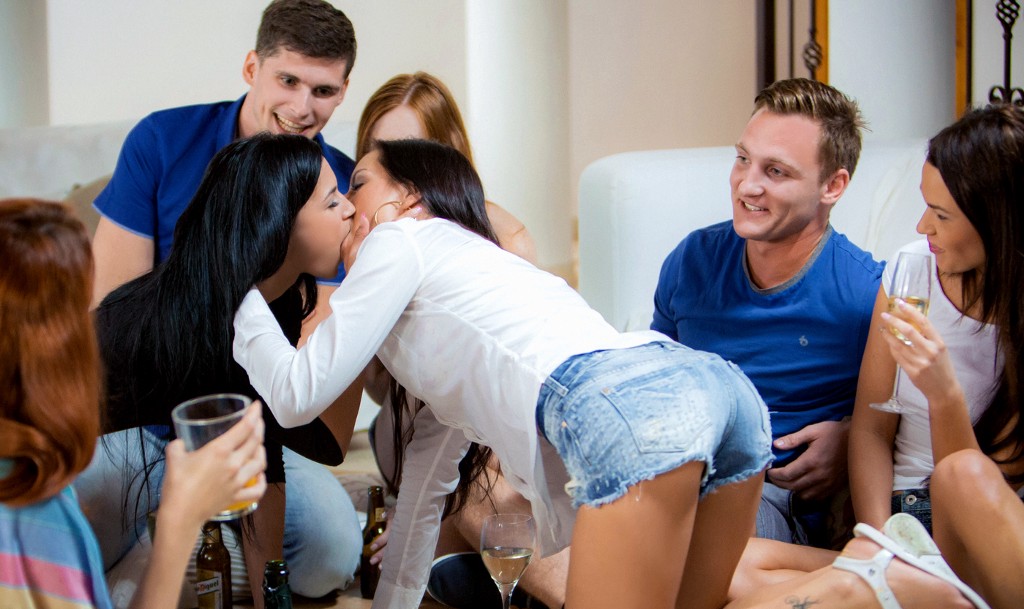 I am so thankful I have multiple orgasms. I know some girls are one and done, but I have a lot of catching up to do since I finally escaped the Twilight Zone, and my friends have decided to throw a Thanksgiving party — by which they mean orgy — to welcome me home.
The thing is, we are, for the most part, Londoners, and we don't really know what a traditional Thanksgiving involves. Also, my best friend and faithful fuckbuddy Tony decided we couldn't wait until Thursday, so on Wednesday lunchtime I get back from the gym to find the girls cooking up a storm in the kitchen, and the guys moving furniture around, setting the table, and pouring drinks. It all looks terribly sensible and civilized, except that someone has thoughtfully placed little heaps of condoms, lube and baby wipes on every side table and bookshelf.
I go upstairs to shower, and put on sexy lingerie and a short, summery dress — it may be November but the fire is lit and the heating's on high, in anticipation of everyone feeling the urge to get naked. By the time I come back down, the place is transformed into party central, and many of my favorite people are here. After several weeks of imposed near celibacy — enlivened by a few frenetic encounters — I find I've worked up one hell of an appetite; but it's not Thanksgiving dinner I'm craving.
I'm thankful, though; thankful that my boyfriends and girlfriends are happy to indulge my slutty ways, thankful that everyone is in a playful, up-for-anything mood, and thankful that even before the Champagne is poured, Tony and my studly personal trainer Victor are giving me that 'how about it, babe?' look. With no need for discussion, the three of us agree to skip the appetizers in favor of some quality time getting reacquainted.
I've fucked Tony countless times, Victor maybe a dozen times since we first hooked up, but I've never had them both together. In the privacy of my bedroom, they undress me, and themselves, both hard in an instant. No need for foreplay today; I've missed them both so much, and go face down in Vic's lap, lips sliding straight down his thick shaft, as Tony licks my pussy to make sure I'm wet enough to take his cock (I am). His first thrust into me could well be the happiest moment of my life. It pushes me deeper onto Vic's cock, my senses overwhelmed with the masculine taste and smell and glorious fullness of two big dicks slamming into me in unison. I suck and lick, almost gagging as I bob my head up and down on Vic's swelling cock.
"Slow down, babe," he groans, struggling to keep control as I devour him, but I can't; I've needed this so badly, and now I can't hold back. My flickering tongue moves relentlessly over Vic's rigid boner, exploring every milimeter of flesh, every throbbing vein, until with a groan and an audible pop he pulls out of my mouth and insists on switching places.
Tony takes control now, holding my head still as he fucks my mouth steadily, deep enough to make me shiver with pleasure. They hit a rapid rhythm that drives me wild. The blissful stretch of Vic's huge dick forcing my drenched pussy even wider open as he pounds into me is irresistible. He presses my G-spot with each fierce stroke, the heat and almost unbearable pleasure building and suddenly exploding through me as Tony fills my mouth with hot cum.
They switch once more, Tony licking my sensitized pussy to prolong the aftershocks into a long string of orgasms as Vic feeds his engorged, sticky cock back into my mouth. I suck it voraciously, ecstatically, gorging myself, aroused to a point of incandescent excitement. And then I cum harder than ever, rocking back against Tony's face as Vic spills his molten load down my throat. Happy Thanksgiving.
By the time we return to the feast, the turkey is being carved; but the girls are all a little giggly on Champagne by now, and giggling inevitably leads to flirting, and kissing… and who really likes turkey anyway? My dominant girlfriend Angela only likes parties when she is calling the shots, but she has sent her slave Isla — along with a bottle of very fine Cognac — and Isla looks so pretty, flushed with freedom and pleasure, as she leans across the table to smooch with Jana. No doubt I will join them a little later, but for now I'm content to catch my breath and watch as Isla strips Jana's gym-honed, ballerina body and lays her out on the table, naked and delicious.
Jana is so flexible she folds her body like a pretzel, knees by her ears and perfectly smooth pussy pointing to the ceiling. Isla licks her delicately at first, stoking her arousal to the point where she's gasping and crying out with each swipe of that teasing tongue. Isla is a consummate pussy-eater, and she could easily make Jana orgasm without touching her at all, except for that maddening, insistent tongue lapping at her clit. But Isla's got a trick up her sleeve — a big, phallic shaped carrot that's the ideal size for Jana's soaked snatch.
I offer her a dildo instead, but as she patiently explains to me, "It's Thanksgiving dinner, Rose! You have to use vegetables…" So I settle back and watch as she stirs the carrot around in Jana's juiced-up slit, licking her clit all the while, until Jana is shaking and screaming with pleasure and everyone else is squirming in their seats, ready to get a piece of the action.
I will definitely be sitting on Isla's pretty face at some point before nightfall, but for now I can't take my eyes off my sweet girlfriend Cherry, who has been shooting me those unmistakeable come fuck me looks since she arrived. So I do…
Later — much later — I'm sitting by the fire, drinking hot chocolate and cuddling with the girls while we watch the guys clean up.
Tony brings me a glass of Cognac and murmurs in my ear, "I hope you're ready for more… Rafael and the Viking are on their way over. Happy Thanksgiving, darling."
I have never felt more thankful.
Thanks for reading! Applause, comments and follows get me hot 😉
More confessions from me here — if you think you can handle it! Maybe have a cold shower first…